For beginning and more advanced herbalists alike, it's important to have some books about herbs and herbal recipes on hand. I often get asked what my favorite herbalism books are, and there are so many great ones to choose from! I've narrowed it down to what I think are the 15 best books about herbalism and natural body care for you here. These books will give you a great start on how to make your own plant medicine!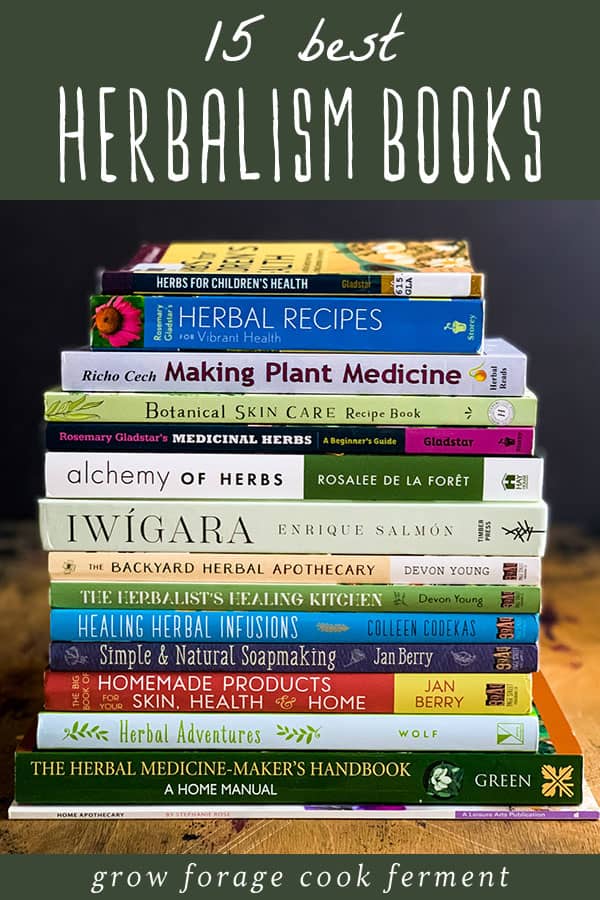 Wildcrafting Weeds eBook
Before I get to my favorite herbalism books, I want to let you know that I have a wildcrafting eBook and a foraging course!
Wildcrafting Weeds: 20 Easy to Forage Edible and Medicinal Plants teaches beginning foragers how to identify common edible and medicinal plants that might be growing in your backyard. You'll learn straightforward techniques and recipes to forage and use wild weeds with confidence!
Gather & Root Online Foraging Course
My online foraging course is a great way to learn about wild edible and medicinal plants! Sign up to learn more about the gather + root online foraging course here.
Best Herbalism Books
These are my favorite books about herbalism and for studying and practicing herbal medicine. I picked books that are easy to understand and would be good for both beginners and more advanced herbalists.
Most of these books also contain herbal recipes and remedies, which is very helpful when you are expanding your herbalism knowledge!
I've also included a few of my favorite herbal body care books, as I feel like that is another very important aspect of herbalism!
Be sure to check out my other book guides here:
Related: Gift Guide for Herbalists: Herbs, Teas: Supplies, Books & more!
Healing Herbal Infusions
First up is my very own book: Healing Herbal Infusions.
Healing Herbal Infusions teaches aspiring home herbalists how to make natural plant based remedies for all types of common ailments and issues.
It's easy to follow and includes over 75 herbal recipes!
Rosemary Gladstar's Herbal Books
It wouldn't be a guide about the best herbalism books without including Rosemary Gladstar! She has quite a few herbal books and they are all wonderful, but there are a few that are my favorites.
Rosemary Gladstar's Medicinal Herbs: A Beginner's Guide is, just as its title suggests, a great book for beginning herbalists. It's actually a great book for all herbalists, as I find myself referencing it quite often!
Rosemary Gladstar's Herbal Recipes for Vibrant Health is packed full of herbal recipes and remedies for every type of health issue! This really is a must have book in my opinion.
For a more kid centric book, I love her book Herbs for Children's Health, which is great for any parent to have on hand!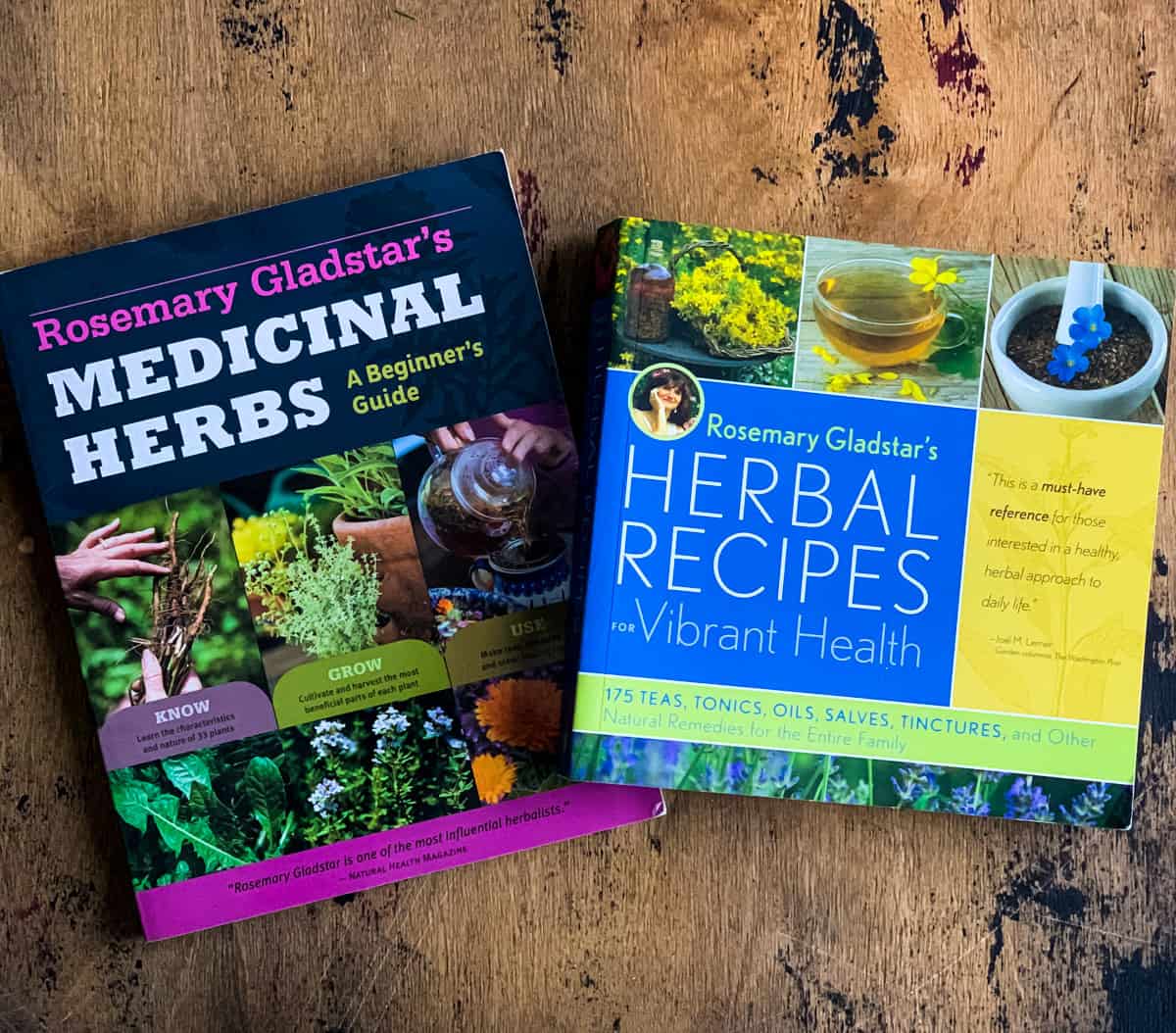 The Herbal Medicine Maker's Handbook
While possibly more geared towards intermediate to advanced herbalists, The Herbal Medicine Maker's Handbook by James Green is an excellent book to expand your herbal knowledge!
This book really delves deep into herbal medicine making, and is one I often turn to when seeking out more in depth details on an herbal recipe or procedure.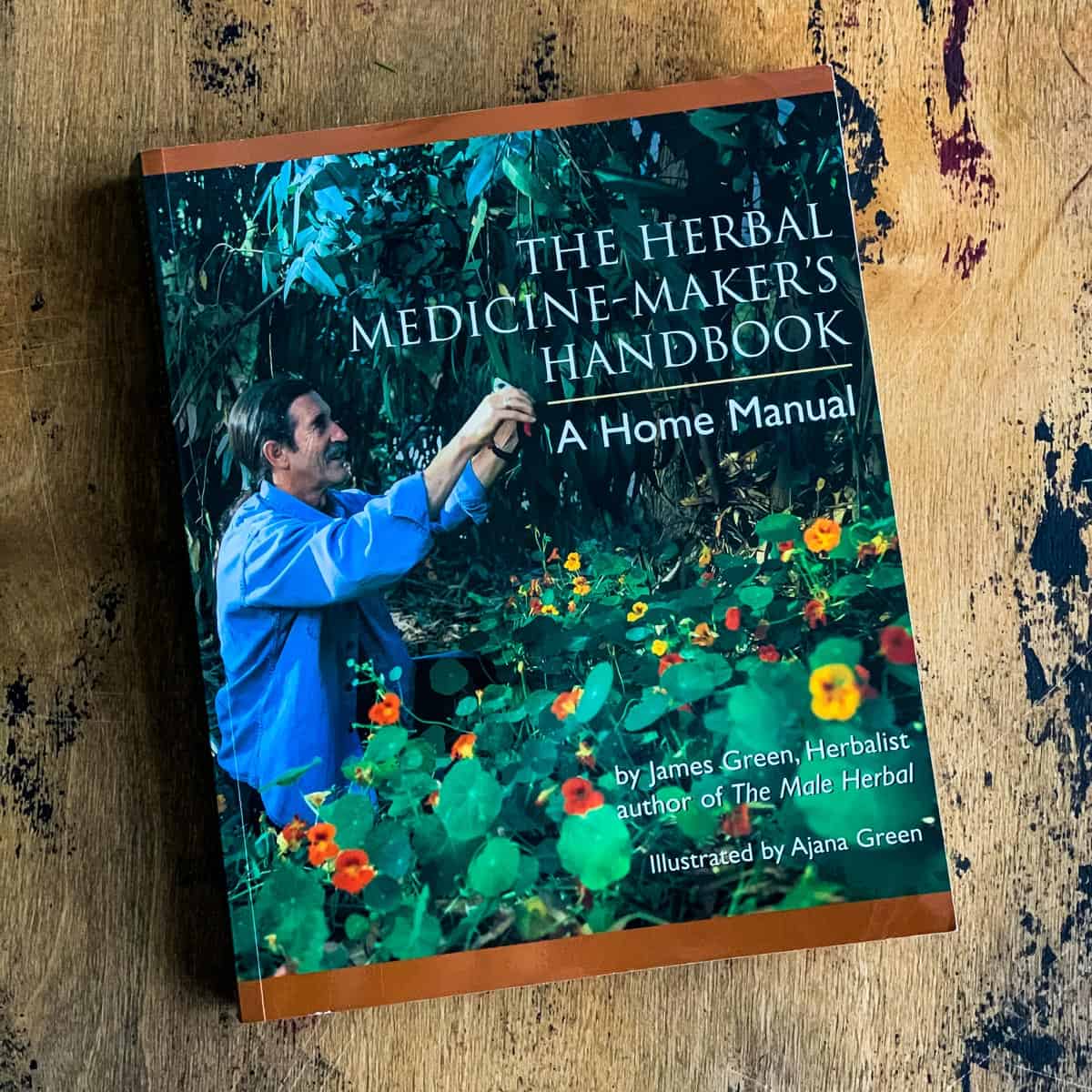 Making Plant Medicine
I really love Making Plant Medicine by Richo Cech of Strictly Medicinal Seeds!
This book is not only an excellent herbal resource, but it also includes stories of Richo's family as they go on their own herbal medicine making journey. Definitely one of the best herbalism books there is!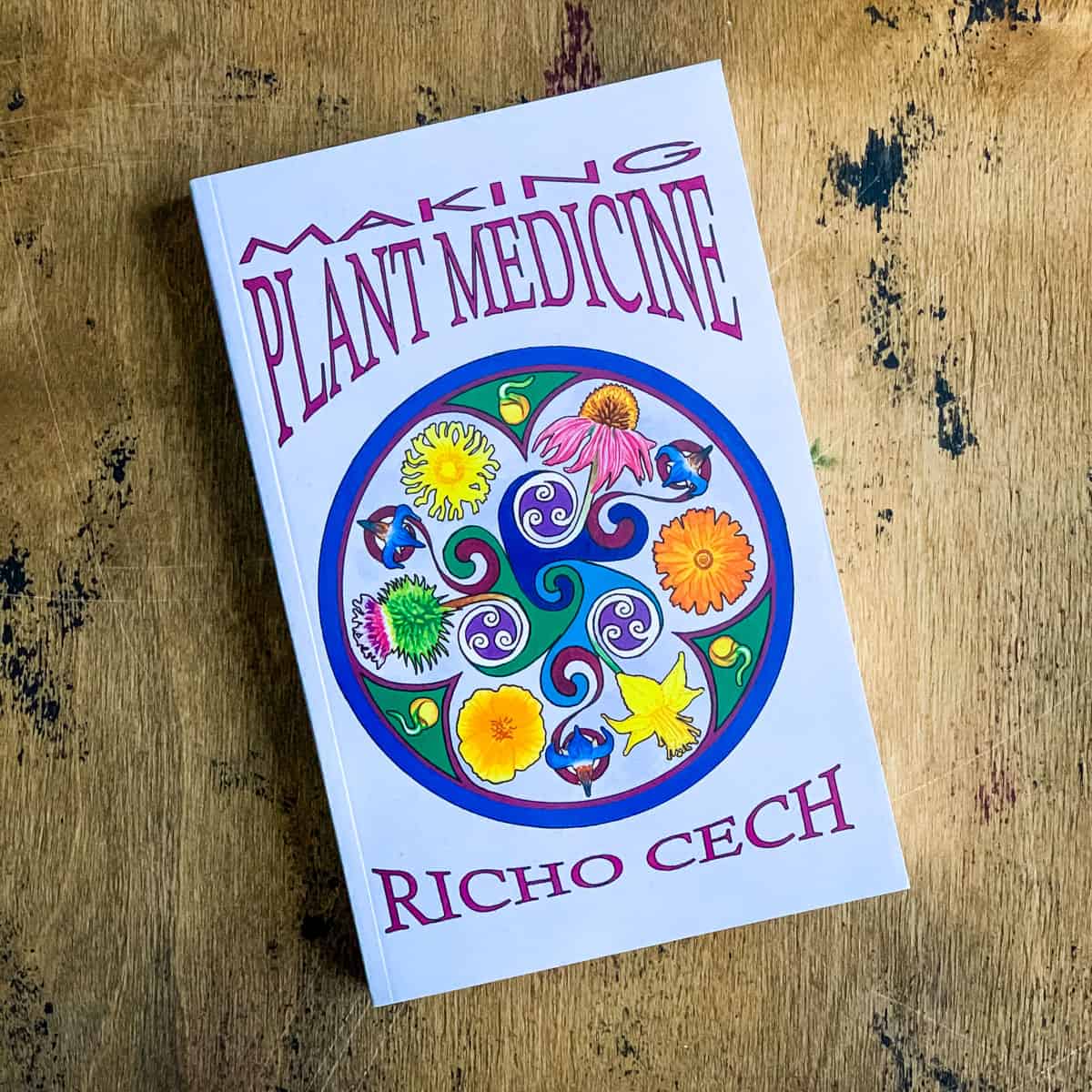 The Alchemy of Herbs
Another great book for both beginner's and well seasoned herbalists is The Alchemy of Herbs by Rosalee de la Forêt.
I love this one because it focuses on common herbs that can be used in the kitchen for everyday recipes. I made her recipe for Dandelion Pesto from the book and it is so delicious!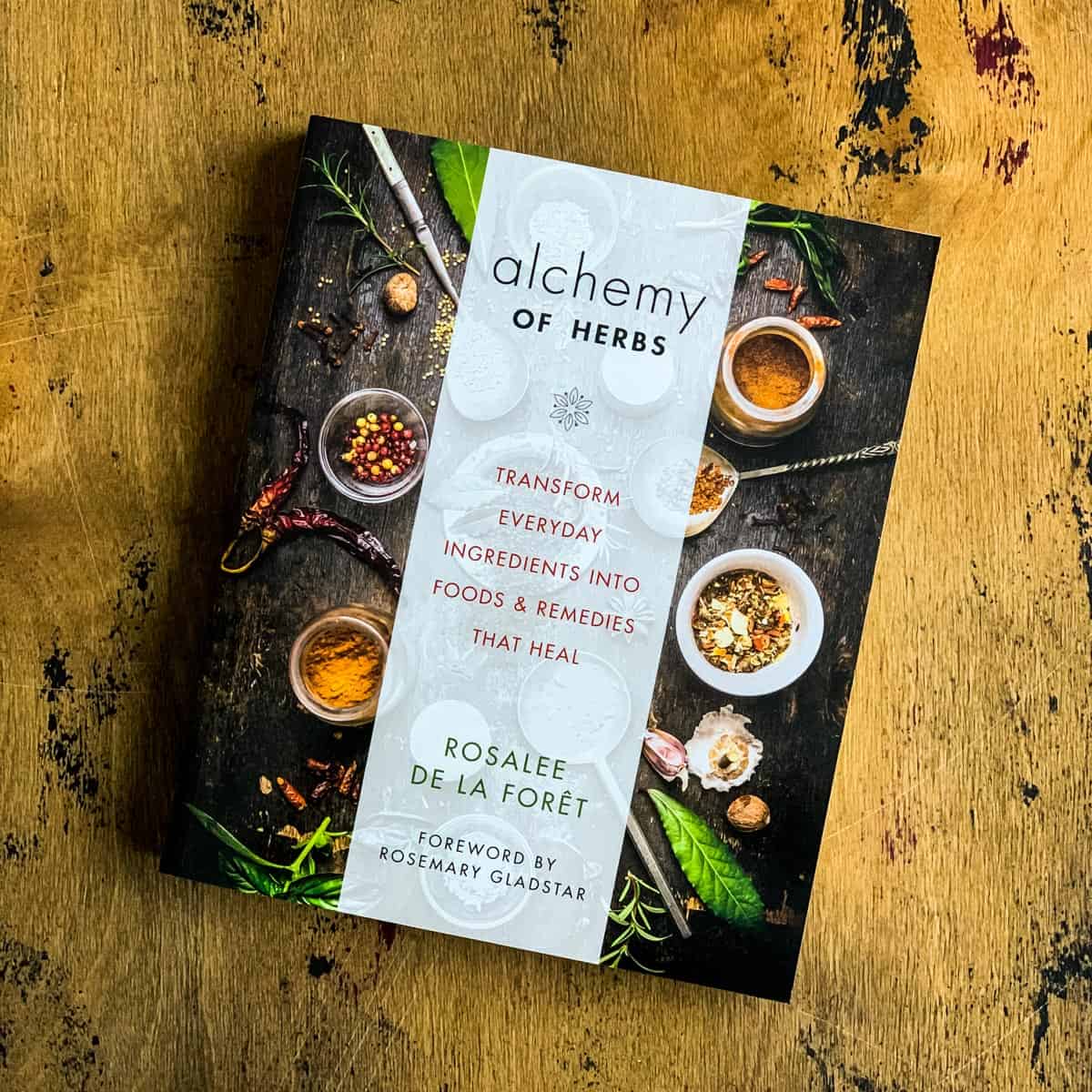 The Backyard Herbal Apothecary & The Herbalists Healing Kitchen
These two amazing books are written by my good friend Devon Young of the Nitty Gritty Life blog. She has a beautiful way with words and really knows her stuff when it comes to both foraging and herbalism!
The Backyard Herbal Apothecary is a one of a kind book that intertwines foraging and herbalism in a beautiful way. Learn how to identify and use all those common backyard plants, weeds, and trees for medicine!
The Herbalist's Healing Kitchen takes herbal medicine right into your kitchen, with delicious sounding recipes that utilize the power of herbs. Devon is an amazing cook so these recipes will not disappoint!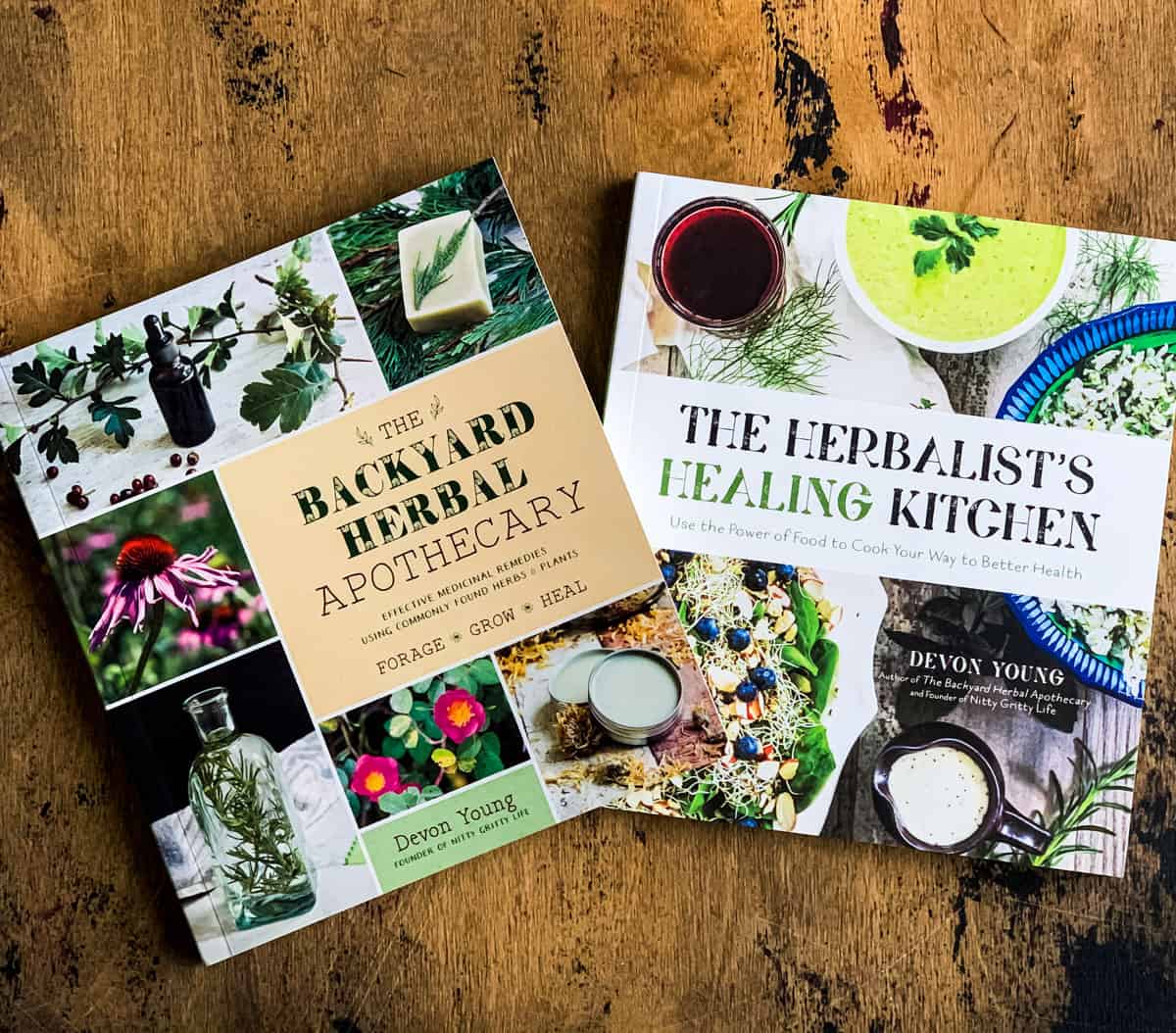 Herbal Adventures
A truly fun herbal book, Herbal Adventures by Rachel Jepson Wolf of Rachel Wolf Clean is geared towards younger herbalists in training (and their parents).
This book covers 10 common herbs that are easy to grow or forage and are excellent for children. There are recipes and projects for each plant that both children and adults will enjoy!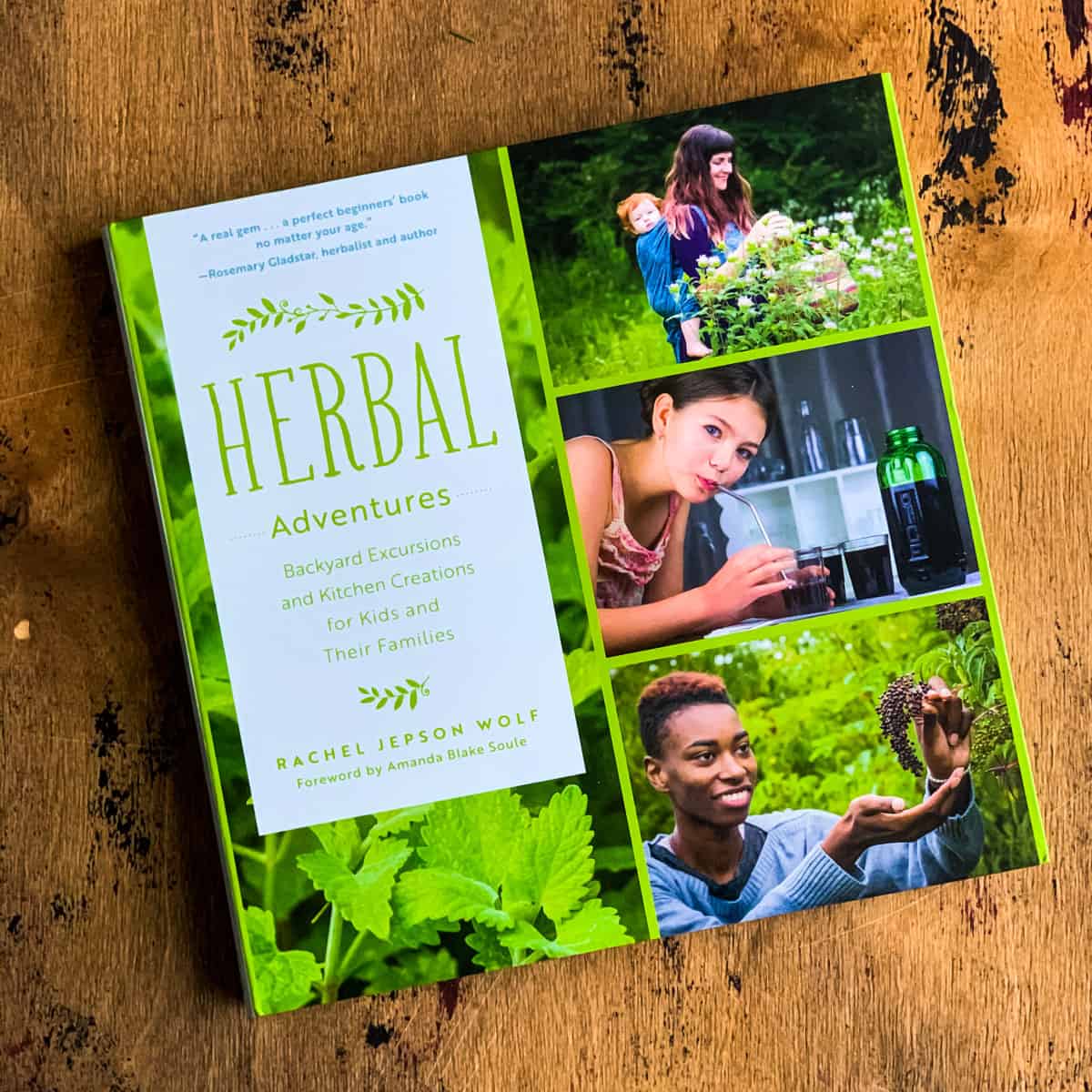 Iwígara
Iwígara: American Indian Ethnobotanical Traditions and Science is a little bit different than the others I mention here.
This book details 80 plants that North American Indigenous people have traditionally used for food and medicine. It is a gorgeous book that is very important for understanding the connection and knowledge that native people had (and have) with plants and plant medicine.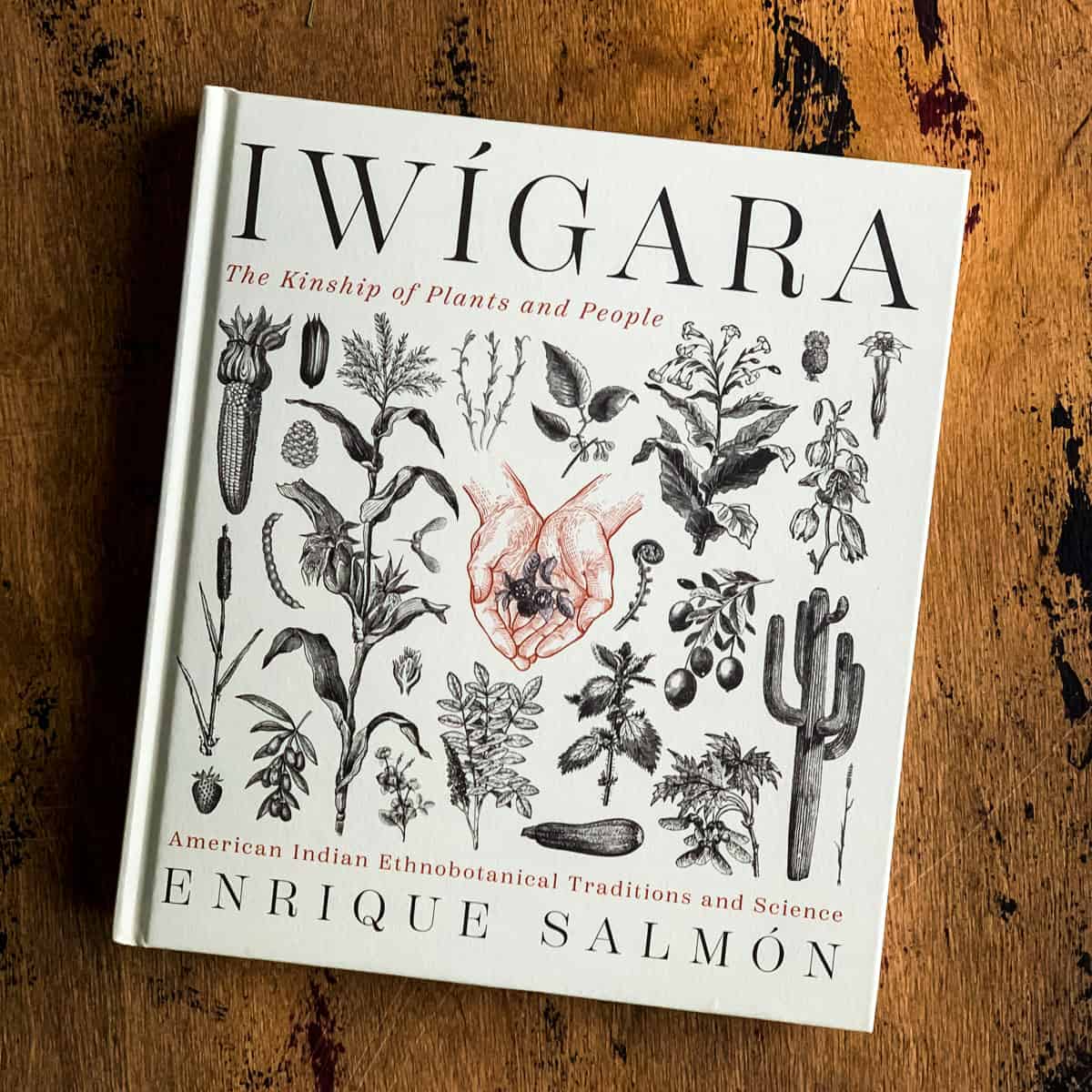 Homemade Products for Your Skin, Health & Home & Simple & Natural Soapmaking
These two books by Jan Berry of The Nerdy Farm Wife are ones that I refer back to all the time!
The Big Book of Homemade Products for Your Skin, Health & Home is jam packed full of herbal skin care recipes (and more) that all sound so wonderful! I made the rosemary beard oil from the book and it smells amazing.
Simple & Natural Soapmaking is perfect if you want to learn how to make your own soap with herbs and other natural ingredients!
I've made Jan's calendula soap recipe in my How to Make Soap for Beginners post. Her awesome Natural Soapmaking eBook helped to guide me along my first soap making experience!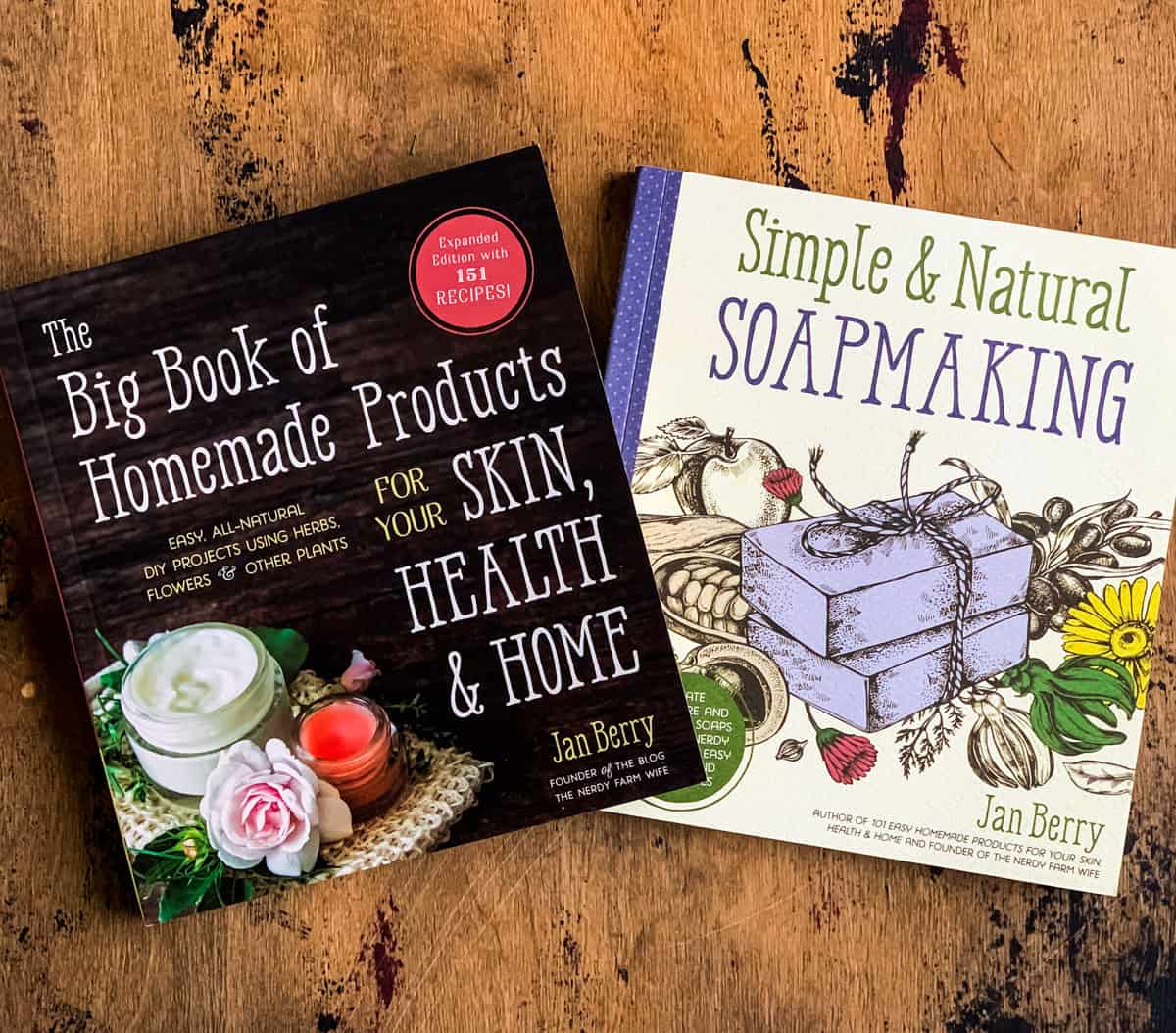 Botanical Skin Care Recipe Book & Make & Give Home Apothecary
Here are two more books that have some amazing herbal skin care recipes!
The Botanical Skin Care Recipe Book from the Herbal Academy is one of my favorites. It includes so many recipes and every one sounds like one I want to make!
Make & Give Home Apothecary from Stephanie at Garden Therapy has some lovely recipes that are perfect for giving as gifts! I made the Peppermint Coconut Sugar Scrub and it smells amazing!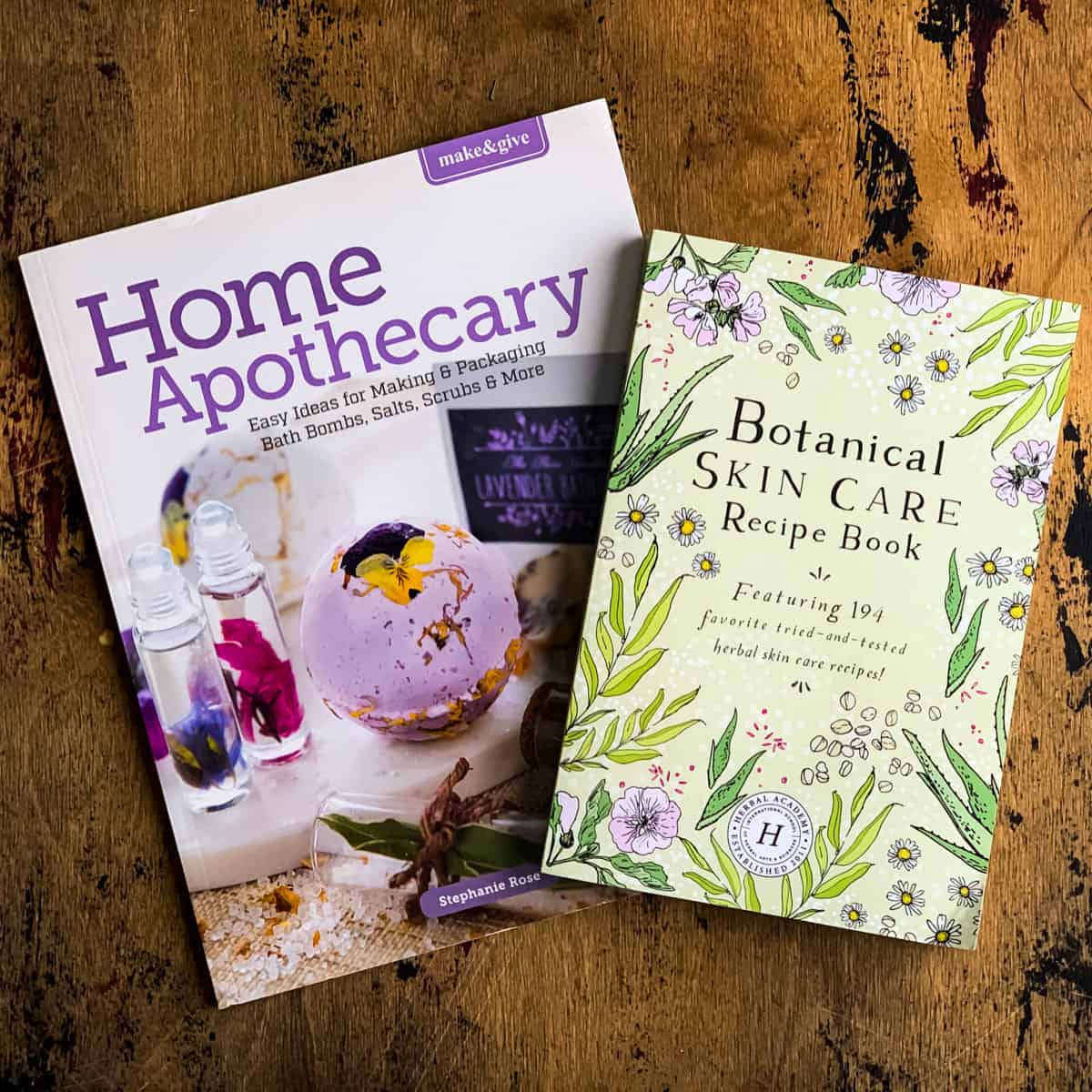 There you have all of my favorite herbalism and natural skin care books! Any of these books are an excellent choice and you will not be disappointed. They also make wonderful gifts!