Well, I figured it was about time for me to give you a backyard garden update! As you may or may not know, we moved into a brand new little homestead this past March, and have been feverishly working on the garden ever since. We don't have a huge amount of space to work with, but that hasn't stopped us from turning every possible square inch into some kind of workable garden area. You can see what our backyard looked like as more or less a clean slate when we moved in here: A Quick Backyard Garden Tour.
We've done quite a few things since then, and I honestly have to give most of the credit to my permaculture guru of a husband, Joel. He works tirelessly out of sheer passion to make this place a tiny backyard paradise! Here is the main side view of the backyard, with the chicken mansion (that Joel built).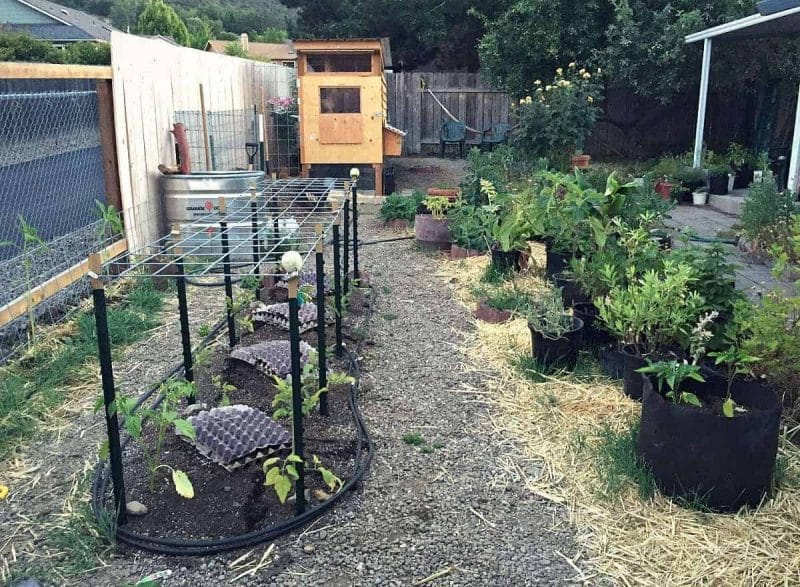 We took out several of the rose bushes that were originally there, leaving only two, which didn't bother me too much as they were literally dripping with aphids. You can see that we took out some of the fencing on the left that was blocking sunlight, with the added bonus of getting to know our neighbors better. In the middle row we have tomatoes, and on the right are potted plants galore. Many of these are plants that Joel has propagated from cuttings, such as fig trees, currants, hazelnut, raspberries, and mulberry. They will eventually go in the ground, but the soil needs some heavy amending first (hence all the mulch).
Here is one of the fig tree cuttings that is looking mighty fine these days. I can't wait to eat some homegrown figs!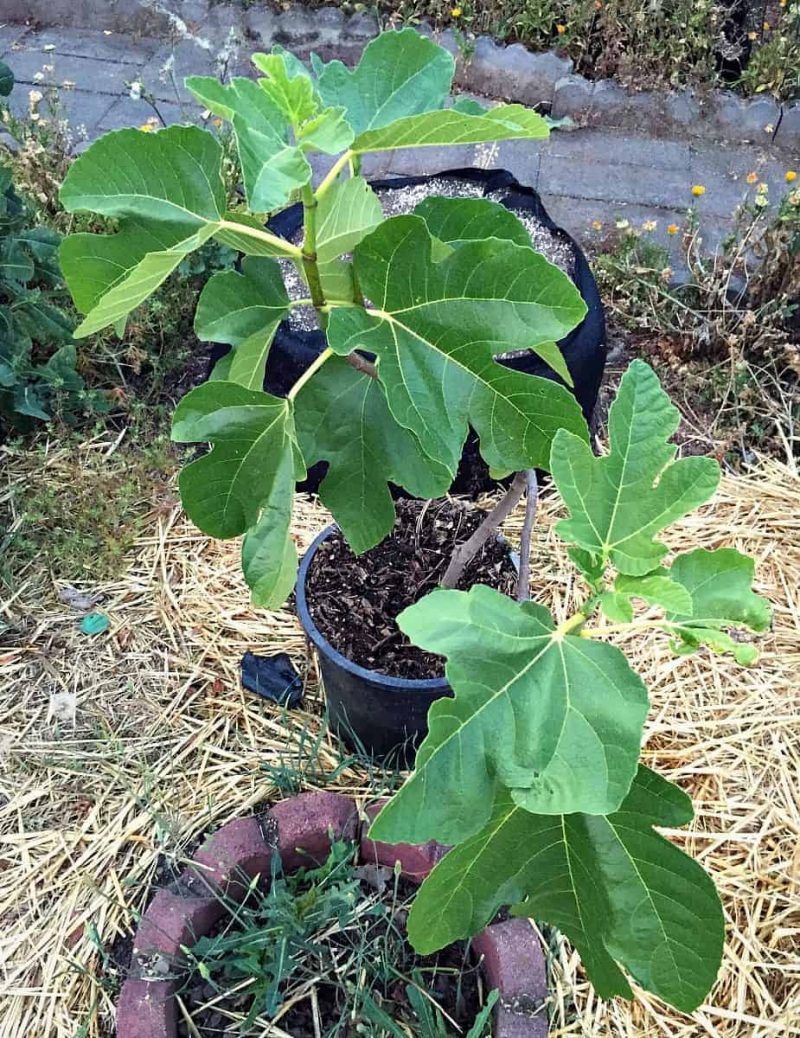 Round the corner a bit and you'll see what I like to call the herb corner. We are growing both culinary and medicinal herbs here, and I consider this section to be my pride and joy. Besides all the regulars (parsley, sage, rosemary, thyme, cilantro, basil, dill, chives, tarragon, mint, and lemon balm), I also have echinacea, yarrow, St. John's wort, marshmallow, horehound, feverfew, valerian, lemon verbena, and anise hyssop.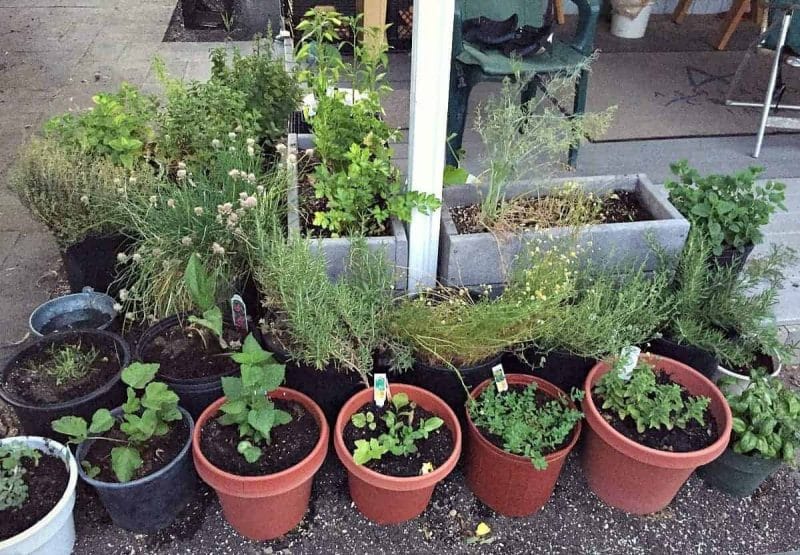 Also, the chamomile has been going strong. Fresh chamomile tea is so amazing!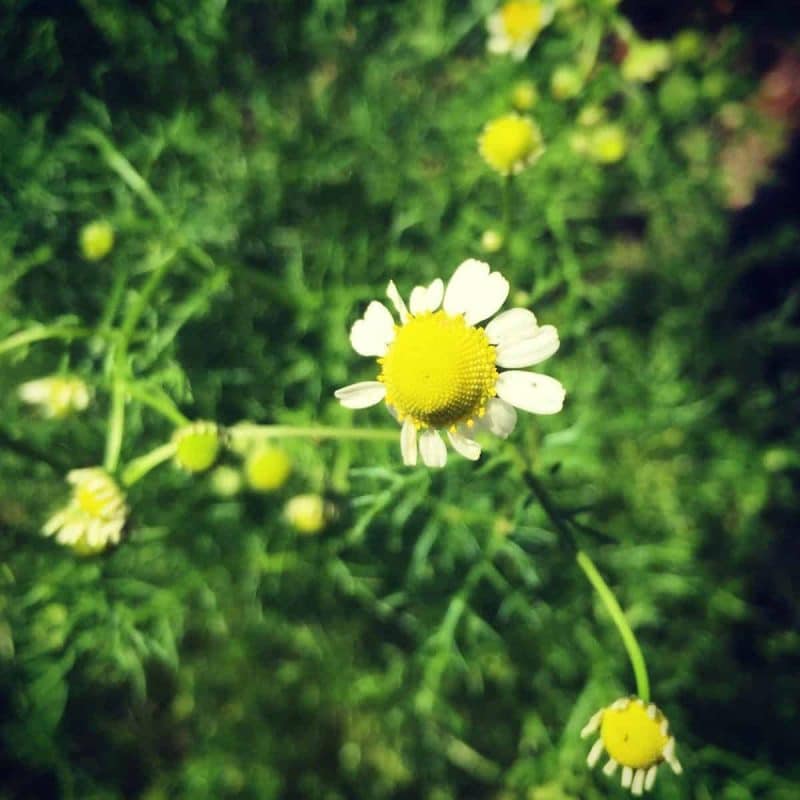 The apple tree is looking good, and while we still don't know what the variety is, it's become apparent that it has been grafted and is most likely two different varieties! One side looks green, and the other more red. The tree had not been pruned in quite a while, so became fully loaded with apples in no time. It was a swift learning curve for Joel to figure out how and where to prune off apples effectively! Regardless… hard cider here we come!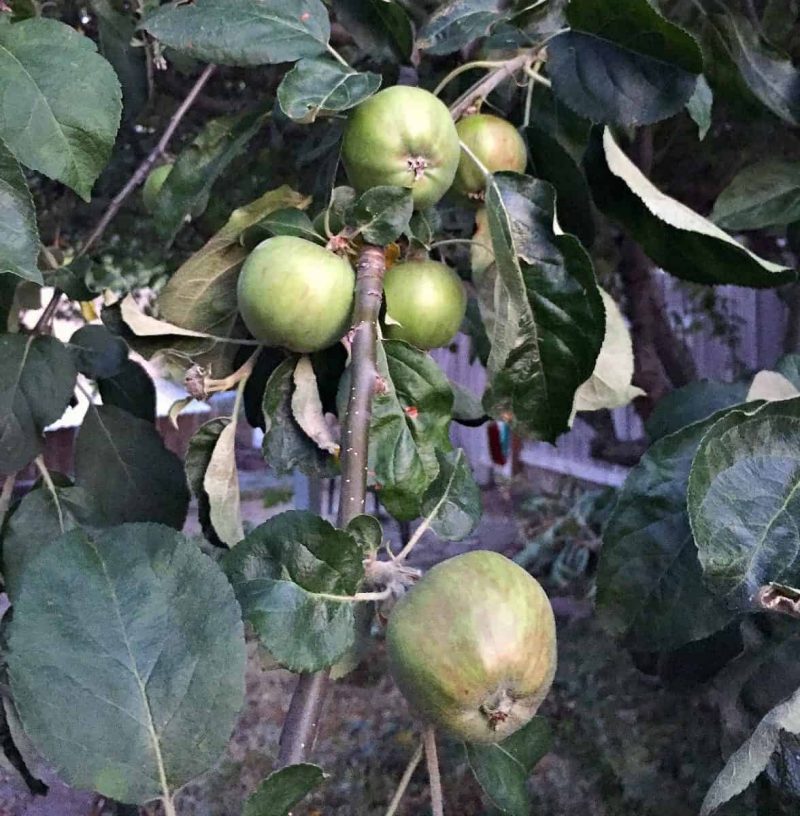 Around again to the opposite corner of the property are our main annual garden beds. These have been planted very intensively, but many of the lettuce and greens are starting to bolt which will open up some space for other plants. You can see the rhubarb on the right, which has gone to seed, and there are more tomatoes growing along the fence.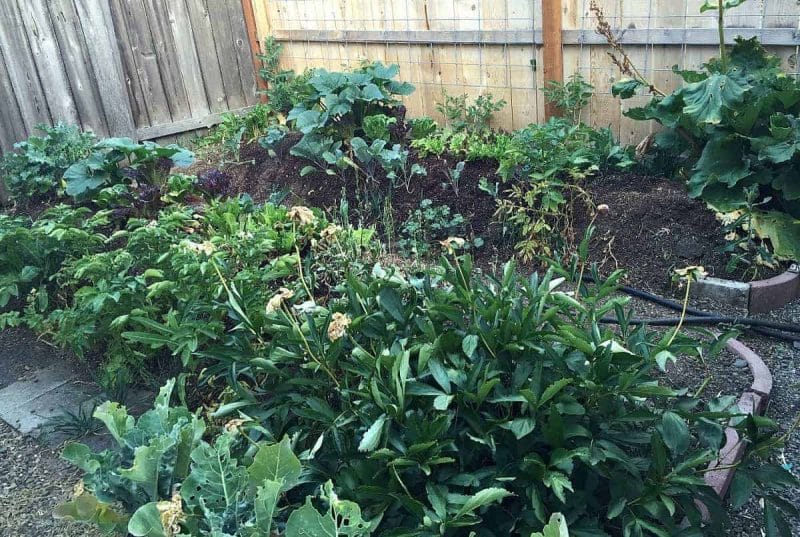 The zucchini plant is just barely starting to produce, which is exciting! We didn't plant too much summer squash this year as we don't have the space and it tends go crazy, but it's still fun to grow.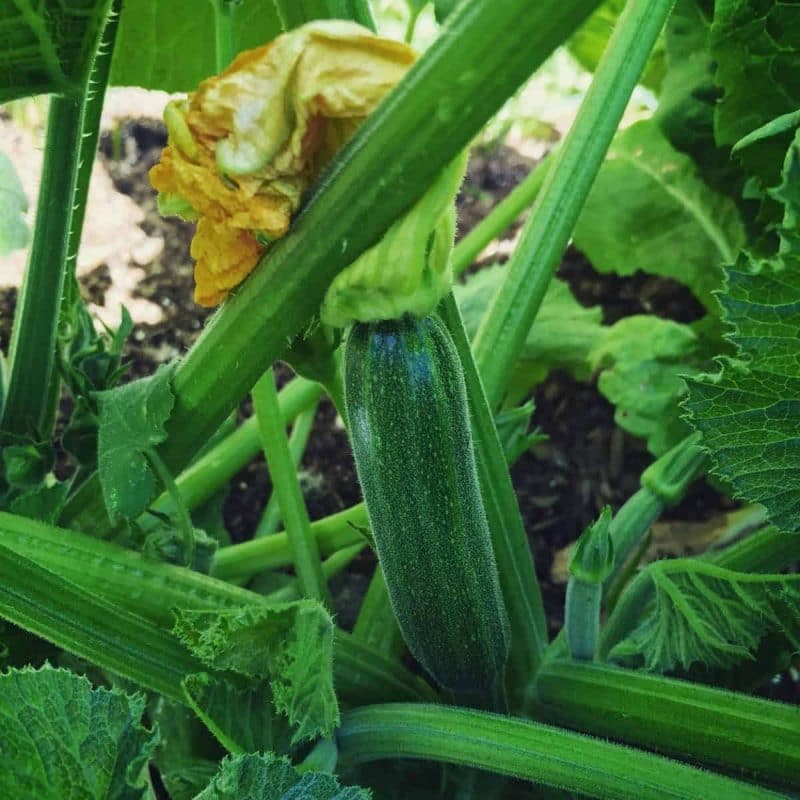 Our first real harvest other than radishes and salad greens was the purple potatoes! We absolutely love homegrown potatoes, we even have some growing in pots!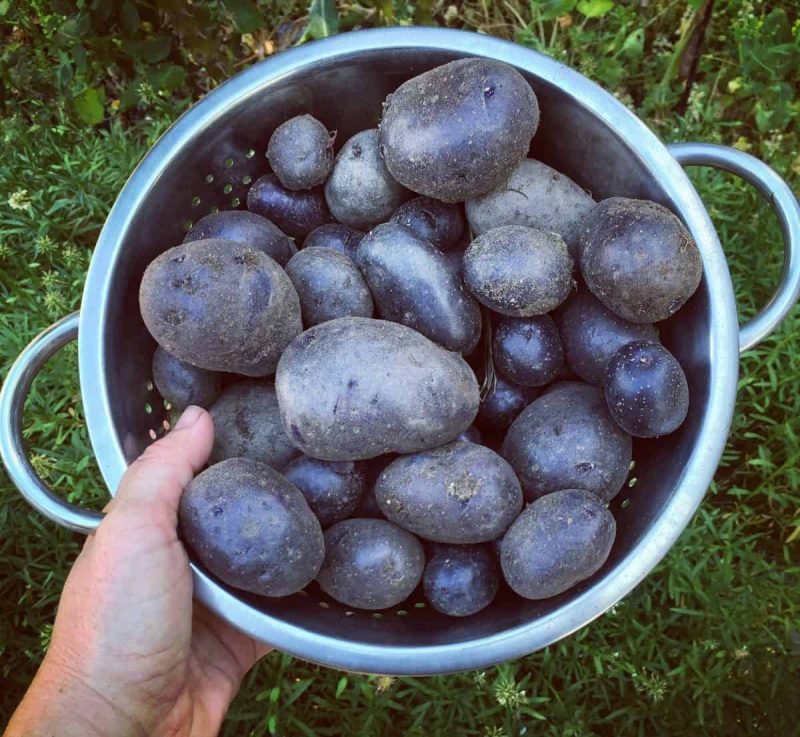 And of course we're growing kitties, too. Wait, what?!? Oh, that's just Cosmo hanging out in an unused planting pot, one of his favorite spots. He loves the garden and is always right there with us when we're planting or watering. Such a sweet kitty he is!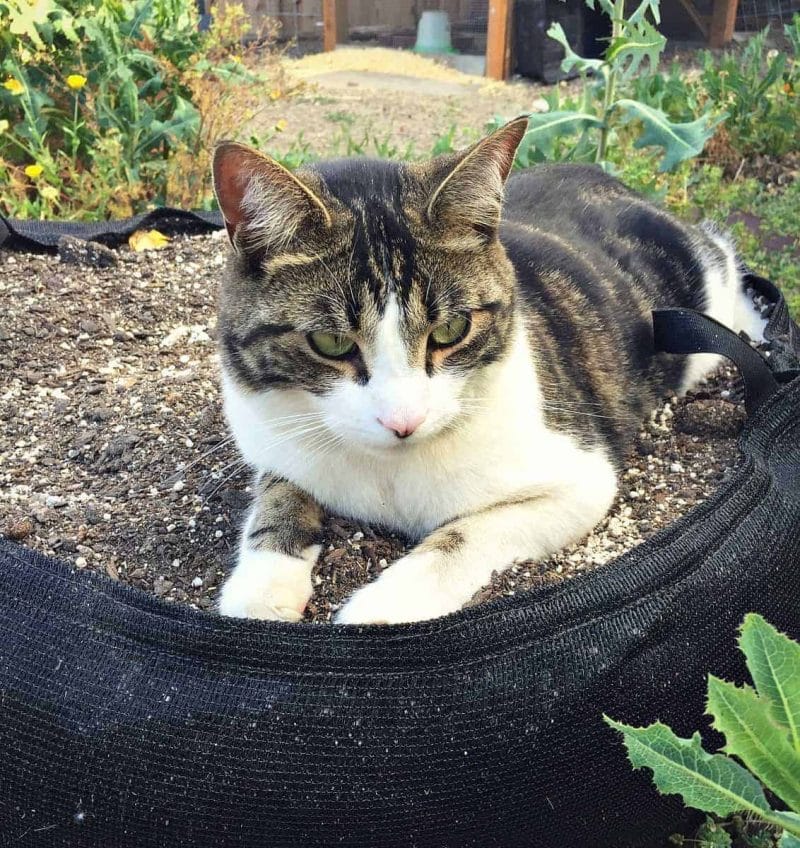 Thanks for taking this garden tour with me!
I also have a very special treat for you today, which is a virtual garden tour of eleven other gardens! I always love seeing what other people are growing, and how they are growing food, herbs and flowers. Plus, on this tour you will visit gardens in USDA gardening zones 3 through 9a. That means that some of the gardens are just beginning their season, while others (zone 9a!) are wrapping up their harvests. Join the virtual tour by clicking through to the other sites on the list below. Have fun!
Homestead Garden Tour
Joybilee Farm (British Columbia, Zone 3)
Homespun Seasonal Living (Montana, Zone 4b)
Homestead Honey (NE Missouri, Zone 5b)
Family Food Garden (British Columbia, Zone 5b)
Learning and Yearning (Pennsylvania, Zone 5b)
Reformation Acres (Ohio, Zone 5b)
Homestead Lady (SW Missouri, Zone 6)
Timber Creek Farm (Maryland, Zone 7b)
A Farm Girl in the Making (Washington, Zone 8a)
Preparedness Mama (Texas, Zone 8b)
Schneiderpeeps (Texas, Zone 9a)
Save
Save
Save
Save
Save
Save
Save