Chives are one of the easiest herbs to grow, and I think they belong in every backyard garden. They are perennial, meaning that they come back on their own each year, and are one of the first plants to pop up in early spring. They are a great companion plant as they help to deter unwanted pests, and bees love the blossoms. My chives are a few years old and were bursting with blossoms this spring. I decided it was time to do something with them, and I had seen recipes for chive blossom vinegar. Of course, I wanted more than that, so I decided on making chive blossom oil and vinegar. The results were fantastic!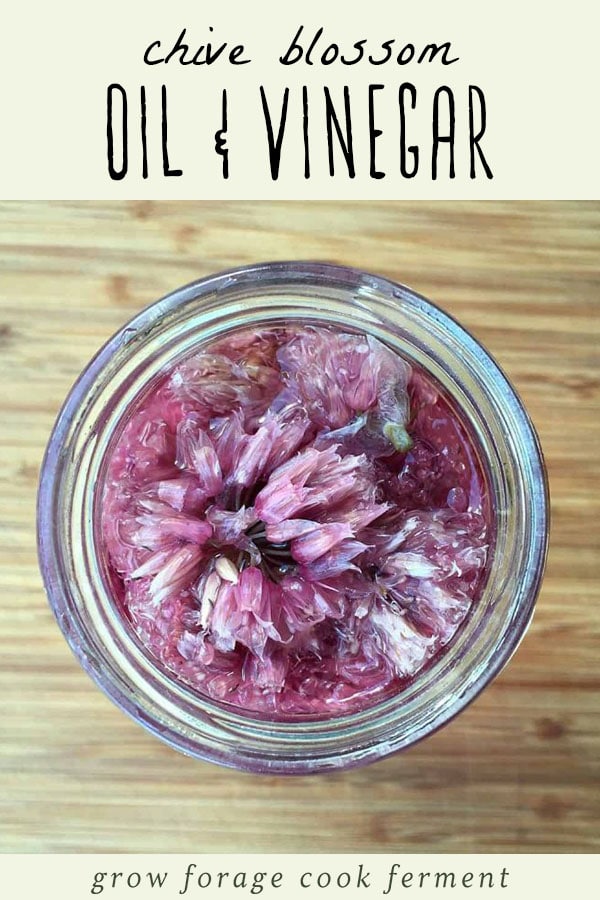 First, take a look at all of these beautiful chive blossoms! Our chives really went crazy this year. Such a beautiful addition to the spring garden.
The blossoms are nice and onion flavored, and can be added to salads, biscuits, compound butters, or any other way you would normally use chives. Don't let their beauty fool you, as they can be quite strong! It's best to chop them up a bit, especially when using raw.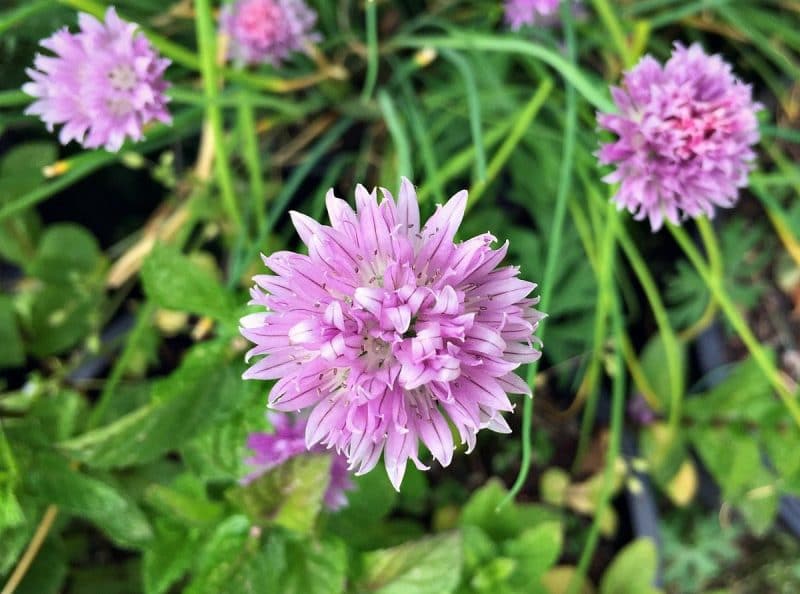 The bees were loving the blossoms, so I waited almost a week to harvest, and even then I took less than half of them. I wonder what chive blossom honey would taste like?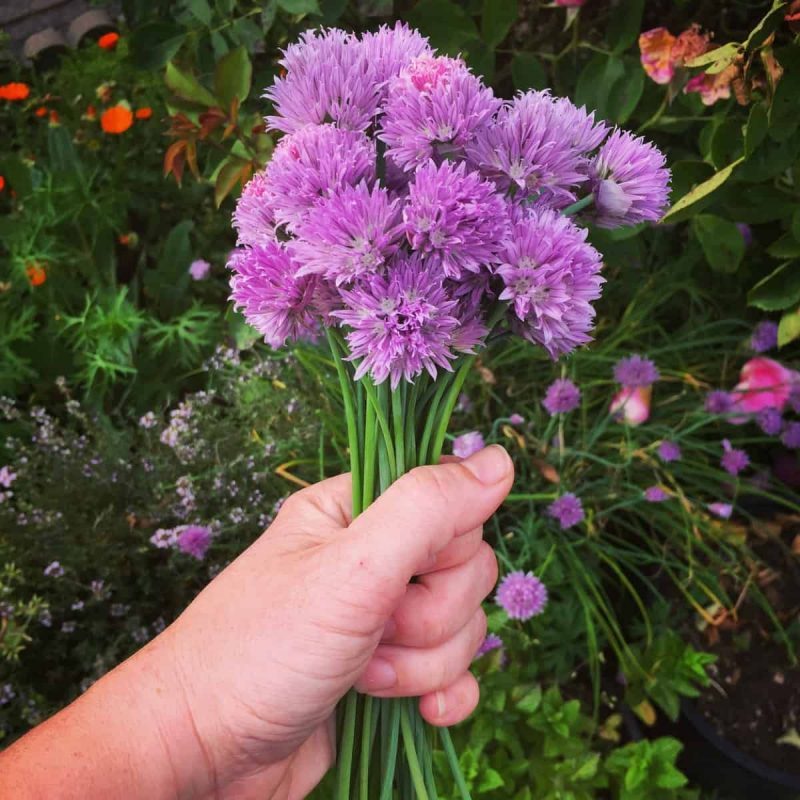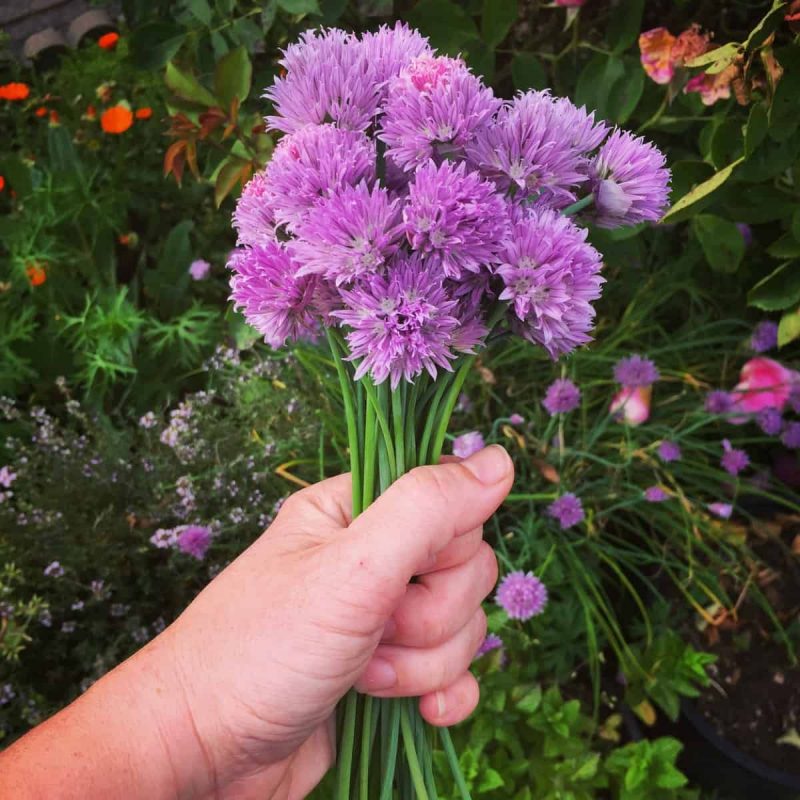 How to Make Chive Blossom Infused Oil and Vinegar
Now here's how to make chive blossom oil and vinegar. Collect your chive blossoms and separate the flowers from the stalks.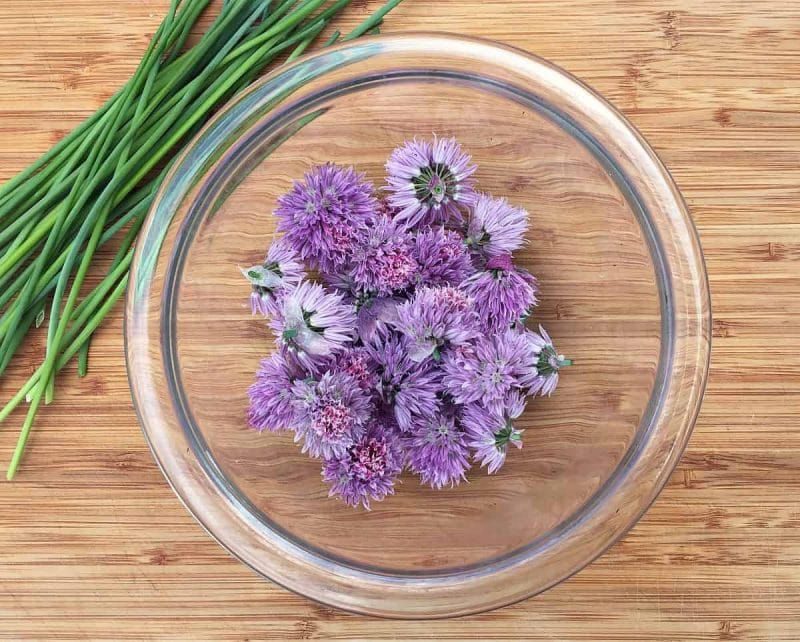 You may want to give the flowers a quick rinse to get all the buggies off. Mince the stems, then fill one jar with a few blossoms and the stems, and the other about half full with blossoms. You can do all blossoms and forget about the stems if you'd like, I just figured I might as well not waste them. Any size jars will work, it really just depends on how many chive blossoms you have.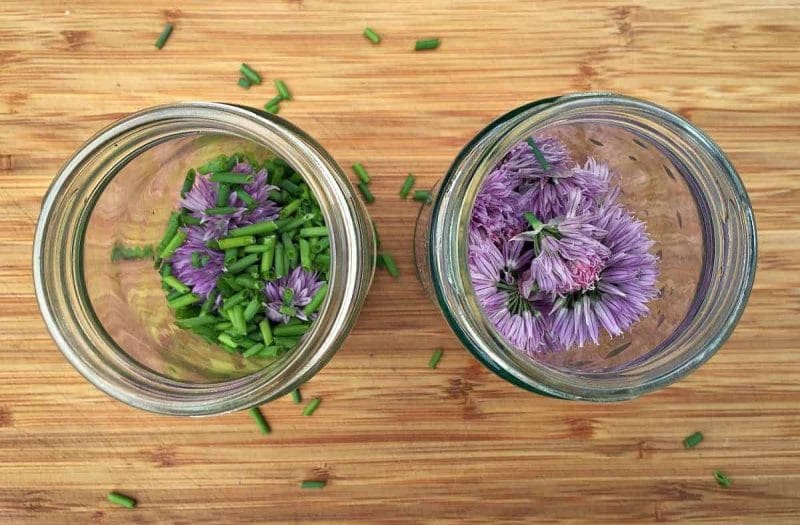 Add olive oil to the jar with the stems and white vinegar (I used white balsamic) to the jar with blossoms only.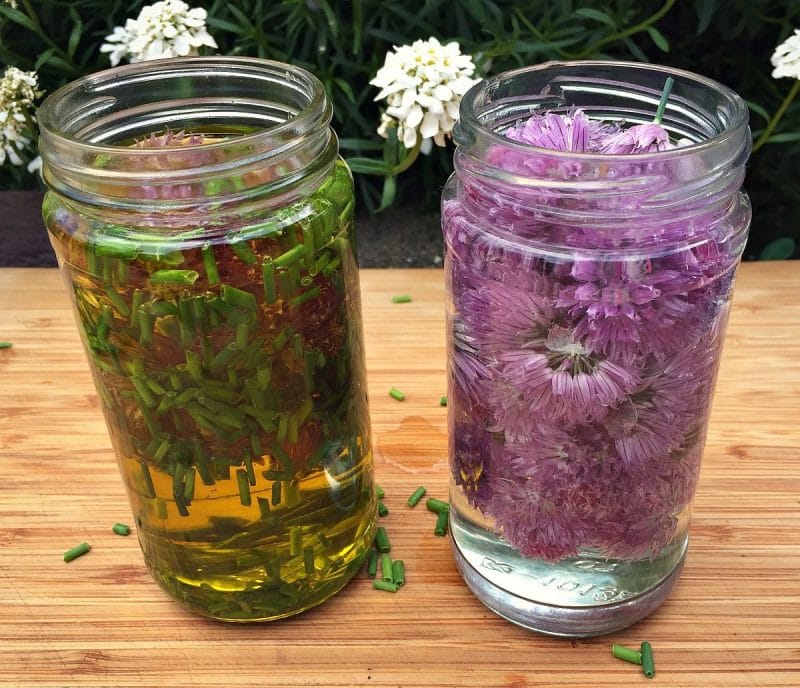 Put them in a dark place to infuse for about 2 weeks. Some recipes say to put them in direct sunlight, but I prefer the darkness to avoid rancidity.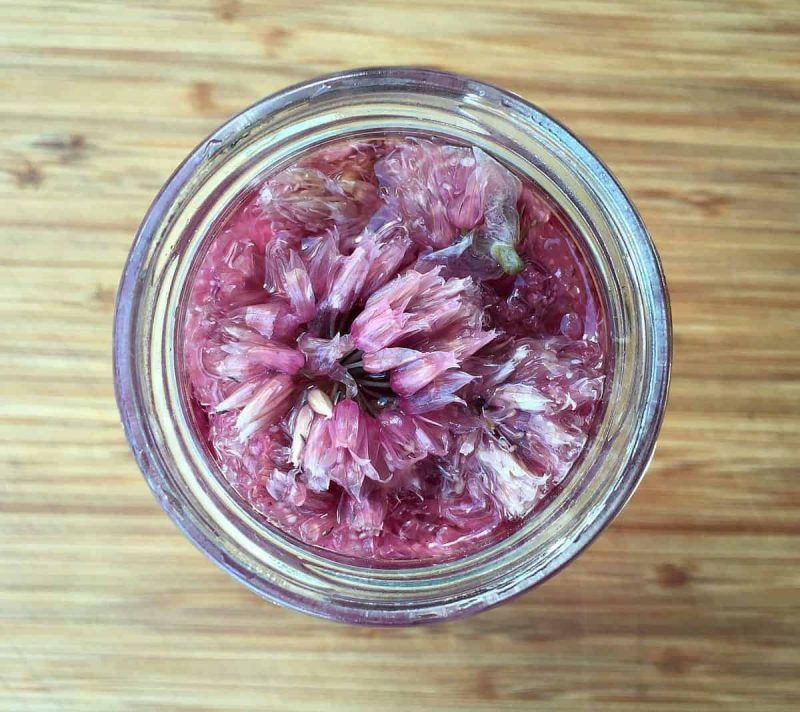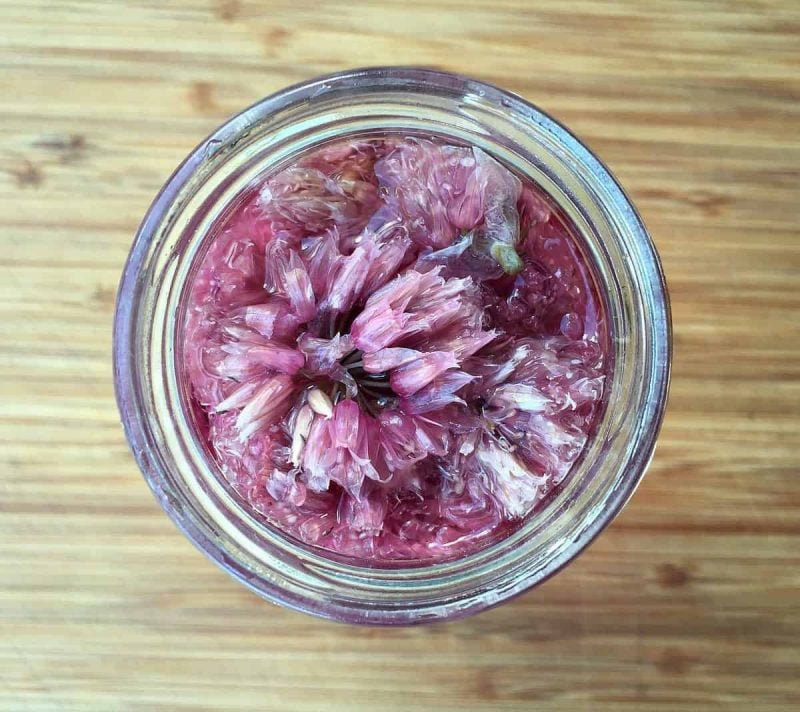 When they are finished infusing, the vinegar will be a lovely shade of pink and the oil will smell super chivealicious. Yes, I just made that word up, but it works, right?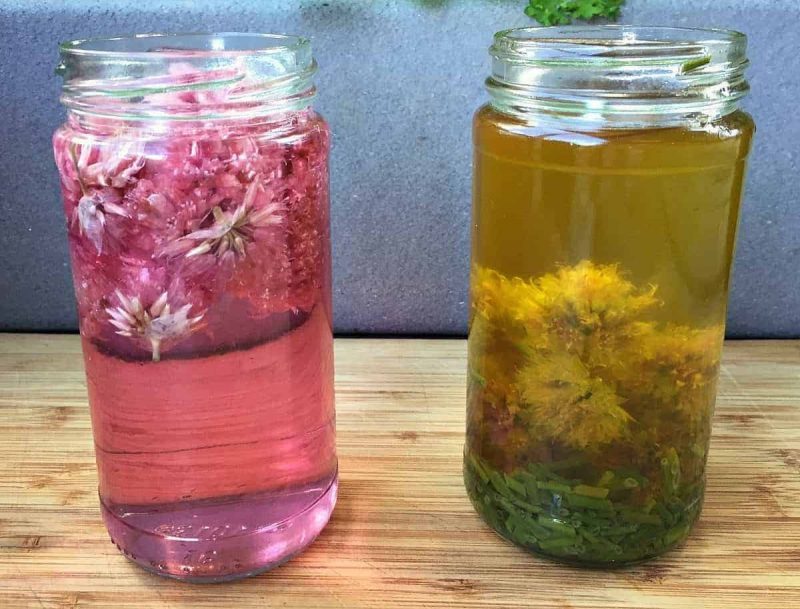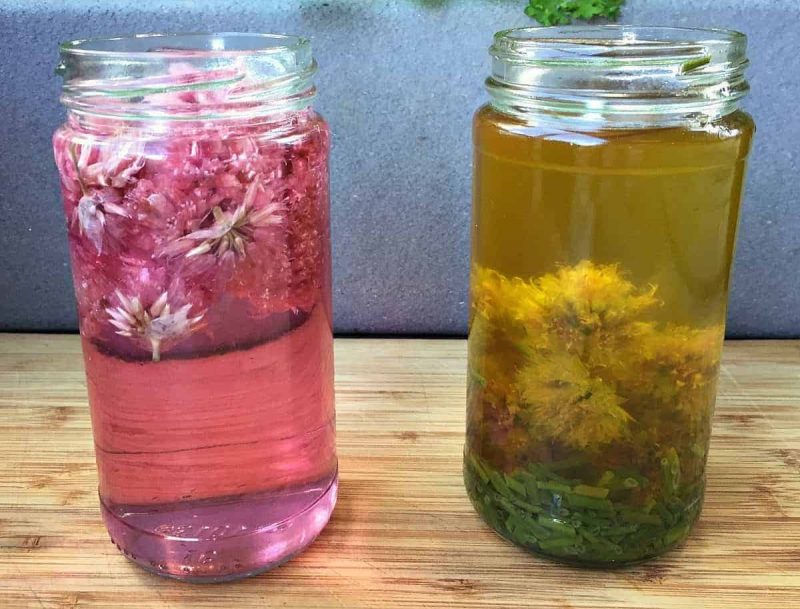 Strain out the chive blossoms and stems and store in a dark place.
Chive Blossom Oil and Vinegar
If your chives are blooming with many flowers, make this chive blossom oil and vinegar. It's an easy infusion recipe, and perfect for making salad dressings!
Ingredients
1

handful

chive blossoms with stems

1

cup

white balsamic vinegar

1

cup

olive oil
Instructions
Rinse the chives blossoms and stems. Separate the blossoms from the stems. Chop the stems.

Place the chopped chives and 2-3 blossoms into a clean jar. Add the olive oil.

Place the remainder of the chive blossoms into another clean jar. Add the white vinegar.

Place lids onto the jars, then put them in a dark place to infused for about 2 weeks. When they're done, the vinegar will turn a lovely shade of pink and the oil will be very fragrant. Strain out the stems and blossoms, place them back into clean jars, screw on the lids and store in a dark place.
Now, what to do with your lovely chive blossom oil and vinegar? Use as you would any oil or vinegar normally when a kick of chives would be beneficial. Use on salads, pasta, pizza, or in stir fries. Probably the most logical way to use them is to make a homemade salad dressing, so that's what I did. I followed my recipe for balsamic vinaigrette made in a jar, substituting the chive vinegar for the basalmic, and the chive oil for the oil. It turned out amazing!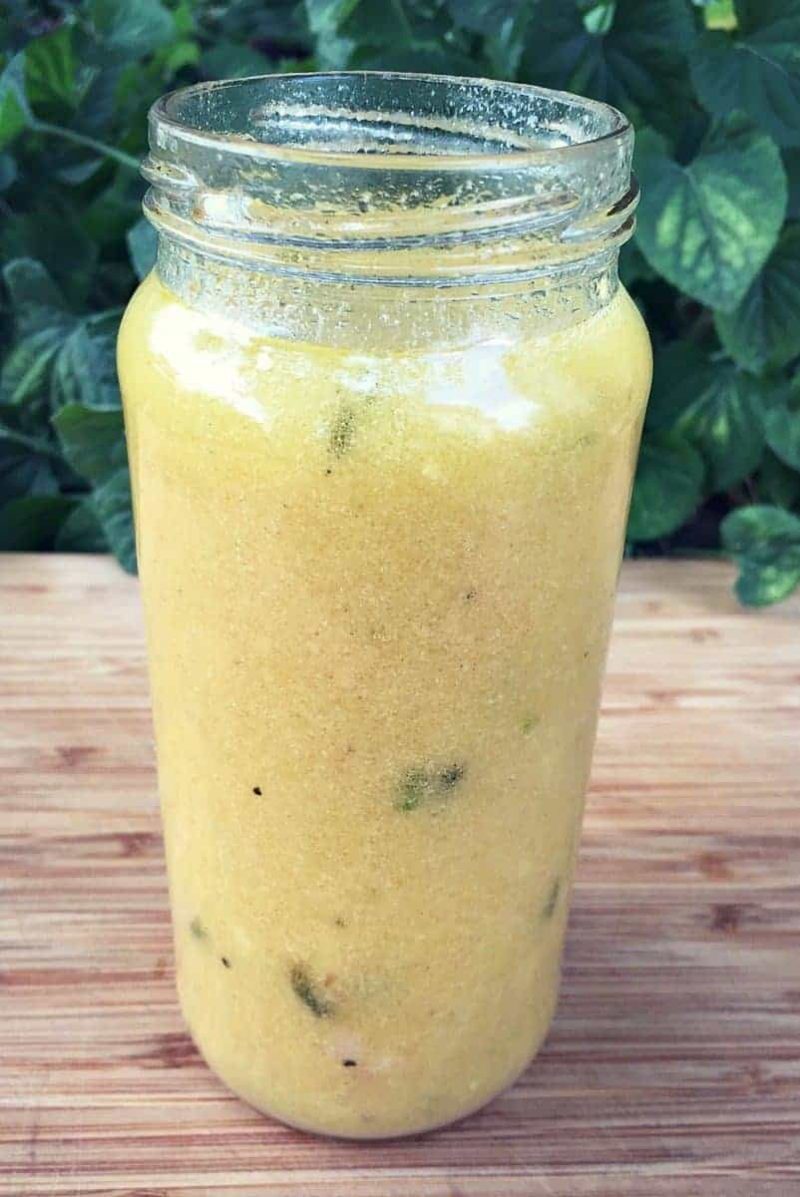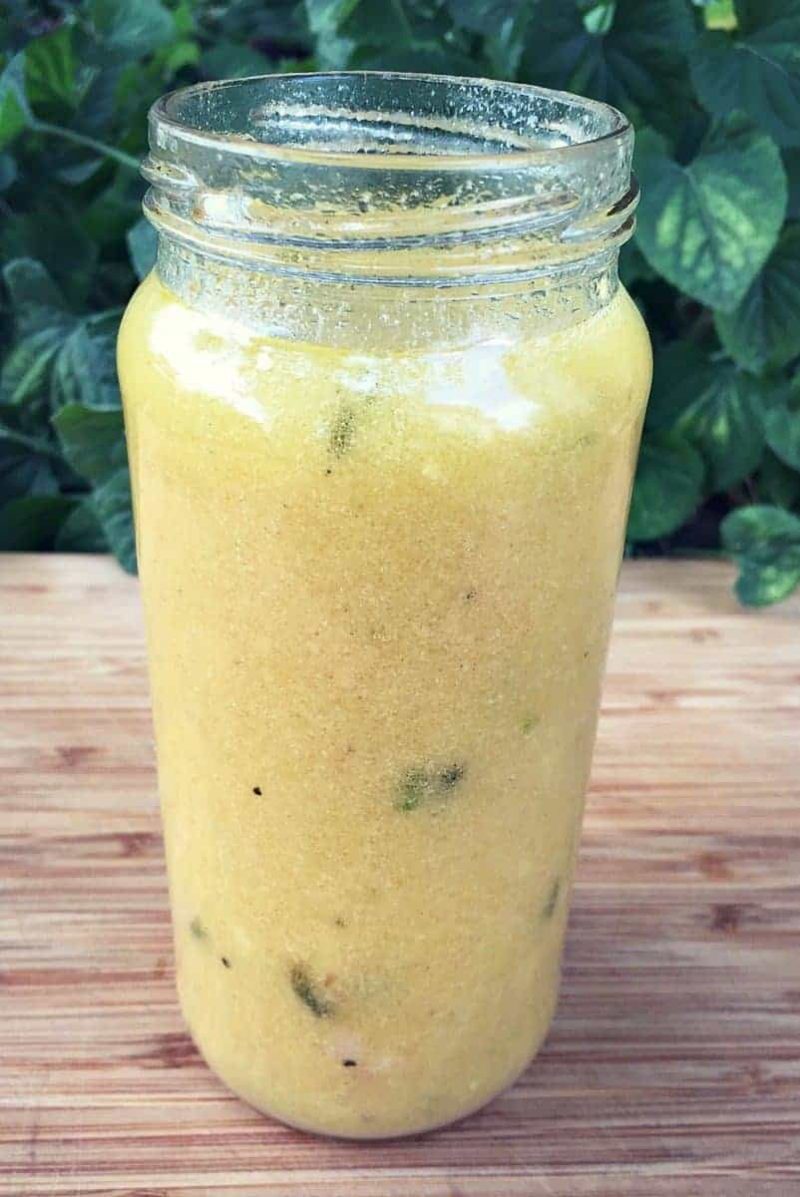 This is probably one of the best salad dressings I have ever had. I added a few minced fresh chives to it as well. The chive flavor is definitely there, but it's not overwhelming. Super tasty!
Here are some other great articles on what to do with chives:
I hope this inspires you to do something fun with your extra chive blossoms this year!