This mountain vinegar recipe is a beautiful way to connect to what grows around you, and use foraged ingredients to make a delicious infused vinegar. Taking note of the essence of what is natural in your area, and the feeling you get while foraging is the best way to make a truly local flavored vinegar.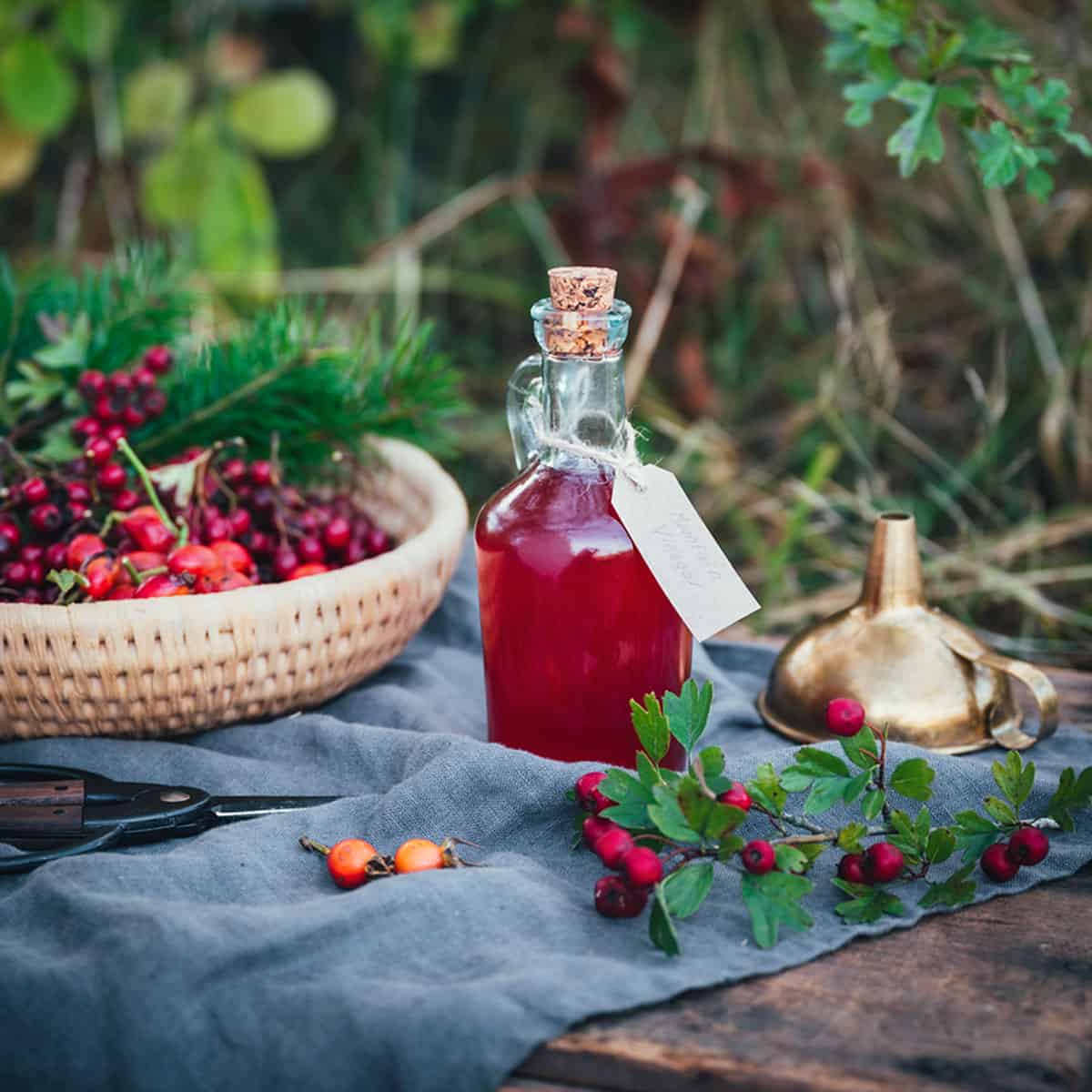 Wildcrafted Vinegars Book by Pascal Baudar
This recipe is my take on Pascal Baudar's instructions on how to make truly locally infused vinegar with foraged herbs, berries, and mushrooms from his book, Wildcrafted Vinegars.
Baudar's book is beautiful inside and out, and it has fermented recipes, quick pickles, hot sauces, pastes, mustards, and more. He has a uniquely earth-connected and spiritual take on foraging to find ingredients for infused vinegar and so much wisdom on how to make this process your own.
An infused vinegar with wild foraged ingredients will have the spirit and essence of the place you are at and the plants you find at the moment.
Baudar explains the process of breathing in your surroundings and getting a feel for where you are when you are foraging. The time of year, the area you live, and the passing moment in time all affect the plants and the outcome of your flavored vinegar.
In the book, you'll find in detail how to survey the area, establish the flavor characteristics, and determine the essence of the place. There is no rush when connecting to what the earth grows and when making infused vinegar! It's a good time to slow down, feel, and listen to your inner self.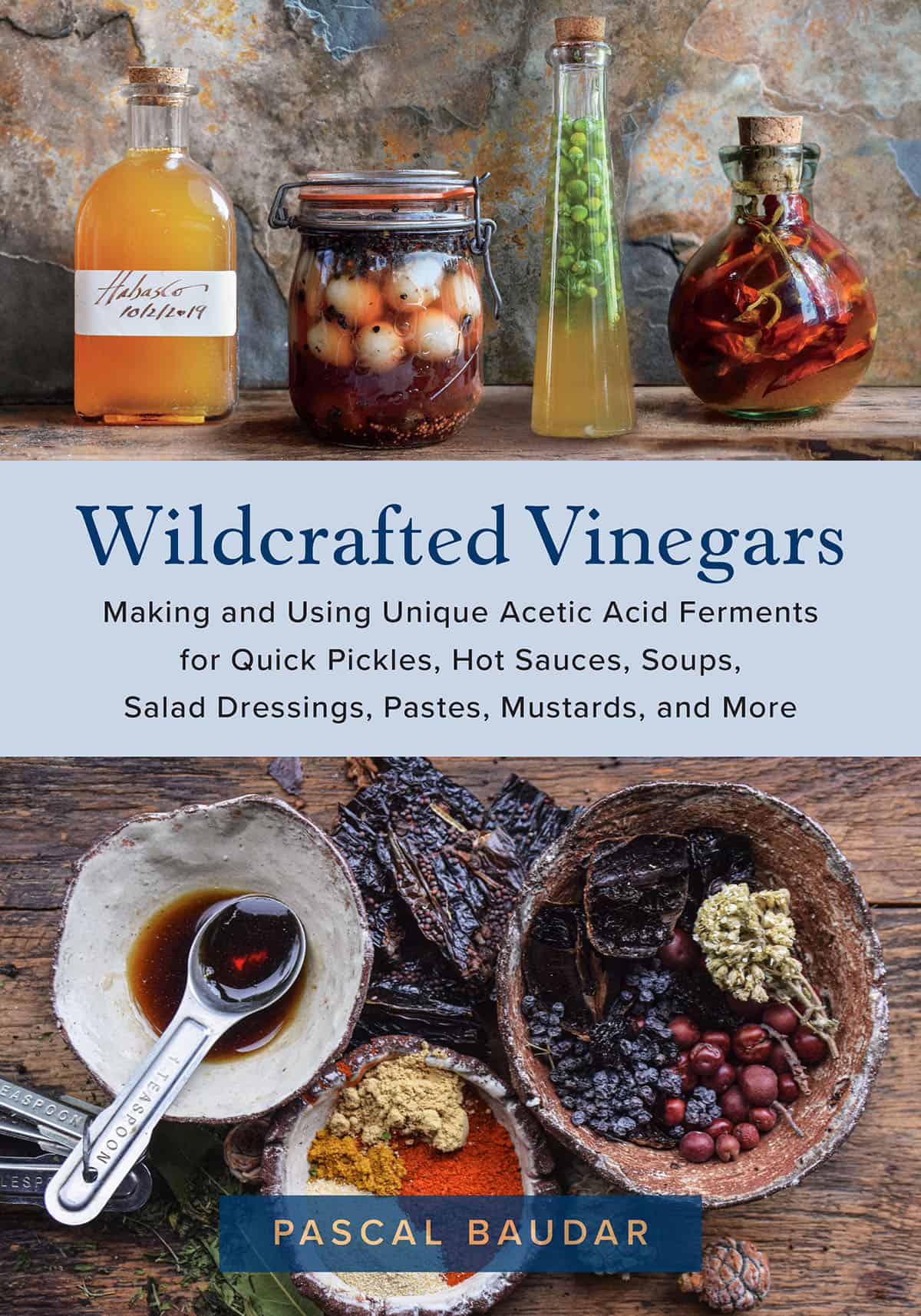 How to Make Mountain Infused Vinegar
This wildcrafted infused vinegar is representing what I found in my area at the time of foraging. There were plentiful edible plants such as hawthorn berries, conifer trees, rosehips, elderberries, yarrow leaves, and various mushrooms.
These plants can be found in many areas, but the beauty of this mountain vinegar recipe is that it is highly adaptable to what edible plants are in your area, what essence you want in your infused vinegar, and how the area of foraging feels to you.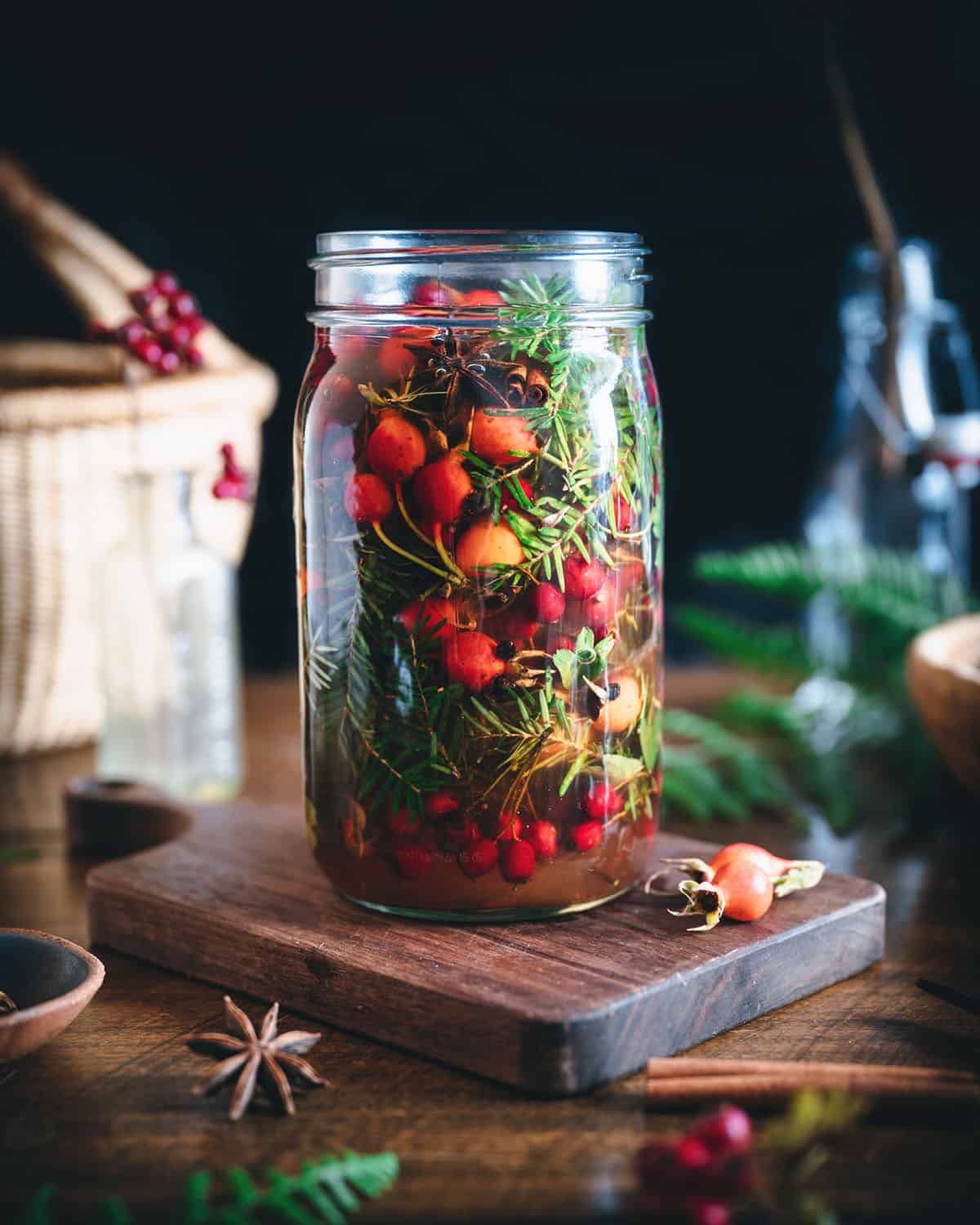 Foraging Edible Plants for Infusion
The first step is to forage edible plants to use in this herbal vinegar. The amounts used can vary, depending on the flavor profile you wish to have.
The herbal ingredients I use in this infused vinegar recipe can be found in most places. Feel free to use what is specific to your area once you are sure it is edible.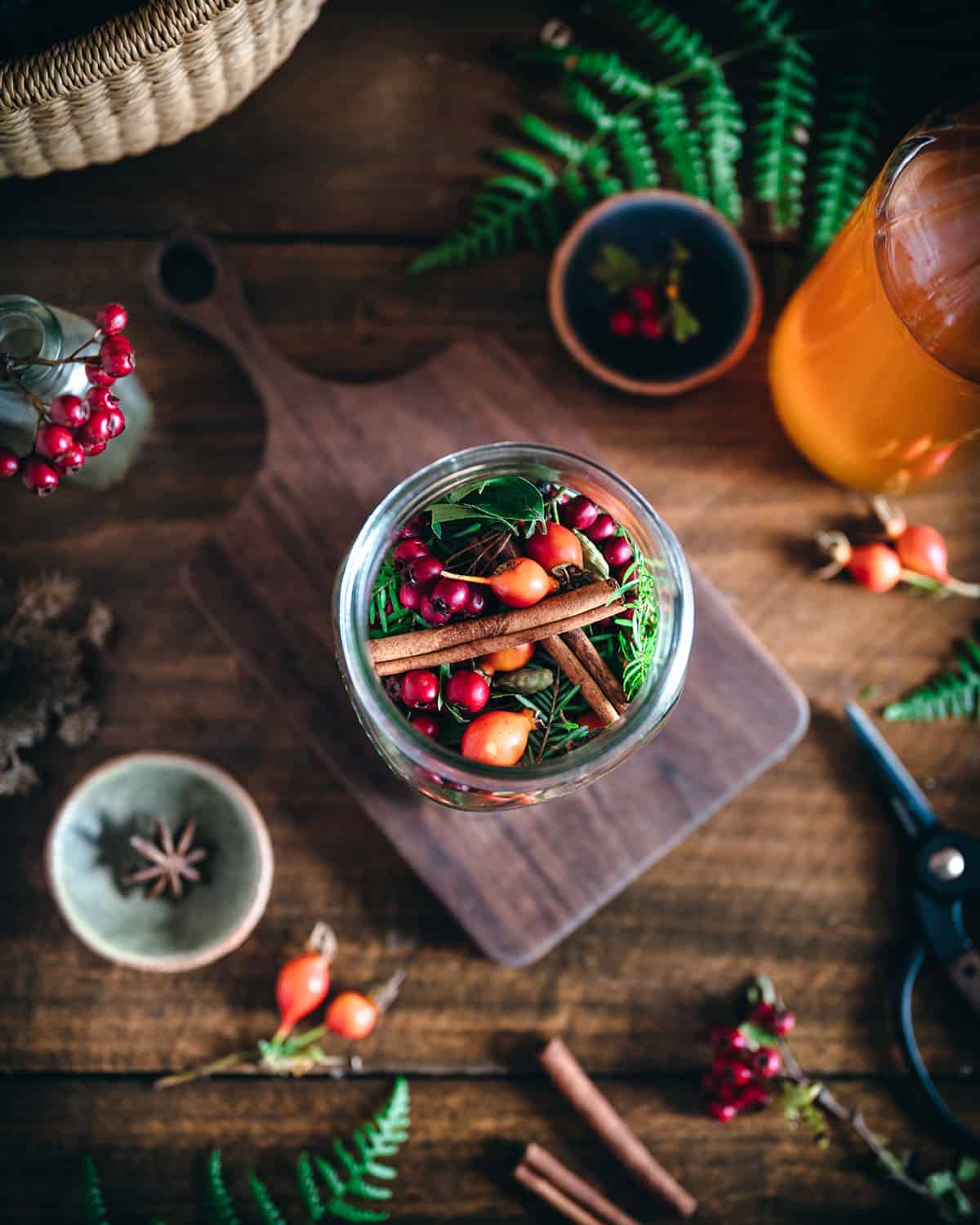 Keep it simple with just a few foraged ingredients, or make a more complex flavored vinegar by adding a bundle of different plants.
I used a base of hawthorn berries, rosehips, and fir tips. I added smaller amounts of dried elderberries, dried yarrow leaves, and mugwort I harvested earlier in the summer.
Hawthorn, rosehips, and fir are the main ingredients in this recipe. I also added a couple of cinnamon sticks and cardamom pods. I find those spices pair great with hawthorn and rosehips, though they are entirely optional.
Ingredients for Infused Vinegar Recipe
Raw apple cider vinegar: The flavors of foraged plants I used for this infusion pair perfectly with apple cider vinegar.
Note: As explained in Wildcrafted Vinegars, there are many options of vinegar you can use as a base depending on what you forage and in what season, including champagne vinegar, white wine vinegar, red wine vinegar, or balsamic vinegar.
Hawthorn berries: Hawthorn is in the rose family, so the berries resemble rose hips. They have a tart flavor and can be good for the heart.
Rose hips: Rose hips are the fruit of the rose plant and are amazingly high in vitamin C. They are a plentiful immune booster, as well as have antioxidant properties.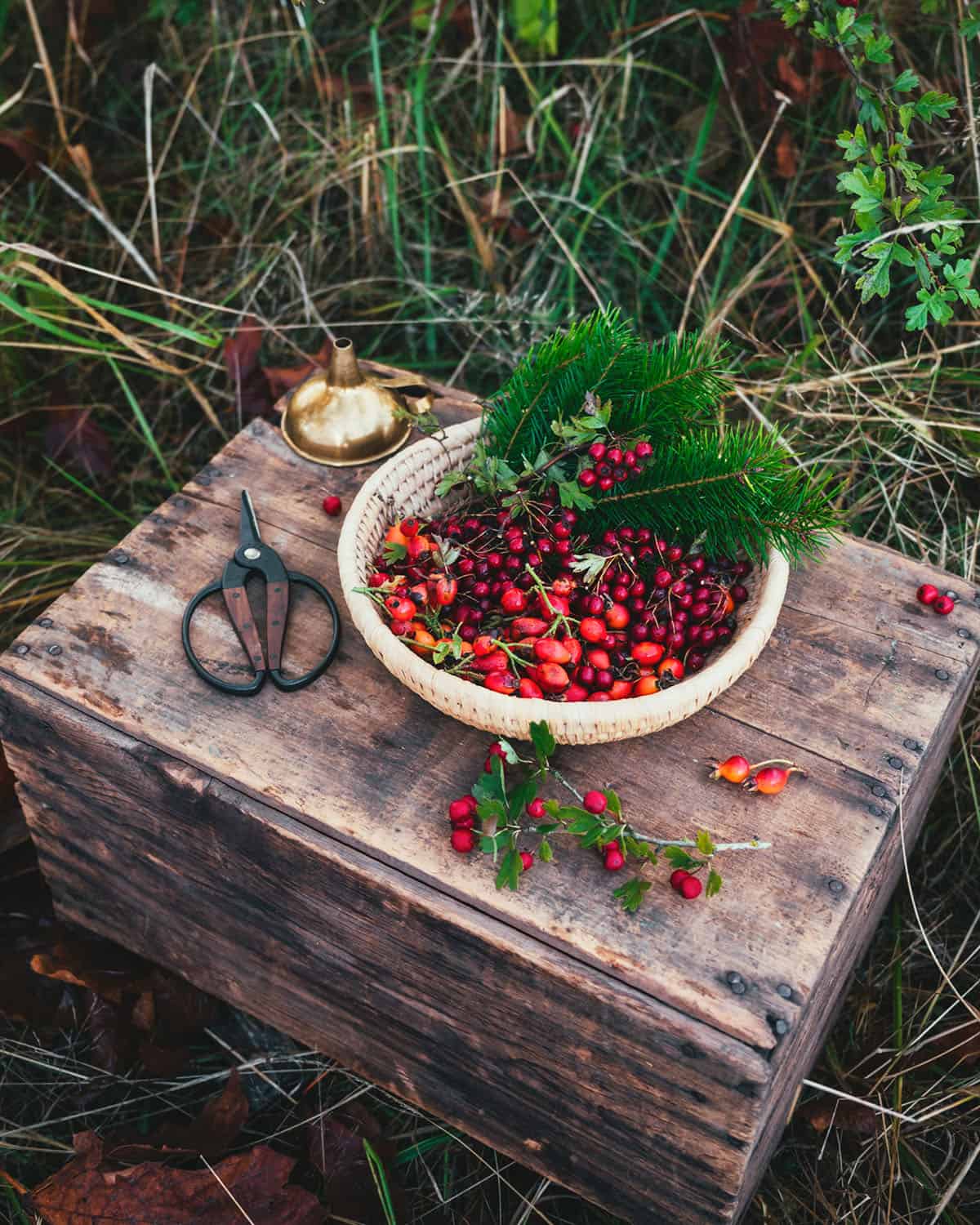 Fir tips: Many types of conifer are safe and edible, with medicinal qualities as well. Use what's in your area to make it local.
Elderberries: Elderberries give this vinegar an extra immunity boost, along with an earthy fall berry flavor.
Yarrow leaf: In some climates, yarrow leaf will grow year-round even when it's not warm enough to produce flowers. If you don't find any, using dried yarrow leaf works just fine.
Mugwort: Mugwort is a plant that has many medicinal uses and a distinct smell. Different varieties can be found in different regions, so they don't all look exactly the same.
Cinnamon sticks and Cardamom pod: Both for a delicious warming flavor!
More Foraged Ingredient Options
Here are a few more ideas for foraged ingredients you can use.
Infused Vinegar Recipe
First, add the foraged ingredients into a jar. Push them down with a spoon or muddler to remove any pockets of air. Fill the jar to the top, reserving about a half-inch of space.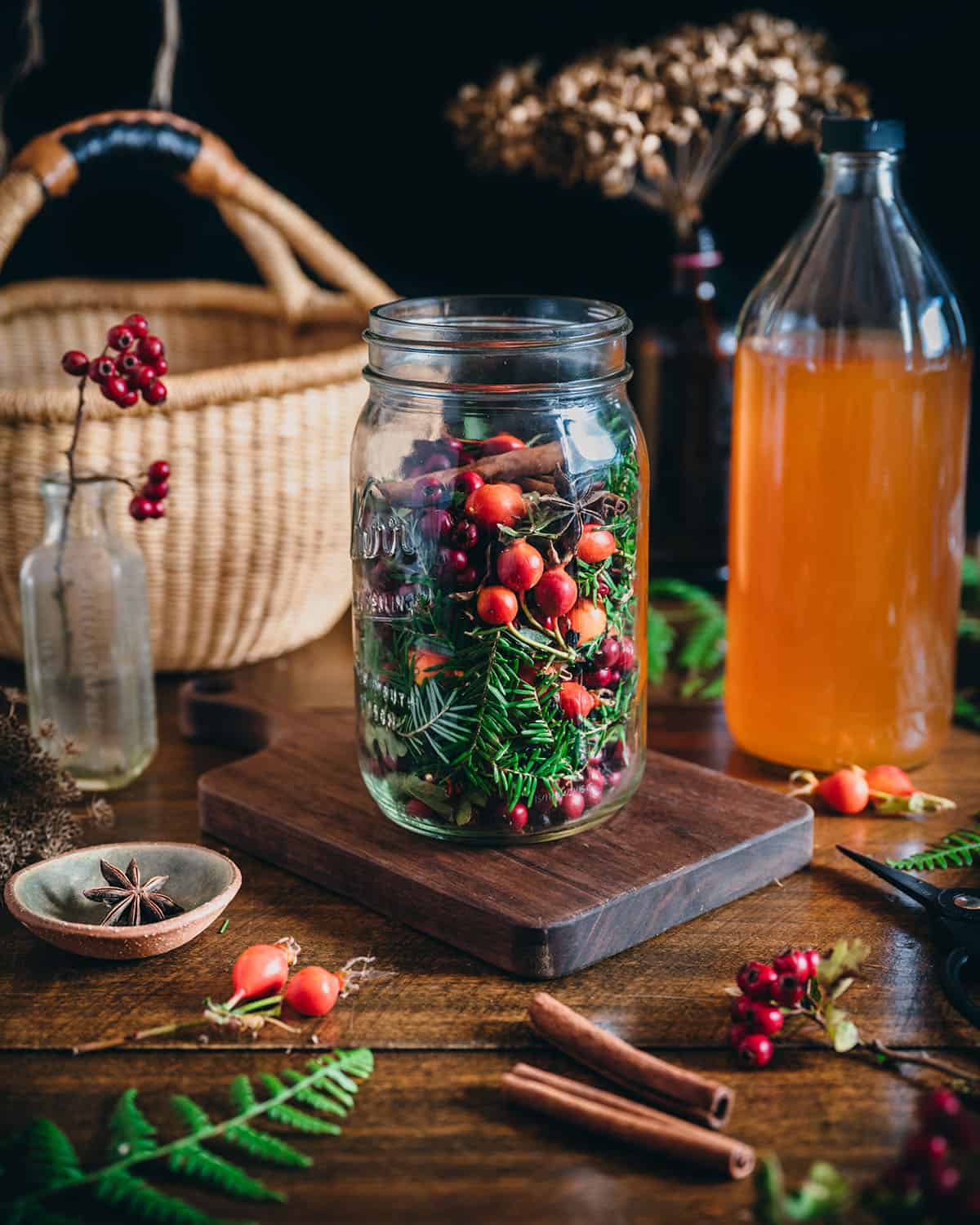 Pour the apple cider vinegar over the foraged ingredients to the top of the jar. Cover the jar with parchment paper, and close the lid over it.
Tuck the jar away in a cool place to infuse at room temperature and allow the flavors to blend.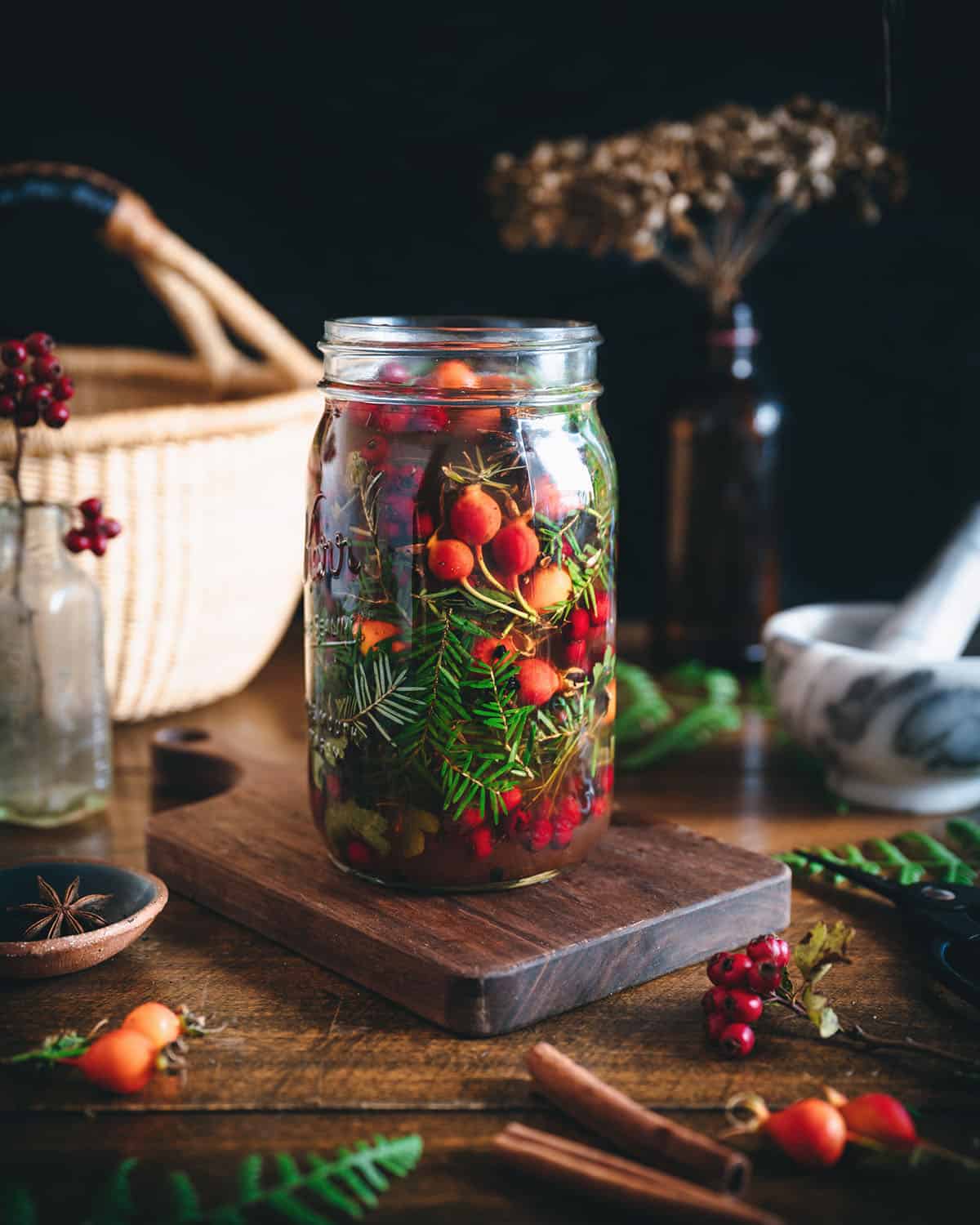 In Wildcrafted Vinegars, Pascal states that he allows his mountain vinegar recipe to age for up to 6 months with the herbs in it. Then he strains them out and lets the vinegar continue to age for up to 12 months.
Once the vinegar's taste and aroma are to your preference, strain out the herbs. Then put the flavored vinegar in a new jar.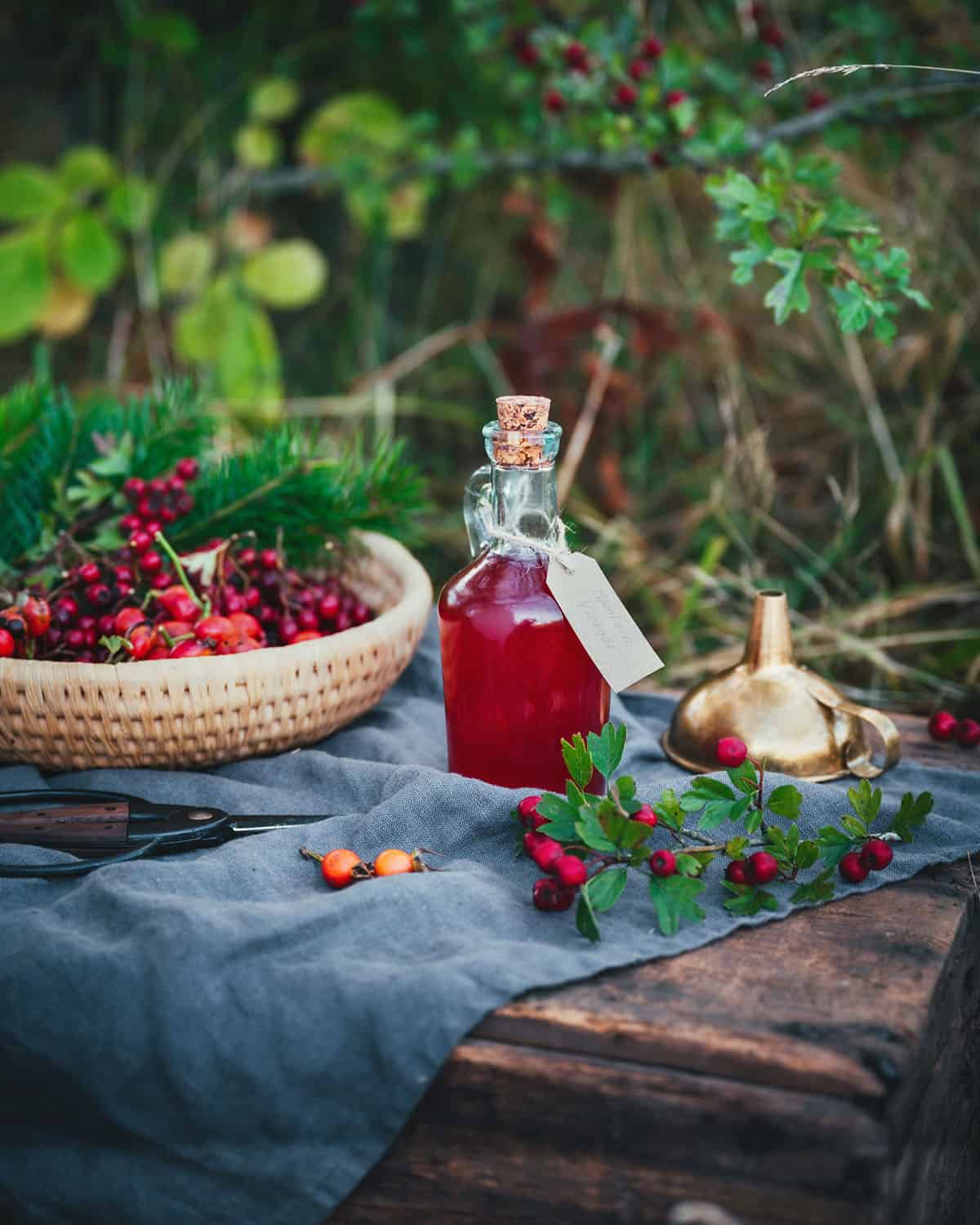 Store the infused vinegar at room temperature, or in the refrigerator for an even longer shelf life.
Consume your mountain vinegar within 1 year after making it. Pascal recommends that mountain vinegar should be consumed within 12 months of the date it was made to avoid spoilage.
How to Use Mountain Vinegar
Use this infused vinegar on top of salads, for making shrubs or oxymels, or even for canning and making quick pickles!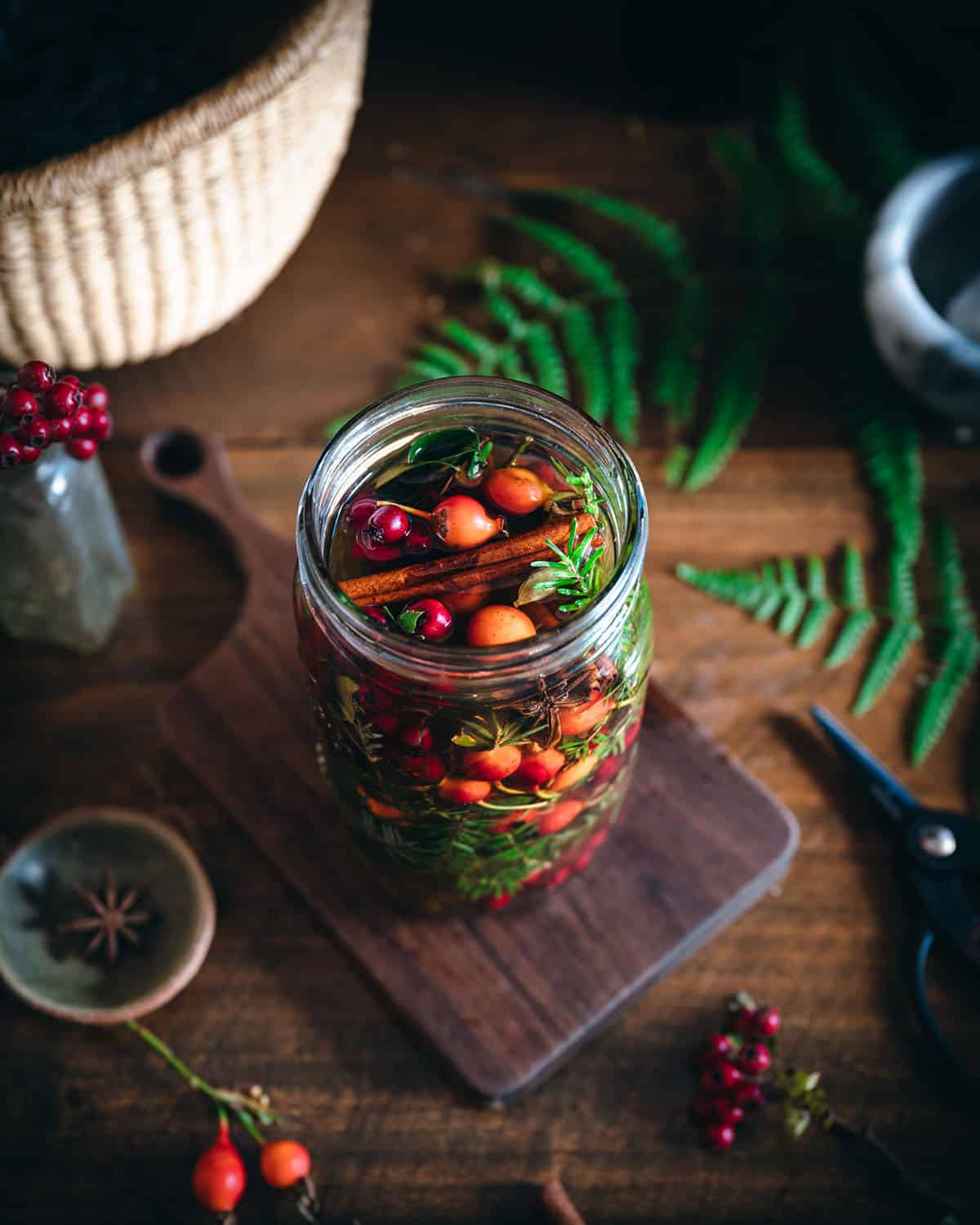 Each infused vinegar recipe with foraged ingredients you make will have a unique flavor profile. It will reflect whatever was going on in the environment around you at the time of foraging. Find creative ways to use every delicious flavor you make!
More infused vinegar recipes
Here are some more recipes for infused vinegar, oxymels, and elixirs!
Infused Mountain Vinegar
This mountain vinegar recipe is a perfect way to connect to what grows around you, using foraged ingredients for a delicious infused vinegar.
Instructions
Place the foraged ingredients in a jar, pushing down with a spoon or muddler as needed to remove air pockets. Fill the jar to the top, leaving ½ inch of space at the top.

Pour apple cider vinegar over the herbs to fill to the top. Cover the jar with a piece of parchment paper and cover it with a lid. Allow the vinegar to infuse for 4 weeks to several months at room temperature to allow the flavors to blend.

Once you are happy with the flavor and scent of the mountain vinegar, strain out the herbs and return the vinegar to a clean jar.

The vinegar can be stored at room temperature; however, I always store infused vinegar in the fridge to extend the shelf life as long as possible.

Consume the infused mountain vinegar within 1 year. Enjoy!
Notes
The herbal ingredients I use in this infused vinegar recipe can be found in most places. Feel free to use what is specific to your area once you are sure it is edible.

I used a base of hawthorn berries, rosehips, and fir tips. I added smaller amounts of dried elderberries, dried yarrow leaves, and mugwort I harvested earlier in the summer. Any combination of fresh or dried plants works however.

There are many options of vinegar you can use as a base depending on what you forage and in what season, including champagne vinegar, white wine vinegar, red wine vinegar, or balsamic vinegar.

Mountain vinegar can age for up to 6 months with the herbs in it, and 12 months once strained.

This recipe is inspired by the book Wildcrafted Vinegars by Pascal Baudar
Nutrition
Serving:
1
Tablespoon
|
Calories:
3
kcal