Self-heal oxymel is an old-fashioned immune supporting concoction that can help ward off anything that comes your way during germ season. Self-heal is a wonderful wild-growing herb that has long been known for its powerful medicinal qualities. As the nights cool and we begin to spend more time indoors, cold and flu season is right around the corner. Arm yourself with this powerful herbal remedy!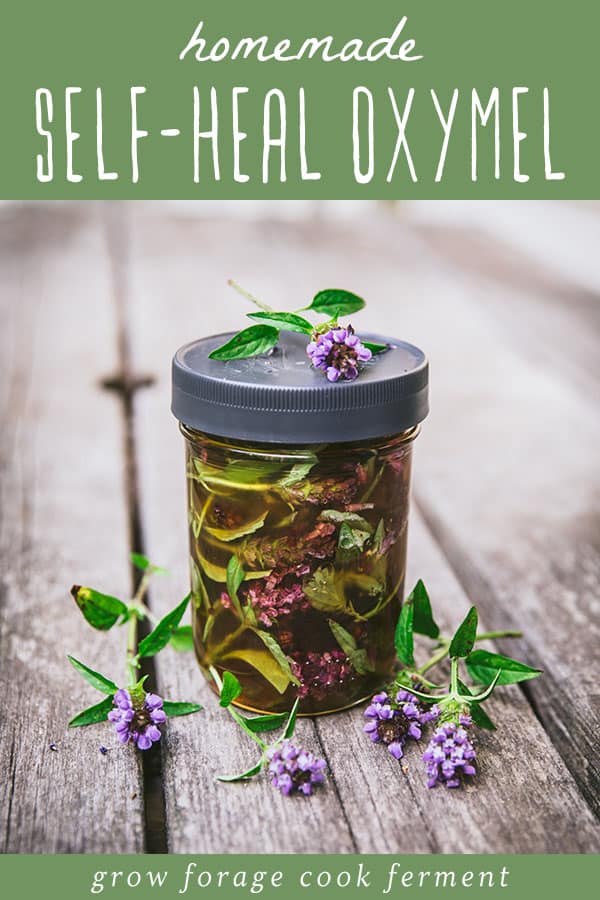 What is an Herbal Oxymel?
Herbal oxymel is a simple herbal remedy that is easy to make and has been around for ages. Historically, it is a mixture of vinegar and honey taken to help keep sickness at bay.
Both honey and vinegar have medicinal qualities, so infusing healing and immune-supporting herbs to it will make them that much more powerful and effective.
Oxymels were traditionally made with more honey than vinegar, although the ratio can vary depending on what the needs are.
More modern oxymels today are usually about half and half honey to apple cider vinegar ratio making for a super delicious sweet and sour taste.
Today, fire cider is a popular type of oxymel that you may recognize!
What Herbs to Use in an Oxymel
There are many herbs that work well in an herbal-infused oxymel recipe to enhance its benefits and effectiveness.
Similar to a tincture, an oxymel can work with a wide variety of herbs.
Sage and ginger herbal oxymel is one of my favorites to make! Bee balm oxymel is another great choice if you happen to have fresh bee balm growing.
Some other common herbs to use in oxymels are lemon balm, chamomile, mullein, nettles, mint, and dandelion root.
These are all easy herbs to access in your own garden or on a quick foraging walk!
For extra immune support in an oxymel recipe, consider infusing elderberry, rose hips, echinacea, garlic, onion, sage, rosemary, thyme, oregano, and cinnamon.
In this oxymel recipe, the focus will be on using self-heal (Prunella vulgaris) as an herbal ingredient to boost immunity and overall wellness.
Self-heal (aka heal-all or woundwort) is anti-inflammatory, and antibacterial as well as good for immune support.
Self-Heal Oxymel Recipe
This is a really simple recipe to make!
I got the idea for this self-heal oxymel recipe from April of She is of the Woods, I recommend checking out her video for more info!
First, add some fresh foraged (from a clean and unsprayed location) self-heal into a jar until it is close to full. Use the flowers, leaves, and stems. If necessary you can use dried self-heal, but fresh plant material is optimal if you have access to it.
Then add some raw apple cider vinegar to the jar. Based on taste preferences, you can add an amount that feels right to you. I usually fill the jar with the vinegar about halfway.
Next, pour some raw honey into the jar with the herbs and vinegar until the jar is filled. If the honey is thick, it's ok because the vinegar will help dissolve it into the combination.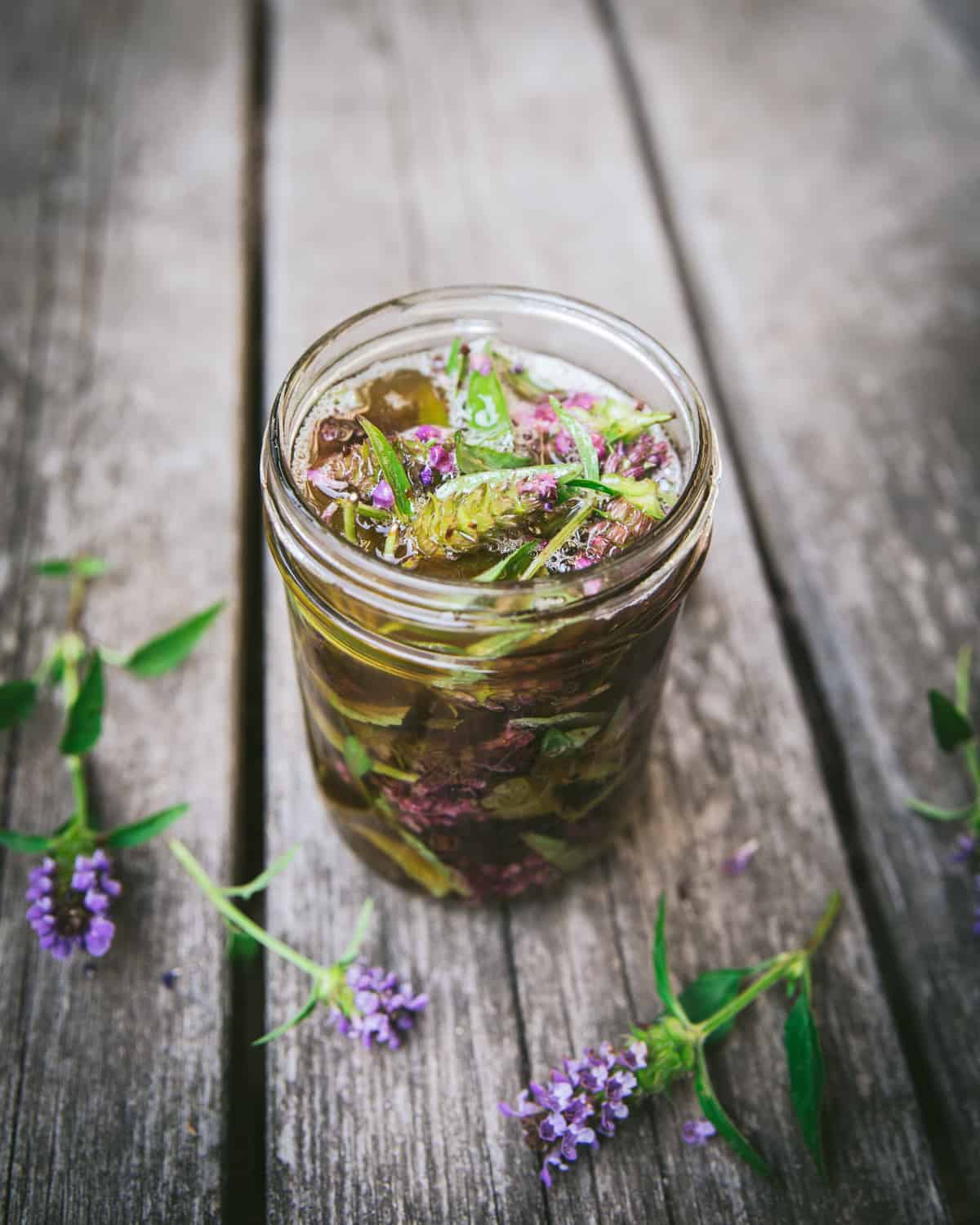 You want as little air at the top as you can fit, so fill the jar as full as possible without it spilling. The less air there is will prevent oxidation that will make the herbs turn brown.
Then, wipe the rim of the jar, put a lid on it, and give it a few shakes until it's combined.
*Note: if using a metal canning lid, be sure to put parchment paper underneath it since vinegar can react with metal.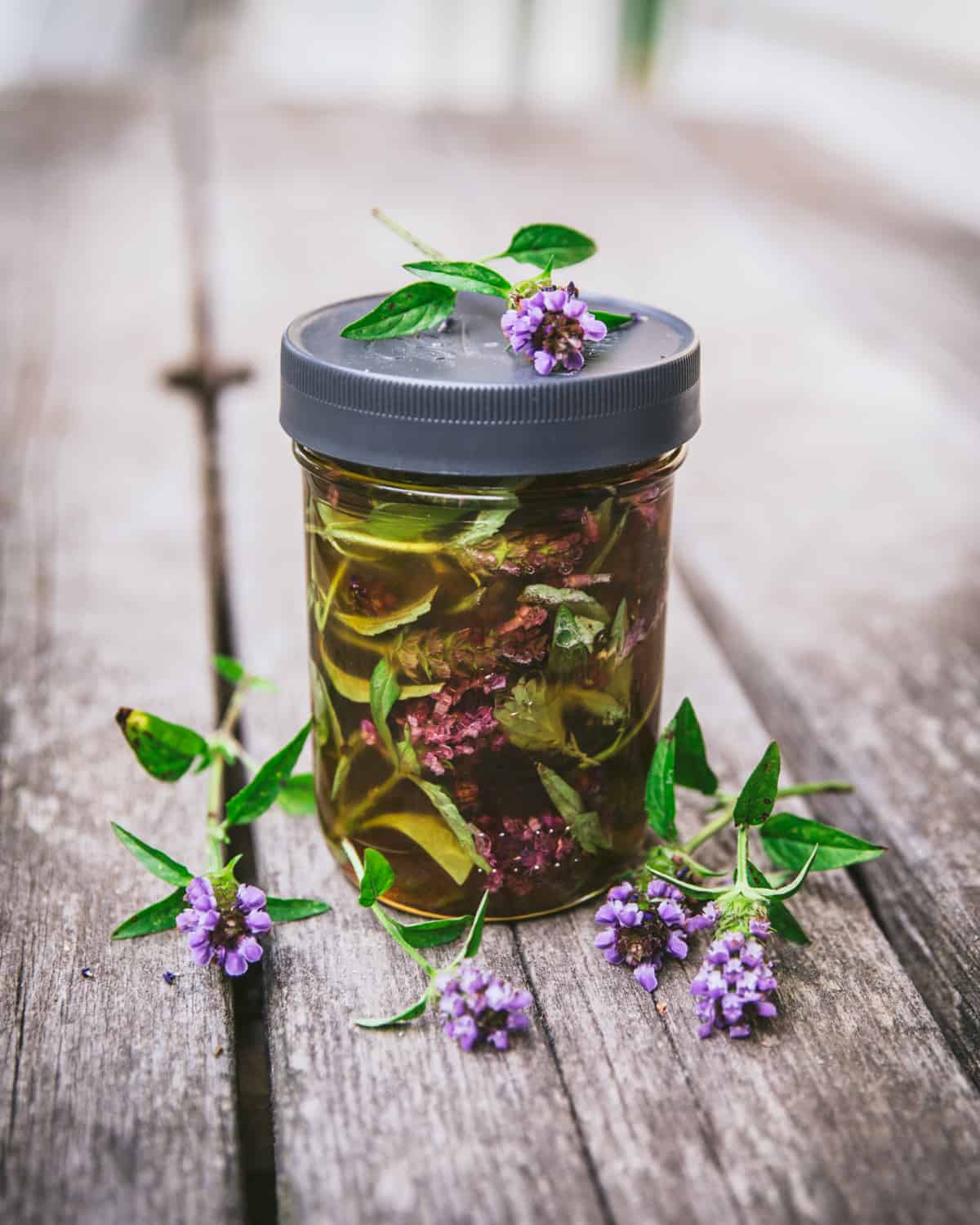 Store the self-heal oxymel in a cool dark place that is out of direct sunlight for as little as a week, or up to 30 days (or even more) to infuse.
When the infusion is ready, use a strainer to strain out the herbs from the liquid before using.
Keep the oxymel in a jar with a lid on in a cool dark place out of sunlight and it should keep for up to 6 months or more. To extend the shelf-life of self-heal oxymel, store it in the refrigerator.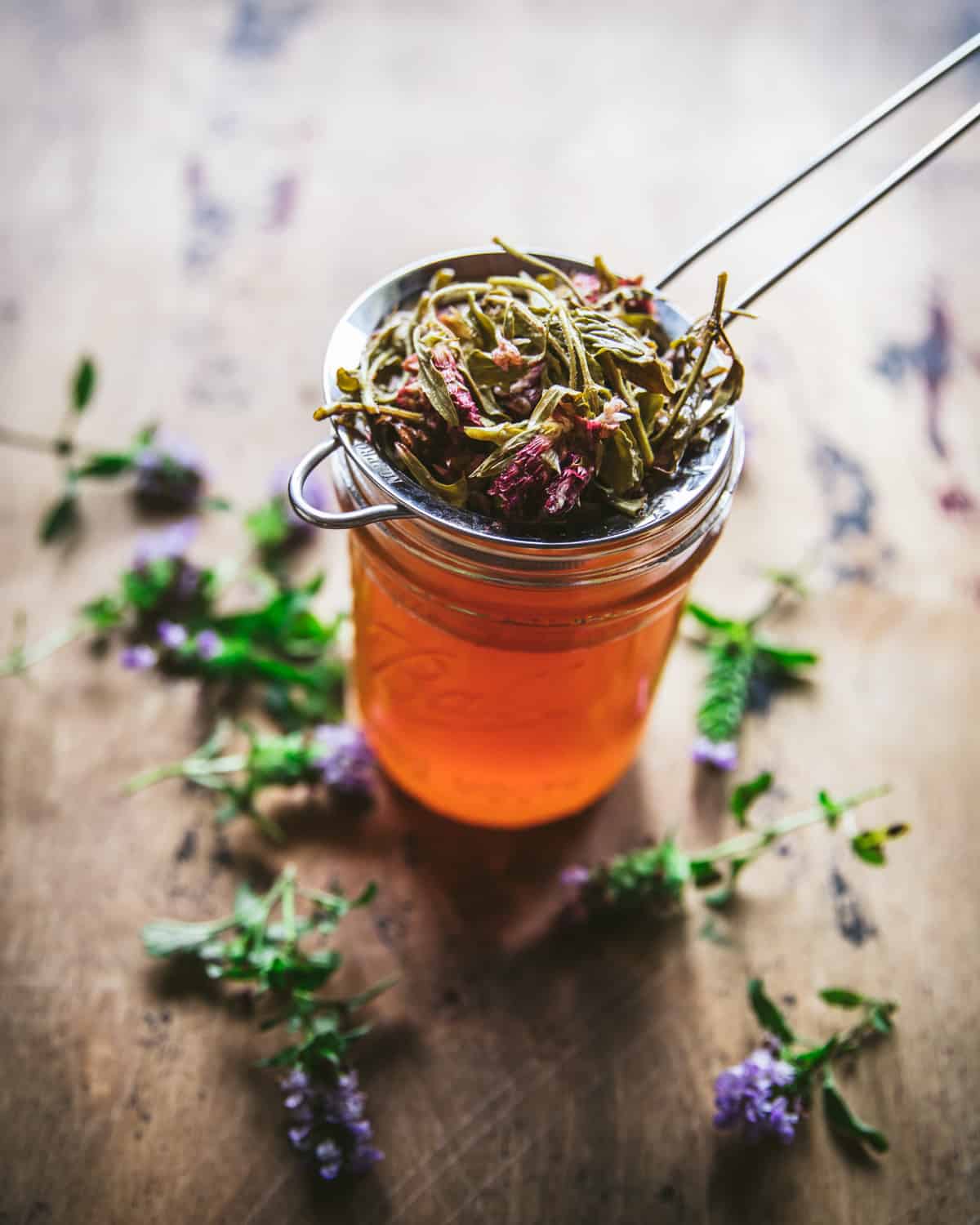 How to Use Self-Heal Oxymel
Self-heal is considered to be safe for most people!
Self-heal oxymel can be taken with the onset of sickness symptoms. For adults, take 1-2 tablespoons 2-3 times a day.
This oxymel with self-heal can also be used every day as a preventative measure to support your immune system. It tastes delicious as a bonus!
To use herbs besides self-heal, make sure to check the amount that is recommended for safe daily intake. Each herb has different properties and will vary in safe daily amounts.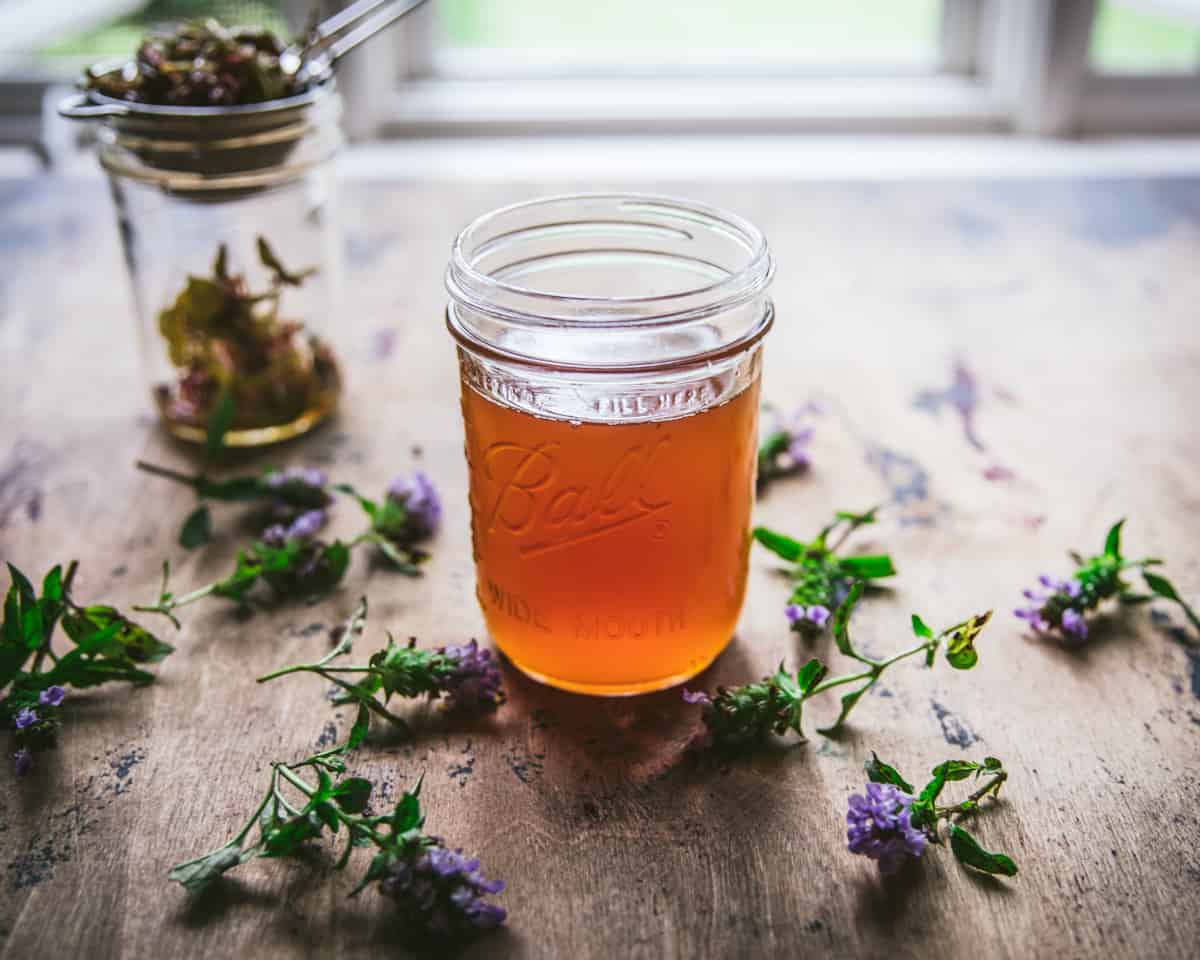 Can Children Take Oxymel?
Children that are over a year old can take most oxymels, in general. Check the safety of each infused herb for children. Sometimes kids don't like the vinegar taste, so you may want to opt for a higher amount of honey.
Self-heal oxymel is safe for most children, just lessen the amount given based on their size.
Children under the age of one year should not be given oxymels due to the raw honey.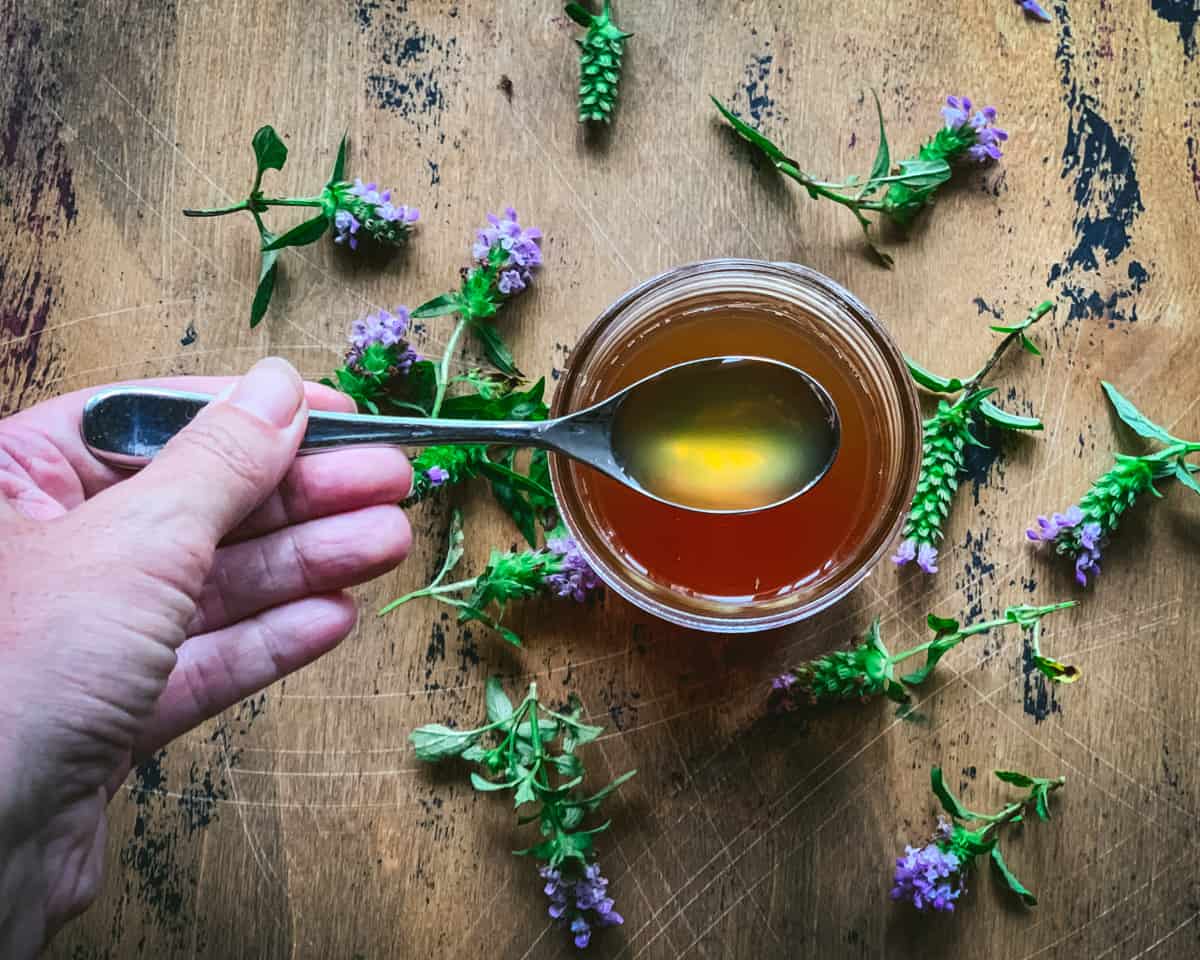 This oxymel with self-heal herb tastes delicious and is a wonderful health tonic with many benefits. The powers of self-heal really lend their hand in this recipe making it a highly effective home remedy with extra nutritional value too!
Both self-heal and oxymels were popular in use in history and still hold their ground today. Making for an old-fashioned feel, this homemade herbal remedy is a working part of a healthy immune system and a functional germ season saver!
Looking for more herbal remedies for cold and flu season?
Self-Heal Oxymel
This herbal oxymel recipe with self-heal is easy to make and has many benefits for the immune system. It also happens to be deliciously sweet and sour!
Instructions
Put the self-heal plant material into a wide-mouth pint jar. The jar should be nearly full of herbs.

Fill the jar about halfway with raw apple cider vinegar, more or less depending on your preference.

Add raw honey to the vinegar and herbs to fill the jar. Don't worry if the honey is thick, the vinegar will help it to dissolve and combine.

Cap the jar with a lid, and give it a few shakes to combine.

Put the oxymel in a cool place out of direct sunlight to infuse for at least a week and up to 30 days. Then strain out the self-heal with a fine mesh strainer before using.

Store the strained oxymel in a jar with a lid in a cool place out of direct sunlight. It will keep for 6 months or more. It can also be refrigerated for longer shelf life.
Notes
Fill the jar as full as you can without overflowing it, as you don't want too much airspace at the top. This will prevent oxidation, which can make the herbs turn brown.

If you use a metal canning lid be sure to put a piece of parchment paper under it as the vinegar can react to the metal.
For adults, take 1-2 tablespoons 2-3 times per day when you feel a sickness coming on.
This self-heal oxymel is safe for children over the age of one, just use a smaller dosage based on their size.
Oxymels should not be given to children under the age of one due to the raw honey.
Nutrition
Serving:
1
Tbsp
|
Calories:
35
kcal