Self-heal is a common herb, a highly nutritious edible plant, and a medicinal powerhouse. Also known as heal-all or woundwort, these plants have historically been used for centuries for a variety of healing and health-beneficial purposes. Self-heal is easy to identify and forage, and has many uses for modern herbalists!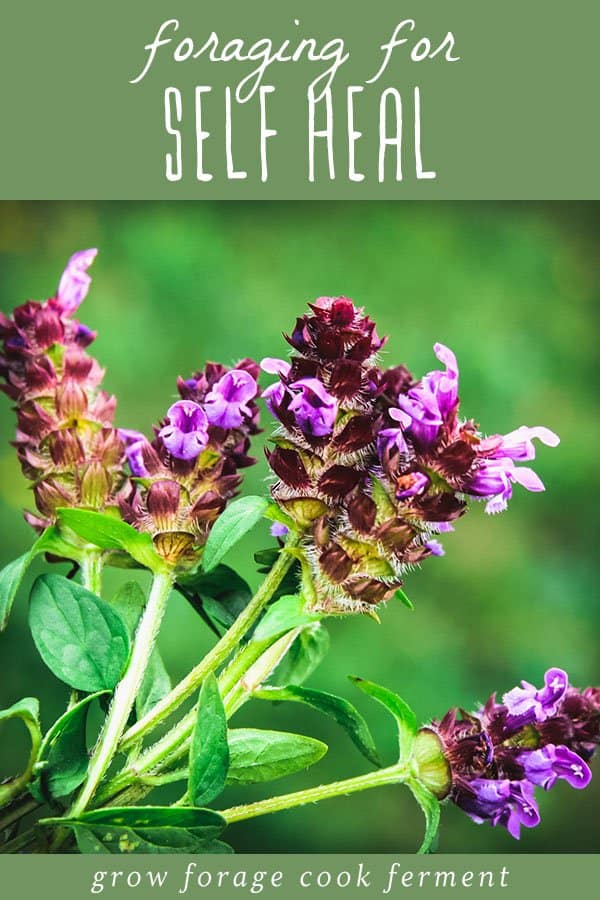 ---
Wildcrafting Weeds
If you want to learn more about the edible and medicinal weeds that surround us and how to use them, check out my eBook: Wildcrafting Weeds: 20 Easy to Forage Edible and Medicinal Plants (that might be growing in your backyard)!
Gather & Root Online Foraging Course
My online foraging course is a great way to learn about wild edible and medicinal plants! Learn more about the gather + root online foraging course here.
---
All About Self-Heal
Self-heal is a common growing plant with purple blooms that has edible and medicinal uses. Its Latin name is Prunella Vulgaris, and it's also known as heal-all and woundwort.
You've likely seen this herb growing in your yard or in the wild, whether or not you knew just how beneficial it is!
Known as a weed, self-heal grows abundantly and is super easy to forage for and identify. This is a perfect plant for beginner foragers because there are no toxic look-alikes, and it has a wide range of uses for all levels of herbalists.
Self-heal has been used historically for centuries as a traditional medicinal, but in modern times has fallen out of popularity.
I'm not sure why this is, because this is a highly nutritious, powerful medicinal, and easy-to-use plant that is an asset to every herbalist's apothecary!
Related: 12 Edible and Medicinal Weeds to Forage in Your Backyard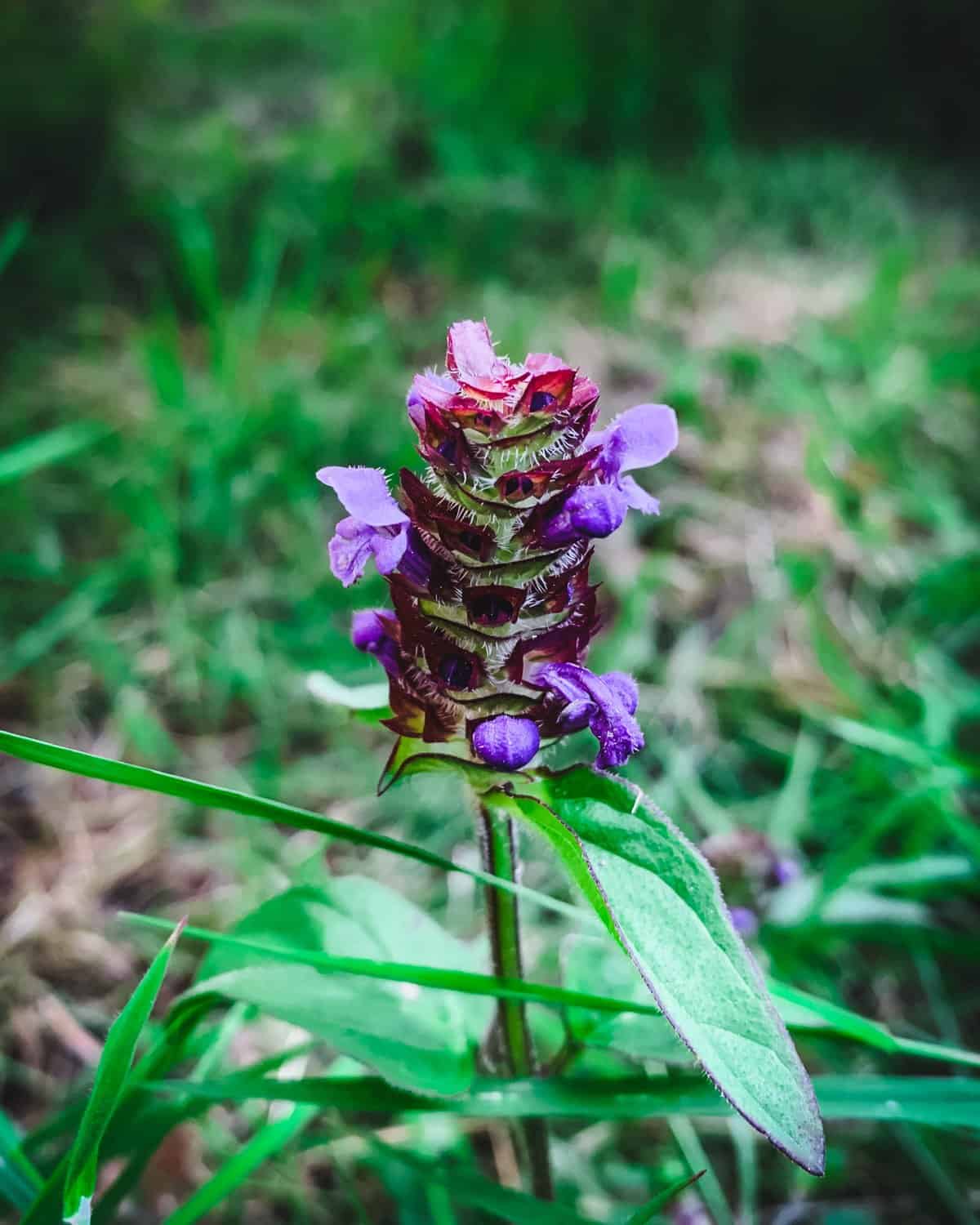 Where and When to Find Self-Heal
Heal-all can be found growing common and widespread in the Northern Hemisphere, so it's easy to find and available in many different climate types. This herb can be found in disturbed areas, gardens, meadows, pastures, and along river and lake edges.
Varying slightly by region, self-heal blooms in late spring, summer, and fall. With its abundant growth and ready availability, this is a perfect plant to keep an eye out for on all foraging adventures.
It can be found growing in full sun or partially shady areas.
Identifying Heal-All
Self-Heal is easy to identify by its small purple flowers that make a square-ish shape in a cluster at the top of the stem. Self-heal is a perennial in the mint family, but unlike mint, it doesn't have much of a scent at all.
This herb has a square-shaped stem that is reddish in color and opposite lance-like leaves that are easy to identify. The leaves are oval-ish in shape, dark green, and have little hairs on them.
Heal-all grows low to the ground and can be found in fairly large patches of 2 feet or even more in diameter.
Harvesting Self-Heal
Self-heal is best harvested when it's young before it has gone to seed. It's important to note that since it's often seen as a weed, you'll want to make sure where you are harvesting it from hasn't been sprayed with chemicals.
If grown in your own yard or garden, chemicals shouldn't be an issue! It's always good to ask if gathering from a friend's or neighbor's yard and to be aware of public spaces that may be sprayed.
Growing self-heal in your own herb garden works wonderfully and takes the guessing game out of whether or not they have been sprayed or exposed to chemicals.
When planted after the last frost in spring, they grow quickly and can be easily propagated. It's endlessly useful to have this powerful herb growing right at your fingertips!
To grow your own from seed, Mt. Rose Herbs sells high-quality organic self-heal seeds, they are always a trusted source for me.
The leaves, stems, and flowers of self-heal are all usable, it's useful to harvest them all. Since it tends to grow in big patches, so this usually isn't a problem.
After harvest, use the herb fresh or dried and plan accordingly depending on what you want to make.
Heal-All Look-Alikes
There are no toxic look-alikes for common self-heal, which is good news and makes this an absolutely perfect plant for beginning foragers and novice herbalists.
Heal-all plant does look similar to purple dead nettle and henbit, both of which are highly nutritious edible and medicinal common plants themselves, so you really can't go wrong here!
On close inspection, it is pretty easy to tell these three apart, although from high up their flowers are all quite similar.
If you aren't sure, check a foraging guidebook, but in general all are safe to use and are good bets for herbal weed foraging.
Purple dead nettle (Lamium purpureum) is also in the mint family with a square stem, and it has purple leaves with small pink-purple blooms that resemble that of self-heal.
Henbit (Lamium amplexicaule) is another closely related edible weed with small pink-purple blooms, but the flowers are narrower and the leaves are shorter and more spread out along the stem.
Edible Uses of Self-Heal
Self-heal is a highly nutritious edible weed. It has a slightly bitter taste almost similar to rosemary, so when eaten raw it's best to use it sparingly and in dishes that will pair well with the taste.
I recommend adding it to a wild greens salad or blending it into a smoothie to access its amazing raw nutritional value.
Another option is to use heal-all in a cooked dish. Add it to soups or stews as a potherb, just like you would any other fresh herb like sage or rosemary.
It adds delicious flavor and wonderful nutritious benefits to any meal you can serve it in!
Medicinal Uses of Heal-All
Self-heal has been used medicinally for centuries or even longer. It has been well known as an anti-inflammatory, antibacterial, and beneficial herb for the immune system.
During a cold or flu, using heal-all as a tincture or tea is a great way to boost your immune system to help fight whatever virus ails you. These are both simple ways to access the powers of this amazing herb and give your system a pick-me-up when it's most in need.
Self-heal also works very well in an oxymel, which is a vinegar and honey infusion.
Another long-used and wonderful use for this healing herb is to make a poultice or salve with it. Use as a disinfecting agent and aid in wound healing. Heal-all can also help a variety of skin ailments.
A poultice and a salve are easy-to-make herbal remedies and have really simple applications when they are needed. Herbal Academy has a poultice recipe as well as some other easy ways to use self-heal medicinally.
An herbal salve made with self-heal is easy to make with a basic recipe and would require you to dry the foraged herbs first to make an herbal oil infusion.
This is a great home remedy to have on hand for and aid in healing scratches or cuts, and also for any dry, scaly, red, chapped, or flaky skin issues.
Self-heal is a historical plant that was used as a healing remedy for a wide array of issues, its common use dating back centuries.
While it's not as popular in use as it once was, it is an asset to herbalists since it truly does as its name states: it's a true heal-all!
Interested in foraging for more edible and medicinal common weeds? 
Thank With Google
I'm excited to be one of Google's paid early testers for their Thank with Google pilot program. Thank with Google is an experimental feature that allows you to purchase a virtual sticker and directly show your appreciation for content on my website. As a loyal supporter, you can now feel more connected and engaged because you have the ability to express yourself and share what my work means to you.
There are a variety of stickers to select from and every time you send a paid sticker, you can add a personal message which I enjoy receiving. For me, these virtual stickers translate into direct revenue to support the work that goes into the content that you are enjoying on my blog.
You can find the Thank with Google feature in multiple places on my site. If you try it out, let me know what you think! Thanks as always for your support, it's greatly appreciated!