Lavender lemonade is a perfect herbal drink to cool down on a warm day, boasting calming benefits and natural ingredients. As with any lavender recipe, this lightly floral and mildly sweet drink can reduce anxiety and stress, and help balance you for a calm evening and a good night's rest. This lavender lemonade recipe is a lovely way to ingest some herbal goodness when you need to chill out and boost your mood!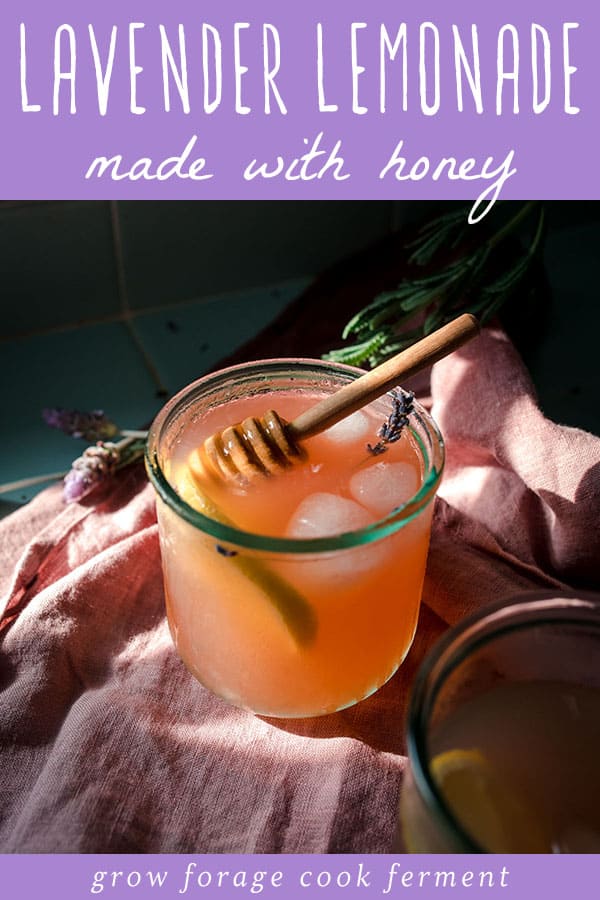 Benefits of Lavender Lemonade
Known for its mood-balancing effects, lavender is a beautifully aromatic herb. It's easy to grow and ever-popular – for good reason!
Lavender has a wide array of uses, looks stunning, and charms almost anyone who comes in contact with it. Lavender's magic is truly unmatched.
Often used aromatically, lavender has a very calming nature and is known for reducing stress. It is wonderful in body care recipes like homemade lip balm or bath fizzies, and used topically it could help treat skin blemishes and possibly fungus.
Lavender also has culinary uses, and when taken internally with this lavender drink recipe you'll notice calming and stress-reducing benefits.
Lavender has been shown to reduce anxiety and slow pulse rates, so this is a wonderful tea-infused lemonade to drink when you need a mental and physical cool-down!
The soothing nature and even the aroma itself can also lend a hand to a good night's sleep.
Related: 10 Reasons to Grow Lavender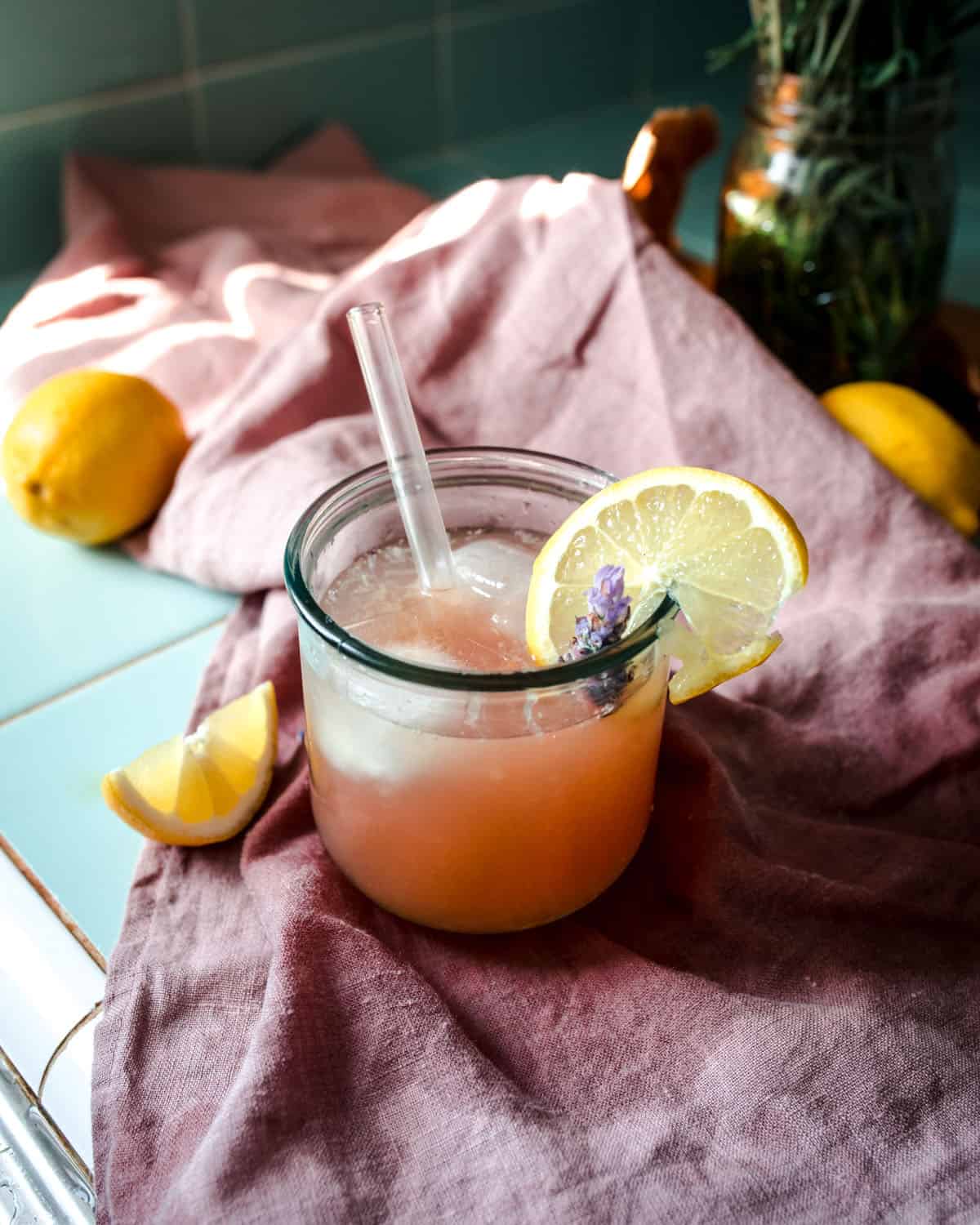 What Kind of Lavender to Use
When it comes to the types of lavender that are best for eating, most varieties of English lavender work well. It is a favorite for its sweet and aromatic flavor and is easily recognizable by its small purple-gray-colored flowers.
When dried, these types of lavender flowers can be used in a variety of recipes, from tea to baking goodies.
In this recipe for lavender lemonade with honey, you'll find all of the lavender's best qualities shining through in the most magical ways right when you need them!
I prefer to use either lavender grown in my own yard and dried on a drying screen, or if needed I purchase dried lavender flowers from Mountain Rose Herbs, which is a trusted high-quality herbal source.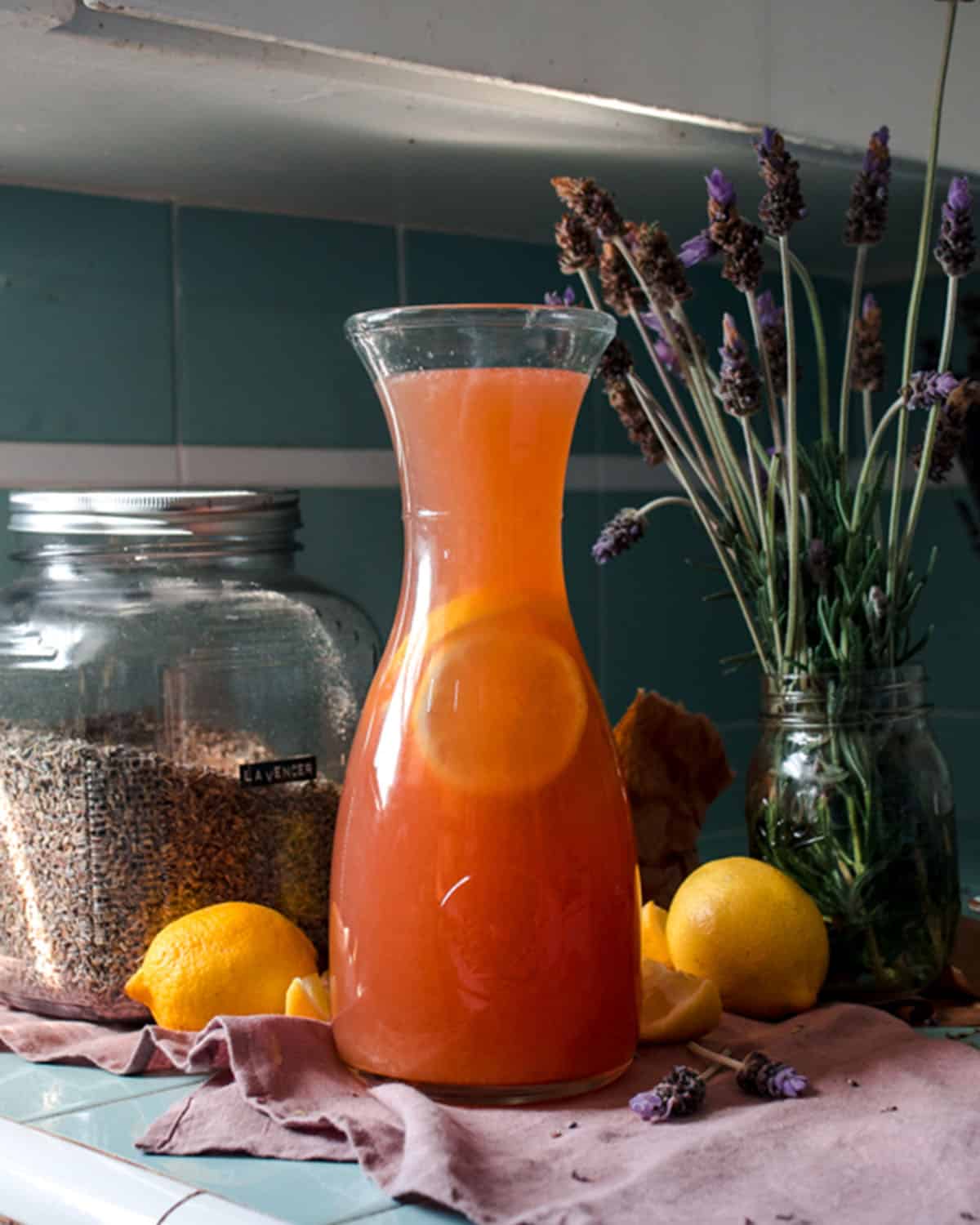 Ingredients
This lavender recipe is delightfully aromatic and has a just-right amount of sweetness, using all-natural ingredients.
Dried lavender flowers are the star of this show, with their lovely aroma and calming benefits.
Fresh lemon juice is added for natural lemon flavor, a bit of this tart taste pairs amazingly well with lavender for a refreshing drink.
Honey in this recipe is used to sweeten this lavender drink in just the right amount without being too sweet. I like to let the tea cool down a bit before adding the honey, so the beneficial enzymes from the honey stay intact. Yet another health benefit of this lavender lemonade! If a lower sugar option is preferred, the honey can be halved and stevia can be added to taste. Maple syrup could also be used in place of honey for a vegan option.
That's it! Simple, healthy, and very few ingredients in this lavender recipe.
How to Make Lavender Lemonade
The very first and most important step of this recipe is to make lavender tea by placing the dried lavender flowers in a glass jar and pouring boiling water over them.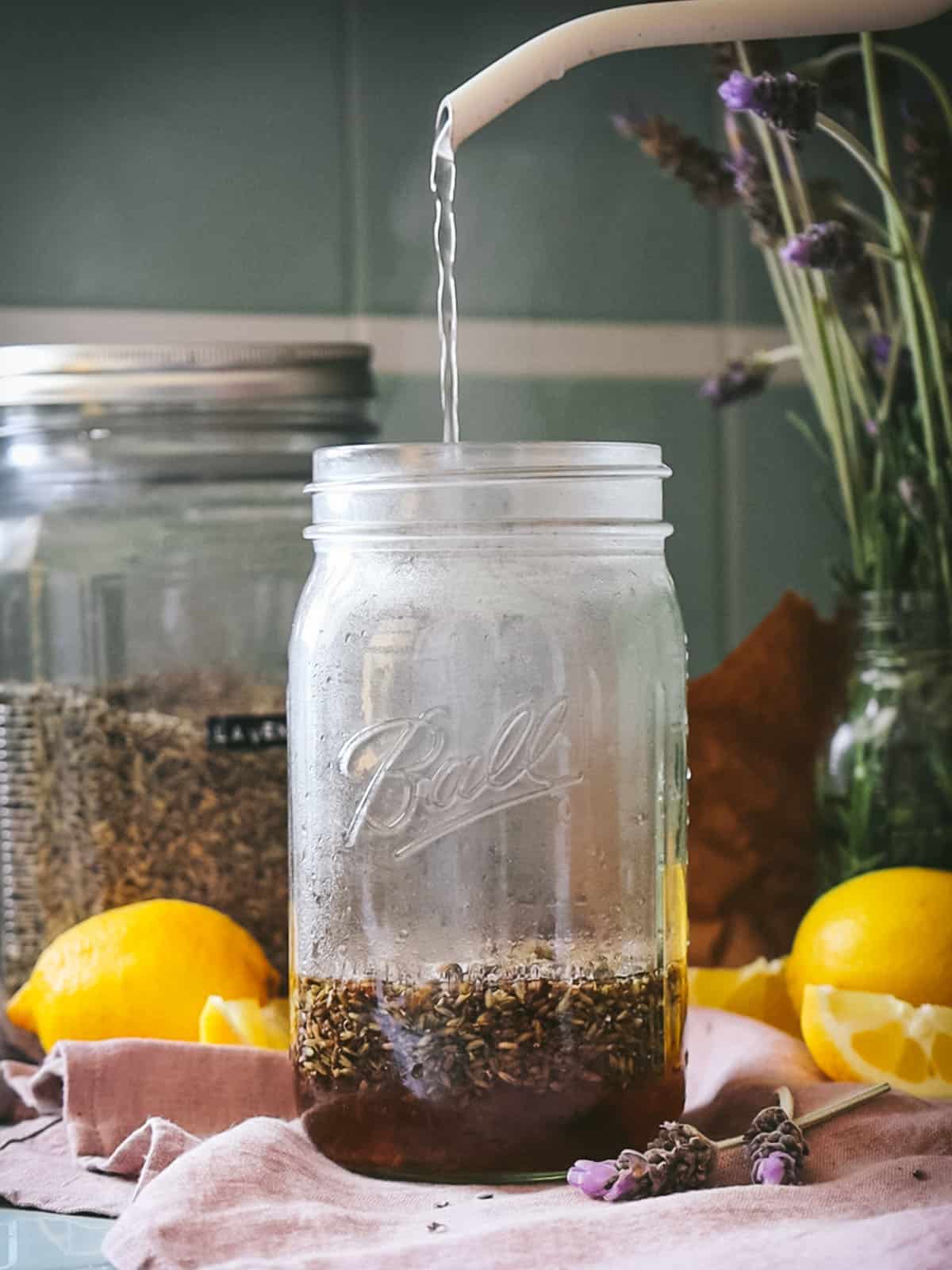 Let the tea steep for about 8 to 10 minutes. I recommend not letting the lavender tea steep any longer than 10 minutes because it will begin to taste bitter which is not desirable for most.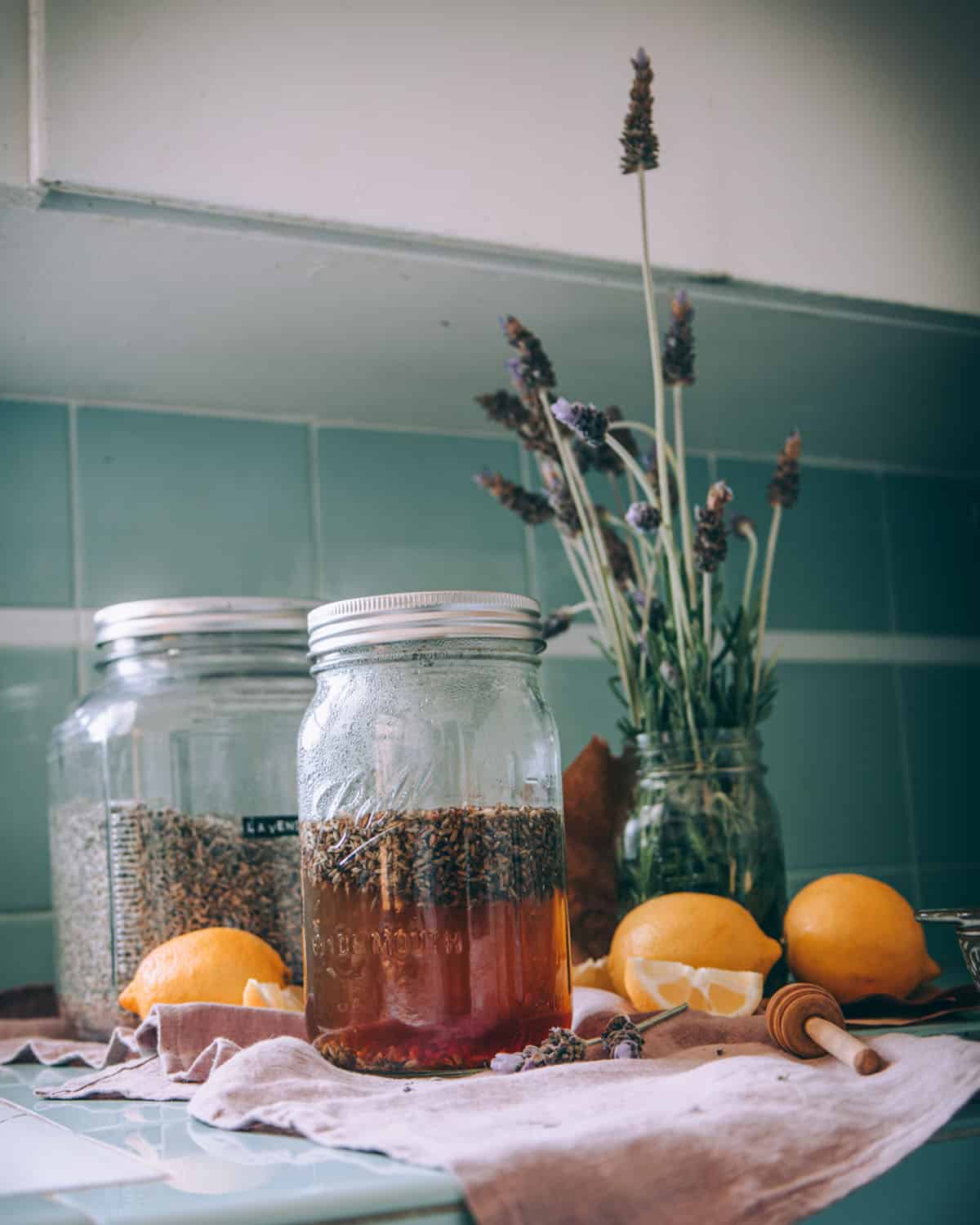 While the tea steeps is a great time to juice the lemons, and then set the lemon juice aside so it's ready for use.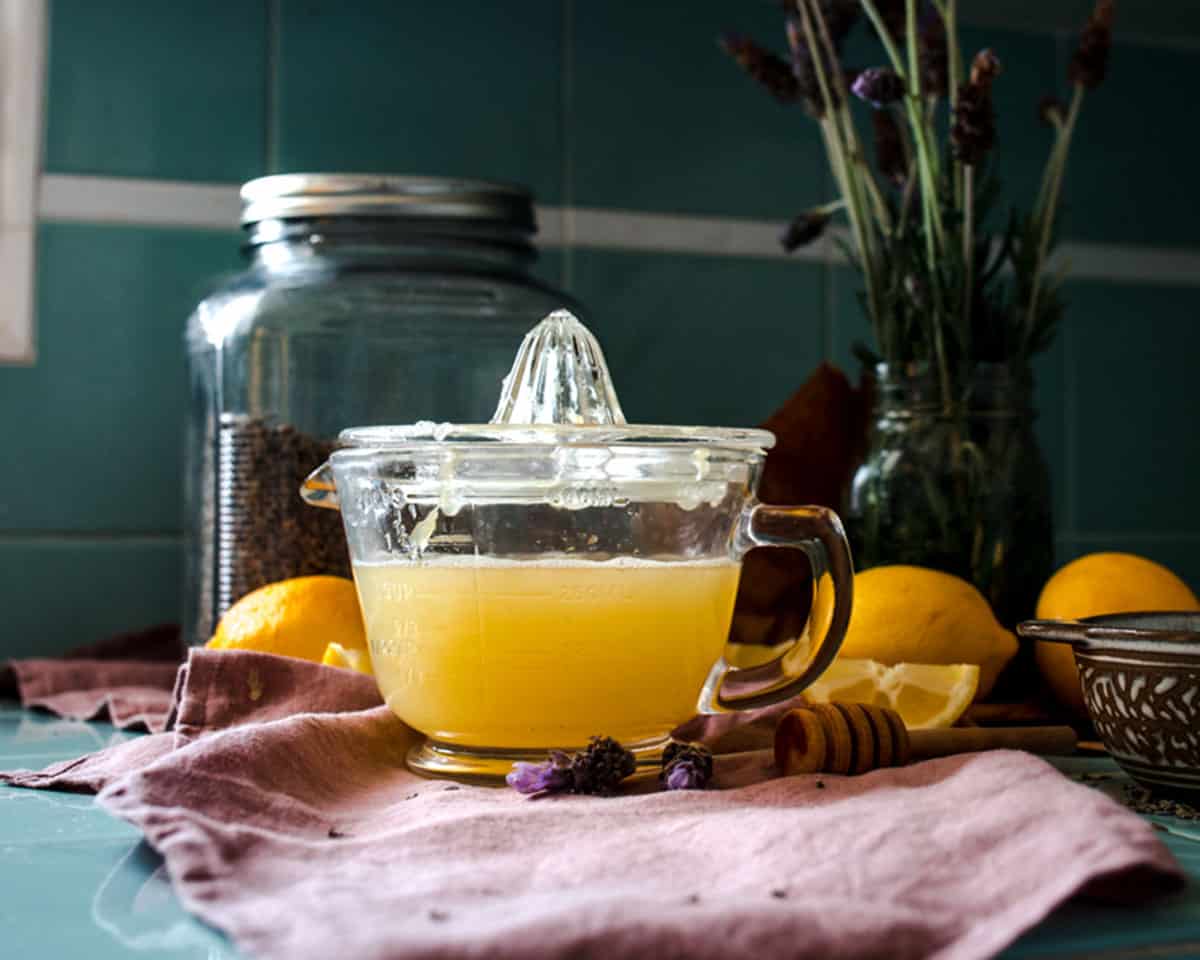 To strain the lavender tea when it is ready, pour the water over a mesh strainer into a lemonade pitcher or another jar, depending on what you are using.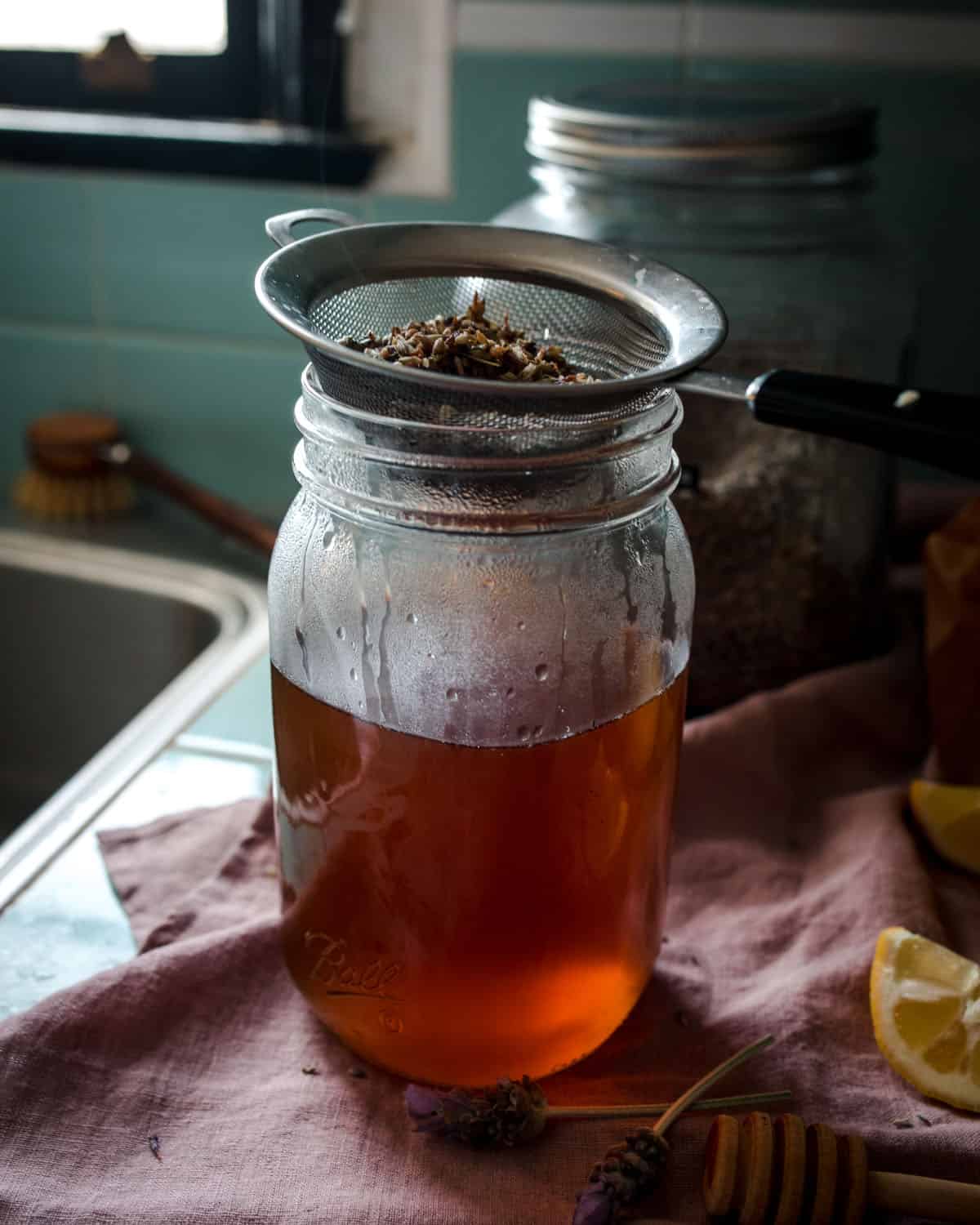 This is when I like to let the tea cool down a bit, not all the way to room temperature, but around 90 to 104 degrees F is good. It doesn't have to be exact.
Now mix in the honey, and this way the beneficial enzymes stay intact and remain optimal for health, but the tea is just warm enough to still dissolve the honey.
Add the lemon juice to the mixture. Take a taste and add more lemon juice or honey if needed. More water can also be added if the flavor is too strong for your liking.

Whatever the taste buds prefer on this one!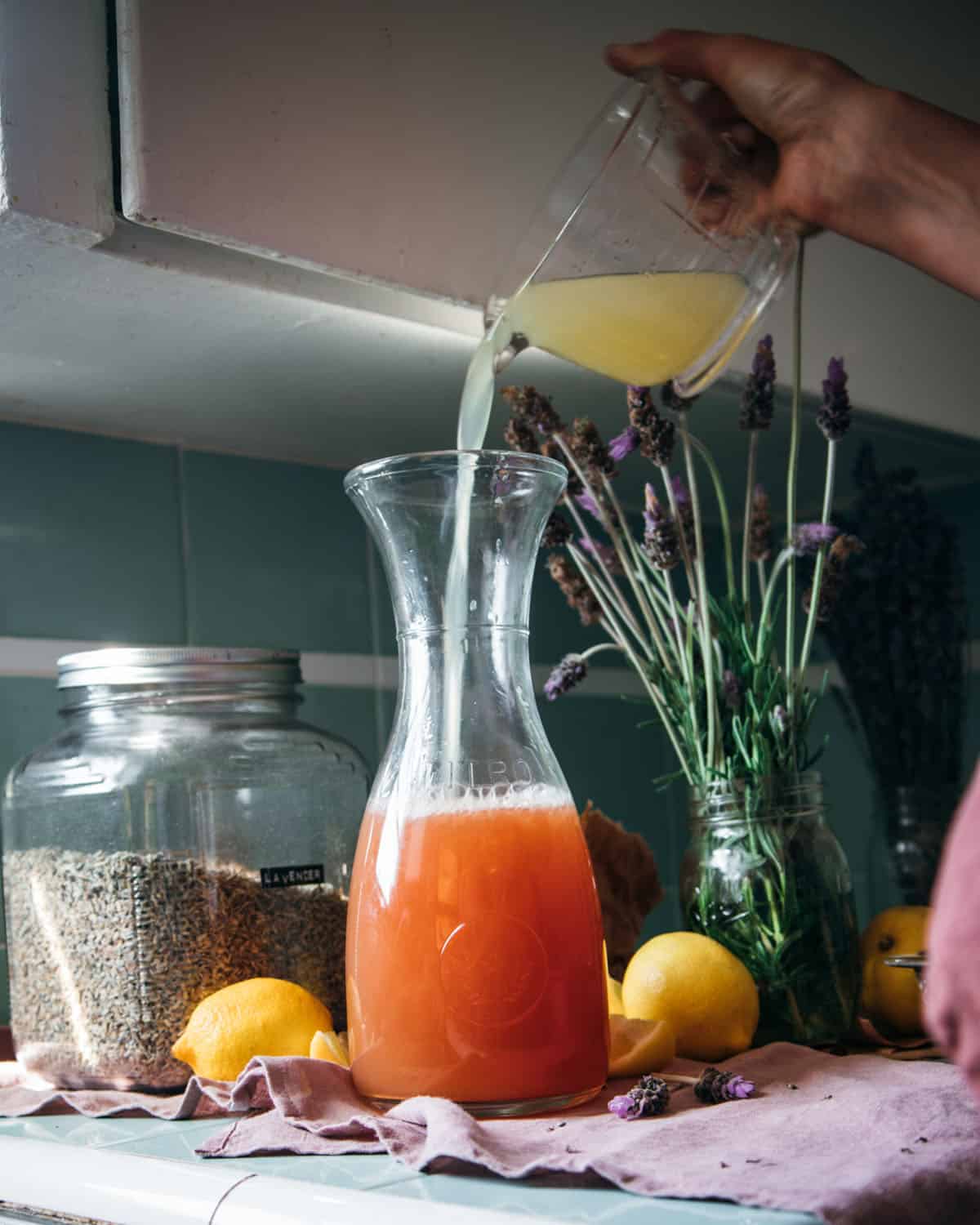 Lastly, add ice cubes and enjoy this lovely calming lavender drink!
How to Enjoy Lavender Lemonade
This lavender drink has a super refreshing sweet, sour, and floral taste. It is a delicious combination of complex flavors that make your taste buds sing!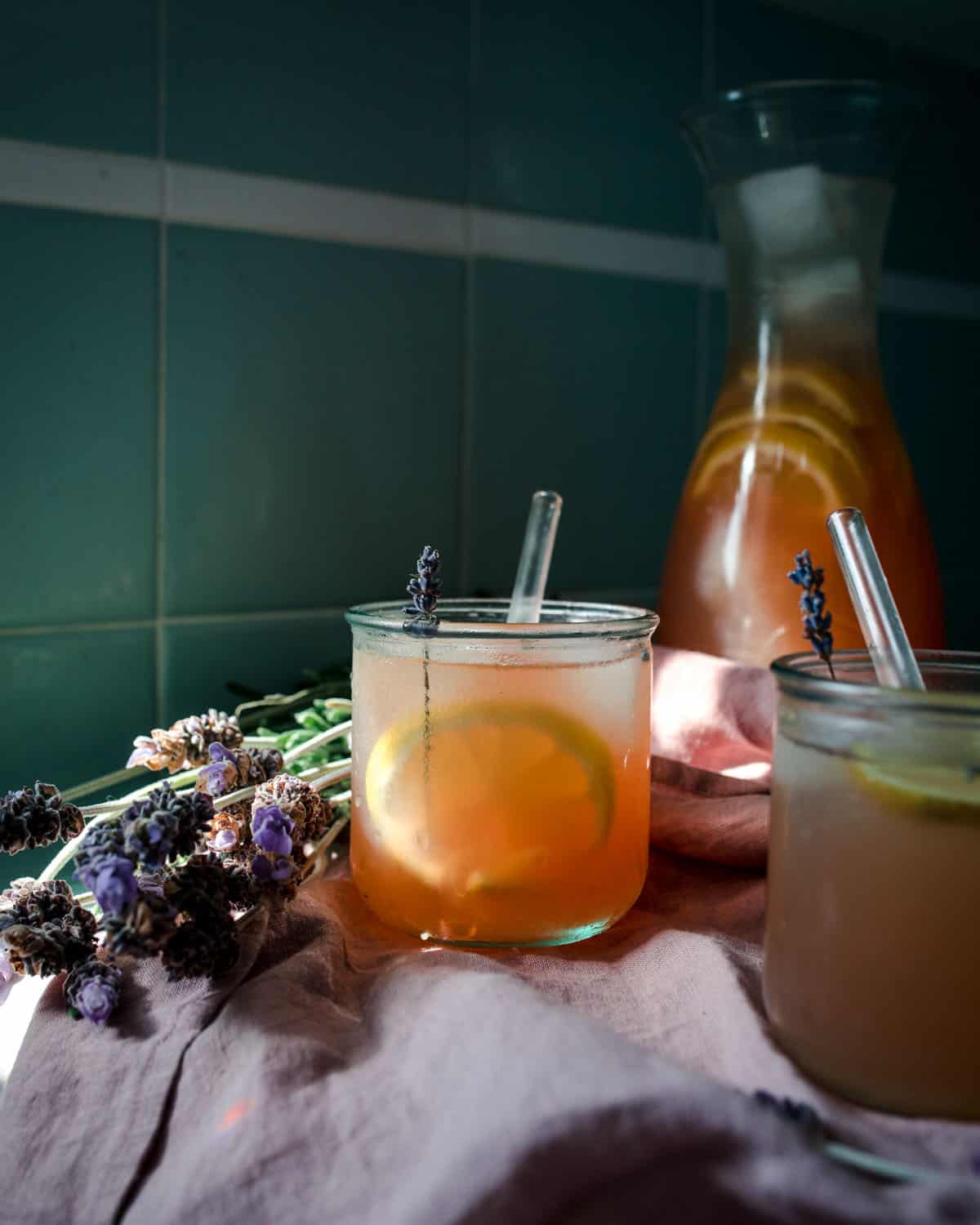 I like to have a glass served over ice in the afternoon when I need the stress of the day to melt away. Really, this can be a drink for a snack or even breakfast, to start your day off on a calm note.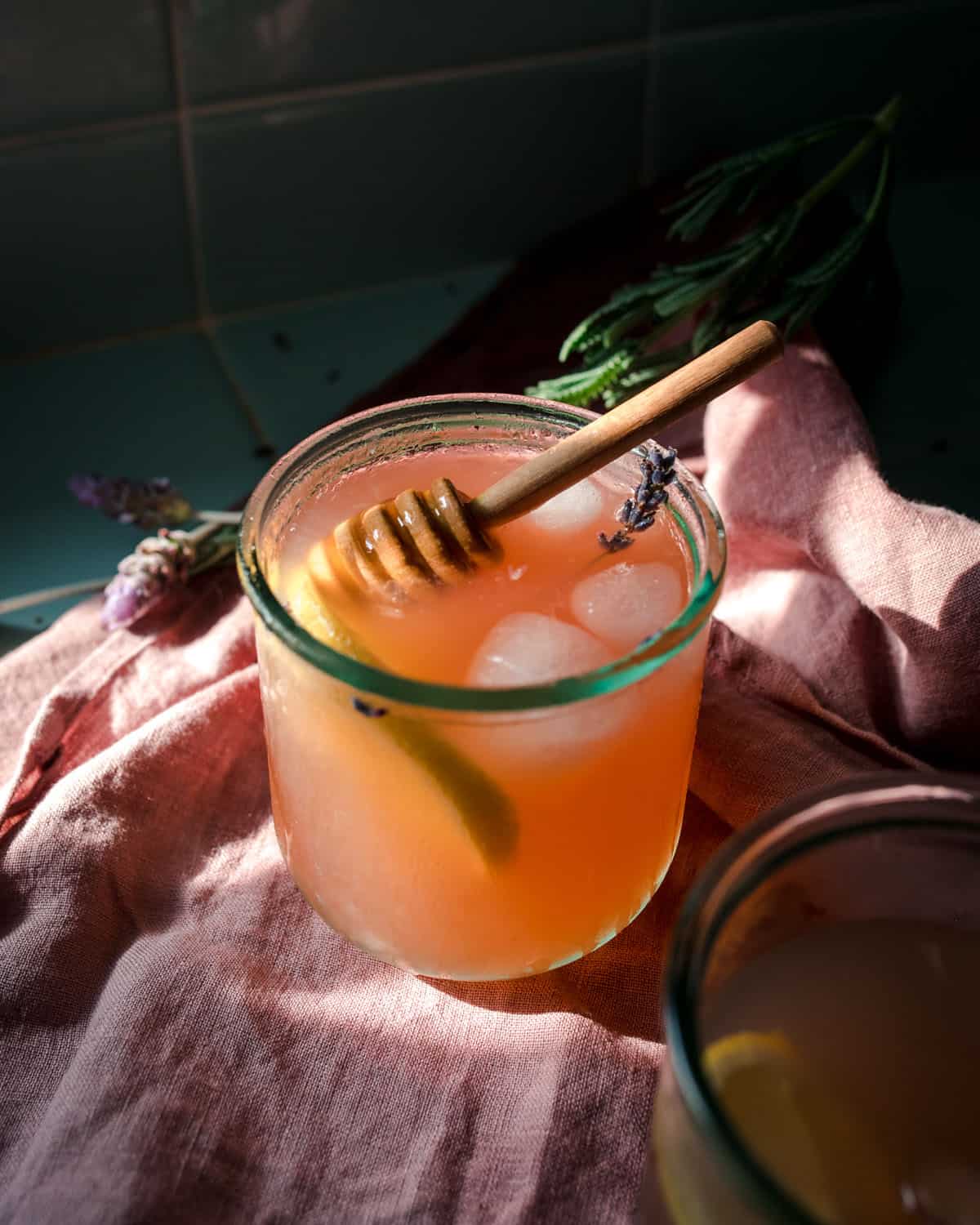 Don't forget that this lavender recipe can make a great happy hour drink!
Add some sparkling water for a simple and delicious mocktail, or add a splash of your favorite liquor for an amazing summer cocktail. Cheers!
Need more lavender action in your life? Check out these posts!
Lavender Lemonade
Lavender lemonade is a perfect herbal drink to cool down and chill out on a warm day with calming benefits and natural ingredients!
Ingredients
Lavender Lemonade
1 ¼

cups

lemon juice

about 6-8 fresh lemons

2

cups

lavender tea

½

cup

honey

1

cup

filtered water

optional, as needed to taste
Instructions
To make the lavender tea, place the dried lavender flowers into a glass jar.

Pour over boiling hot filtered water.

Let the tea steep for 8-10 minutes.

While the tea is steeping, juice the lemons and set aside.

Strain the lavender tea by pouring the tea into a new glass jar or lemonade pitcher over a mesh strainer.

Wait for the tea to cool down to a little over room temperature.

Mix in the honey until it dissolves.

Add the lemon juice.

Do a taste test, and add more lemons or honey if desired. More water can also be added if the flavor is too strong.

Add ice cubes, and enjoy!
Notes
If a lower sugar option is preferred, add ¼ cup honey and stevia to taste.
Maple syrup can be used instead of honey.
Try not to steep the tea for longer than 10 minutes. Over-steeping will cause lavender tea to become bitter.
If the tea does become bitter, add more water and/or honey to taste.

Waiting for the temperature of the cooling tea to drop before adding the honey will help to keep the beneficial enzymes of the honey preserved. Around 90-104 degrees is sufficient, the temperature doesn't have to be exact.
Nutrition
Serving:
8
oz
|
Calories:
149
kcal