Homemade herbal products are some of my favorite things to make. It's so satisfying to make an all natural salve, lip balm, or herbal remedy with real ingredients from scratch. It's usually easier than you would think, too! One of my most popular items in my Coco's Herbals Etsy shop is my Vanilla Lavender Lip Balm. This lip balm is made with real vanilla beans and dried lavender flowers, which makes it smell amazing! Since I know my readers like to make their own herbal products, I'm going to share my recipe with you.

Vanilla Lavender Infused Oil
The first step in this recipe, just like in my herbal salve recipe, is to make an infused herbal oil. This time it will be made with dried vanilla beans and lavender. You'll need about 1/2 cup of infused oil for the lip balm recipe, so keep that in mind when making the infused oil. Put some dried lavender flowers and one or two whole vanilla beans, split down the middle, into a jar. Then fill the jar with a carrier oil, or blend of oils, of your choice. I like to use equal parts of olive oil, coconut oil, and sweet almond oil.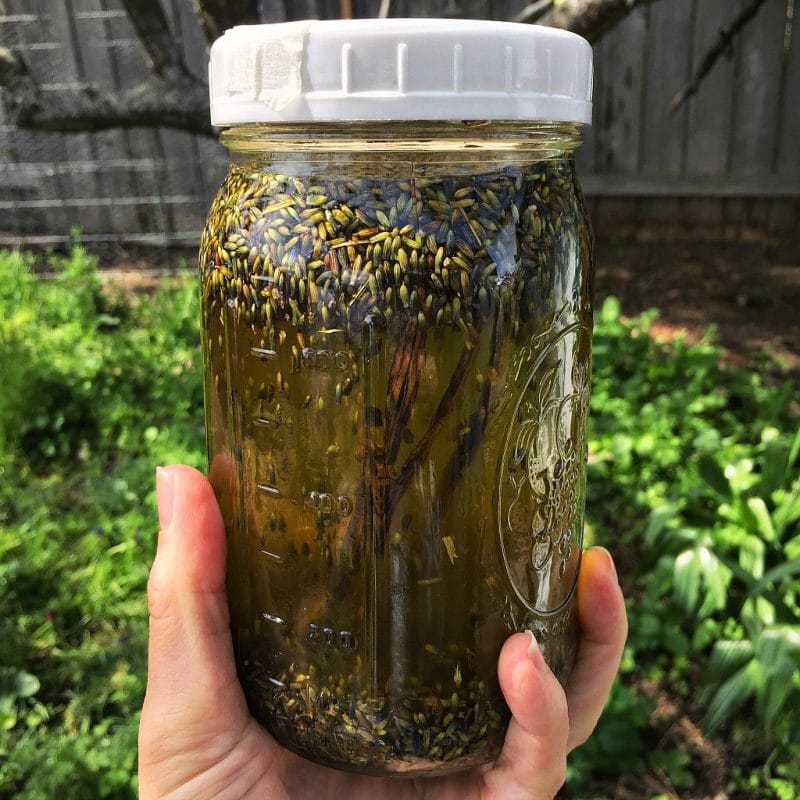 Cover the jar and let it sit in a cool and dark place for at least a week or two, if not longer. When I make my infused oils, I will often put them in my Excalibur dehydrator for several hours a few times at a low temperature (around 110 degrees), which helps to extract the herbal goodness without making the oil too hot.
When it's done you will have an amazing smelling infused oil, which will be the base for this vanilla lavender lip balm.
Vanilla Lavender Lip Balm Recipe
Vanilla Lavender Lip Balm
Make your own homemade vanilla lavender lip balm. It's an easy DIY herbal project that smells amazing!

Instructions
Create a makeshift double boiler by putting a small bowl or a glass Pyrex measuring cup over a pot with about an inch of simmering water.

Put the vanilla lavender oil and beeswax into the small bowl or Pyrex, and heat until the beeswax completely dissolves into the oil, stirring occasionally.

Add the shea butter and stir until it completely dissolves.

Stir in the lavender essential oil.

Carefully pour the mixture into small tins or lip balm tubes and let sit until the lip balms sets up completely.
Notes
Before making this lip balm recipe, you will first need to make vanilla lavender infused oil (see instructions above).  You will also need 
tins
 or 
lip balm tubes
 to keep the finished lip balms in.  This recipe makes approximately 6 ounces total.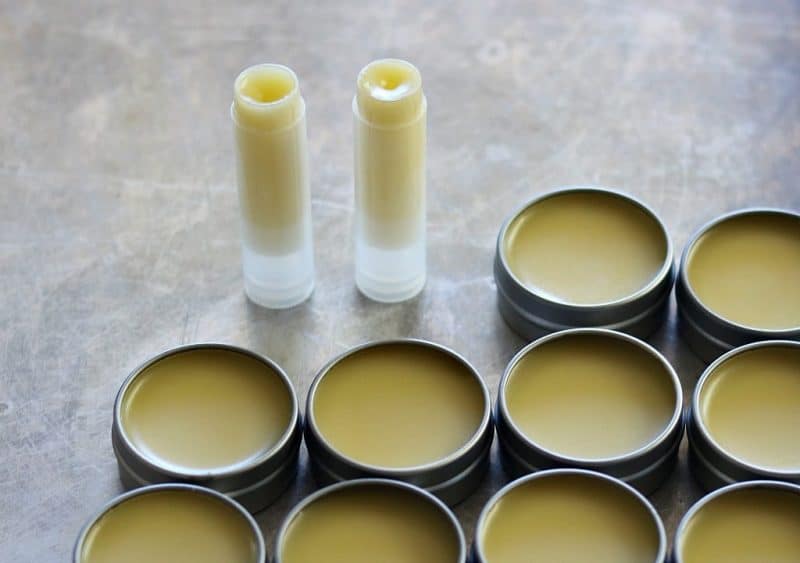 I usually make my lip balms in tins, which I love, but I've been experimenting with using lip balm tubes. They are difficult to pour into (a disposable dropper may help), but they are so handy to have!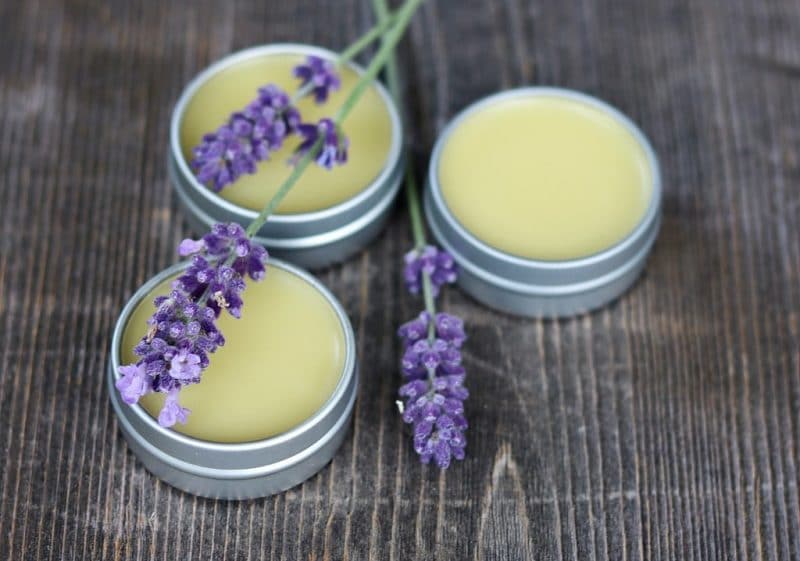 This lip balm smells so amazing, you will love it! It is seriously one of my favorites, and it's really not that hard to make. The whole vanilla beans really make it wonderful, and the shea butter adds a nice creaminess.
If you don't want to make it yourself, or don't have the time, you can always purchase it in my Etsy shop!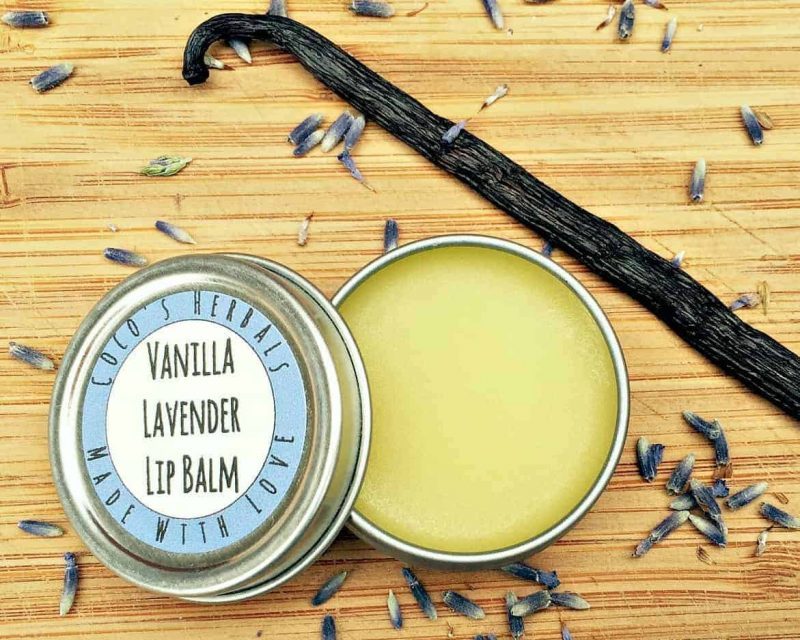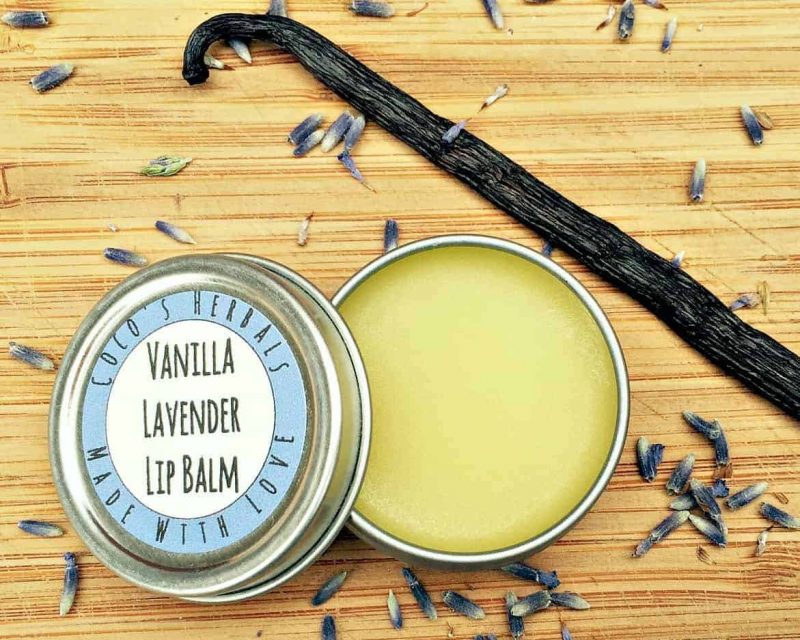 Making homemade herbal products like this vanilla lavender lip balm is so satisfying and fun. It also makes a great gift!
Have you ever made your own homemade lip balms? What is your favorite flavor?