I always have dry fingertips. It it just me? The heels of my feet are often dry as well. I've tried many different products to try and alleviate the issue, but nothing I buy in the store works very well. What does work is my homemade calendula cream, but that can be hard to tote around. Lotion bars, on the other hand, can be easily stored in small tins and kept in a purse. Perfect for everyday use, anywhere you are! Since calendula is well known for being great for the skin, I decided to make calendula lotion bars. I absolutely love them! They've become so popular with my family and friends that I've even started selling a similar product in my Coco's Herbals Etsy shop.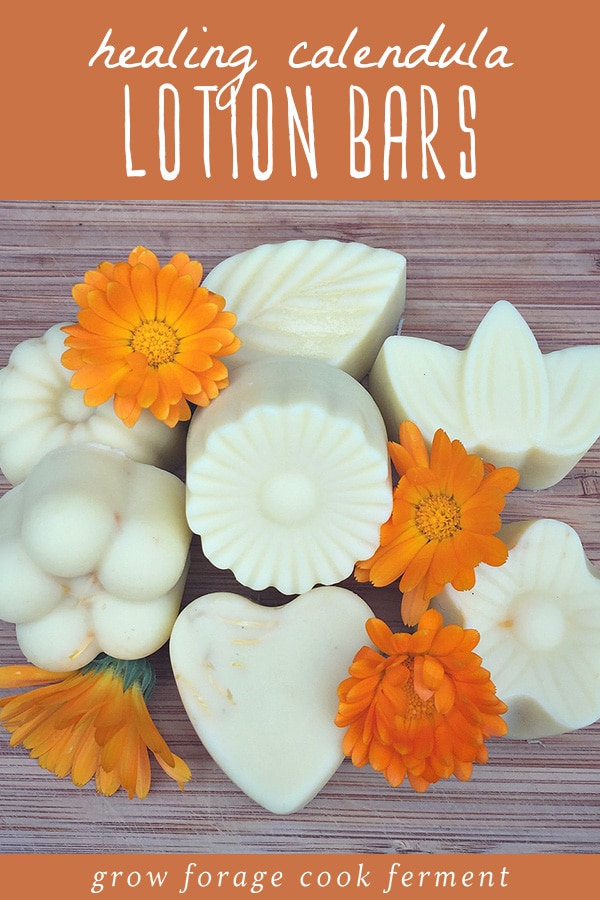 I don't know if you've ever made lotion bars before, but they are surprisingly easy to make. If you have all the ingredients on hand and the infused oils made, then you can whip these babies up in no time! They make wonderful gifts, too.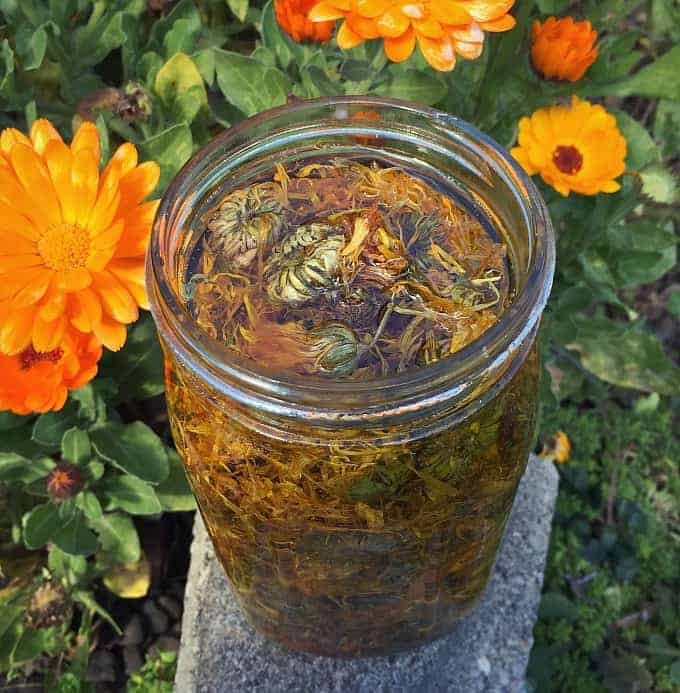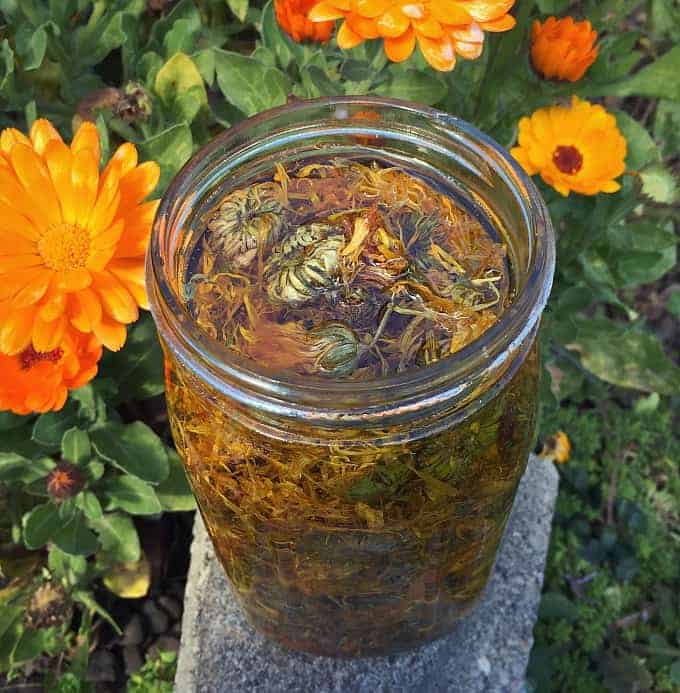 Calendula Lotion Bars Recipe
This recipe can be easily adjusted to make a smaller or larger amount, just be sure that you have equal amounts of infused oil, beeswax, and butter of choice. I based my amounts in this recipe on what would fill my lotion bar mold.
You can try using different butters in this recipe. Unrefined shea butter or cocoa butter will carry their scents into the bars, so keep that in mind. That said, unrefined cocoa butter will have a pleasant cocoa scent, which could be a good thing if mixed with sweet orange or peppermint essential oils!
Ingredients
Directions
Create a makeshift double boiler by putting a smaller pan on top of a larger pan that has an inch or two of water in it, and bring the water to a simmer.
Put the infused oil and beeswax into the smaller pot (I used a large glass pyrex measuring cup for my smaller pot), and heat until the beeswax is almost fully melted.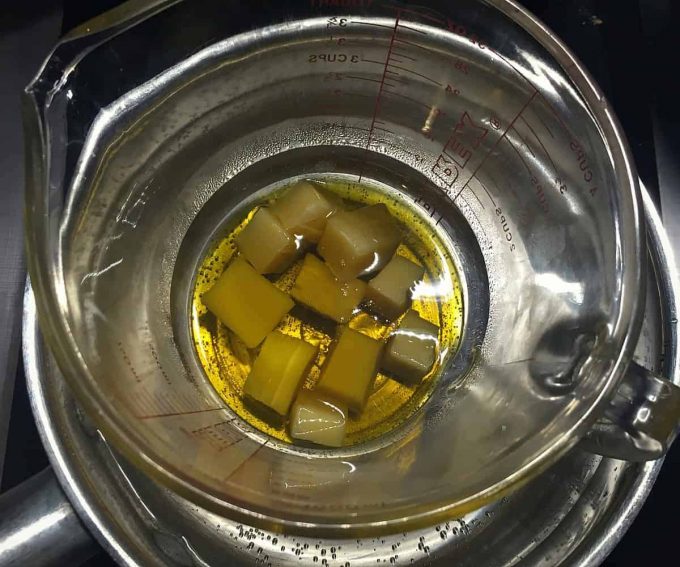 Stir in the shea butter (or other butter) until everything is fully liquefied. A wooden skewer works well as a stirrer.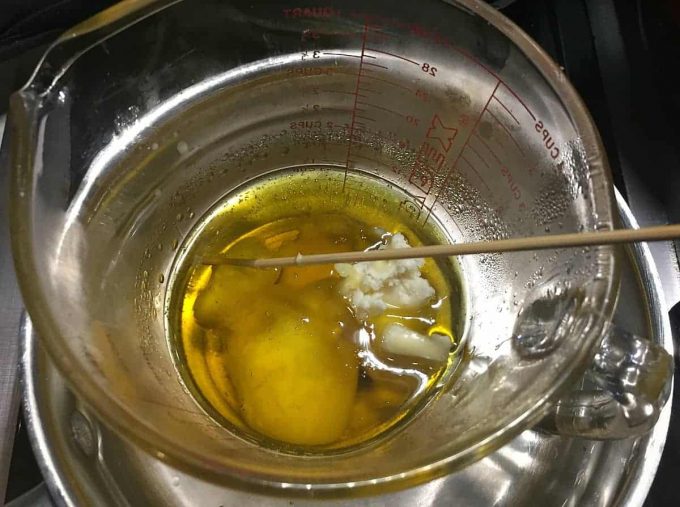 Once everything is melted, vigorously stir in your essential oils. I used 20 drops of sweet orange oil and 10 drops of lavender oil. Use what you like!
Quickly and carefully pour the mixture into your soap or lotion bar mold.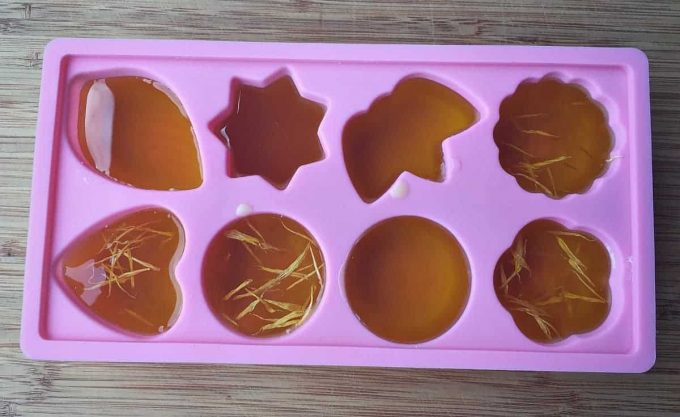 I put a pinch of dried calendula flowers into a few of the molds… you know, to make them pretty. Let the lotion bars sit undisturbed until they solidify completely. This will take several hours. Then pop them them out of the mold.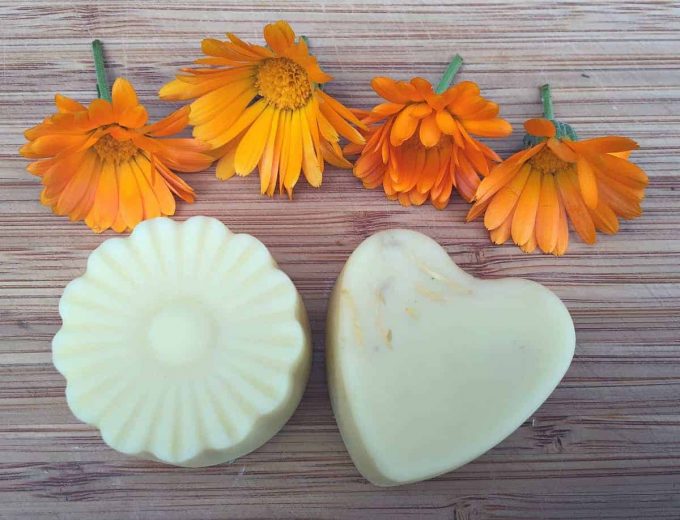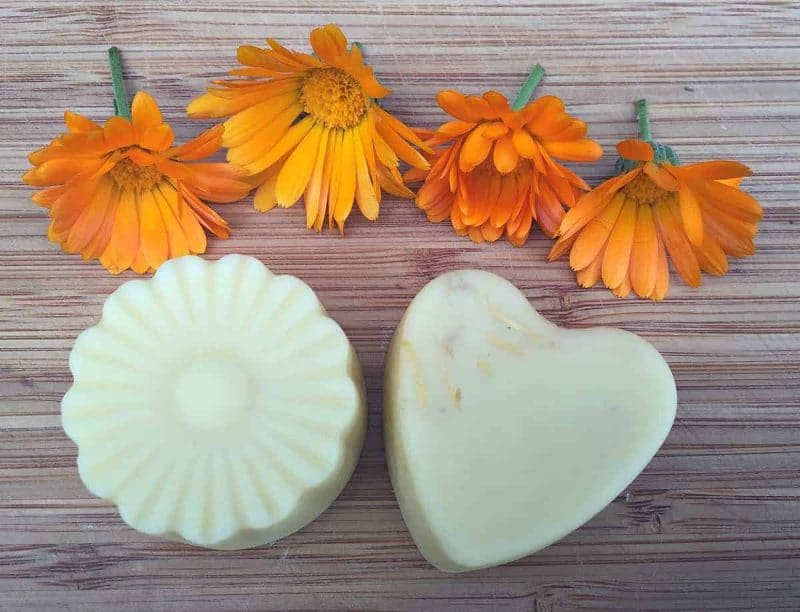 Just like that you have your own calendula lotion bars! I am seriously in love with these lotion bars. They will definitely be something I make all the time!
I used this round mold and these 2 oz tins to make them for my Etsy shop, and I love the results! If you don't want to make your own, you can purchase them from me here.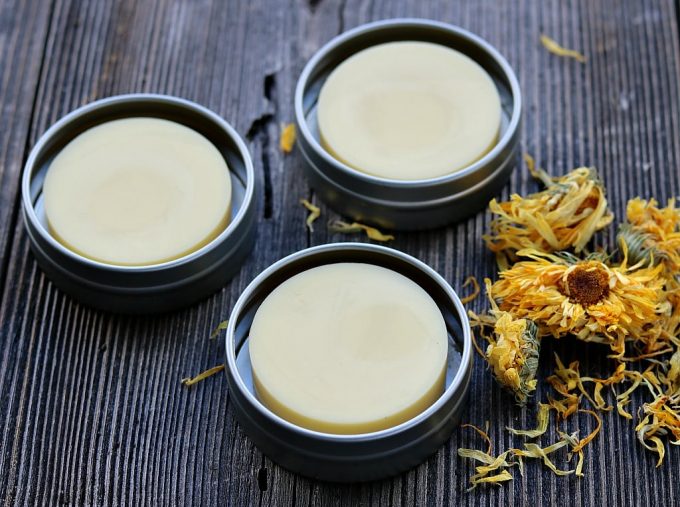 No more dry fingertips!
Have you ever made your own lotion bars?
Save
Save