I'm really excited about this because fire cider is something that I've wanted to make for a long time, but for some reason haven't… until now! I was inspired to finally make it this season because it's one of the recipes in the online Intermediate Herbal Course that I'm taking at the Herbal Academy. There are many more awesome herbal recipes and so much to learn there, I highly recommend their courses! Here is how to make fire cider, an immune boosting health tonic that is super easy to make.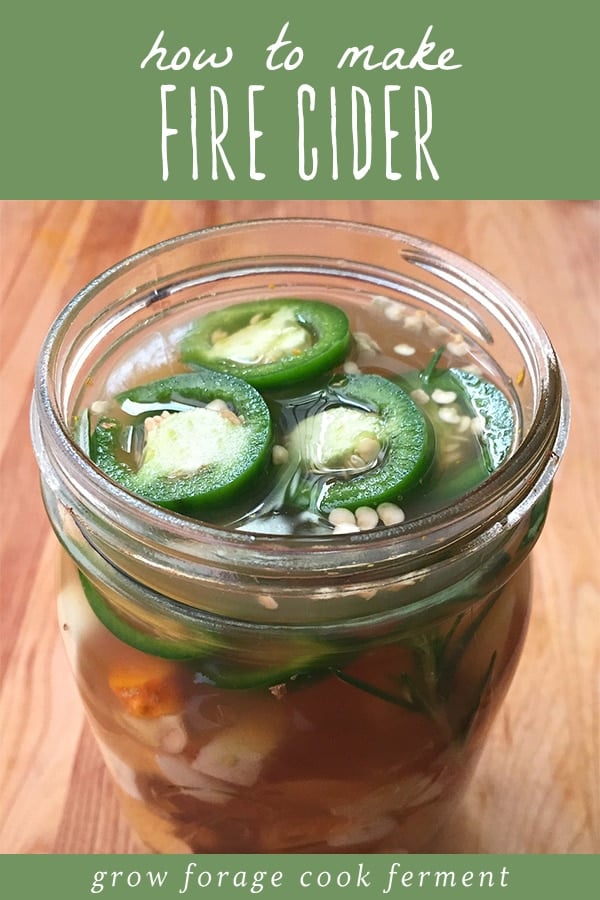 The term "fire cider" was first coined by Rosemary Gladstar, herbalist and author of the books Medicinal Herbs: A Beginner's Guide and Herbal Recipes for Vibrant Health, both of which I own and are awesome. There has even been a bit of a trademark controversy in recent years over the name "fire cider," but I'm not going to get too much into that.
Fire Cider Recipe
This recipe is from the Herbal Academy's Intermediate Herbal Course, and it is adapted from Rosemary Gladstar.
According to the Herbal Academy, "Fire Cider can be taken a little bit every day to boost immunity and circulation and keep viruses and bacteria at bay. Rosemary Gladstar recommends taking 1 tablespoon daily to warm you up and 3 tablespoons daily at the first sign of a cold."

MY LATEST VIDEOS
Ingredients
1/2 cup fresh grated or sliced organic ginger root
1/2 cup fresh grated or sliced organic horseradish root
1 medium organic onion, chopped
10 cloves of organic garlic, crushed or chopped
2 organic jalapeno peppers, chopped
Zest and juice from 1 organic lemon or orange (a microplane makes zesting easy)
Several sprigs of fresh organic rosemary or 2 tablespoons dried rosemary leaves
1 tablespoon organic turmeric powder (or 1/4 cup grated or sliced fresh turmeric)
Organic apple cider vinegar (Bragg's brand is my favorite)
Raw local honey to taste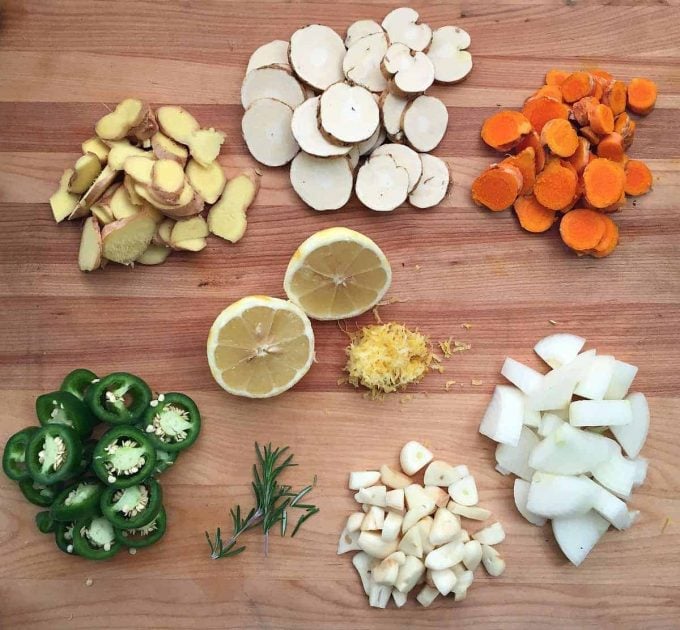 I am lucky enough to have access to fresh turmeric root, so that is what I used, but dried works perfectly well. I was also too lazy to grate the ginger and horseradish, so I just sliced them. It really doesn't matter all that much how you do it in my opinion.
Directions
First layer all the ingredients into a quart sized jar, and squeeze in the lemon or orange juice. Then cover everything with apple cider vinegar.
Cover with a plastic lid, or use a piece of parchment or wax paper to keep the vinegar from touching the metal lid. Shake well and keep in a dark and cool place for one month. Try to remember to shake your fire cider daily.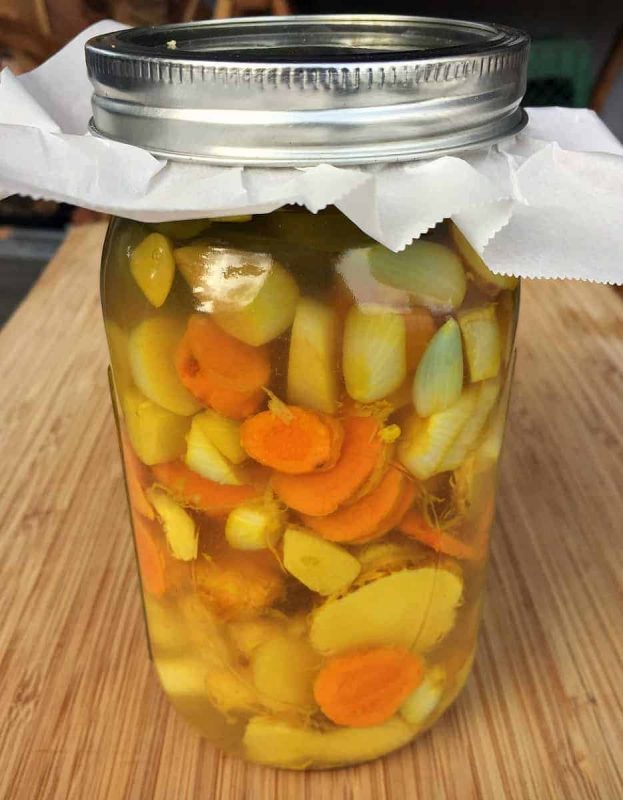 After one month has passed, use cheesecloth to strain out the herbs, and pour the vinegar into a clean jar. While straining, squeeze out as much of the liquid as you can.
Add 1/4 cup of honey and stir well until thoroughly incorporated. Taste your cider and add up to another 1/4 cup of honey if you feel it's needed.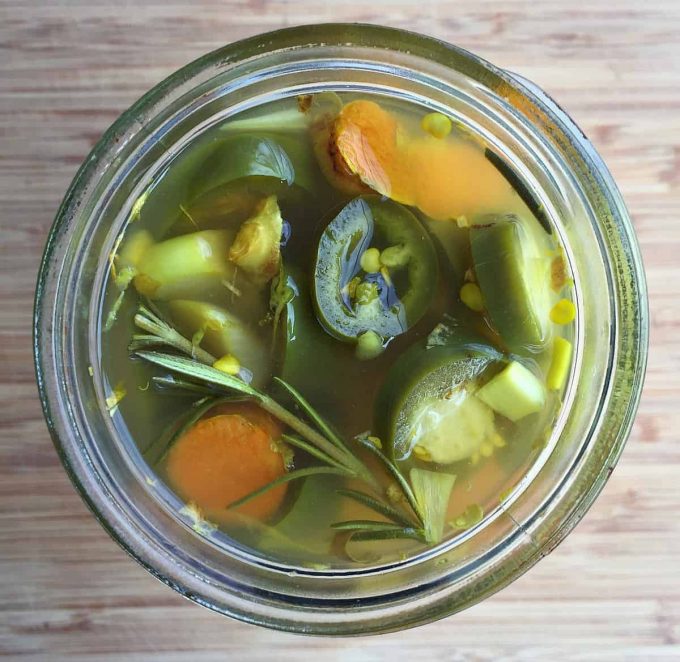 Take a spoonful, or even half a shot glass full if you're brave, whenever you start to feel under the weather. It can also be used as a general immune booster and taken daily during the cold and flu season.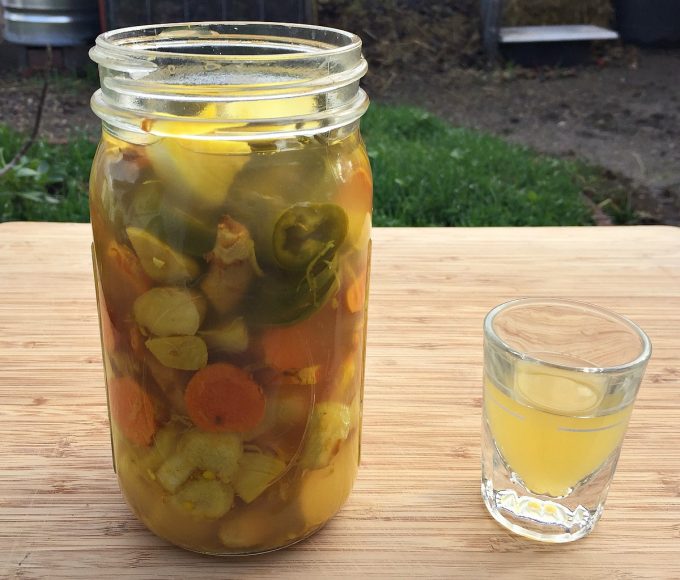 Fire cider is spicy from the hot peppers, horseradish, and ginger, but in a surprisingly good way! I thought it was going to taste awful, but I actually love it. I used jalapenos, which aren't quite as hot as some peppers, but you can use any extra spicy pepper you like if you're feeling up to it. This will definitely be something I use all winter long to keep sickness at bay!
Feel free to add in other herbs and spices to your fire cider as well, such as thyme, cayenne, rose hips, ginseng, lime, grapefruit, schizandra berries, astragalus, parsley, burdock, oregano, and/or peppercorns.
Have you ever made fire cider? What do you like to put in it?
Save
Save
Save