This mulled wine recipe is made with whole spices and garnished with fresh herbs that can be foraged or cut right from your own backyard. With a warm, spirited, winter feeling, this easy mulled wine is a wonderful way to relax and connect during the darkest days of the year. Breathe in the mulling spices, and bring some warmth to your happy hour!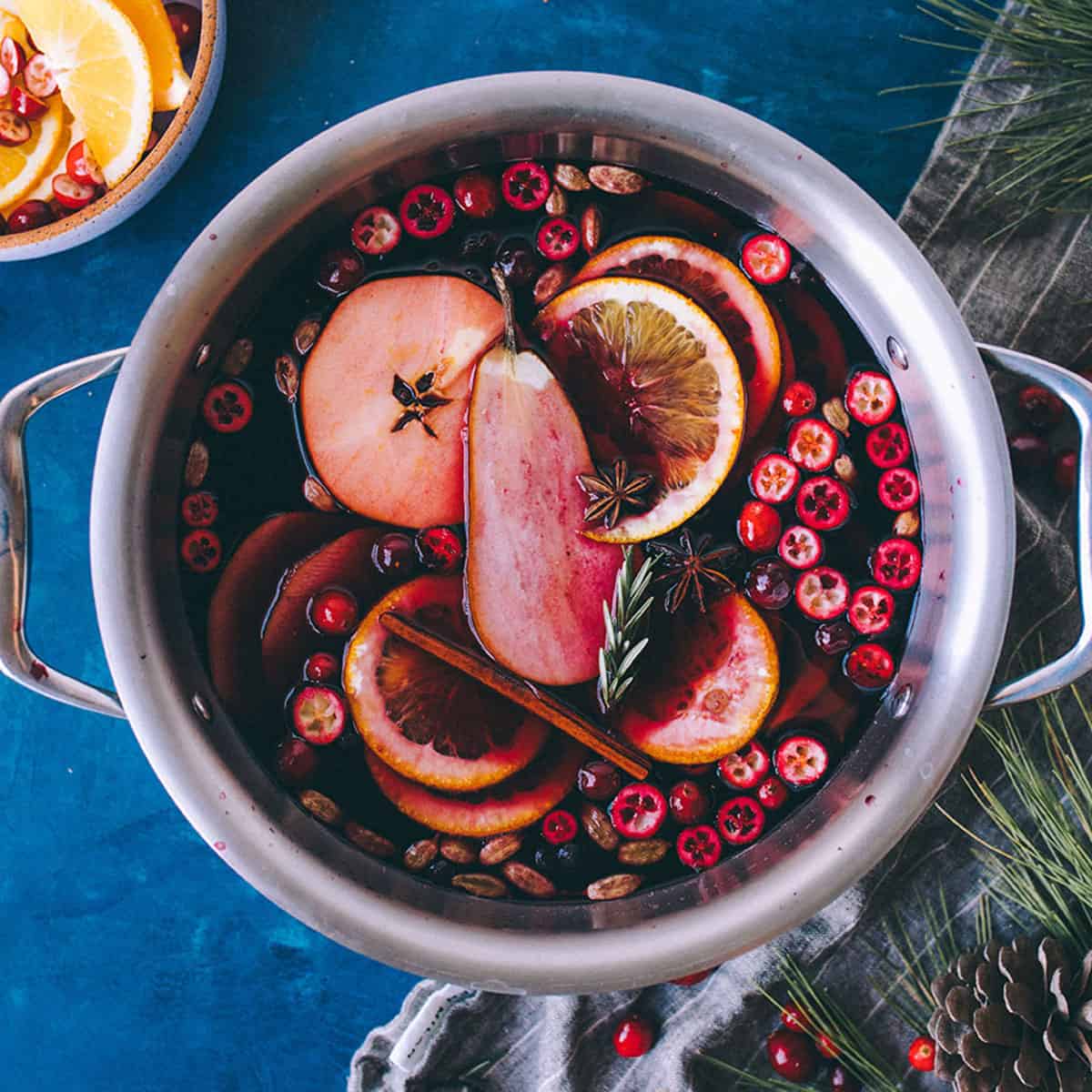 What is Mulled Wine?
Mulled wine is a warmed drink, usually made with red wine. It's lightly sweetened, and flavored with mulling spices, and fresh berries. Once it's warm and spiced, it's so delicious!
In this mulled wine recipe, I recommend it served with fresh garnish like oranges, pears, cranberries, and herbs for a refreshing and herbal taste to really connect with the season.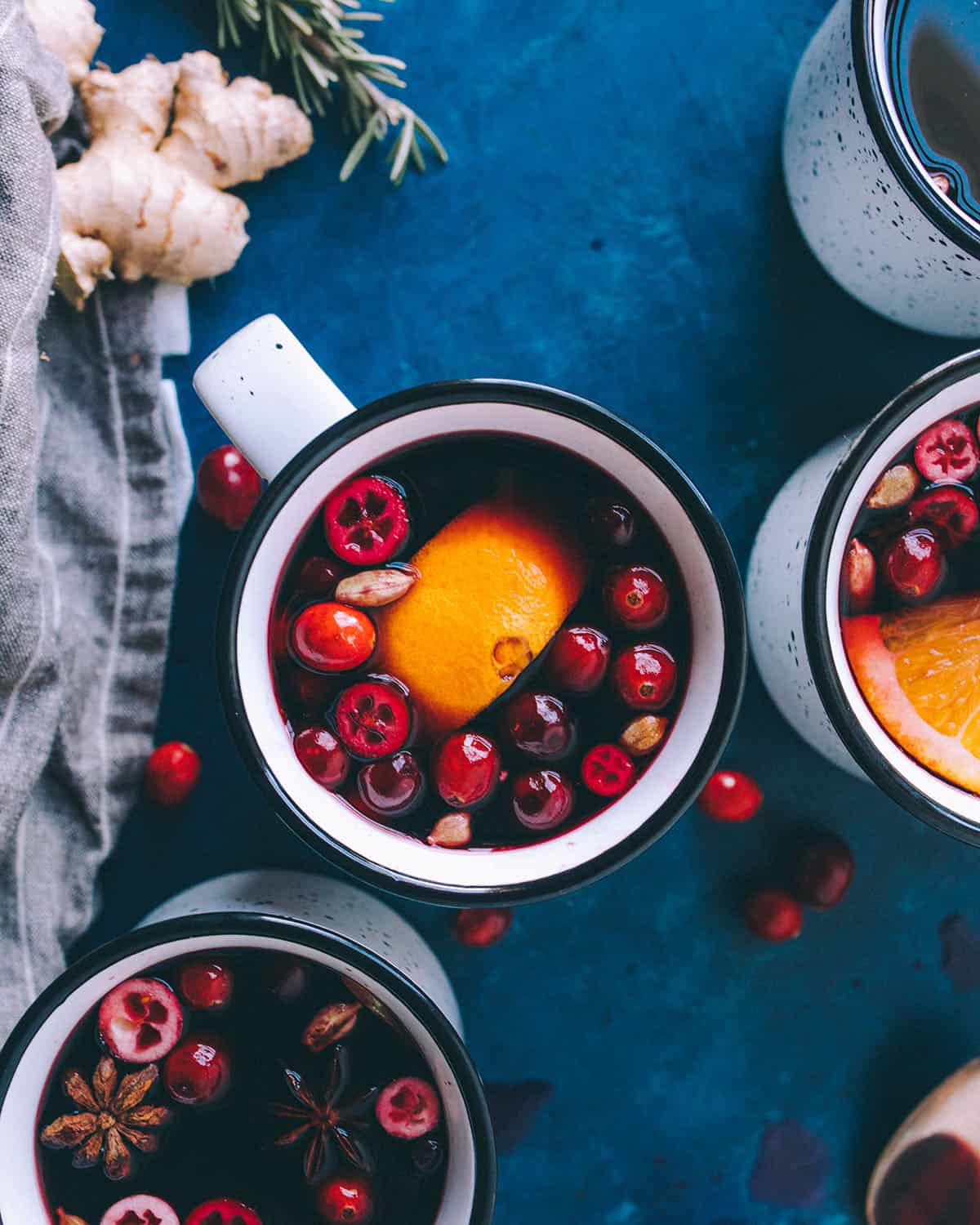 Ingredients
Red wine: A robust red wine works perfectly for this mulled wine recipe. Popular choices are Cabernet, Merlot, Zinfandel, Grenache, or even a red blend.
Maple syrup: This is the most natural and delicious way to lightly sweeten this warm drink! Pure maple syrup from a tree is the best choice.
Orange slices: Oranges are in season in the winter and they add a refreshing and full taste to this mulled wine recipe.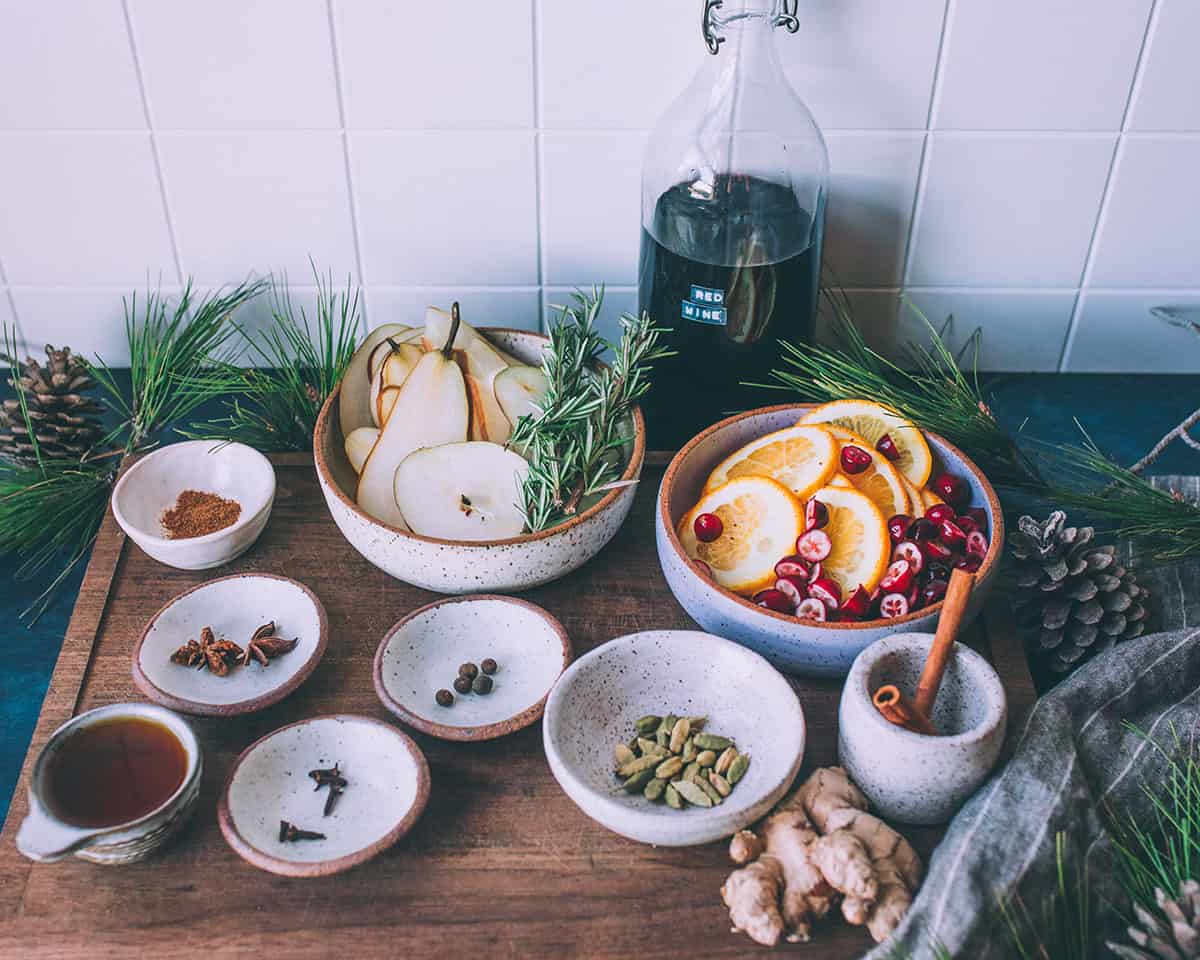 Mulling Spices
Fresh ginger: With a lovely kick of nature's spice, a few slices of fresh ginger give a warming feel.
Cinnamon sticks: Whole cinnamon sticks slowly seep their warm flavor while this recipe simmers. Use ground cinnamon as a substitute. Start with a small amount like 1/2 tsp, and add to taste.
Whole cloves: There is no better spice than whole cloves to warm up a drink for a winter's night! They pair magically with the orange slices.
Allspice berries: With a complex flavor that adds amazing depth to warmed wine, allspice berries are a wonderful addition.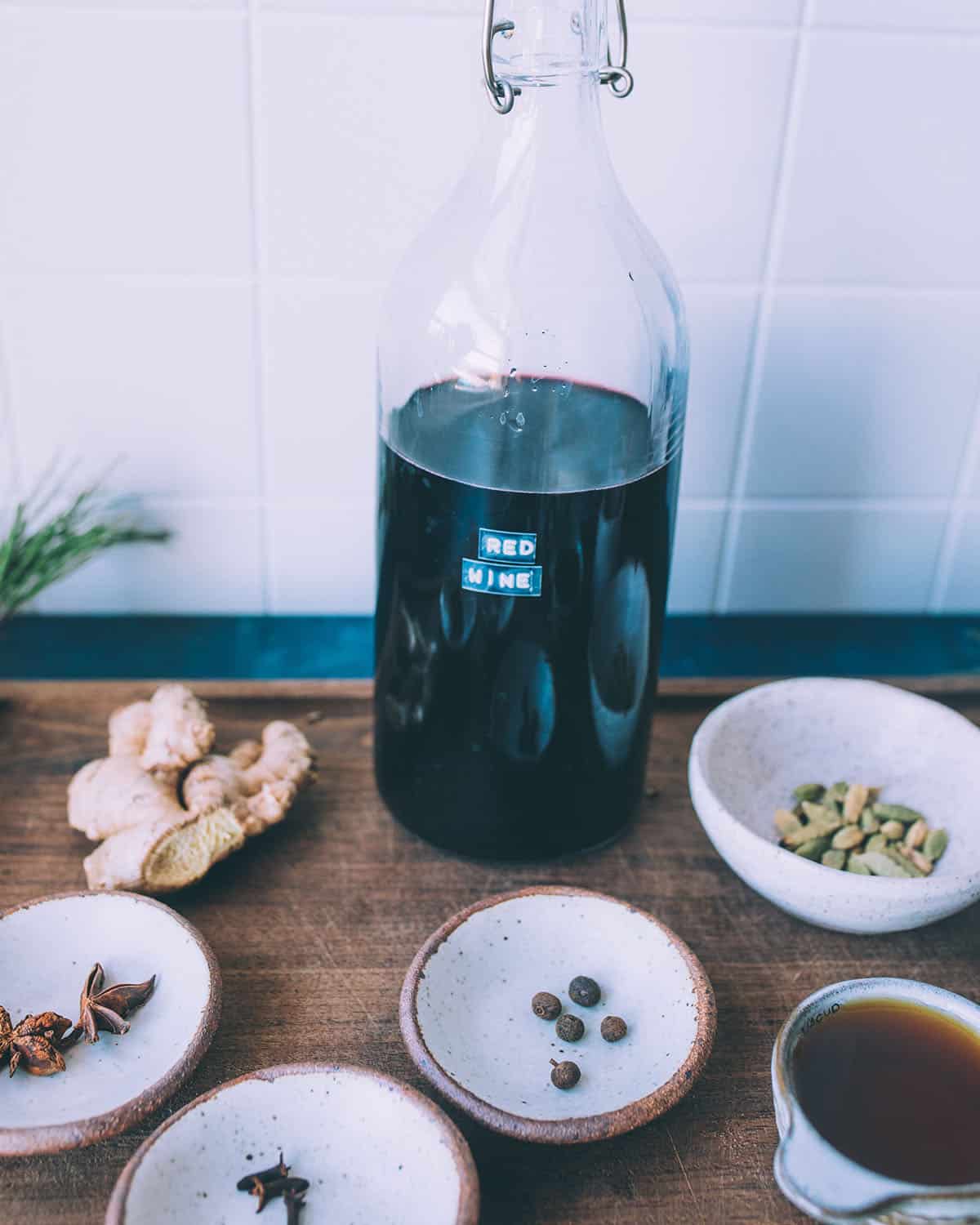 Cardamom pods: In its whole form, cardamom is used to flavor chai and coffee drinks. Ground spice is used in meats and baked goods.
Star anise: This whole spice looks like a star, hence its name. They are popular to use in mulled wine recipes, as well as herbal syrups and liqueurs. Star anise has a licorice-like flavor, use any extra for garnish.
Herbal Garnish
These garnish ingredients are all optional, but add a little flavor, some beauty, and a whole lot of fresh herbal feeling to this mulled wine recipe!
grated nutmeg
fresh cranberries
orange slices
apple slices
pear slices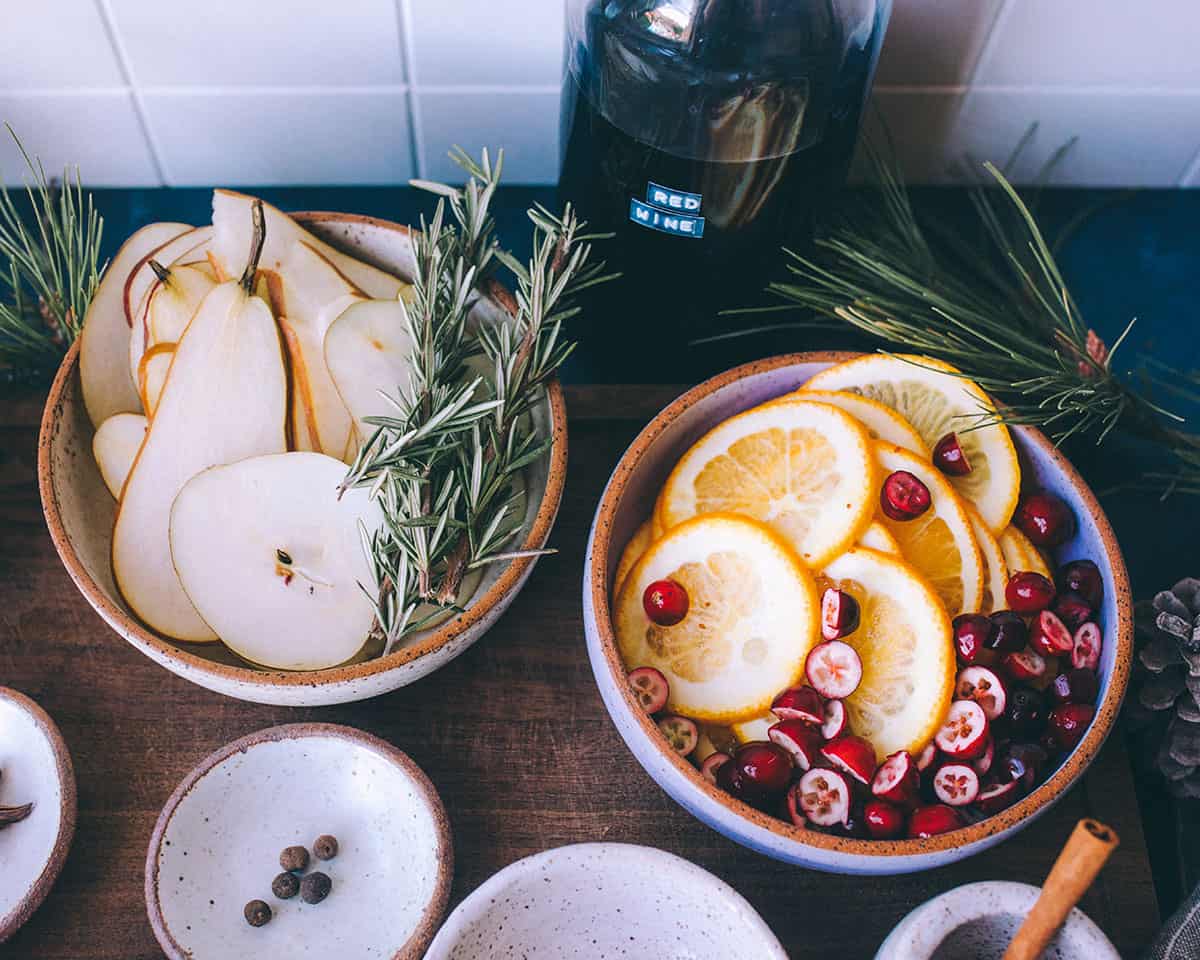 How to Make Mulled Wine
First, pour the whole bottle of wine into the pot. Then add the maple syrup and orange slices.
Next, add all of the mulling spices to the wine in the pot including the ginger, cinnamon sticks, cloves, allspice berries, cardamom pods, and star anise.
Set the pot to medium heat and take a deep breath in!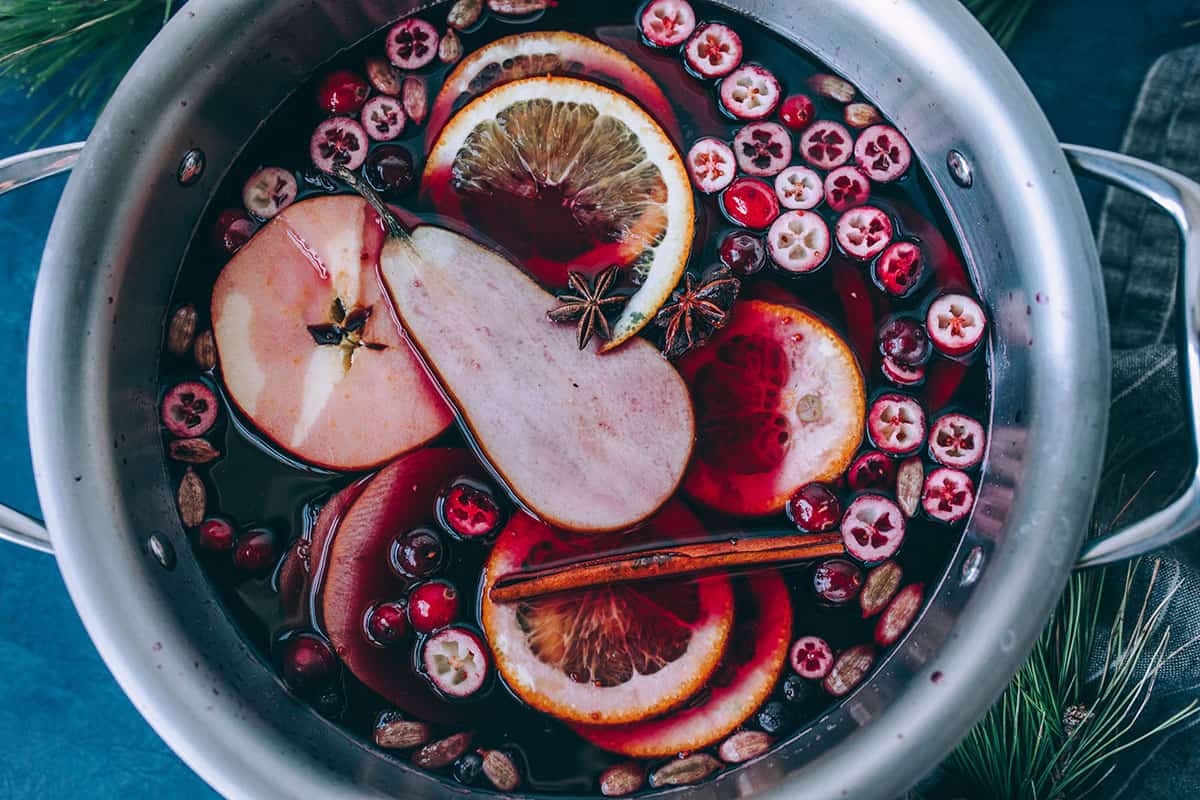 Keep an eye on the pot so the wine doesn't boil. When it first begins signs of simmering, turn the stove heat to low and keep it at a low simmer for 20 minutes.
Until ready to serve, keep the mulled wine warm on low heat, making sure it never boils.
When it's serving time, strain or scoop out the mulling spices and oranges from the warm mulled wine.
Using a ladle, pour the spiced mulled wine into mugs and garnish with freshly grated nutmeg and a fresh orange slice if preferred.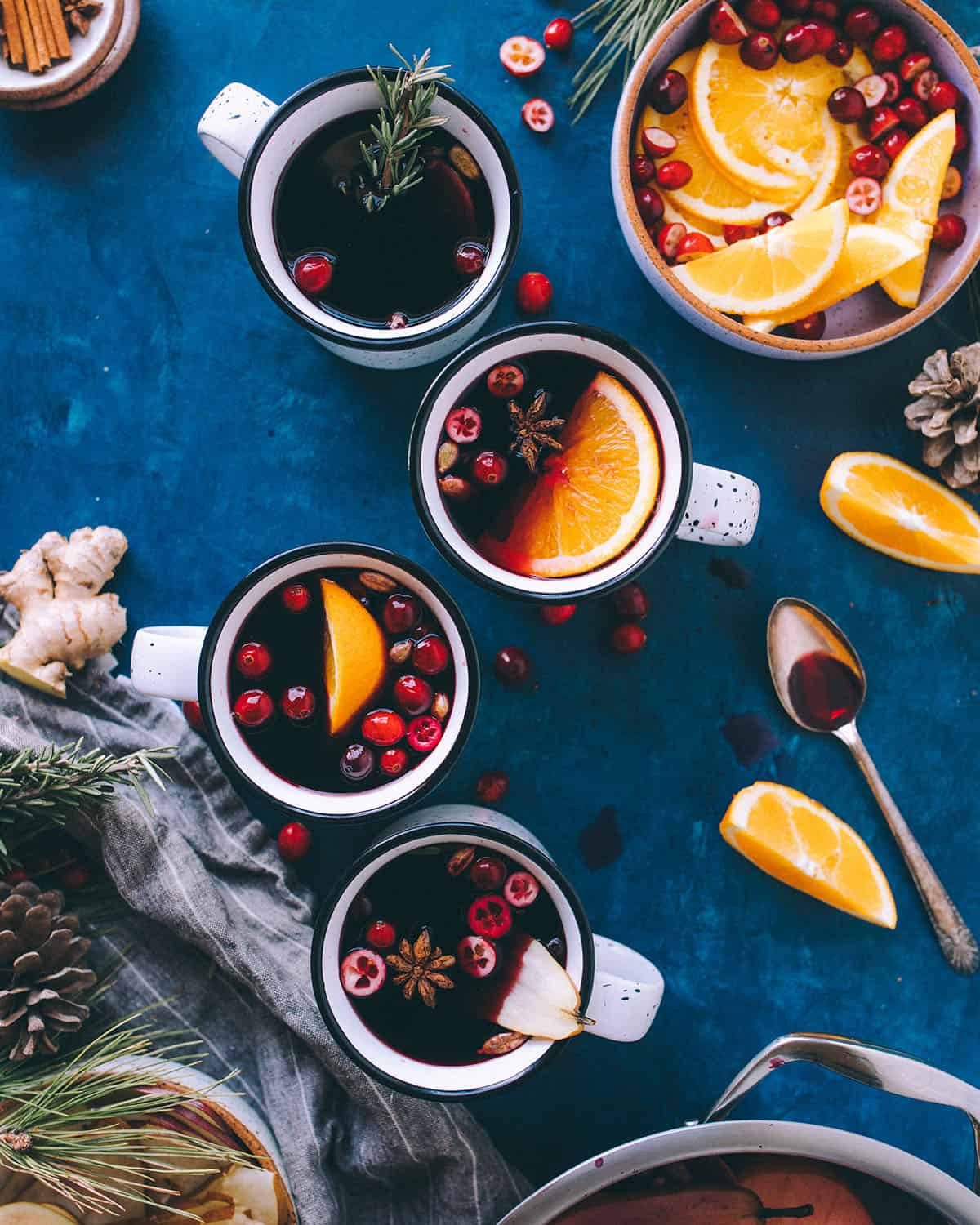 If desired (it's desirable, trust!), garnish with a cinnamon stick, star anise, fresh herbs, fresh cranberries, and fresh fruit slices to add to the beauty and flavor of this delicious warm mulled wine recipe!
How Long Does Mulled Wine Keep?
For leftover mulled wine, let it cool to room temperature and store it in the refrigerator. It should last 3-4 days, although I'm sure you'll drink it by then!
Is Mulled Wine Good for You?
Like all things, moderation is key! This mulled wine recipe is good for you and can have a host of benefits, from the ginger, spices, and herbal benefits in the garnishes you choose.
The best part is that relaxing is so important for your mental health. Sharing a drink, meal, and conversation with others is known to increase oxytocin, which is the hormone that makes people feel connected. Cheers to that!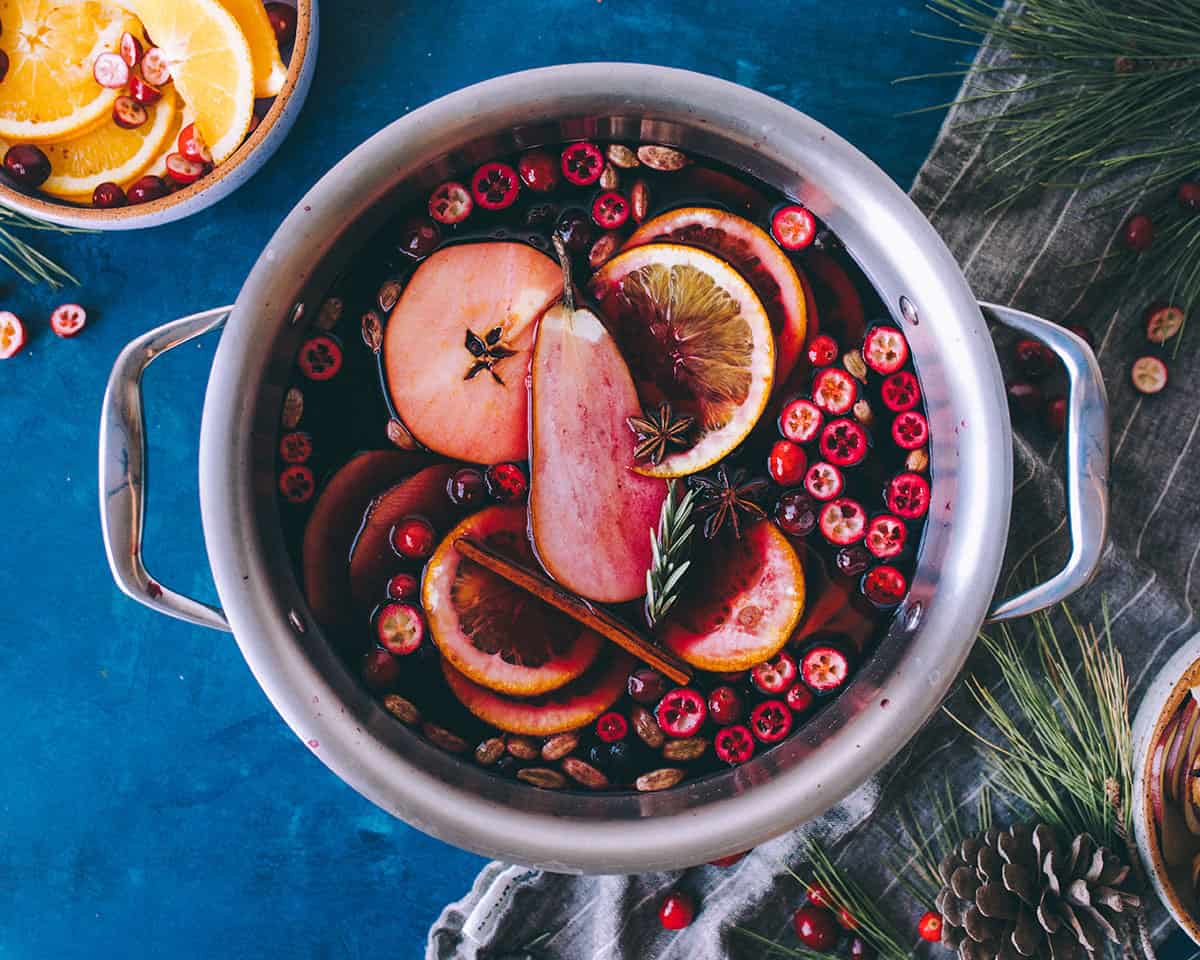 Is Mulled Wine Full of Sugar?
Some mulled wine recipes may use sugar, but since I like to keep my own drinks and diet low-sugar, in this recipe I only use a small amount of pure maple syrup and no refined sugar.
Of course, maple syrup is still a form of sugar! Feel free to reduce it to taste, but otherwise be assured that you're using a natural form of sweetener that will taste amazing.
What is the Best Wine for This Recipe?
Personally, I like a red wine blend. Other popular red wines to use are ones that have more deep and rich flavors to match and round out the flavor of the mulling spices, like:
cabernet
merlot
zinfandel
grenache
I recommend you use your favorite red wine and go from there!
Does Mulled Wine need Brandy?
Brandy or bourbon is often added to mulled wine. I don't feel it's necessary as I prefer the simplicity and lower alcohol content that comes with just wine and spices. Feel free to add 1/4 cup of brandy or bourbon to this recipe if you would like!
Does the Alchohol Cook Out of Mulled Wine?
This mulled wine recipe is lightly simmered instead of boiled, so it will keep most of its alcohol content. If it stays on the heat for several hours, it may continue to decrease, but it is best to assume it still has alcohol.
How to Drink Mulled Wine
Drink this deliciously spiced mulled wine recipe with friends and loved ones, on a cold evening for a warming happy hour!
Garnished with your favorite fresh herbs, and spiced with the most flavorful whole spices, this drink goes really well with a charcuterie board, dessert, or alongside a holiday dinner.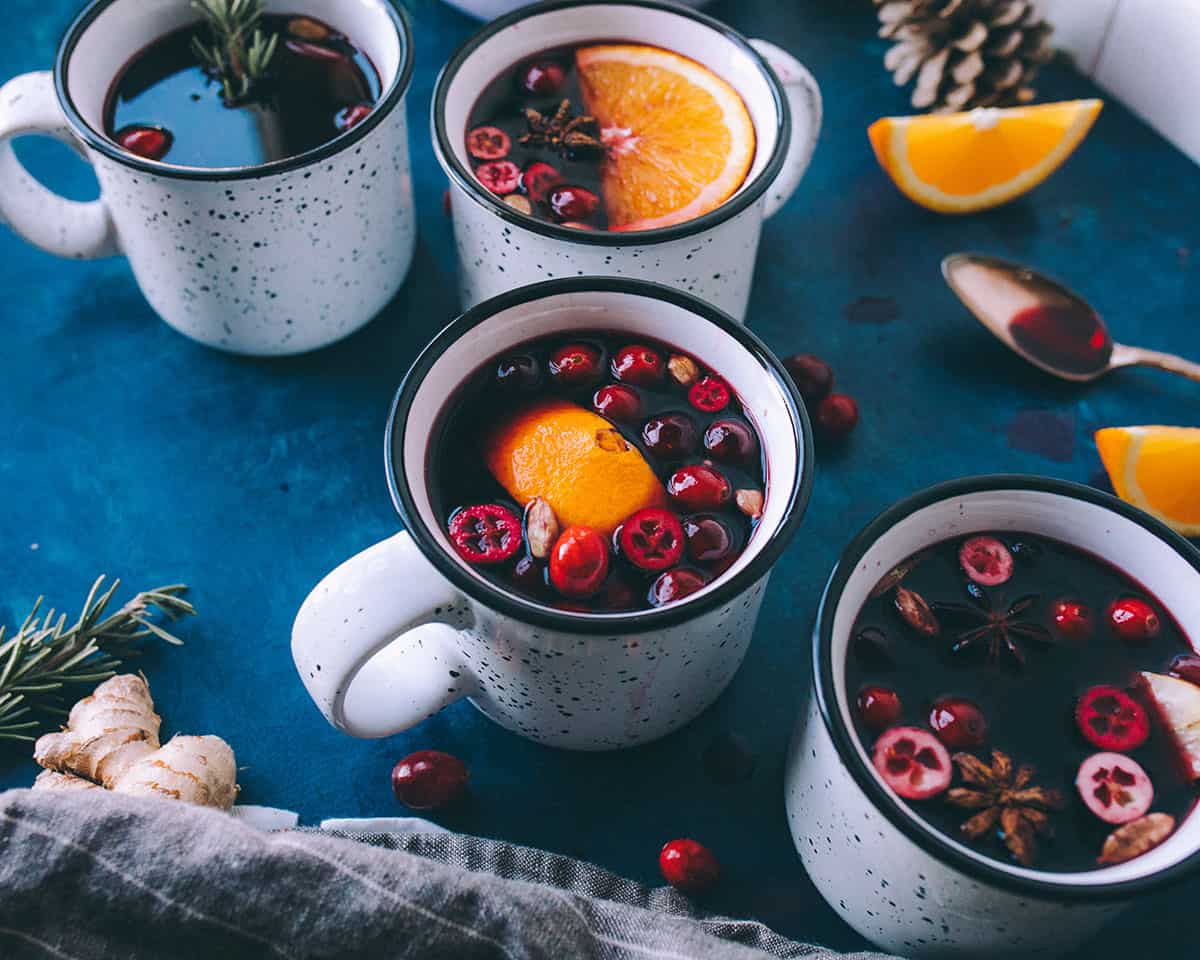 Whatever you do, keep the sound of clinking glasses, the warm glow of light, and happiness in your heart as you connect and share the spirit of the season. Cheers!
Check out these recipes for more herbal cocktails:
Mulled Wine with Whole Spices
Make this easy mulled wine recipe to relax on a cold winter evening. Breathe in the mulling spices, and bring some warmth to your happy hour!
Ingredients
1

bottle

red wine

cabernet, merlot, zinfandel, or a red blend all work well

¼

cup

pure maple syrup

or honey

3

orange slices
Garnish (optional)
fresh herbs

such as rosemary, sage, or thyme

fresh cranberries

orange slices, apple slices, or pear slices
Instructions
Pour the wine in a pot and add the maple syrup, orange slices, and all of the spices except the garnishes. Heat on medium.

Once the wine is just barely simmering, turn to low and keep at a low simmer for at least 20 minutes. Keep warm over low heat until ready to serve. Do not boil.

When you're ready to serve, strain or scoop the oranges and spices from the mulled wine.

Use a ladle to pour the mulled wine into individual mugs and garnish with an orange and freshly grated nutmeg if using. You can also add a cinnamon stick, star anise, fresh herbs, fresh cranberries, and/or fruit slices to the mug for garnish.
Notes
This recipe can easily be doubled or tripled for a crowd!
Feel free to put the mulling spices in a muslin bag or cheesecloth so you don't have to strain them out.
Feel free to add 1/4 cup of brandy or bourbon to this recipe if you would like.
The mulled wine can be kept in a slow cooker on low to keep it warm.
Nutrition
Serving:
5
oz
|
Calories:
176
kcal