Nasturtiums are an easy-to-grow edible flower with an old fashioned feel to them. They have been growing in and around gardens for centuries! If you look in the original Peter Rabbit book by Beatrix Potter (originally written in 1893 and published in 1902) you will see nasturtiums in the beautiful illustrations. Since the nasturtiums I planted grew like crazy this year, I decided to try something a little different. This nasturtium flower infused vinegar is strikingly beautiful as well as delicious!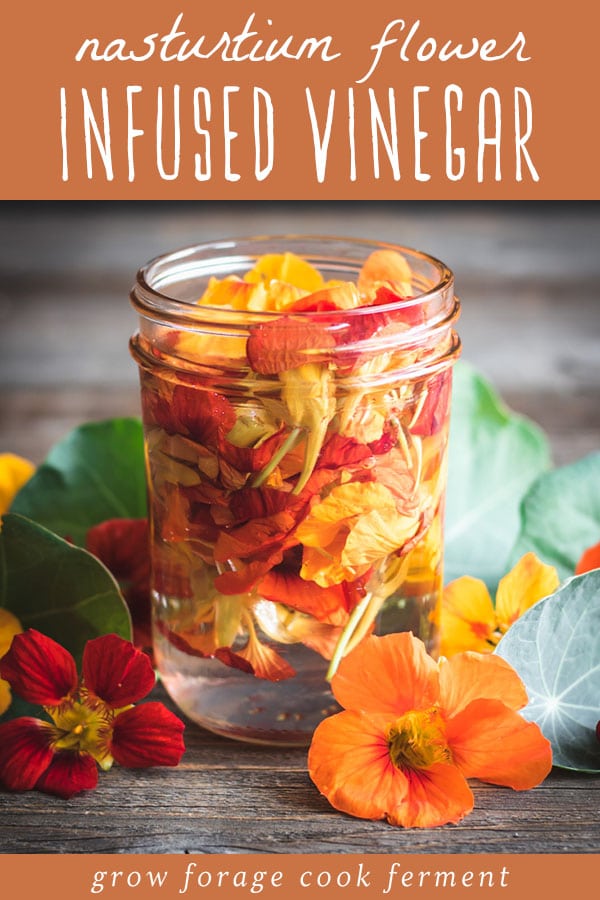 Nasturtium Benefits
Nasturtiums have many benefits to us, including being both edible and medicinal.
The flowers and leaves are peppery and can be eaten raw in salads.
The leaves are often made into nasturtium pesto and can also be cooked like spinach or stuffed with rice.
The seed pods can even be fermented into capers!
Nasturtium flowers are high in vitamin C and are the highest source of lutein, an important carotenoid for eye health.
Lutein is best absorbed with combined with fat, so a salad dressing made with this nasturtium vinegar and a high quality oil would be perfect!
Nasturtium Flower Infused Vinegar Recipe
I love infusion recipes because they are generally pretty simple and straightforward! In fact, I wrote a whole book on infusions called Healing Herbal Infusions.
For this nasturtium vinegar, collect as many of the blossoms as you can and put them into a pint jar.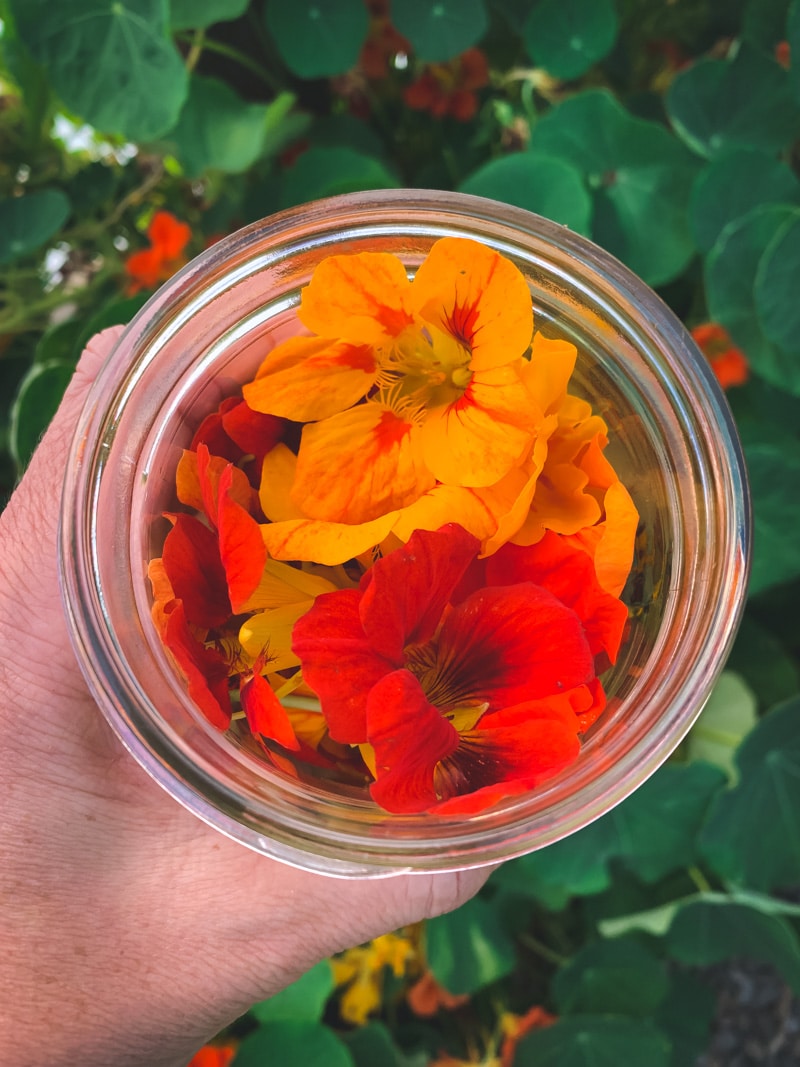 Then cover the flowers with white vinegar.
I like to use a higher quality vinegar than just regular old distilled, so I usually opt for white wine vinegar or white balsamic (Trader Joe's also carries this).
Apple cider vinegar could also be used, but the color of the vinegar after infusing won't be as vibrant. I prefer to use a white vinegar for this reason, because I love that color!
This vinegar infusion is so beautiful right from the beginning!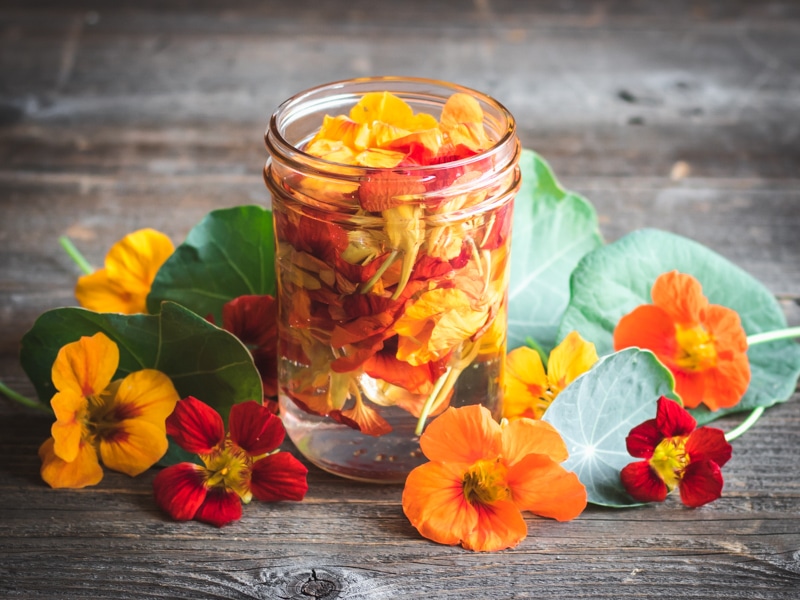 Cover the jar and let the flowers infuse for 1-3 weeks in a cool and dark place.
After a few days you will notice the vinegar turning a beautiful shade of red (or orange or yellow, depending on what color of blossoms you used).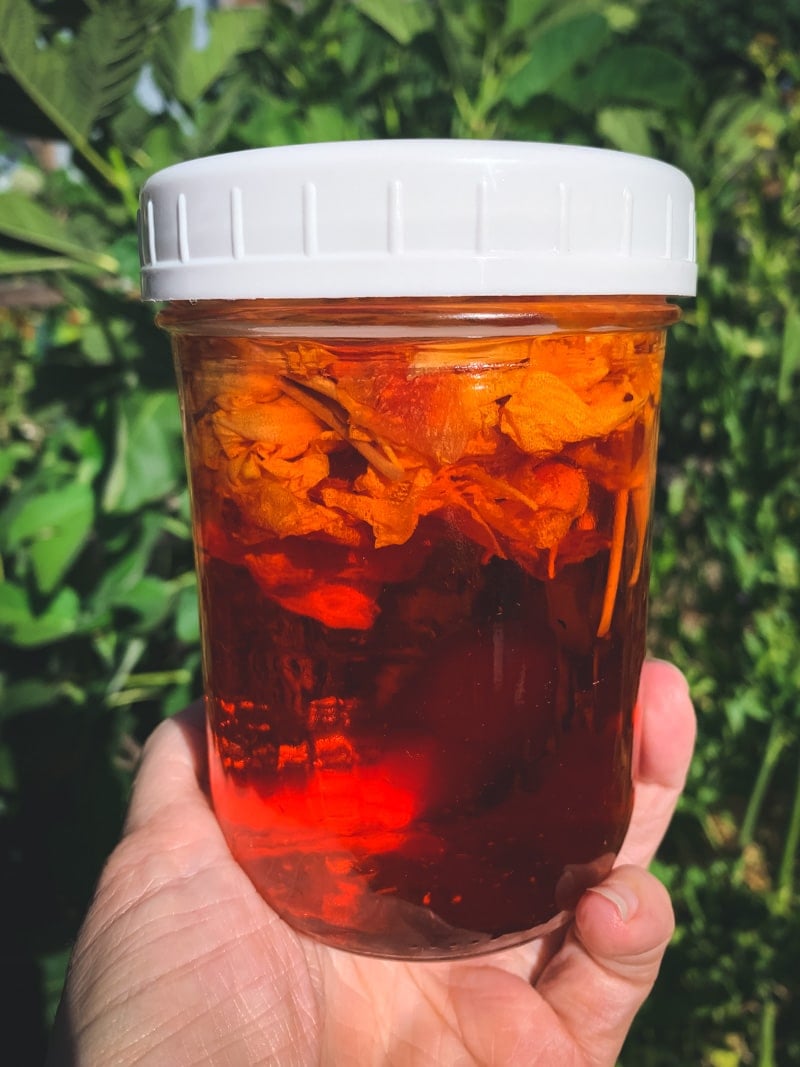 When you are ready to use the vinegar, strain out the flowers and store the infused vinegar in a bottle or jar. It will last indefinitely!
Use the peppery tasting vinegar to make salad dressing, marinades, or splash it on roasted veggies.
Combine it with equal parts honey to make a nasturtium oxymel.
You can use it any way that you would use regular vinegar!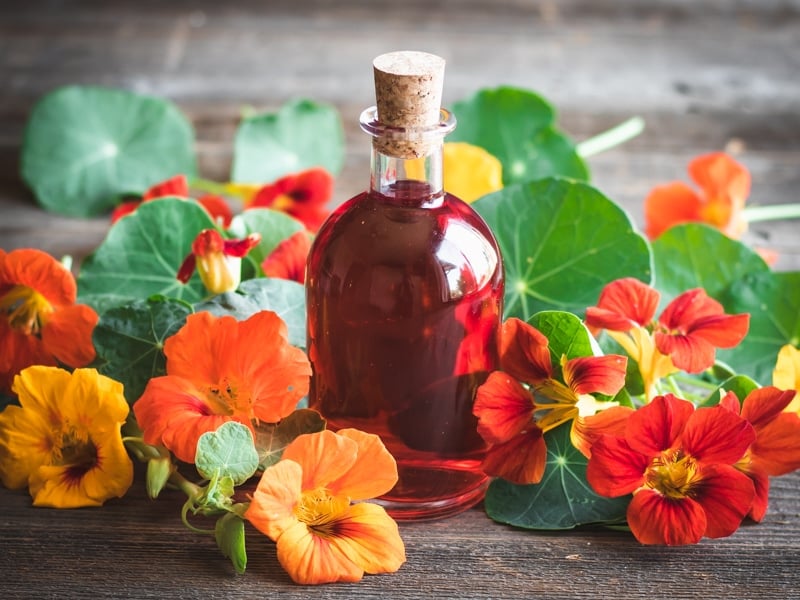 Here are some more great flower infused vinegar recipes:
Nasturtium Flower Infused Vinegar
When you have nasturtiums growing in your garden make this nasturtium flower infused vinegar! It has a gorgeous color and peppery flavor and can be used to make a wonderful and nutritious salad dressing.
Ingredients
1 3/4

cups

fresh nasturtium flowers

1 1/2

cups (approx)

white wine vinegar

or other vinegar
Instructions
Collect clean nasturtium flowers in a pint size jar.


Completely cover the nasturtiums with vinegar. You may use a bit more or less depending on how many nasturtiums you collect.


Cover the jar with a lid and let it sit in a cool place for at least a week and up to three weeks.

When you are ready to use the vinegar, strain out the nasturtium flowers. Store the infused vinegar in a jar sealed with a lid in a cool pantry.

Notes
You can use any vinegar you like for this recipe. White balsamic vinegar also works well!
Nutrition
Serving:
2
g
|
Calories:
10
kcal