I'm always amazed by the power of herbal medicine. Comfrey is one of those herbs that truly has healing properties and is excellent when used in a salve. It is a plant that I will always have growing in my medicinal herb garden, even if it does have a tendancy to spread. Besides being medicinal, comfrey is also great for the garden and makes an excellent natural compost tea. This homemade comfrey salve helps to heal minor wounds fast!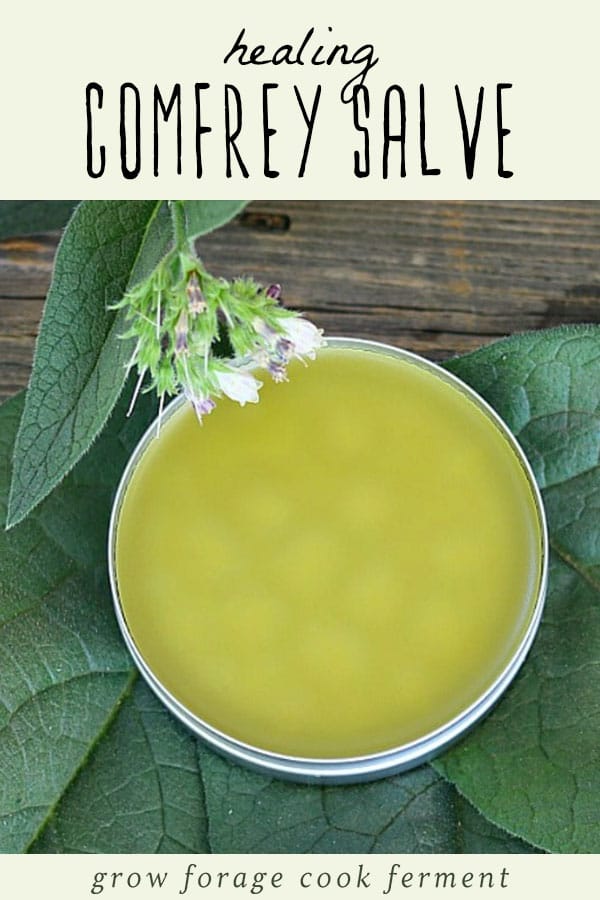 Medicinal Benefits of Comfrey
Comfrey is a potent anti-inflammatory wound healer and both the root and leaves can be used. Also known as knitbone, comfrey is commonly used externally as a poultice for wounds, sores, burns, and fractures.
It makes an excellent salve, either on its own or combined with other healing herbs like calendula, plantain, yarrow, or lavender.
Comfrey speeds healing and promotes the growth of new skin cells. It should not be used on deep or infected wounds as it will heal the surface first and could potentially seal in an infection.
There is conflicting evidence on the safety of using comfrey internally, so please do your own research and proceed with caution. Using it externally, like in this salve or as a poultice, is perfectly safe!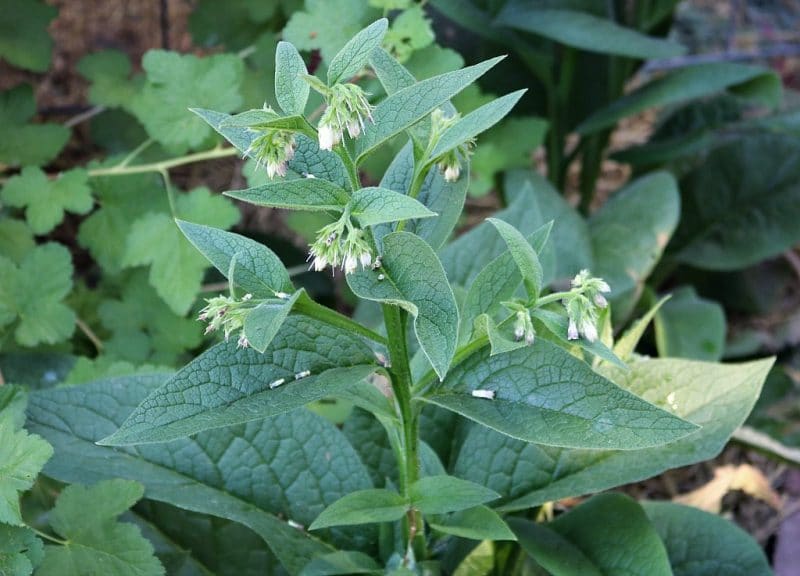 Healing Comfrey Salve Recipe
Before making this salve, you will need to make a comfrey infused oil. I use dried comfrey leaf that I harvest from my garden and dry on homemade drying screens. You can also purchase organic dried comfrey leaf from Mountain Rose Herbs.
Fill a pint jar about ½  to ⅔rds full of dried comfrey leaf, then cover the plant material with your carrier oil of choice. You can use a single oil or a combination of oils. My favorite combination for making salves is equal parts of olive, coconut, and sweet almond oils.
Let the oil infuse in a cool and dark place for 4-6 weeks (or longer) before making this salve. Strain out the comfrey leaf before using in this recipe.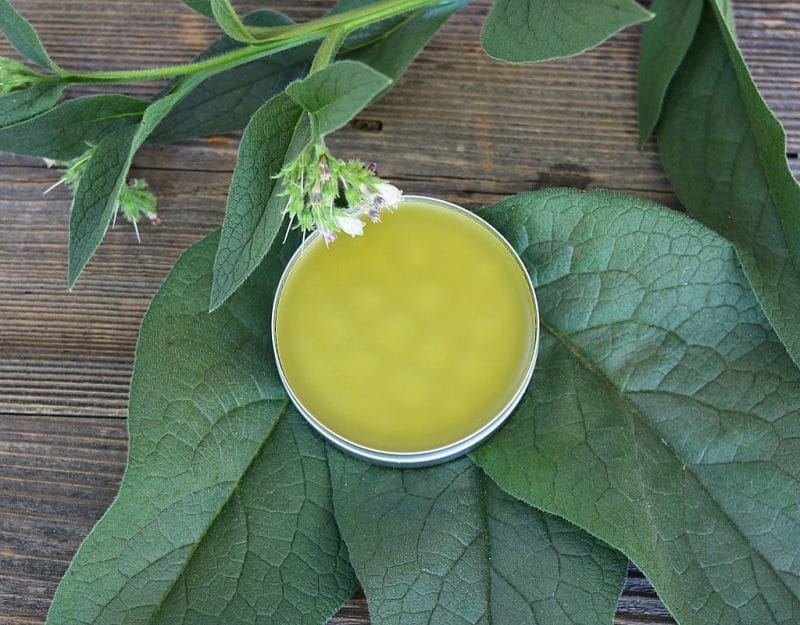 This comfrey salve is one that I always have on hand in my herbal medicine cabinet. Comfrey has so many healing benefits, and this salve is amazing for healing minor cuts, scrapes, and wounds. It really works wonders!
---
Herbal Salve Recipes
Here are some other healing herbal salve recipes you may like:
---
Comfrey Salve
This homemade comfrey salve has amazing healing benefits!
Instructions
Comfrey Infused Oil
Let the oil infuse in a cool and dark place for 4-6 weeks (or longer).

Strain out the comfrey leaf before using in this recipe.
Comfrey Salve
Create a makeshift double boiler by putting a small bowl or a glass Pyrex measuring cup over a pot with about an inch of simmering water.

Put the comfrey oil and beeswax into the small bowl or Pyrex, and heat until the beeswax completely dissolves into the oil, stirring occasionally.

Add the shea butter and stir until it completely dissolves.

Carefully pour the mixture into small jars or tins and let sit until the salve sets up completely.
Notes
This recipe makes approximately 12 ounces of salve total, or six 2 ounce tins.