If you're like many gardeners, you just might have zucchini coming out of your ears during harvest season. I've been there before, and I'm all about new ways to preserve zucchini! I especially love it when I can use my dehydrator for preserving because it's simple to use and a great way to store food. These zucchini chips are delicious and make a healthy and homemade alternative to regular chips!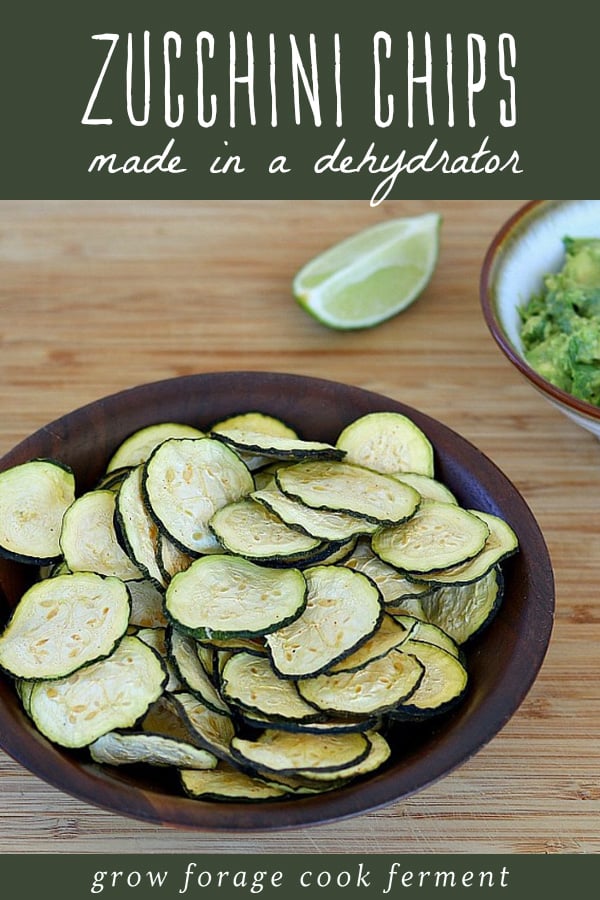 Prepper's Dehydrator Handbook
This recipe for zucchini chips comes from the Prepper's Dehydrator Handbook by Shelle Wells of Rockin' W Homestead. It is full of solid information on how to dehydrate fruits, vegetables, herbs, and even jerky!
The best part about this book is the recipes for how to dehydrate specific fruits and veggies, plus different ways to actually use your dehydrated food. That is a key component!
The good news is that you don't need to be a prepper at all to enjoy this book!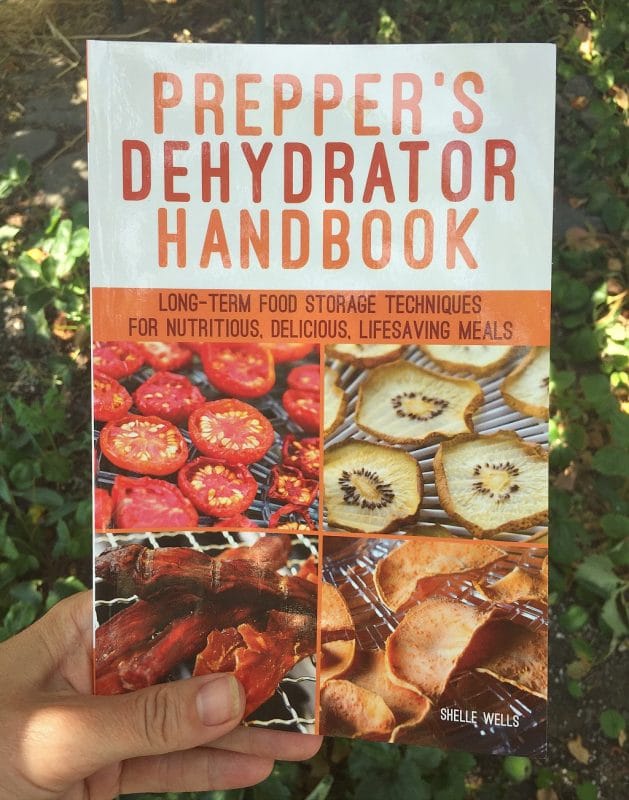 Dehydrator Zucchini Chips Recipe
You can use any type of dehydrator for this recipe, but I prefer using an Excalibur dehydrator. I have the 9 tray version and could easily have doubled this recipe and all of the zucchini would have still fit easily.
Cutting the zucchini into ¼-inch thick rounds is important as they will shrink up quite a bit in the dehydration process. This will ensure that they will be crunchy and sturdy enough to hold up to dipping!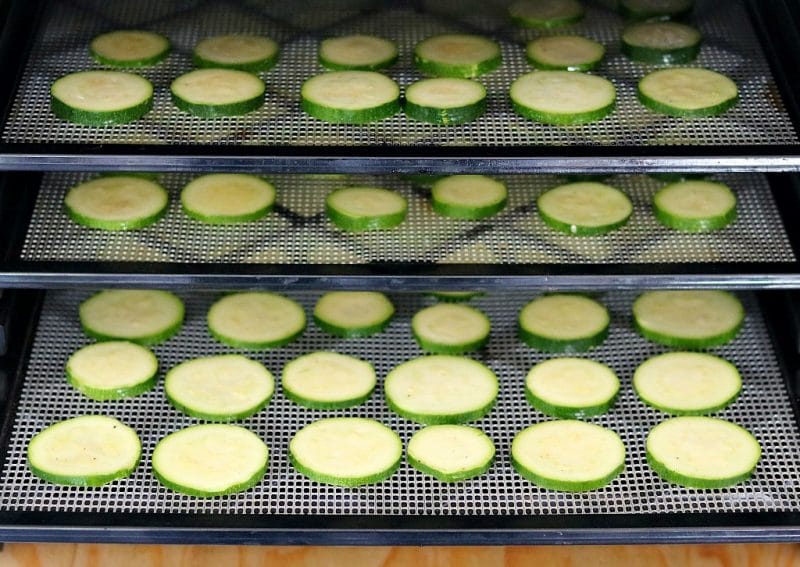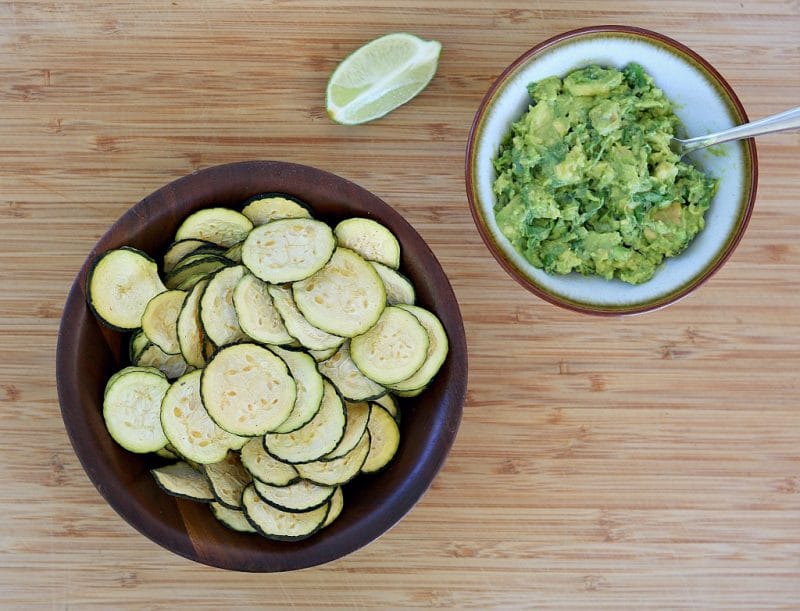 These zucchini chips turned out awesome! They are crispy and just the slightest bit vinegary, which I personally love. The best part is that there is no guilt in eating them by the handful!
They also happen to be low carb, vegan, paleo, and Whole 30 friendly, if you're into those sorts of things.
Oh, and they make the perfect accompaniment to homemade chunky guacamole! They held up well for the task.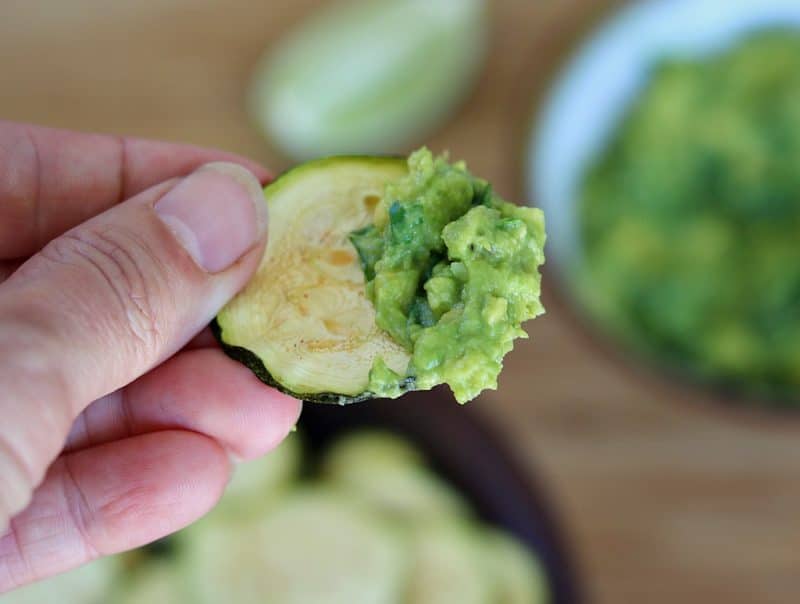 If you have a ton of zucchini this season, or even if you are able to purchase some locally grown zucchini from the farmer's market, I highly recommend making these zucchini chips!
It's better than leaving excess unwanted zucchini on some poor neighbor's doorstep, right? Right!
If you still have extra zucchini lying around, make a loaf or two (or three) of my delicious Zucchini Spice Bread.
Zucchini Chips
When you have an abundance of zucchini in the garden, preserve them by making these tasty zucchini chips in the dehydrator.

Equipment
Crinkle Cut Slicer

Dehydrator
Instructions
Slice the zucchini into 1/4-inch thick rounds. It's best to keep the thickness the same for even drying. Experiment with using a crinkle cut slicing blade that makes ridges in the chips, the ridges tend to give spices more area to grab on to.


Add apple cider vinegar, salt, pepper, and chili powder to a wide bottomed, nonreactive bowl. Stir until incorporated.


Add a handful of zucchini slices to the bowl and toss until they are just coated with the vinegar and spice mix. Separate any pieces that stick together.


Arrange the chips on dehydrator trays. They can touch but should not overlap. Repeat with the remaining zucchini slices.


Dry at 135°F for 10 to 12 hours until crisp. If you have a bottom heating dehydrator, you may need to rearrange the trays halfway through the drying cycle. After 5 hours, move the top trays to the bottom so that chips will be evenly dried.

Nutrition
Serving:
1
g
|
Calories:
35
kcal
|
Carbohydrates:
6.7
g
|
Protein:
2.4
g
|
Sodium:
20
mg
|
Potassium:
30
mg
|
Fiber:
2.2
g
|
Sugar:
3.5
g
|
Calcium:
20
mg
|
Iron:
0.7
mg