Foraging in the wintertime can sometimes be difficult, but there are always conifer needles. Any recipe that uses conifer needles really intrigues me, so I thought it was time for me to make something with them myself. I am visiting the central California coast at the moment and redwood trees abound, so they seemed like a natural choice. I am always in awe of redwood trees, and they make me extremely happy to be around. They definitely are a special tree, and these redwood needle shortbread cookies is the perfect way to enjoy their awesomeness!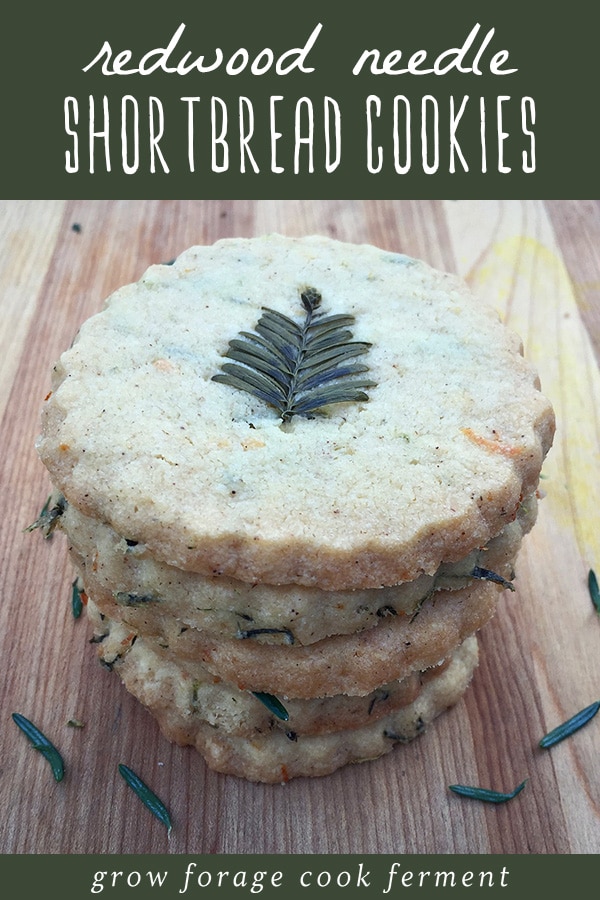 Redwood Needle Shortbread Cookies Recipe
Of course, you don't have to use redwood needles for this recipe. Most conifer needles such as pine, spruce, fir, and hemlock are edible, and any of them would work well in this recipe. Rosemary would also be a lovely substitution for the conifer needles.
Redwood Needle Shortbread Cookies Recipe
Total Time
1
hour
10
minutes
Ingredients
14

Tbsp

(2 sticks minus 2 Tbsp) unsalted butter

softened

3/4

cup

sugar

1

egg yolk

2

Tbsp

orange juice

1

Tbsp

orange zest

a microplane is the best tool for this, hands down!

1 1/2

cups

all purpose flour

1/2

cup

arrowroot powder

or cornstarch

1/4

cup

redwood needles

or other edible conifer needles such as pine, spruce, fir, and hemlock

1

tsp

cinnamon

1/2

tsp

cloves

pinch

salt
Instructions
Finely mince the conifer needles. It may be easiest to pulse them a few times in a food processor or blender.

Cream together the butter and sugar, then add the egg yolk, orange juice and orange zest, and stir to combine. Then add the flour, arrowroot, minced conifer needles, cinnamon, cloves, and salt.

Gently stir everything together until the dough barely holds together. It will seem a bit floury, but that's ok. Take the dough out of the bowl and use your hands to form it into a flat disk.

Wrap it up in parchment paper and refrigerate for at least 30 minutes or until firm. You can store the dough for several days in the fridge, or for several weeks in the freezer if need be.

When ready to cook, preheat the oven to 300°F.

Roll out the dough onto a floured board to about 1/4 inch thick, and use cookie cutters to cut into desired shapes. You can alternatively shape the dough into a log before refrigerating it, and then slice the cookies into rounds.

Put the cut cookies onto a parchment (or silicone mat) lined cookie sheet about an inch or so apart. If you want to get fancy and have a pretty garnish on your cookies, gently press a redwood (or other conifer) tip into the top of the cookie.

Bake for 25-30 minutes, or until just beginning to turn golden brown on the edges. The centers will still be just barely soft. These were done right at 25 minutes, so keep a close watch on them after that. Remove from the oven and let them cool for a bit on the cookie sheet before transferring to a cooling rack.
Nutrition
Can I just say how happy I am with how these cookies turned out? They are pretty (not usually my forte), as well as extremely tasty. The orange and spices really add to the wonderful piney flavor of the redwood needles.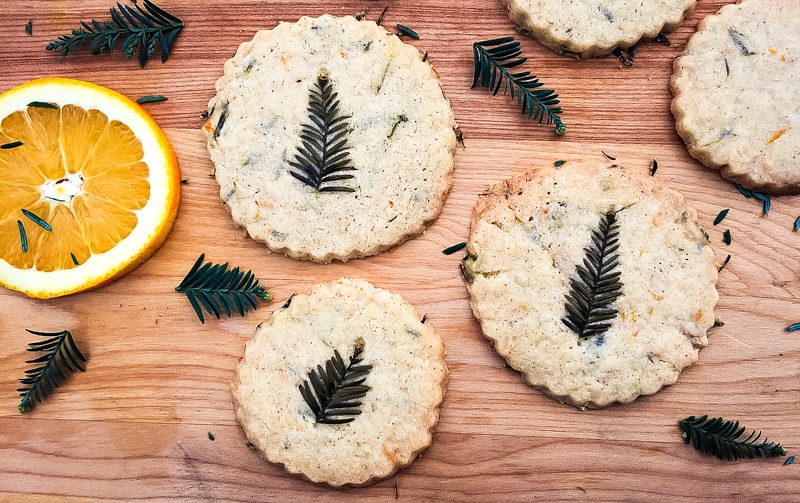 These redwood needle shortbread cookies make a perfect holiday treat. Great for entertaining or for a cookie swap. Even better that they are made with foraged ingredients!
Here is some more conifer cookie inspiration:
I hope this inspires you to make some redwood or other conifer cookies. I'm thinking spruce tips might be nice, that's what I might try next time!