Preserving peppers is an end-of-summer task that might have you wondering which method is best. When faced with a bumper crop of peppers in the garden, it's not practical to try to eat them all within their ripeness window. I've gathered up 15+ of the very best ways to store peppers including how to can, freeze, dry, and ferment. This is your one-stop recipe-round-up to learn how to preserve all the peppers!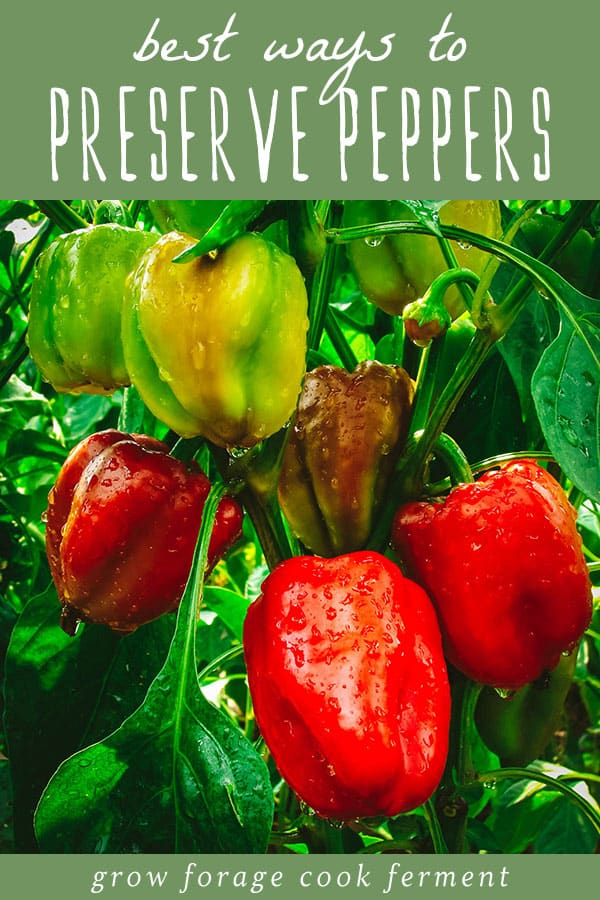 How to Preserve Peppers
Sometimes everything aligns just right and you get a huge amount of peppers growing in your garden.
Peppers are a wonderful summer crop, but it can be hard to know what to do with them all since you don't want every meal to have a firey heat to it!
Preserving peppers is the way to go, and there are several main ways to do this: can, pickle, freeze, dehydrate, and (my favorite!) ferment.
No matter how you choose to preserve peppers, when the weather turns cold there is nothing better than adding a little summer heat to your food!
Read on for a list of 15+ recipes for preserving peppers of all different types!
Freeze Peppers
Freezing is a great way to easily preserve peppers! Peppers are one of the only vegetables that don't need to be blanched before you freeze them.
While they may lose a little bit of their crispness when you pull them out of the freezer, they're still great for enjoying in many recipes!
Hot peppers and sweet peppers can both be preserved by freezing.
One way to freeze peppers is to roast them beforehand so they're ready to use when you pull them out of the freezer.
These roasted Hatch chile peppers are perfect for freezing and saving for later use in soups, enchiladas, tacos, burritos, or any dish that needs a flavor burst.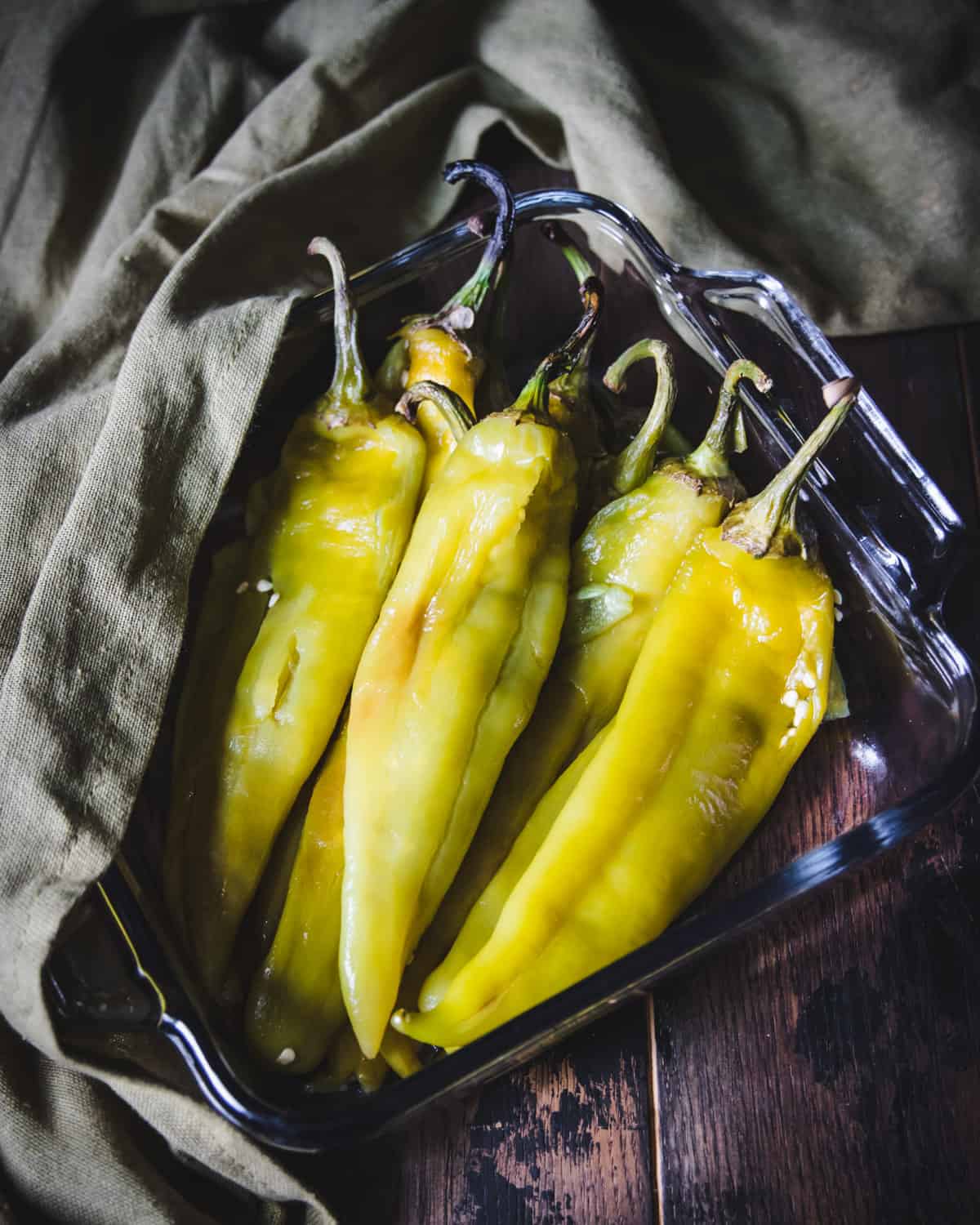 Canning Peppers
Another way to preserve peppers for the flavor of summer is canning peppers, and they can be used on-the-quick in a variety of ways.
Throw them on a sandwich, into a pasta salad, or even onto a charcuterie board with cheese and crackers.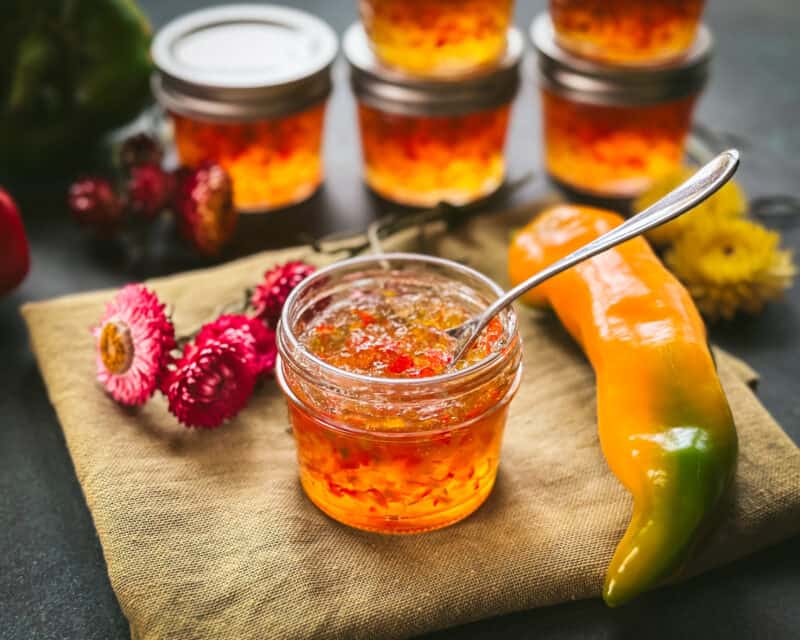 Homemade pepper jelly is one of my favorite ways to use up hot peppers!
This canning recipe for hot pepper jelly is easy to follow and is so delicious. Serve it on top of cream cheese or chevre, or wherever you need a touch of fire to your life.
Quick Pickled Peppers
Pickled peppers are not quite canned but not quite fermented — they are preserved in vinegar!
I certainly don't want to leave out these amazing recipes! They're made in jars so we'll go ahead and call them Kind of Canned But Not Really. They're pickled!
Quick pickled pepperoncini peppers fit this exact category!
These pickled delights are easy to make and so delicious. They are a super quick way to preserve peppers!
Add them to salads, sandwiches, or a snack plate. You can use any hot pepper that floats your boat for this recipe, depending on the amount of heat desired.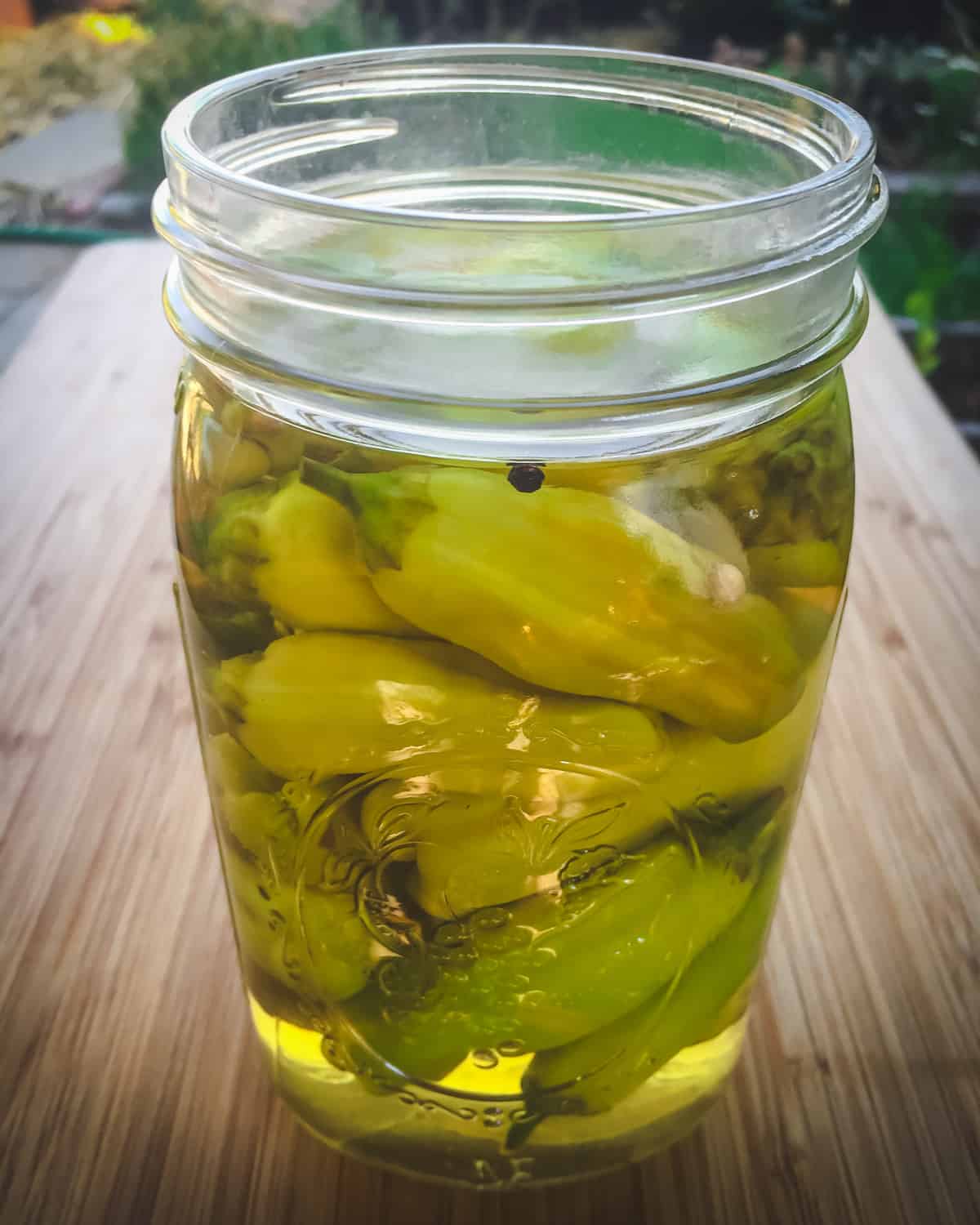 This pickled jalapeños recipe does add a bit more firey flavor and is just as easy to make. With a crunchy texture and amazing flavor, it's totally worth the few minutes it takes to throw these together.
Skipping the canning process saves time!
Dehydrate Peppers
Dehydrating peppers (or any garden abundance!) is a great way to preserve and store them long-term because it majorly reduces the size.
A ton of shrunken-down dehydrated peppers can fit into a jar! Once dehydrated, they're super easy to use too.
My favorite dehydrator by far is the Excalibur dehydrator.
To dehydrate peppers with a dehydrator, use any type of pepper you want from sweet bell to spicy jalapeños. It all depends on what is available and what you want to have for later use.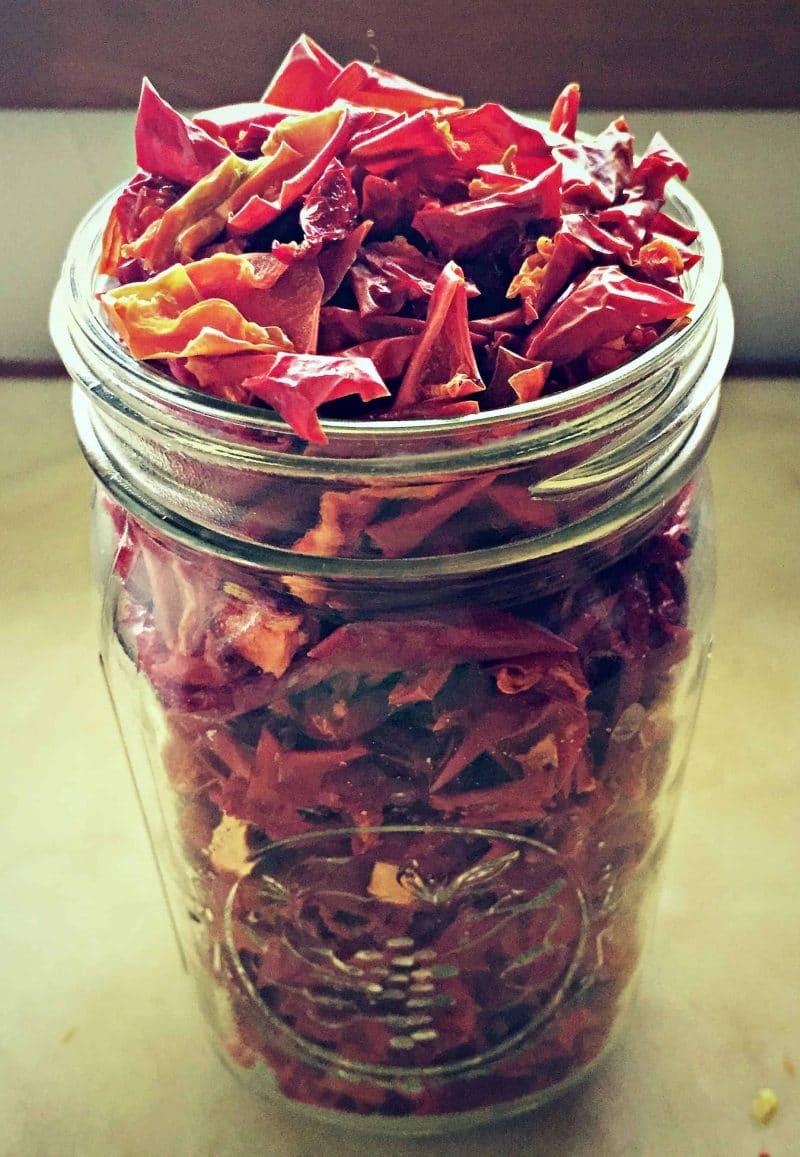 Once you're ready to use dehydrated peppers, all you have to do is add hot water to rehydrate them!
They won't quite have the original consistency as fresh peppers, but they still taste great. Use them for soups, stews, pasta, or rice meals.
If you like to sprinkle chili flakes on your meals anytime you want a little kick, try making these dried chile pepper flakes. They're delicious on pizza, or to use to season any dish where you want to add some spice!
You can also try making your own homemade chili powder!
Ferment Peppers
Last but not least, my favorite way to preserve anything, but especially peppers, is via fermenting!
Hot or mild peppers are great for fermenting. There is a wide variety of ways to do it with super tasty, flavorful, and mild to spicy recipes. The best part is the probiotic goodness that comes with it!
Fermenting is a great way to make hot sauce, so add these recipes to your preservation list:
From a basic fermented hot sauce that uses any hot pepper and can be used on almost everything, to fermented jalapeño hot sauce that has a depth of flavor and heat.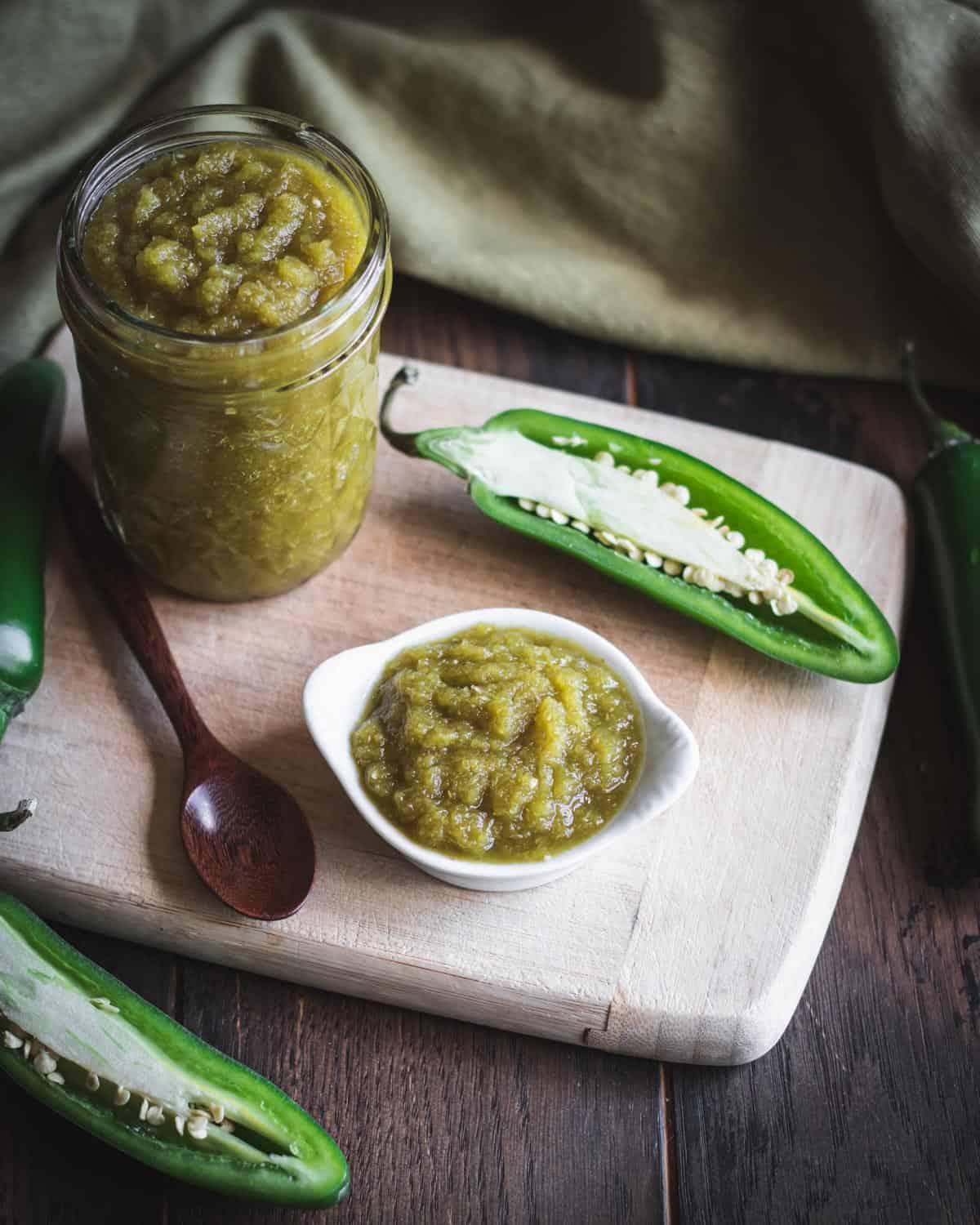 Is there a difference between banana peppers and pepperoncinis? Yes, there is!
Learn about that AND make a delicious fermented banana pepper hot sauce, or if you have pepperoncinis make this fermented pepperoncini hot sauce.
Don't forget the salsa! While bell peppers aren't spicy, this fermented bell pepper salsa will knock your socks off with so much flavor and just a little bit of spice. It's really easy to make too!
More Fermented Pepper Recipes
To really switch things up, use any mild or firey pepper to make this fermented hot pepper relish with only 3 ingredients. It comes together quickly and is full of flavor perfect for spicing up your life!
Fermented chili paste is wonderful to cook with, and can be made with any hot peppers that are available. Chili paste is different than a hot sauce since it's not a condiment that is added to food after it's cooked. This chili paste is very potent and is used during cooking in small amounts.
For a sweet and spicy balance, make fermented jalapeño honey to preserve jalapeños. Raw honey and jalapeños both have medicinal qualities, and this ferment is a great way to access them together.
It's simple to make and a great way to savor the spice!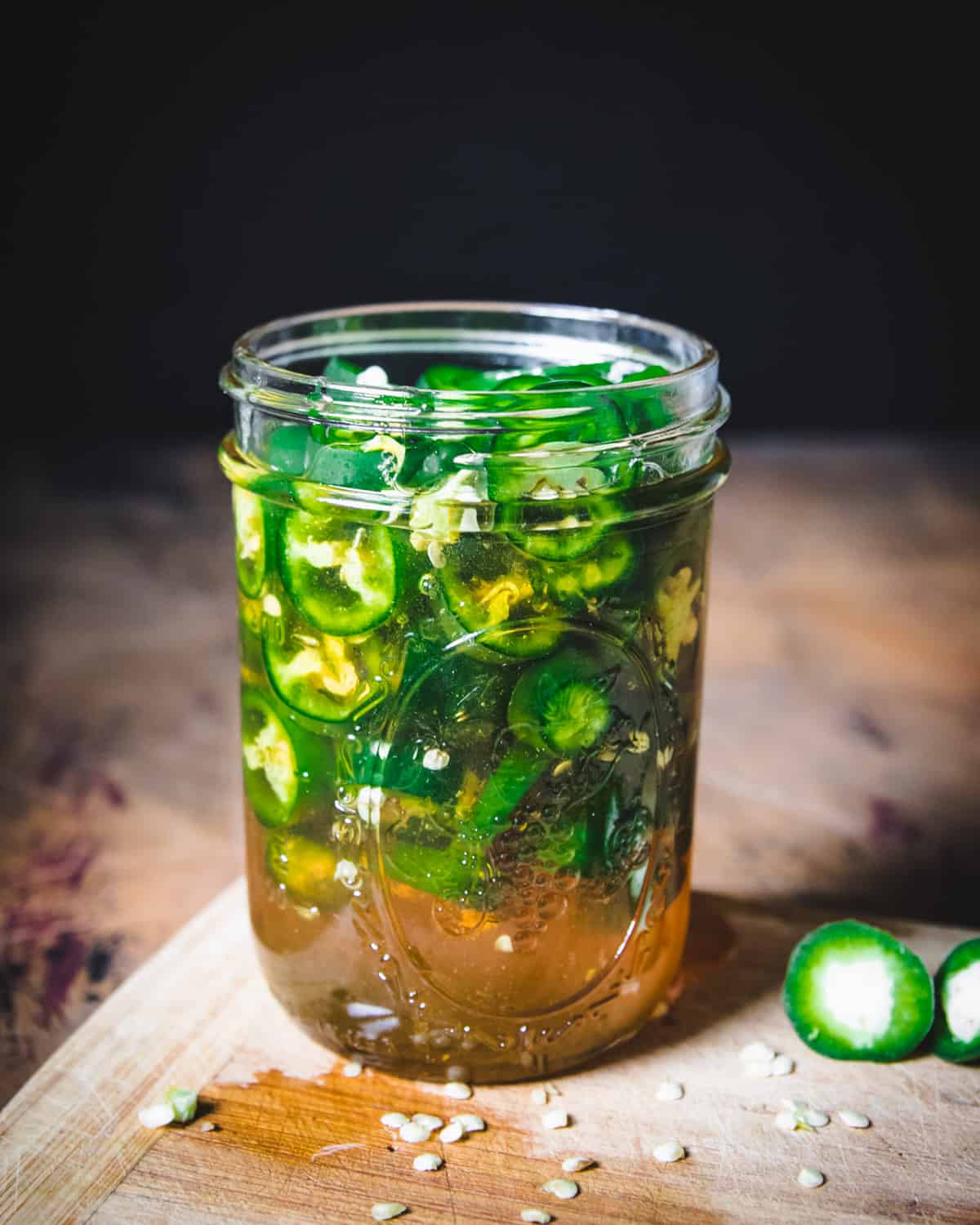 I hope you've found some new and exciting ways to spice up your life all year long by preserving peppers!
For more preserving recipes try these: