My friends, once you start fermenting things, you will never want to stop! Whenever you come into a bumper crop of something you will think, "Hmm, can I ferment it?" And the answer is usually yes. I work at a super awesome natural food store that sells only the best local and organic produce, so there is often slightly blemished or minorly bruised fruits and veggies that can be "gleaned" by the employees. Not only is this a great perk of the job, but it gives me fermenting ideas based on what I can get in large quantities!
Recently there was a whole bunch of chili peppers up for grabs. At first I thought they were serranos, but now I'm pretty sure they were jalapenos. Whatever they were, when the world gives you that many hot peppers of any kind, it's time to make fermented chili paste!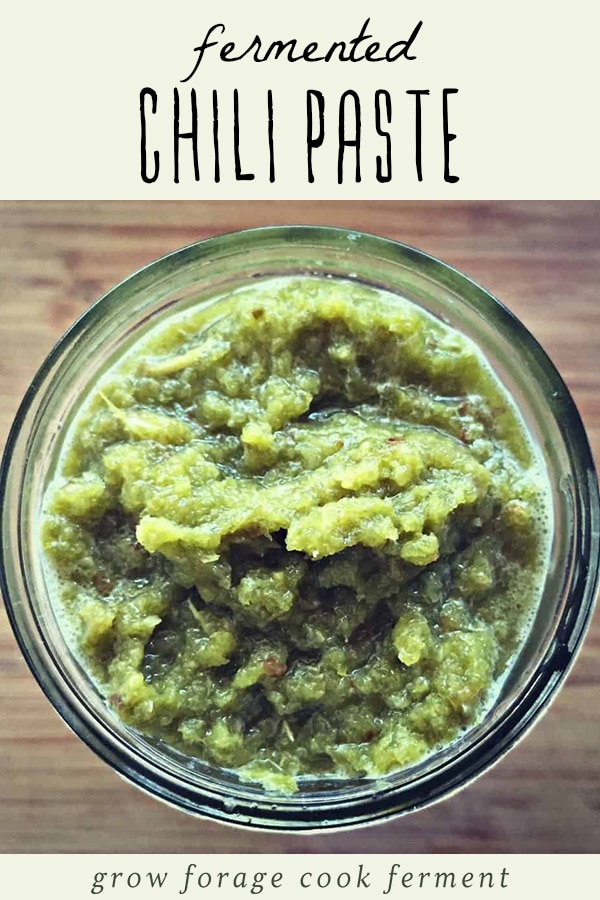 I've made fermented hot sauce before, but this is a little different. Hot sauce is made to be just that, a spicy condiment that is added to food after it's cooked. But this chili paste is really potent, a little goes a long way, and is mainly used as an ingredient in recipes of Asian or South American origin. Not to say that you can't use it as a hot sauce, but it's definitely not for the faint of heart! This paste is pretty neutral in flavor as far as specific cuisine goes, but you can always add in more ingredients to make it how you want it, such as ginger for more of a Thai flavor, for example.
First, though, you need to acquire a bunch of hot chili peppers. You may even have some growing in your garden right now. It really doesn't matter what variety you choose as they will all ferment very nicely, just with slightly different flavors. Like I said before, I had access to a lot of jalapenos, so that's what I used.

MY LATEST VIDEOS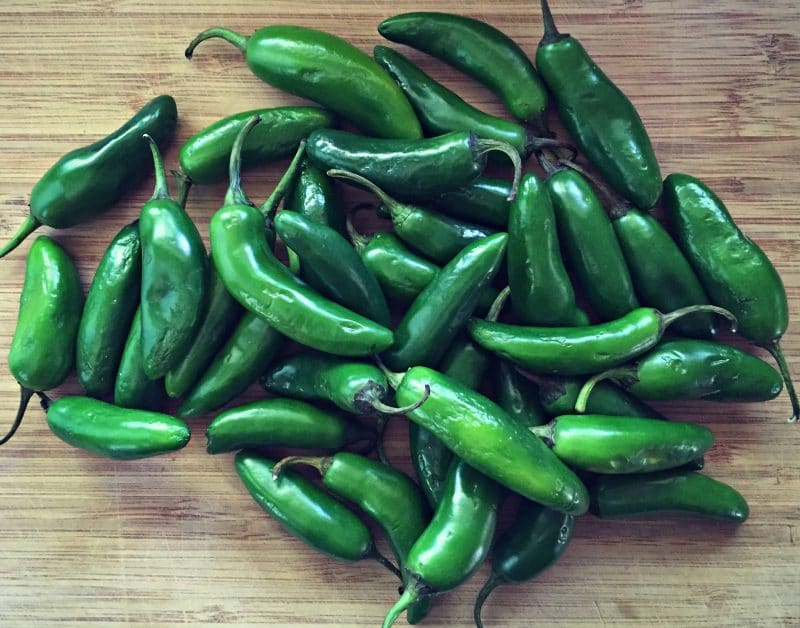 Cut the peppers in half crosswise leaving the stems and seeds intact. Stuff them into a jar (I used a quart size) along with a handful of peeled garlic. You can really pack them in hard, don't worry if they get crushed or cracked.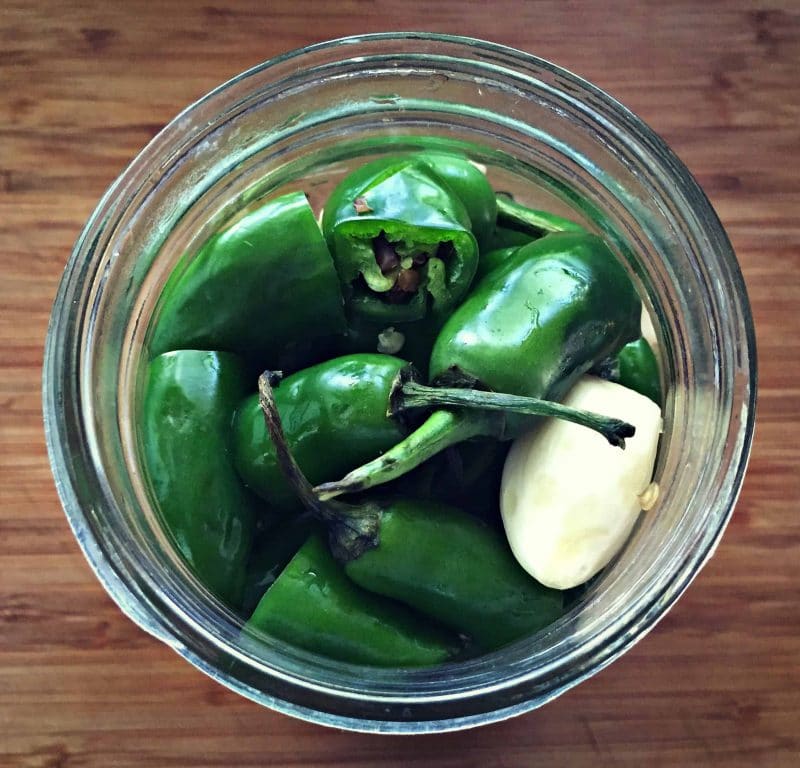 Then just barely cover the peppers and garlic in the jar with a brine that has a ratio of 1 Tbsp pickling or Kosher salt (not iodized) to 2 cups water. Weigh the peppers down so that they stay completely under the brine. I used the weight from the Ferment'n Home Fermentation Kit plus a half pint jar filled with water as the peppers seemed really buoyant.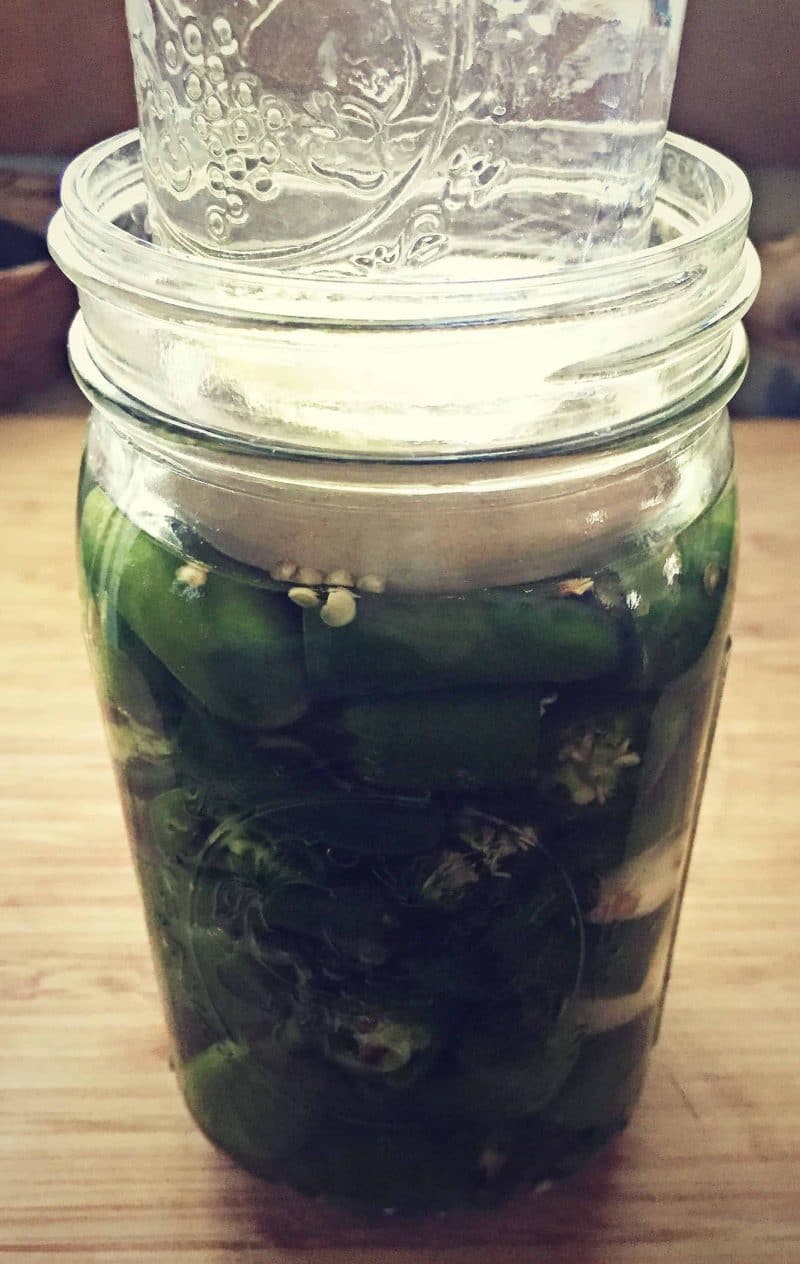 Cover it with a clean towel and put in an out of the way spot in your kitchen for about 2 weeks. Check it every day or two as the water level of the brine will rise. I took the jar of water off the top after a few days of fermenting. Once it's done it will look something like this: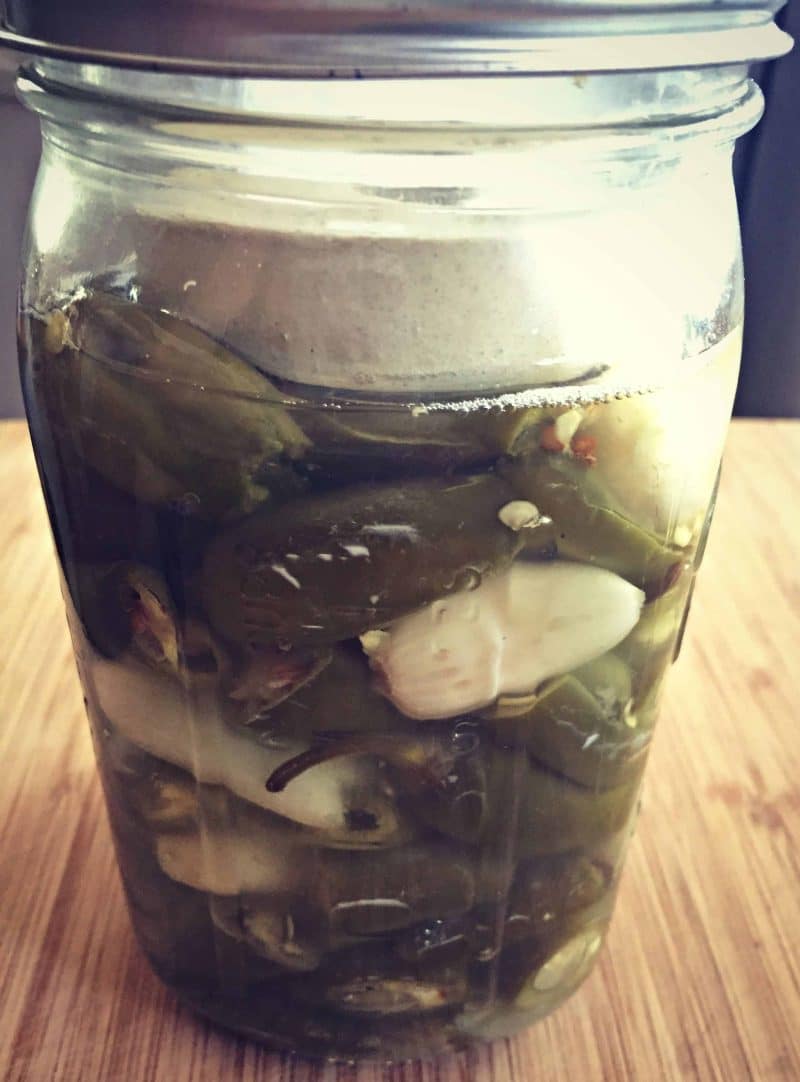 The peppers will be darker in color and you may see a few tiny bubbles on the surface of the brine. Strain the brine from the peppers, but save it in a separate bowl. Put the peppers and garlic into a blender, along with just a few spoon fulls of brine.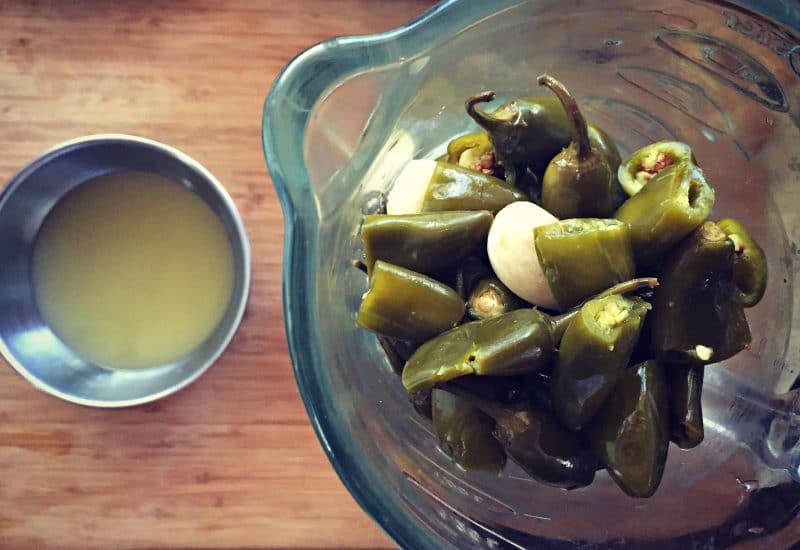 Blend it all together, adding a small amount of brine if necessary. Just remember, this is a chili paste, so you don't want it to be too watery.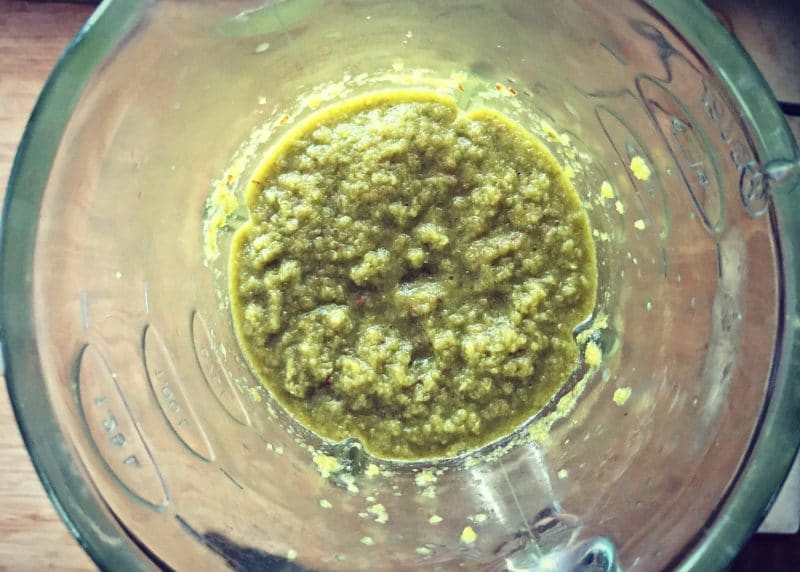 Don't breathe too deeply or you'll get hot chili fumes right up your nostrils! (Yeah, I did that…) Blend it until it's relatively smooth, and pour or scoop into jars.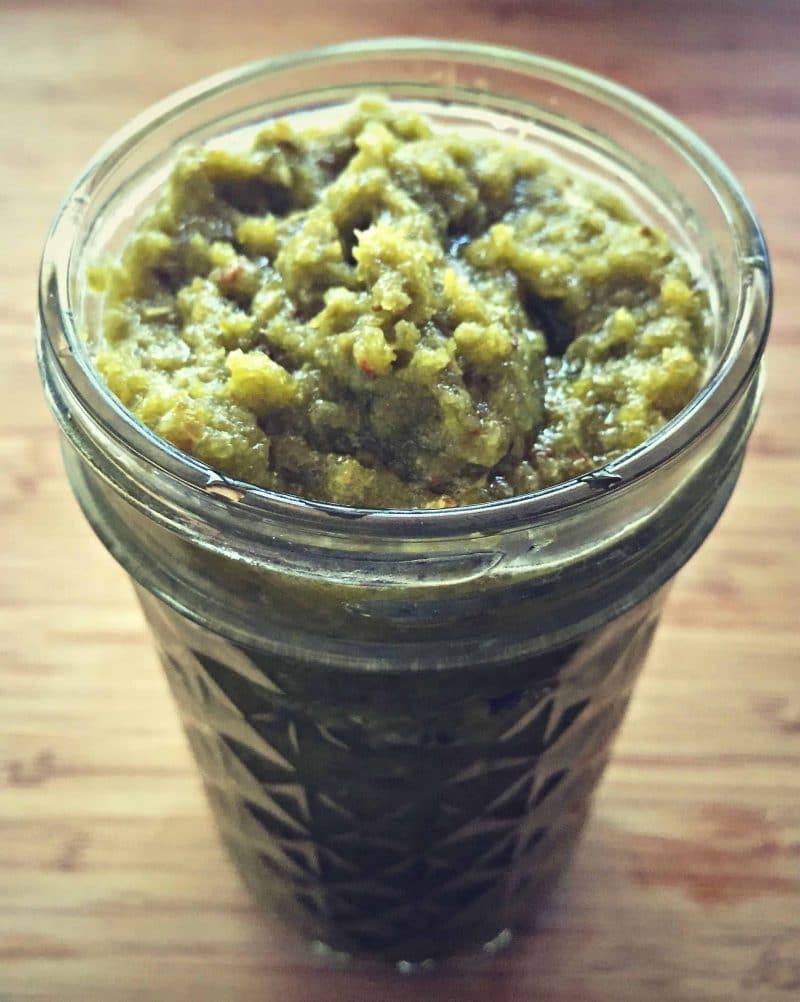 If you started with a quart jar you will probably end up with 2-3 cups of chili paste. That's a lot! You can definitely make this as a smaller batch if need be.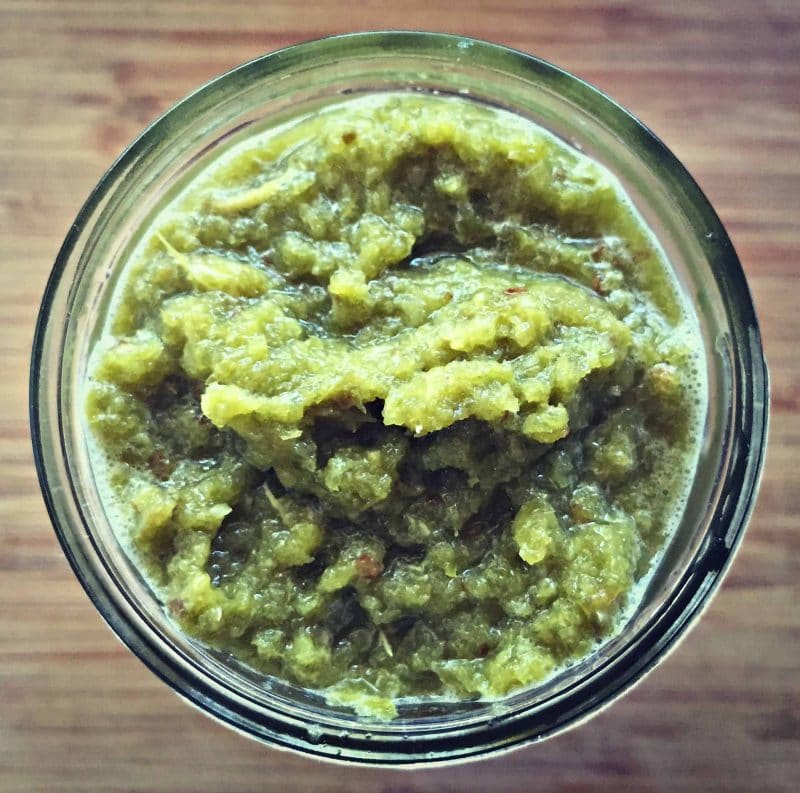 But, if you do come into a whole lot of peppers it won't hurt you to make a big batch because this stuff will last almost forever in the refrigerator. You could even add a splash of vinegar to make it last a bit longer, and it wouldn't hurt the flavor, either.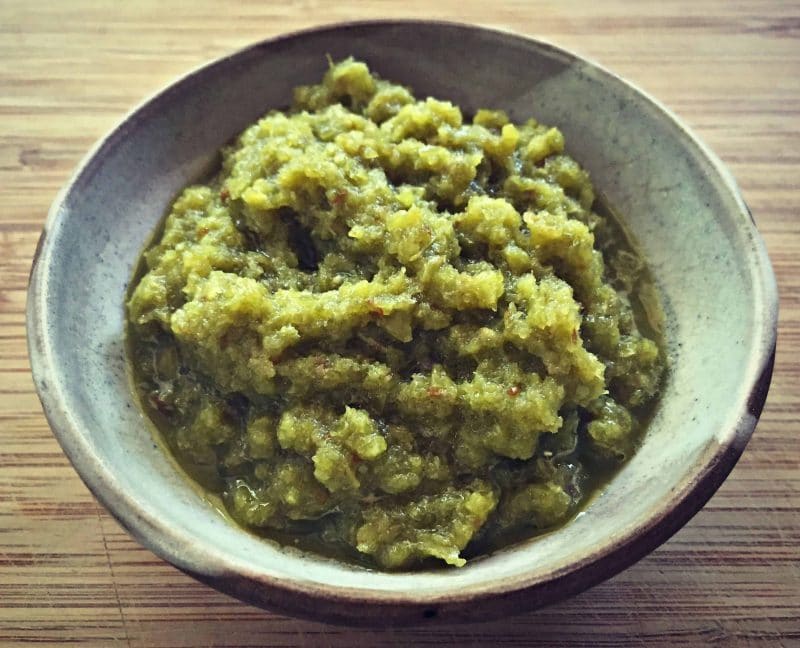 This fermented chili paste is so awesome, if you like spicy foods you will love this! It's perfect for adding to your next curry or stirring into a pot of beans to give them a little bit of a kick. You can also just use it straight up if you dare! Plus, it has all of the good health benefits and probiotics of any lacto-fermented food. Spicy and healthy? Not much to complain about there. Now go pick yourself a peck of peppers so you can pickle them!