It seems that as soon as October is upon us, most of us go crazy for pumpkin everything.  I am no exception to this rule, as I could probably eat pumpkin food year round!  Seriously, pumpkin pie has always been my favorite, long before it was cool to like pumpkin.  I do prefer to keep my pumpkin treats somewhat healthy, as I'm not a huge fan of super sugary stuff.  Last year I made some awesome no bake pumpkin coconut cups that turned out amazing!  I will definitely be making those again, but I wanted something new.  I've been on a granola bar kick lately (homemade of course), so pumpkin granola bars came to mind.  First I'd have to make some pumpkin coconut almond granola in order to make those yummy bars!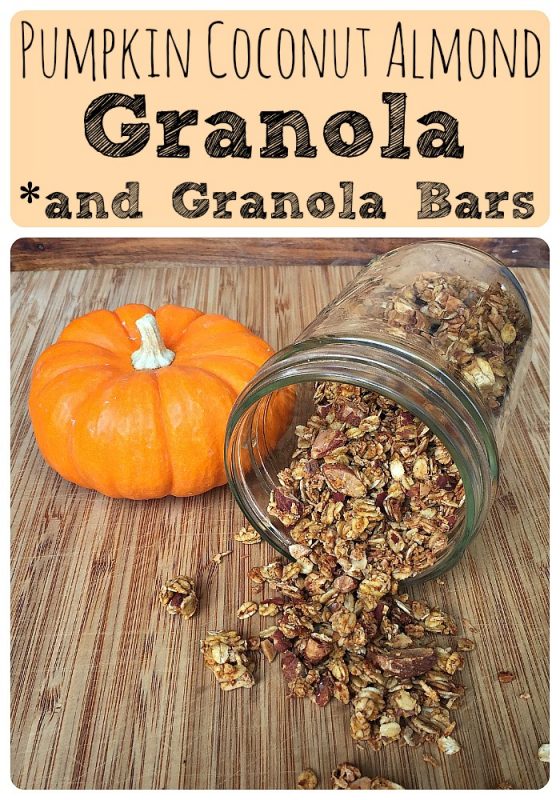 You get two recipes in one!  Both of these are super easy to make.
Pumpkin Coconut Almond Granola Recipe
I very loosely adapted this pumpkin granola recipe from Minimalist Baker, but used less sugar, more pumpkin, and more spice!  I used organic canned pumpkin from Trader Joe's and it worked wonderfully.  You can also make your own pumpkin puree, but make sure to strain out as much water as possible before using in this recipe.
Ingredients
3 cups rolled oats
1 cup roughly chopped almonds (or other nuts)
3/4 cup unsweetened shredded coconut
1 tsp cinnamon
1/2 tsp ground ginger
1/4 tsp cloves
1/4 tsp allspice
1/4 tsp nutmeg
1/4 tsp salt
1/4 cup coconut oil
1/4 cup pure maple syrup
1/2 cup pumpkin puree
Directions
Preheat oven to 340°F.
Mix the oats, nuts, coconut, spices, and salt into a bowl and stir to combine.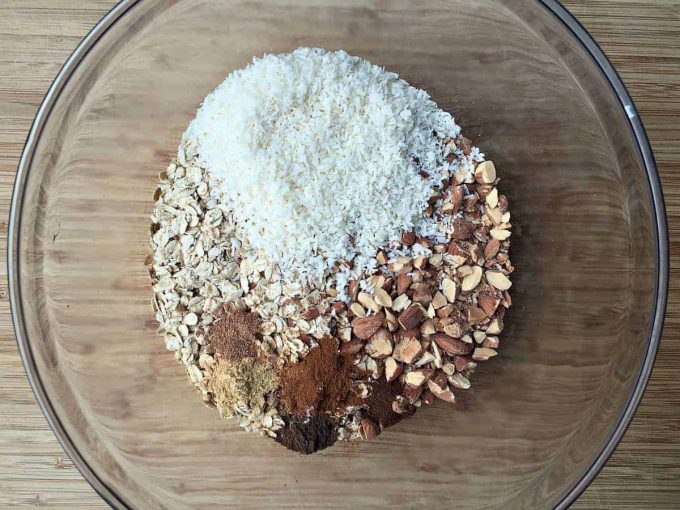 In a small saucepan over medium low heat, warm the coconut oil, maple syrup, and pumpkin and whisk together.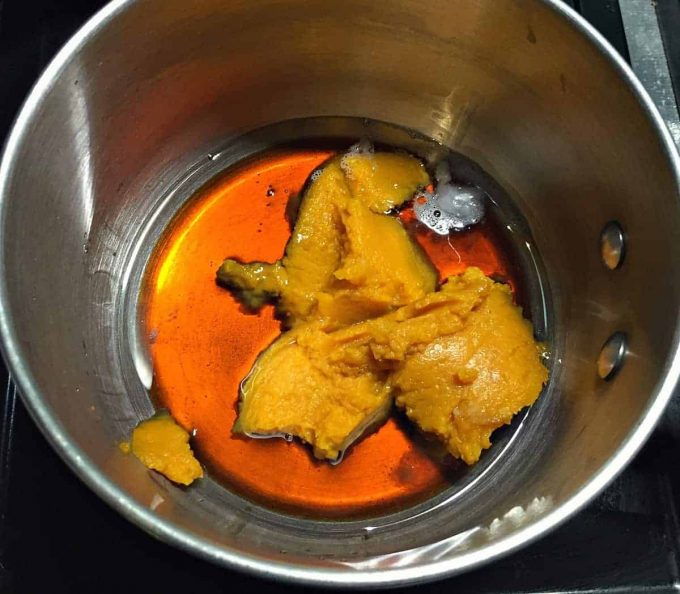 Pour the pumpkin mixture into the dry ingredients and quickly stir to combine.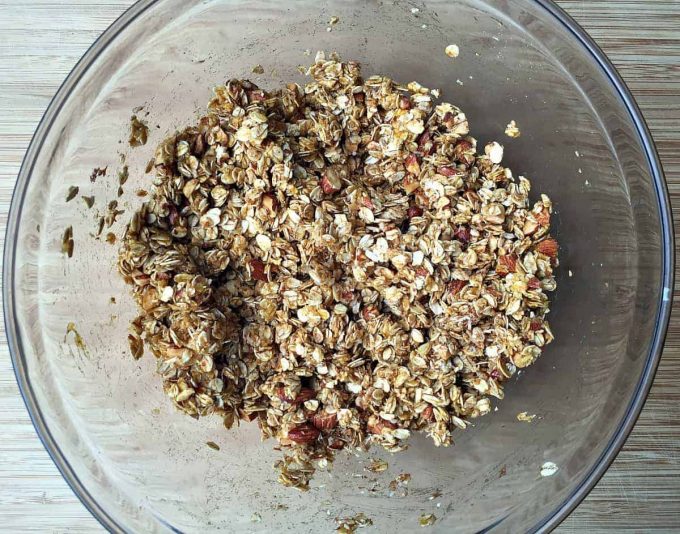 Spread granola out evenly onto two baking sheets and bake for 24-30 minutes, stirring about halfway through.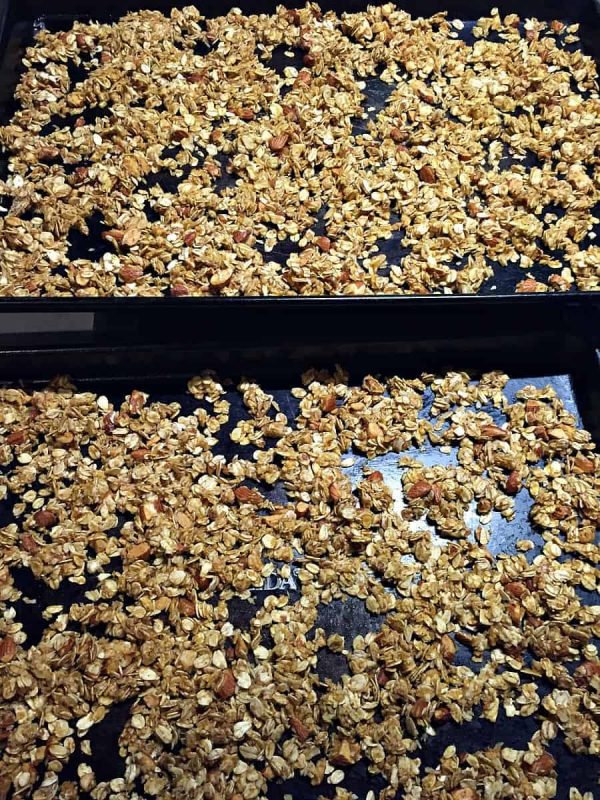 Once the granola is golden brown, remove from the oven and let cool completely.  It will crisp up as it cools.
Store in an airtight container for up to a few weeks.
Pumpkin Coconut Almond Granola Bars Recipe
Now that you have the granola all made, try making these no bake pumpkin granola bars!  They come together really quickly and are super tasty.
Ingredients
3 cups Pumpkin Coconut Almond Granola
1/4 cup coconut oil
1/4 cup pure maple syrup
1/4 cup almond butter
3/4 cup pumpkin puree
1/2 tsp cinnamon
1/4 tsp cloves
dash salt
Directions
Line an 8″ x 8″ square pan (9″ x 9″ will also work) with parchment paper.
Put the granola into a large mixing bowl.
In a small sauce pan over medium low heat, combine the remaining ingredients and whisk together.
Pour the pumpkin mixture over the granola and quickly stir to combine.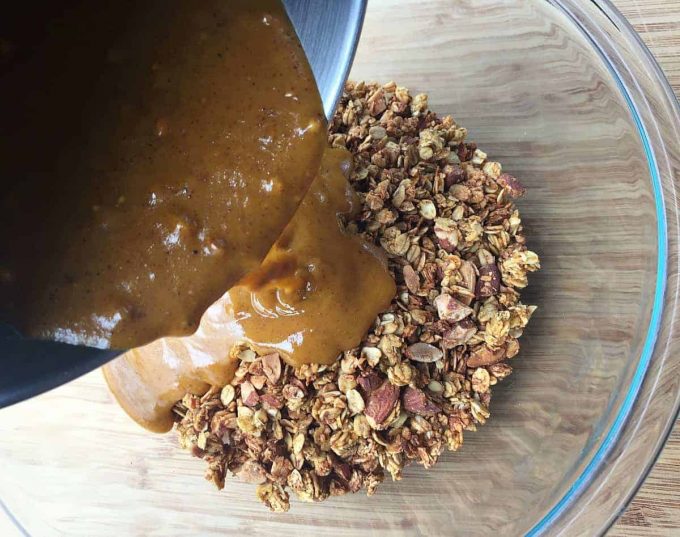 Pour the mixture into the prepared pan and press with a spatula or the back of a large spoon to make an even layer.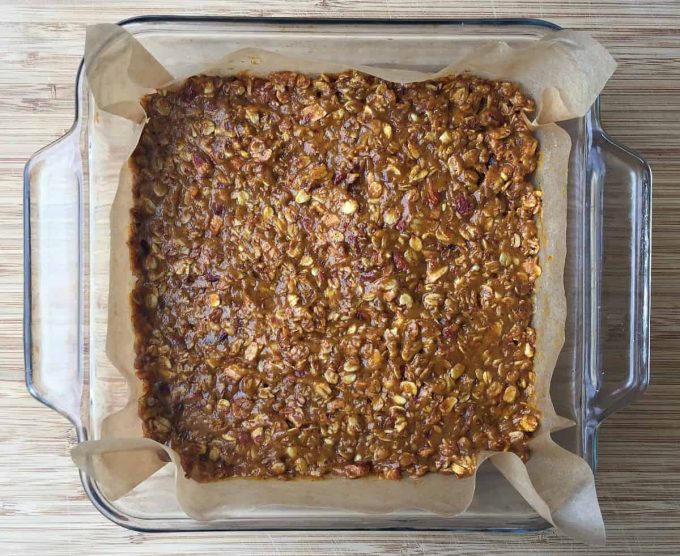 Refrigerate uncovered for several hours before cutting into desired shapes.
Store in the refrigerator.  Will keep for a week, possibly even a bit longer.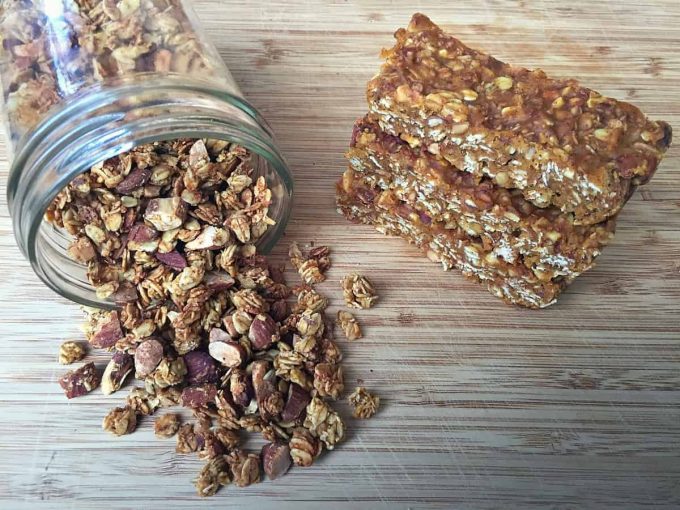 I am so happy with how both of these recipes turned out.  I got exactly what I was craving: a real ingredient, low sugar, super pumpkin-y granola bar!  The granola is tasty to have around as well.  Perfect for the season!
What is your favorite pumpkin treat?
Save