I love pumpkin season!  I know, it seems as though there is pumpkin everything during the fall, but I honestly don't mind it.  While most of the store bought pumpkin flavored items are probably not so great for you, these no bake pumpkin coconut cups are not only healthy, but amazingly delicious and a cinch to make.  They could even pass as a rich and decadent candy, but without all the trouble that goes with actually making homemade candy.  Oh, and did I mention that they are vegan, gluten free and paleo?  It's true!
The inspiration for this recipe comes from Vanilla Bean Coconut Butter Cups With Chocolate Peanut Butter and Coconut Butter Bark from Edible Perspective.  I have made these recipes from this wonderful blog before with great results, so I wanted to try my hands at a pumpkin version.  These no bake pumpkin coconut cups are what I came up with, and they turned out awesome!
No Bake Pumpkin Coconut Cups Recipe
You can substitute 1 1/2 tsp pumpkin pie spice for the individual spices.  Also, these pumpkin coconut cups are only mildly sweet.  If you'd like to make them a little sweeter I would add a couple of tablespoons of brown sugar or other non liquid sweetener.
This recipe makes 12 pumpkin coconut cups.
Ingredients
4 cups unsweetend shredded coconut
1/2 cup canned pumpkin (you could also used cooked and strained fresh pumpkin)
1/4 cup pure maple syrup
2 Tbsps coconut oil
1/2 tsp cinnamon
1/4 tsp cloves
1/4 tsp allspice
1/4 tsp ginger
1/8 tsp nutmeg
pinch salt
chocolate chips and pumpkin seeds for garnish
Directions
The first step in this recipe is to make coconut butter, which is just like peanut or almond butter, but made with coconut instead.  To do this put 4 cups of unsweetened shredded coconut into a food processor.
Turn it on and let it go.  After a few minutes, the coconut will start to turn from a powder into butter.
Stop and scrape down the sides periodically.  Keep processing until it is a relatively smooth butter.  This could take up to 10 minutes, so be patient.  It will happen!
Sweet, you just made coconut butter!  Now pour it into a small pot.
Add the pumpkin, maple syrup, coconut oil, spices, and combine.  Gently heat on low for a few minutes to keep the coconut butter soft and to meld all the flavors together.  This is when you will want to taste it to see if you think you'll need more sweetener.
Line a muffin tin with paper cups (feel free to use a mini muffin tin instead), then divide the pumpkin coconut mixture evenly between the cups.
Use a small rubber spatula (or your clean fingers) to press the mixture down into the muffin cups.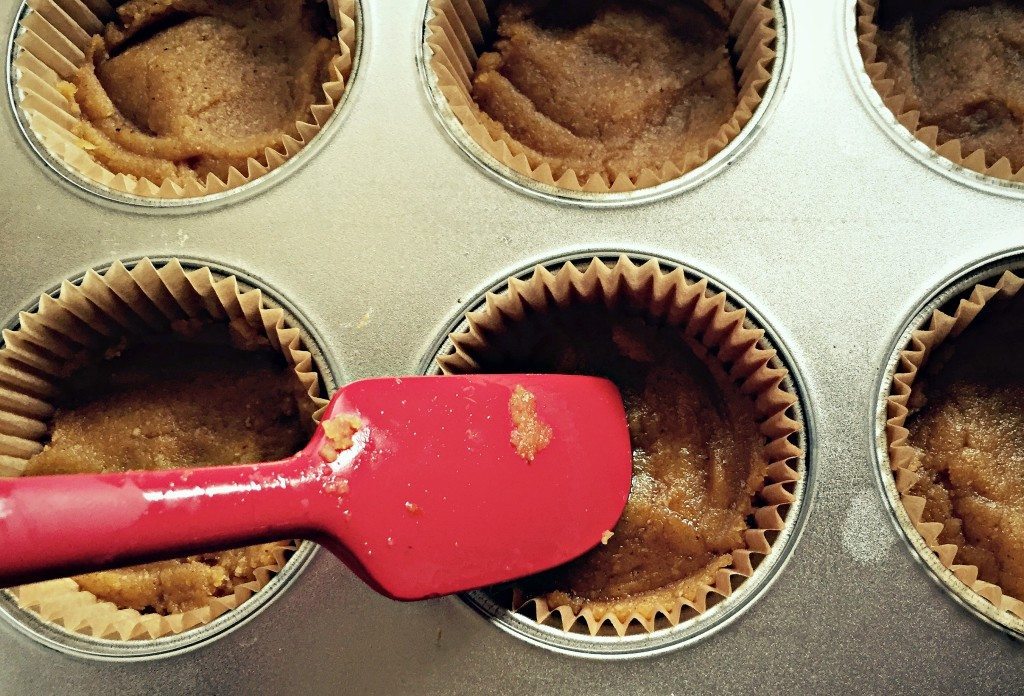 Then top each one with chocolate chips (I used dark, but use what you like) and pumpkin seeds (salted or unsalted, depending on your preference).  Gently press them into each cup.
Then stick the whole muffin tin in the fridge and chill for at least 4 hours before serving.  The coconut will harden and create a sort of candy like texture.
Once they have completely set up, you can take them out of the muffin tin and store them in a container in the fridge (so they'll be at the ready whenever you want one!).
These no bake pumpkin coconut cups are so good!  Rich from the coconut butter and comforting with the pumpkin and warm spices.  Not to mention the chocolate chips!
You can change up what you garnish the cups with, I'm thinking dried cranberries and pecans, candied ginger and walnuts, or whatever else you can think of.
No matter what, this is the kind of "candy" you will feel good about giving your kids on Halloween… or yourself!  Even if you are sick of hearing about pumpkin spice whatever, you should definitely give these easy to make and healthy treats a try.
Save