Traditional mead is made with honey as the sweetener, but I've always wondered about using maple syrup instead.  As it turns out, this is actually a thing that people do, and the technical term for "maple mead" is acerglyn (just as a mead made with fruit is called a melomel).  For it to be mead, there is some amount of honey that is used still, then the rest is pure maple syrup.  Maple mead is something that I've been curious about making for a long time, and now I've finally got a one gallon batch bubbling away!
Want to learn more about making mead? I have a Simple Mead Making for Beginners eBook just for you! It has ingredient and equipment checklists and detailed instructions for brewing and bottling your mead, so be sure to check that out if you're new to the mead making process.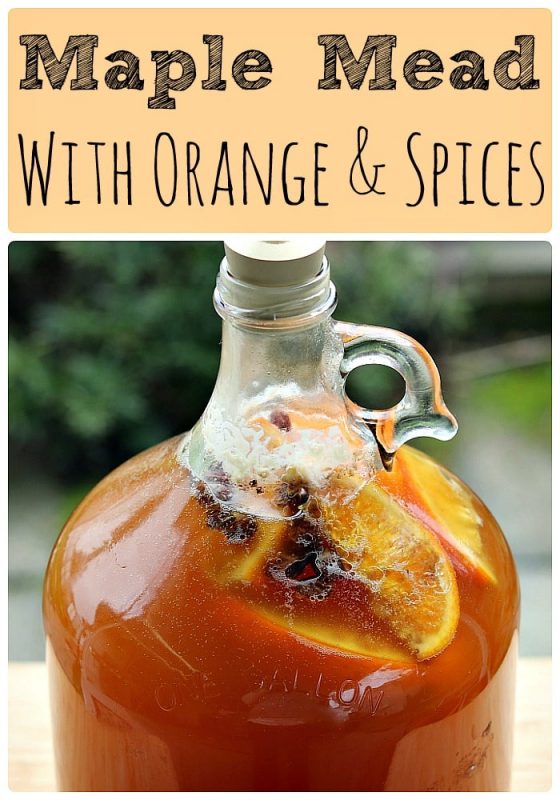 I've decided to do something a little bit different this time around by giving you the recipe that I came up with before it's finished fermenting out.  I know that many of you are interested in making this sooner rather than later, so maybe we can compare notes.
Because of this, I won't be able to tell you what the end results are like for a while, as I won't bottle it for about six weeks, and then it will need to age at least a little bit before tasting.  I did use a very similar method to my basic mead recipe (melomel) that I make variations of quite often, so I have reason to believe that this will turn out just as good as that always does!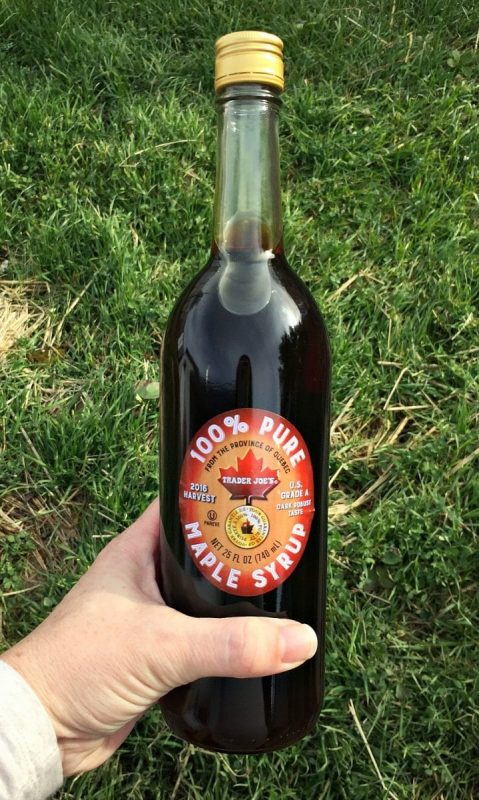 Maple Mead with Orange and Spices Recipe
The first step when brewing a gallon of mead is to make sure that you have all the right equipment.  A one gallon jug with an airlock is needed, as well as some kind of sanitizer (I like One Step brand).  You will also need to get brewing yeast, I generally like to use champagne yeast as it always works well for me and produces a dry end product, which I like.  But, there are many different yeast options out there to choose from.
Ingredients
3 cups (24 oz) pure maple syrup (I used Trader Joe's brand, but you can also order it from Amazon)
1 cup high quality honey (preferably raw)
non-chlorinated water
1 cinnamon stick
4 whole cloves
10 raisins
1/2 orange, cut into wedges (leave the skin on)
champagne yeast (or another type according to your preference)
Directions
The first thing that you always want to do before any type of homebrewing is to make sure to sanitize all of your kitchen tools and equipment that will be used in the process, including the one gallon jug.
Once you've done that, put about 1/2 gallon (8 cups) of non-chlorinated water, along with the cinnamon stick and cloves, in a large pot and warm up on medium heat.  Then add the maple syrup and honey.  Do not boil.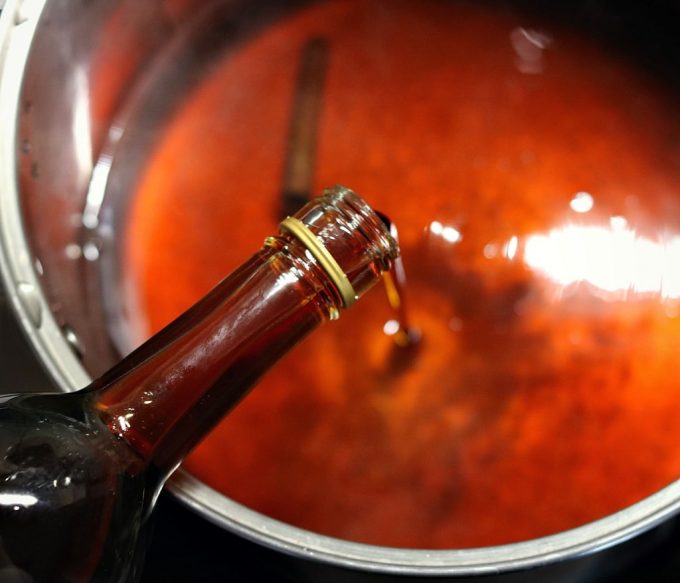 Turn off the heat once the maple syrup and honey have dissolved in the water.  Then use a funnel to transfer this mixture, including the spices, into the gallon jug.  Add the raisins and orange wedges to the jug.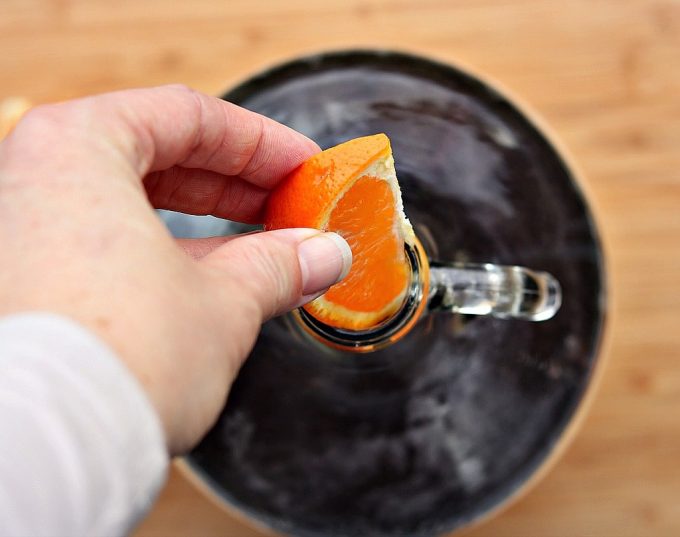 Fill the jug with cold non-chlorinated water, leaving about 3 inches of head space at the top of the jug.  If you have the cap to the jug, put it on and give it a few shakes to mix everything together.  If you don't have the cap, try and improvise with something else.
The next step is to add the yeast, but you need to make sure that the temperature of the mixture isn't too hot first.  It needs to be below 90°F, room temperature is best.  Use a thermometer if need be, and wait to add the yeast if it's too hot.  Once the temperature is good, add about 1/2 package of champagne yeast to the jug.  You can save the other half in the fridge for the next gallon batch of mead that you make.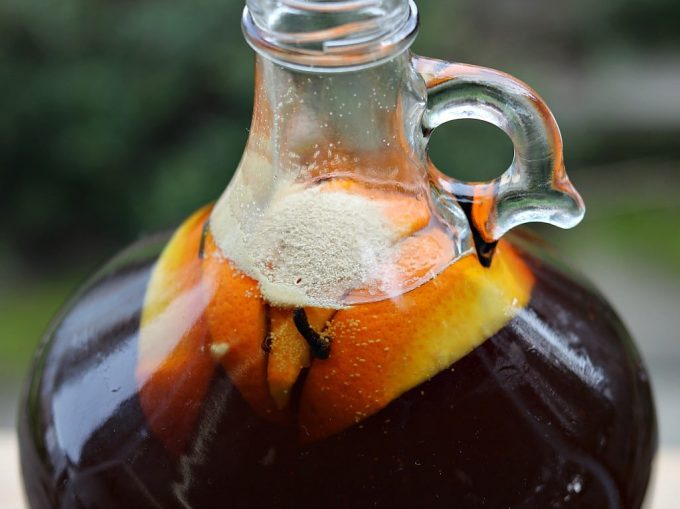 Once again, put the cap on the jug if you have it, or improvise with something else, and give it a few shakes to distribute the yeast.  Fill the airlock with water to the line, then put the stopper end into the top of your jug.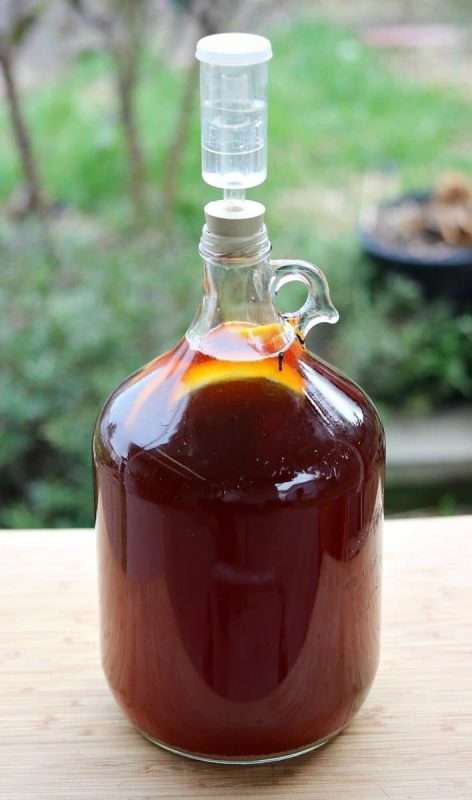 Put the jug in a dark and quiet corner somewhere out of the way.  It should start bubbling within a few hours, or overnight.  I woke up the next morning to a nice and bubbly jug, and the airlock was releasing carbon dioxide as well.  You can see a short video of the bubbles in action over on my Instagram page.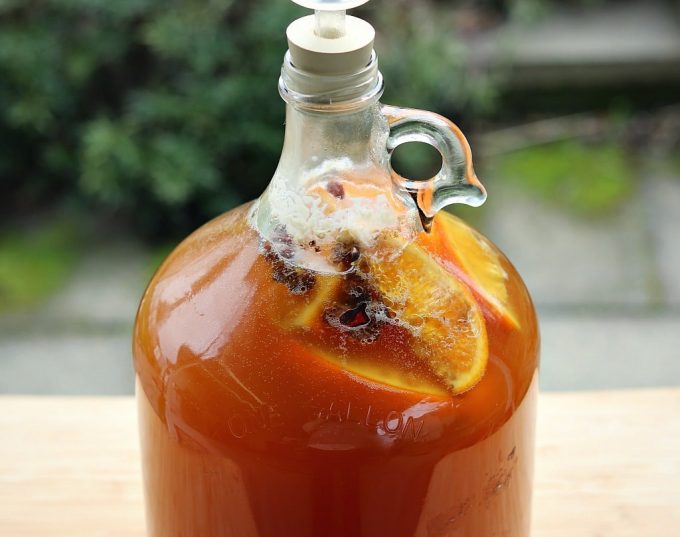 Let the maple mead ferment for about six weeks, or until there are no more bubbles.  This may take more or less time, depending on the ambient temperature.  Then you can bottle it in the same manner that I bottle my hard cider.
Once it's bottled it will need to age for a bit before drinking so that it's not so harsh.  Most of my mead recipes are usually quite good even when "green" (not aged very long), but we'll see how this one turns out.  The maple flavor may benefit from some aging.
Regardless, I really can't wait to give this maple mead a try!  I have a feeling that it's going to be really good.  Let me know in the comments if you're making this along with me!