This is Part 3 in my Grow in Winter Series, check out Part 1: Herbs! and Part 2: Sprouts!
Ok, two small posts in one today. We're going to regrow veggies and order seeds!
Re-Grow Vegetables from Scraps
First off, I'm going to show you something that you may have seen before, but I think that it's so cool! There are certain vegetables that you can grow again from scraps, did you know that? There are many that can do this, but the only ones that I think are worth it are green onions and celery. You can do it with root veggies and heads of lettuce as well, but you really don't get that much more out of them.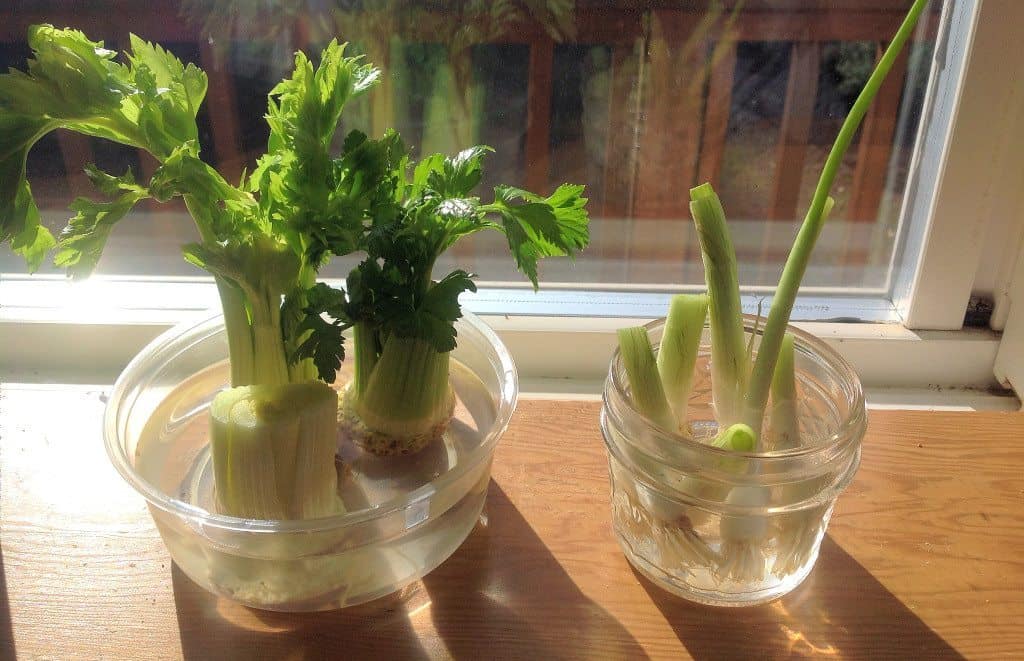 This is how my celery and green onions started. You want to leave an inch or two on the root end and put them in a little water in a sunny windowsill. Then you wait. Refill with fresh water if need be. A week or two later they will look like this: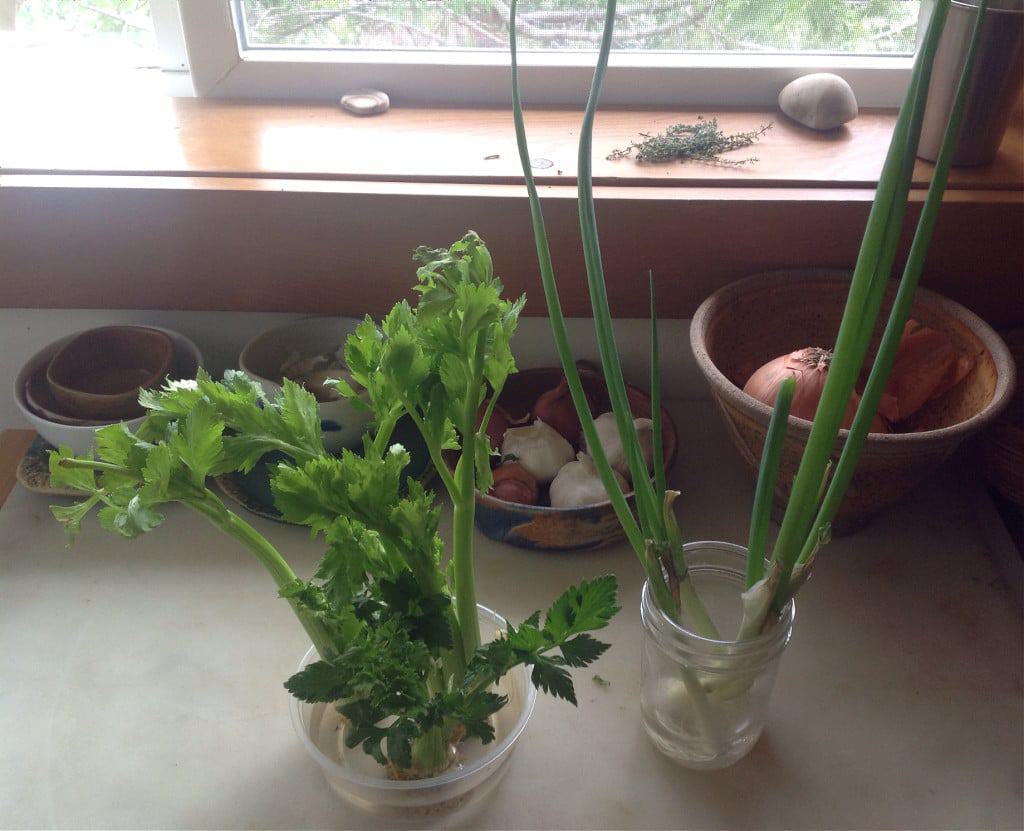 No need to buy them as often! I'm guessing that you can probably only regrow them once, but let me know if you've done it multiple times. There are other veggies, however, that you can straight up plant in dirt and get more of! Potatoes, sweet potatoes and garlic are a few examples. If you have organic potatoes (non organic are often sprayed to inhibit sprouting) that start to look like this you might want to set them aside for future planting: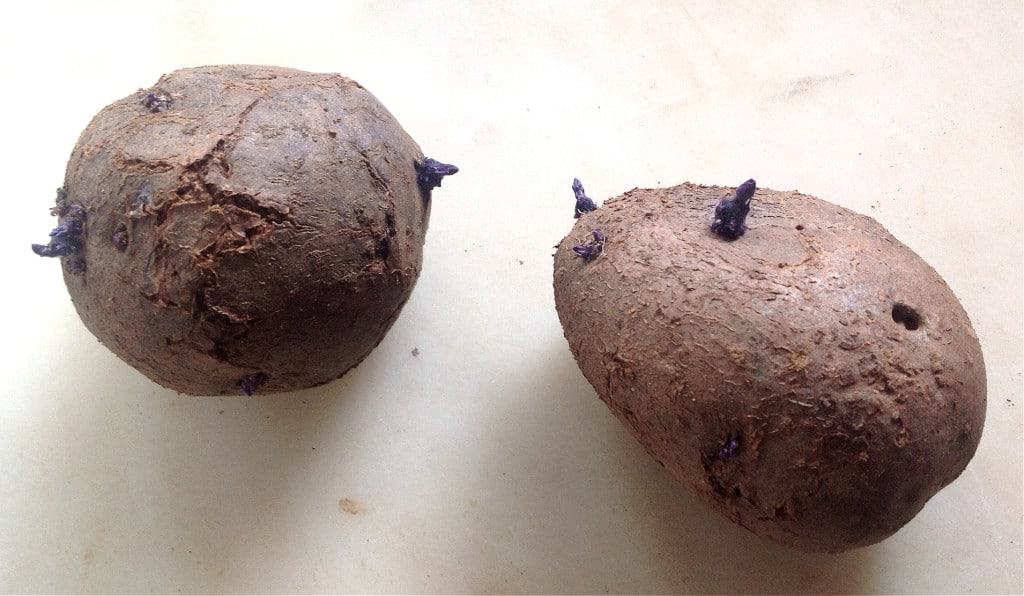 These are beautiful purple potatoes from my CSA (community supported agriculture) veggie box that have little sprouts on them. When it comes time for you to plant potatoes (depends on your hardiness zone) cut them up so that there are 2 or 3 sprouting eyes on each chunk, put in a window sill to dry out for a few days, then put in the soil! Easy as that. Those of you in southern climates should be thinking about doing this RIGHT NOW!!! The rest of us don't have to wait too long, though. When it comes time for me to plant my potatoes I'll show you the process in more detail.
Garlic is typically planted in the fall, and it's just as simple as sticking cloves into dirt. Throw a little mulch over the top, and you'll have new bulbs the following summer! Sweet potatoes I haven't done before, but I plan to this year and I'm pretty sure growing them is as easy as sweet potato pie. Plus, they have edible leaves! Win-win!
Order Spring Garden Seeds in the Winter
Second up on the list today is that it's time for all of us to order seeds for your garden this spring. Exciting! While other people you know might be sitting at home with SAD (seasonal affective disorder) this winter, I'm pouring through seed catalogs picking out packet after packet of what I want to grow. Just looking at the pictures in the catalog makes me happy! Someday I'm going to start saving my own heirloom seeds so I won't need to order most of my seed, but for now I pass away the time reading the catalogs like magazines.
Here are some of my favorite seed companies (I have ordered from all of these companies and I am not getting paid to promote them in any way. I just really and genuinely think they are the bomb).
Baker Creek Heirloom Seeds have the most amazing catalog ever, it is very inspiring. They have TONS of varieties of each plant, it's crazy! Definitely check them out and download or request a copy of their catalog in the mail.
Seed Savers Exchange also has a beautiful catalog and is "A nonprofit organization dedicated to saving and sharing heirloom seeds," in their own words.
Southern Exposure Seed Exchange has a super awesome catalog (can you tell by the cover?) and they also sell a lot of really cool permaculture plants that can be somewhat hard to find.
Peaceful Valley Farm Supply is one I really like because they seem to be one of the cheapest as far as organic seeds go, and they give you free seed packets if you spend over a certain amount! Plus, they're west coast, so most of their varieties work well where I live.
Two other places that I really need to mention:
Restoration Seeds has 100% open pollinated seeds right here in Ashland, OR. You really should check them out!
Raintree Nursery which is not a seed company, but a nursery in WA state that has a HUGE variety of plants, including many that are useful in permaculture design.
And there you have it for today. Hope this inspires you to regrow your veggies and to order some seeds! I know it feels like the middle of winter, but spring comes fast. Plus, you want to be ready for Part 4 of my Grow in Winter series, which will be all about starting your seeds!