Ahh, classic Italian food, how I love you. You are comforting, satisfying, and above all, delicious. Now, I don't know if most of the Italian food I make actually constitutes as classic, but I like to think that it does. Unfortunately I don't have an Italian grandma to tell me otherwise, so I usually just go with it! I think I do all right.
This recipe for sausage and peppers falls into the "classic" category (I think), and I just love it. It comes together quite quickly and can be eaten simply as is or in a number of different variations.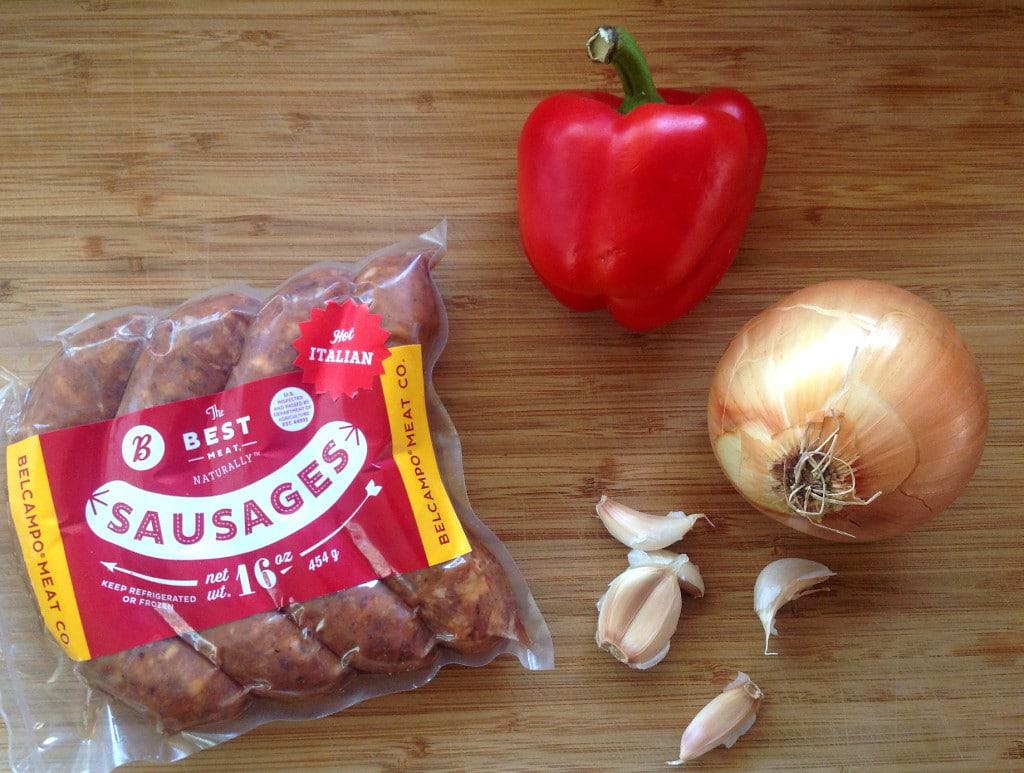 The ingredients couldn't be more simple. Half of them are in the name! I will make a bulleted list for you anyways, because I like them.
Hot or Sweet Italian links (try to avoid those precooked chicken sausages for this recipe, please? But yes, you can use them if you have to)
Bell pepper, sliced, any color, preferably organic because they are on the dirty dozen list
Onion, sliced
Garlic, a bunch
Olive oil, S+P, oregano, basil
Let's talk about these sausages for a second. I was lucky enough to be introduced to Belcampo Meat Co. by, funny enough, winning a gift certificate for their online store through Nom Nom Paleo! Now, I'm not strictly paleo, but I have leaned heavily in that direction in recent times, which is quite a change after being vegetarian and vegan for 18 years (more on that later, I promise). But one thing that I absolutely will not budge on is the quality of the meat that I eat, and that is part of the draw to the paleo diet. Belcampo Meat Co. absolutely delivers on this, and I am so glad that I've found them! And, let me tell you, their sausages are amazing! (I'm not getting a dime to say any of this, either, this is just an honest review).
Sausage and Peppers Recipe
Ok, let's get to cooking these bad boys. Heat up a skillet on medium heat with just a very small amount of olive oil. Use a paring knife to poke holes on both sides of the sausage casings, then add them to the hot pan.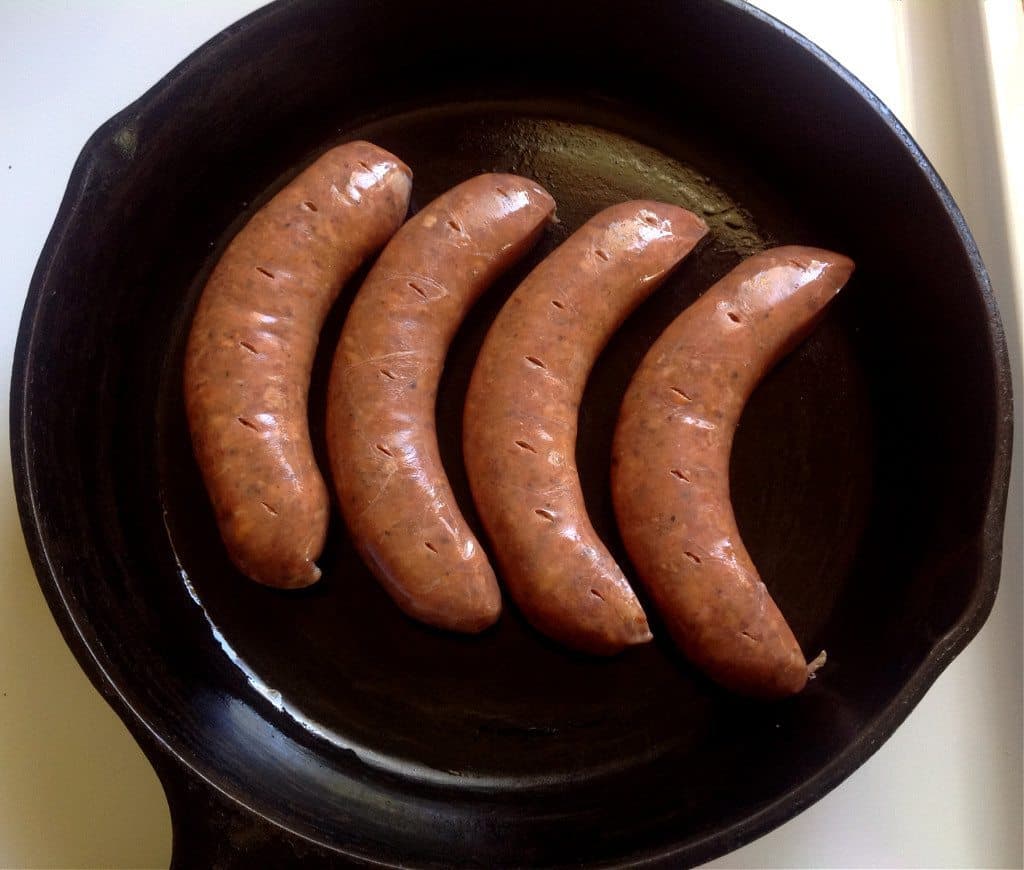 The idea here is that some of the fat from the sausages will escape through the holes, but if your sausages aren't particularly fatty you may need a little bit more olive oil. Brown the sausages on one side, the flip them over.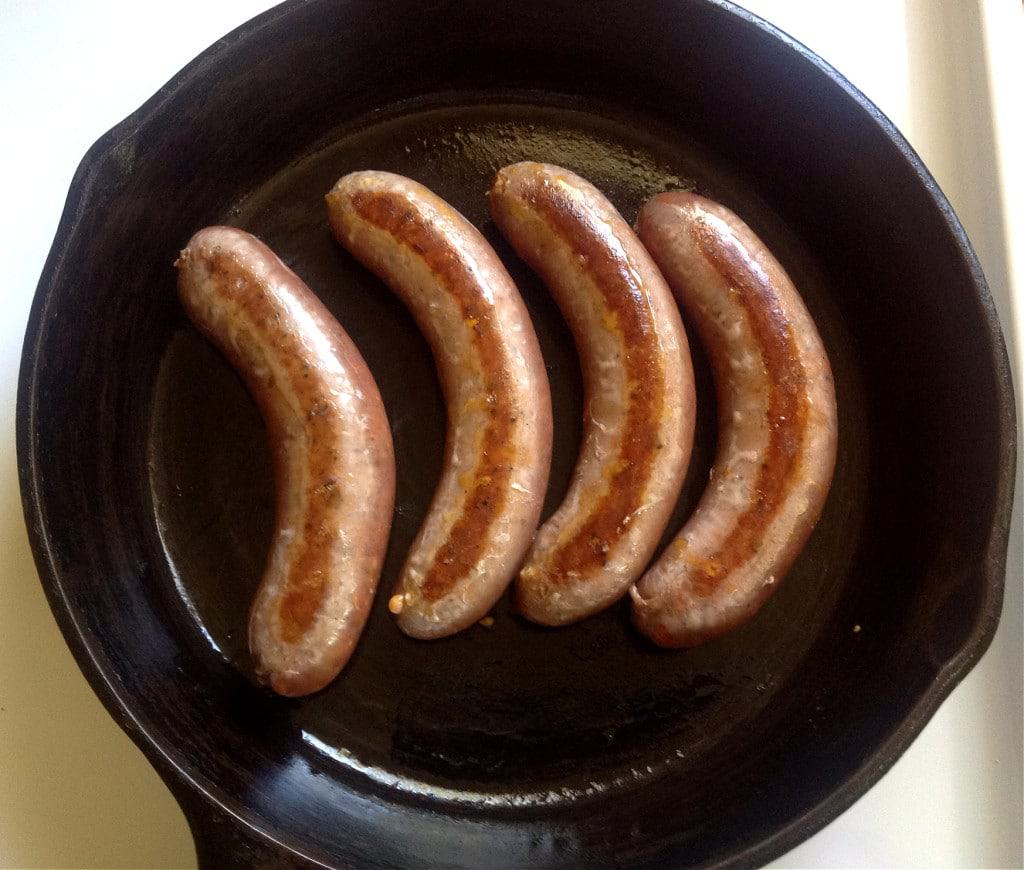 Brown them on the other side, then you want to try and brown them on the other two sides. It can be a difficult task to keep them where they're supposed to be when you do this. Be creative and do the best you can. A metal spatula usually works pretty good to hold 'em down.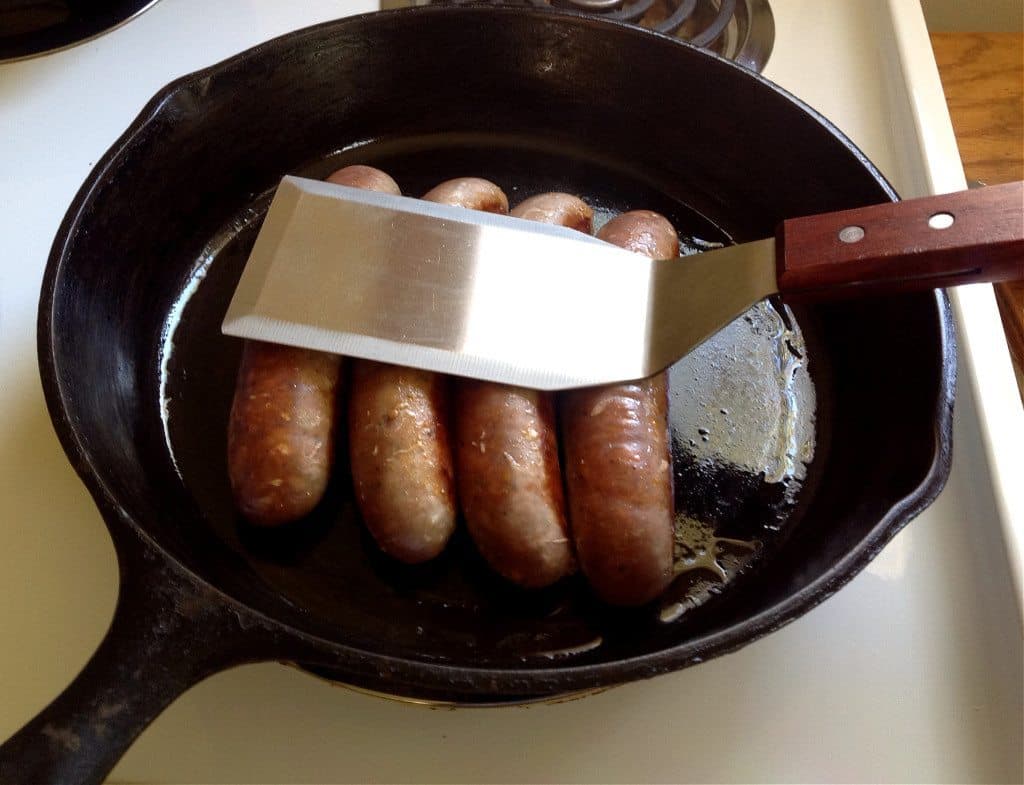 You're really just trying to par cook them here, so don't worry about getting them all the way cooked through yet. Once all sides are seared pull them out of the pan and set aside. Add a little olive oil to the pan if needed and put in the peppers and onions along with a bit of S+P.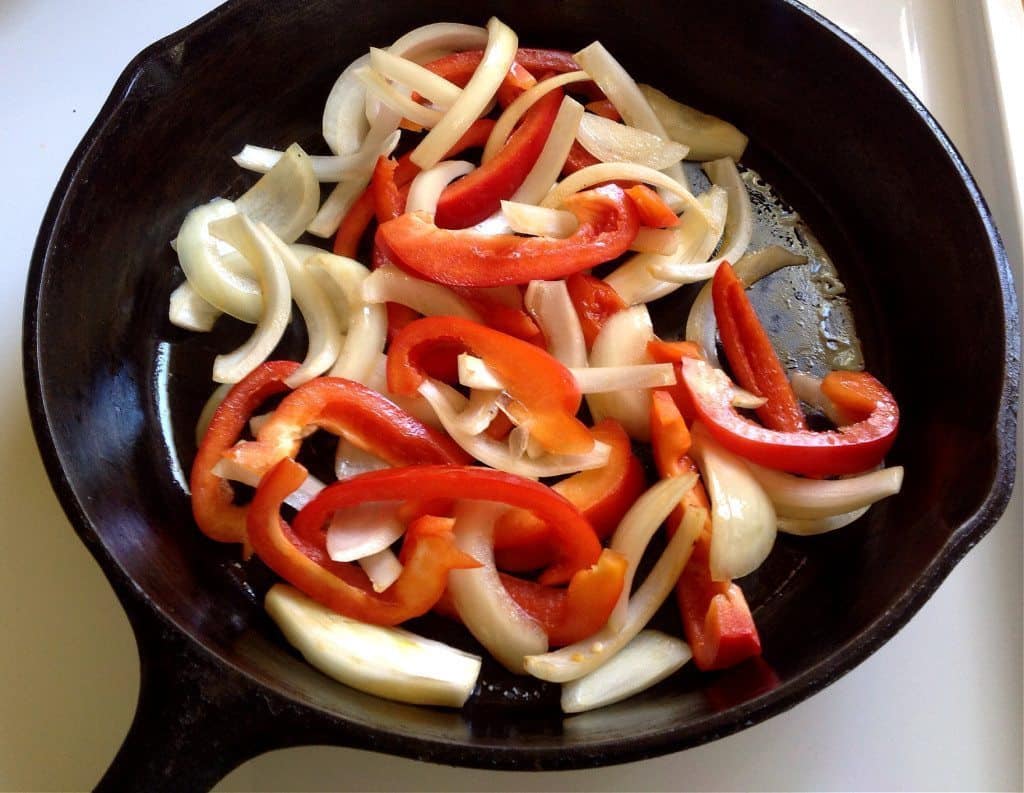 Saute until the peppers and onions start to soften a bit. Meanwhile, slice the sausages into rounds.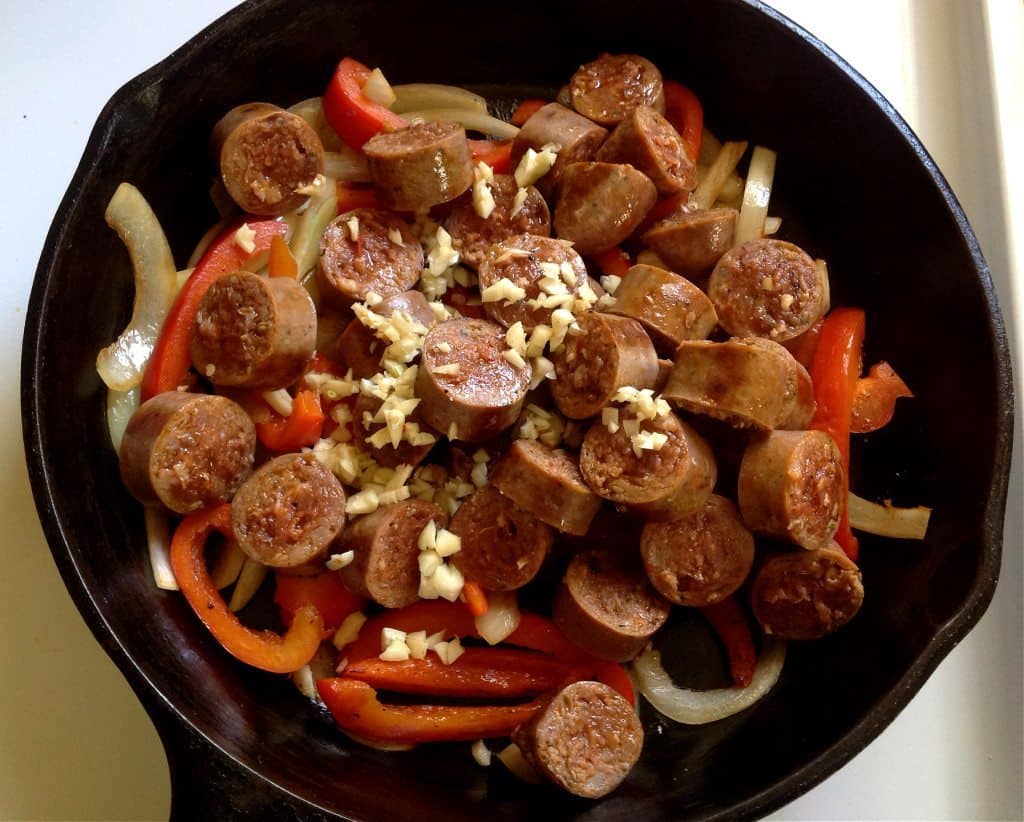 Add the cut sausages back to the pan along with the garlic. Cook for a few minutes, then add a little sprinkle of oregano and basil. Continue to cook until the sausages are fully cooked through.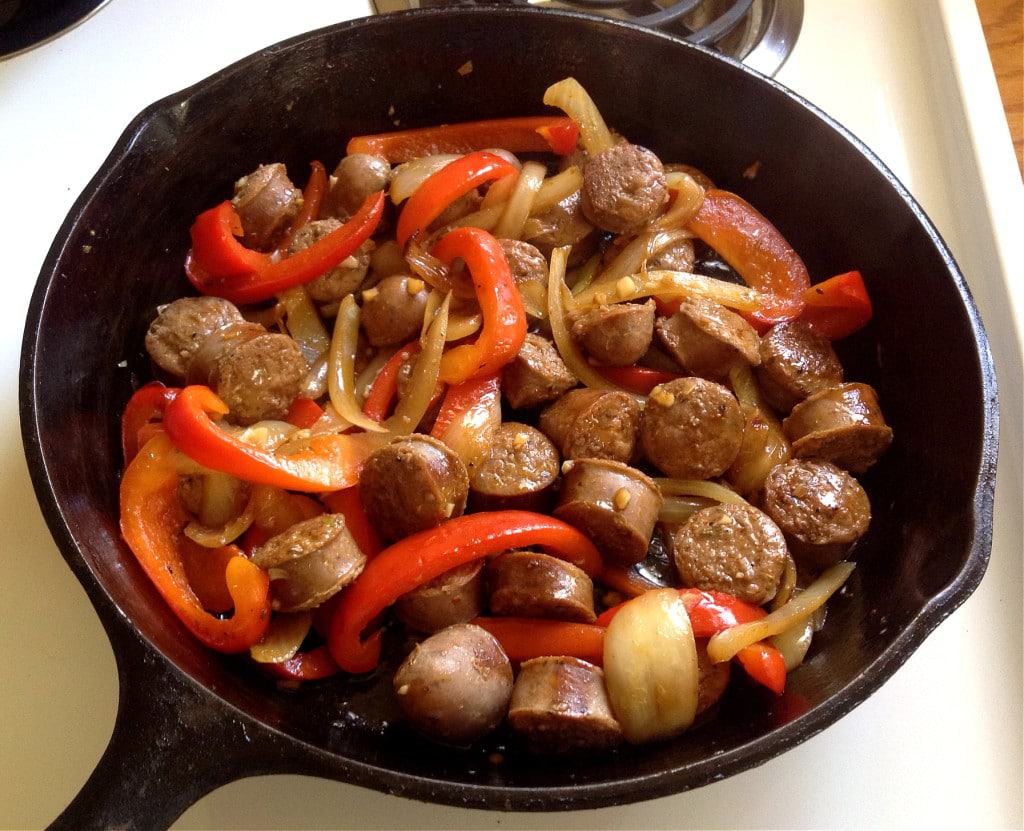 The smell of this will probably be one of the best things you have ever smelled! Now, this right here can be eaten just like this on its own, or it can be stirred into pasta or served over rice or other grains, or even potatoes. You could also add some mushrooms or tomatoes to the mix if you feel like it. I tend to like it as is, maybe with some foraged mushrooms if I happen to be so lucky. But let's not forget about making it into a sandwich!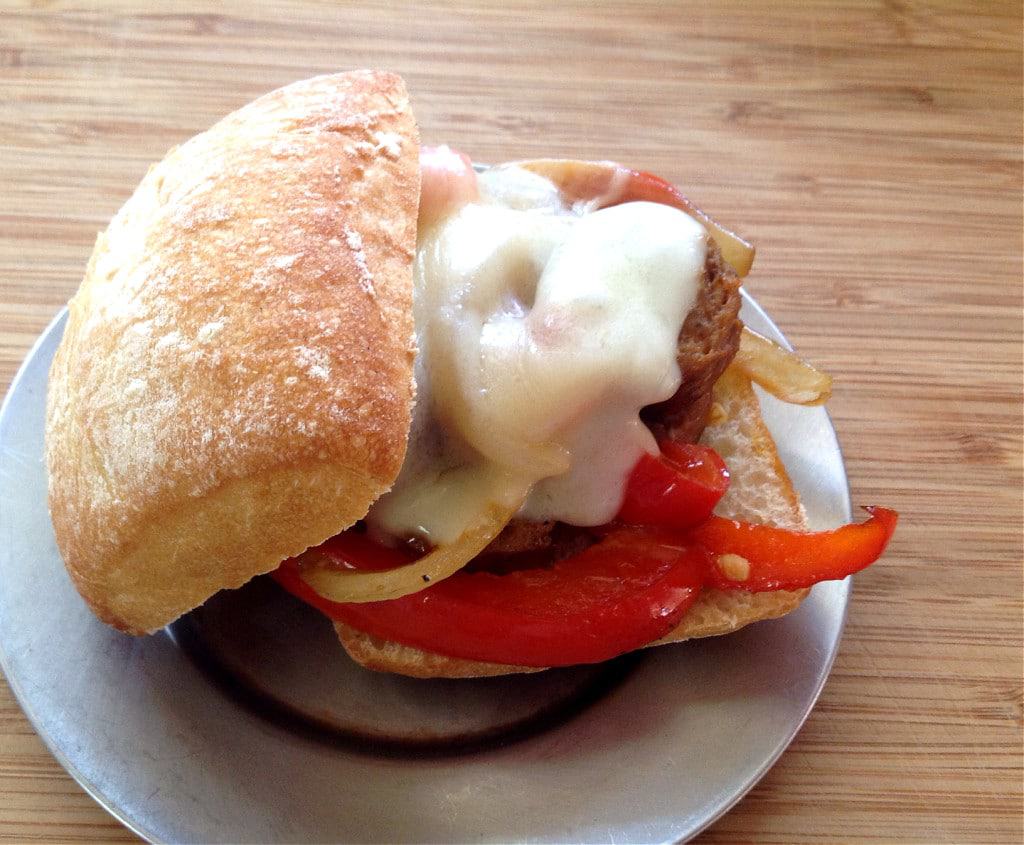 Topped with mozzarella on a hoagie or ciabatta roll and put under the broiler and you've got an awesome meal that will make most people jealous.
Of course, I like mine with a side of kraut. But sweet potato fries would also go well!
Regardless of how you serve it, sausage and peppers is an easy and crazy awesome recipe to make. Make it once or twice and you won't even need a recipe after that, you'll make it your own way which is how cooking should be. If you have good ingredients, a bit of will, and just a little bit time, you can whip up real food meals quickly and easily. I know you can do it!