Grow Food Not Lawns! This is my new mantra. While lawns can be nice for playing soccer, rolling around on, or as a place for your dog to poop (don't roll on it after that), all of those tasks can be done elsewhere. Beyond that, with the drought that we're having out west, why would you want to waste your precious water on a lawn when you could be using it to grow food instead? Not to mention having to mow the darn thing. I'd much rather be putting my energy into planting things that will feed my family. And personally, if you do it right, I think it looks a lot better!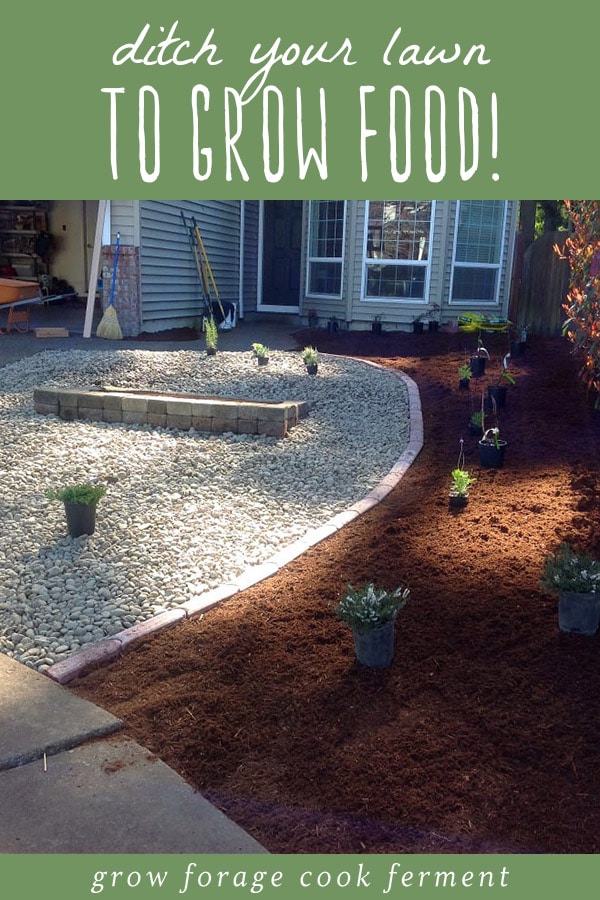 We did exactly this recently for my sister's front yard near Portland, OR. By "we" I mean Joel, because he did it all. He is a permaculture mastermind and landscaper extraordinaire, so he knows what he's doing. But you don't need to be a professional to do this. It's actually quite simple. In this post I'm going to show you how to ditch your lawn and grow food instead!
First up, a couple of before shots of my sister's yard.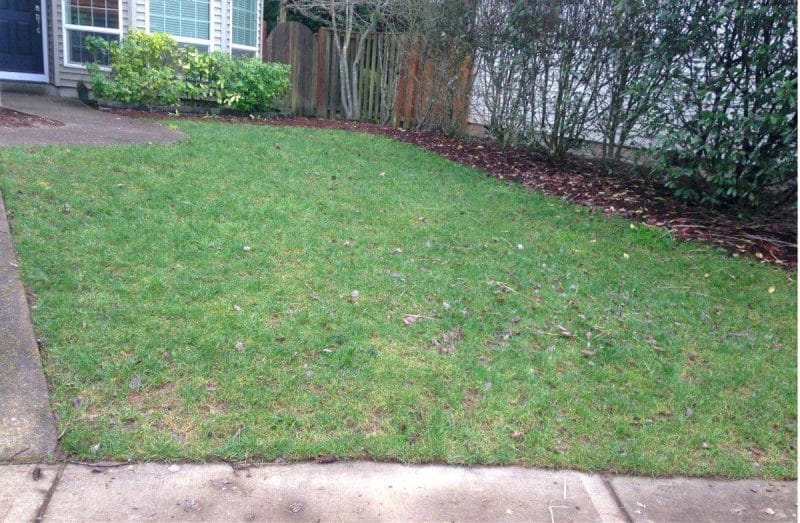 It's a pretty run of the mill front lawn for a suburban Portland neighborhood, complete with crappy looking nondescript bushes. Not that I'm against crappy looking bushes, because they are plants and they deserve a chance. But, especially when you have a small space, they should at least be functional by providing food or medicine, or by attracting bees or other beneficial insects.
How to Ditch Your Lawn and Grow Food
The first thing Joel noticed were these retaining wall blocks in front of the bushes. It's always nice when you can repurpose items that you already have! Out came the blocks, and the bushes. Sorry bushes, but we had no choice.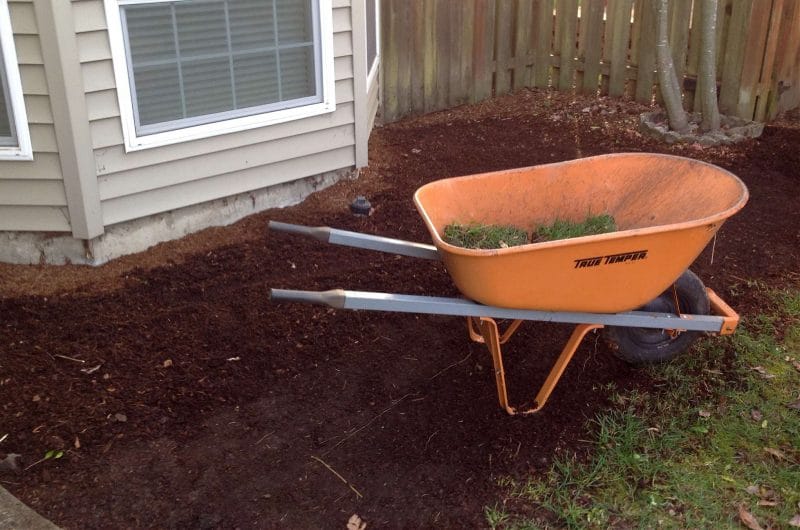 The blocks were set aside to be used to build a garden bed.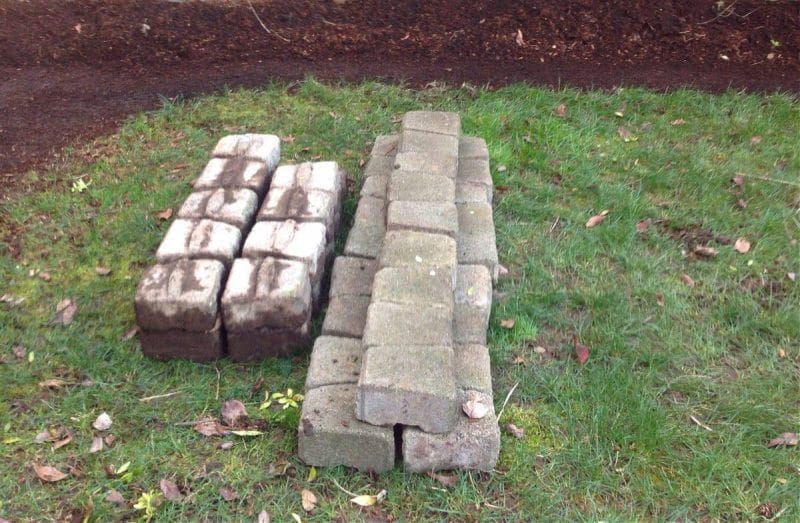 My sister and her family are busy, so a small annual garden bed will work best for them. Joel put it pretty much right in the middle of the yard to make it a focal point, plus it gets the most sunlight.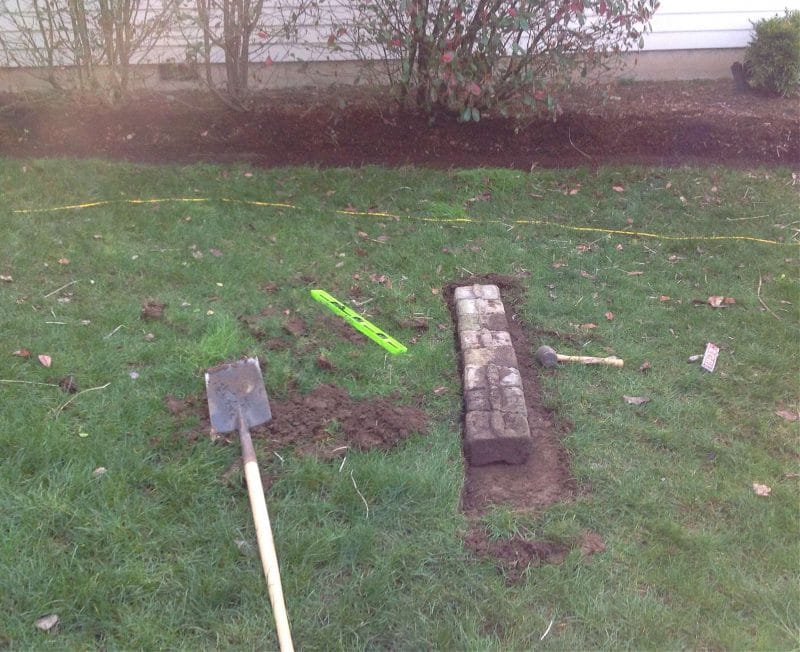 Now it's time to raid your cardboard stash! This is how you will kill that lawn of yours.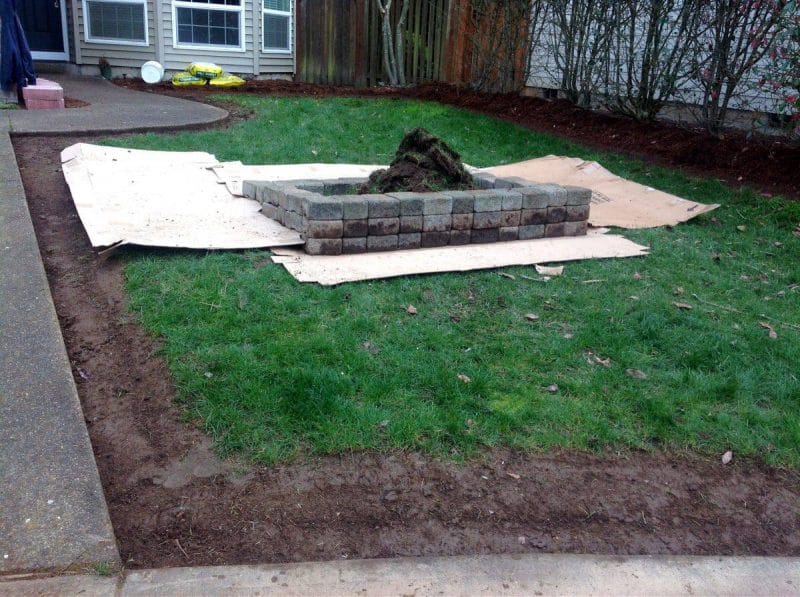 Layer the cardboard over all of the grass. In permaculture this is the first step in sheet mulching.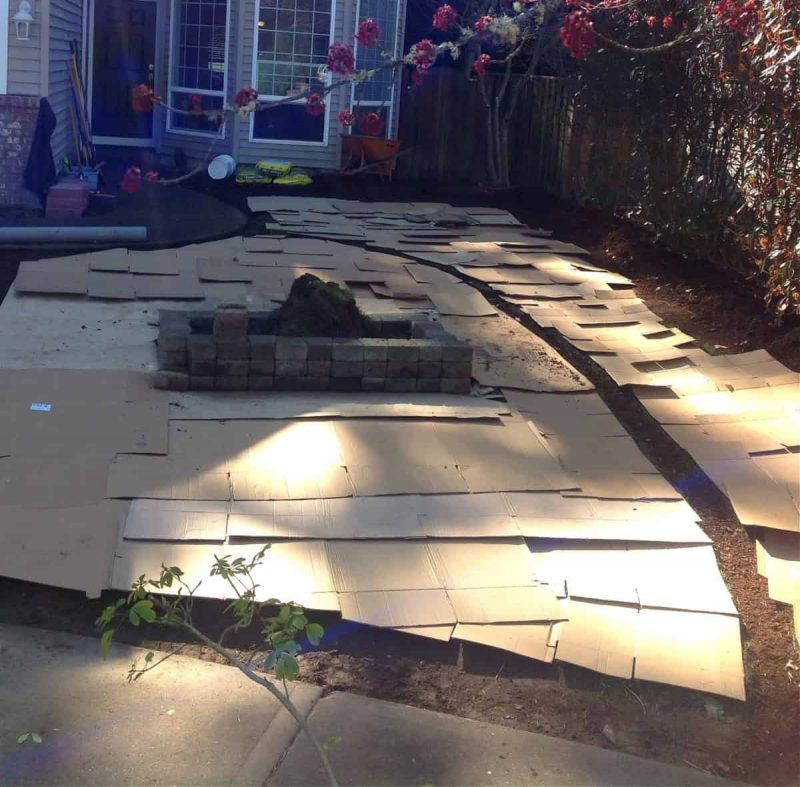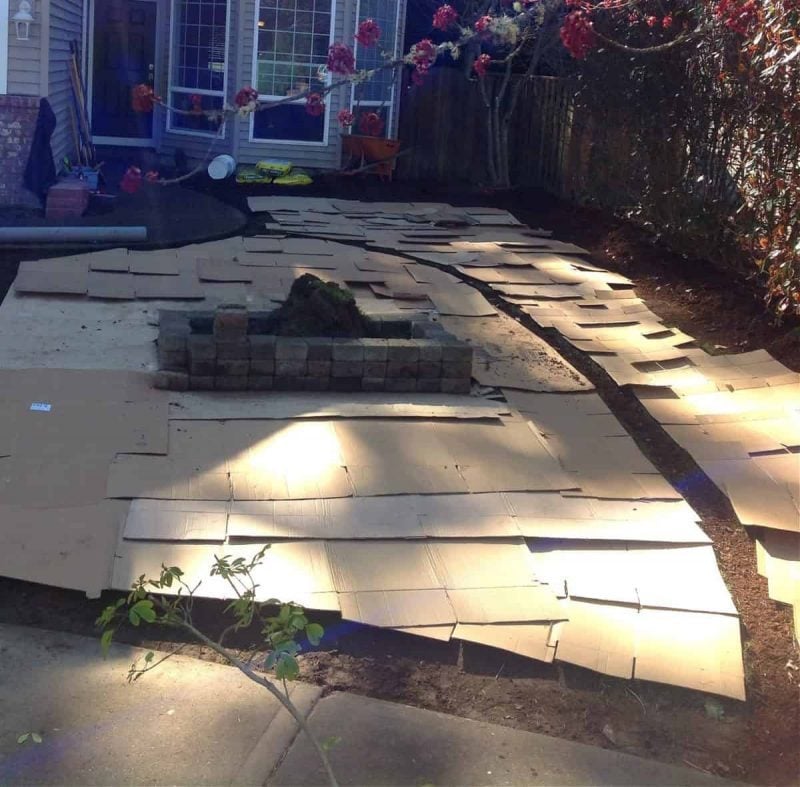 Take in consideration what other hardscaping you want and work around that. You can see a space where there isn't any cardboard because there will be some brick edging there.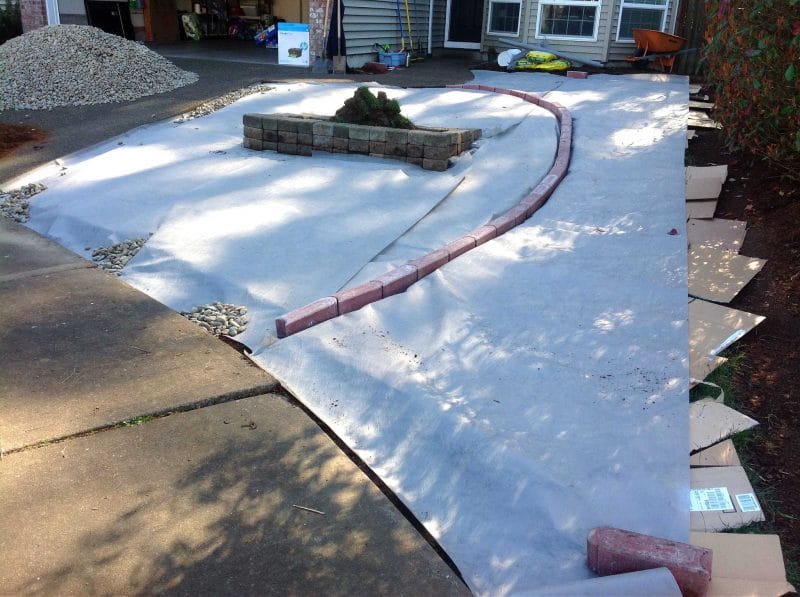 We decided to use landscape fabric on top of the cardboard in this particular situation to really make it low maintenance. Not quite the permaculture way to do it, but a good alternative nonetheless.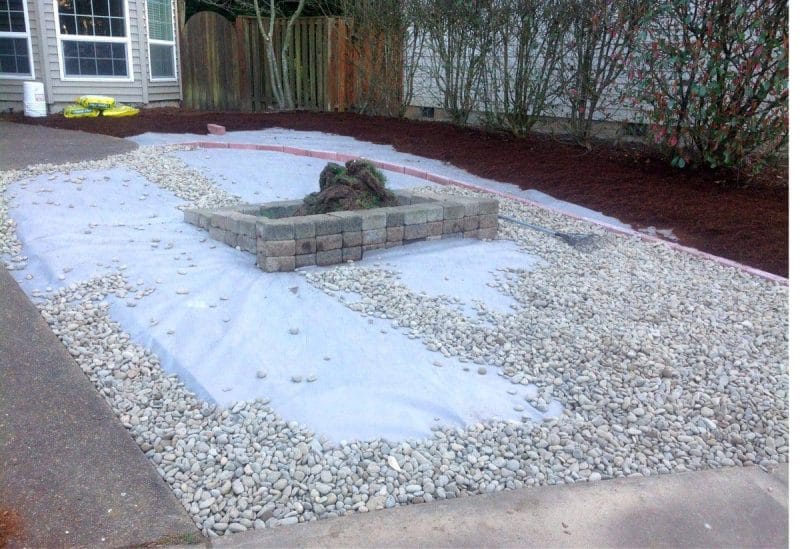 Rock goes on one side, bark dust on the other. You know, to make it look pretty. Notice how we decided to keep the tall bushes between the houses. We considered ripping them out, but they serve as a barrier, which is nice when you live in a suburban neighborhood. Joel did prune them back a bit hoping that they will fill out and look a bit nicer next year.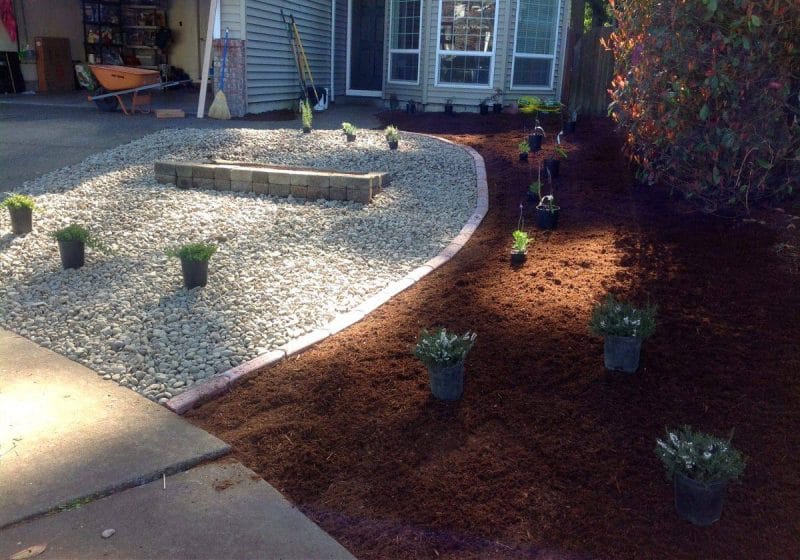 We chose low maintenance, mostly native perennials and herbs for the main plantings. Blueberries, huckleberries, red currant, Oregon grape, juniper, lavender, rosemary, thyme, and mint. You could also grow chamomile, basil, chives with their beautiful pink blossoms, calendula, or oregano.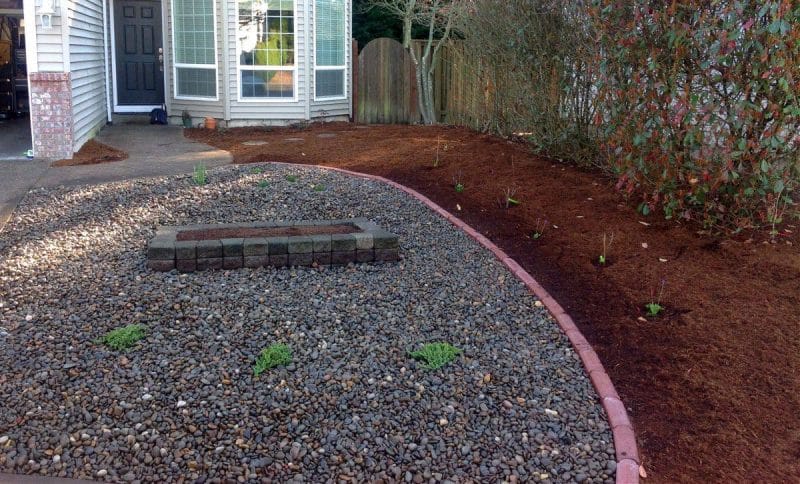 The finished product! This summer they will plant tomatoes and peppers and other annual veggies in the box in the middle. The perennial bushes and herbs will fill out and get much larger as the years go by, providing nutrition as well as beauty. You can't beat that!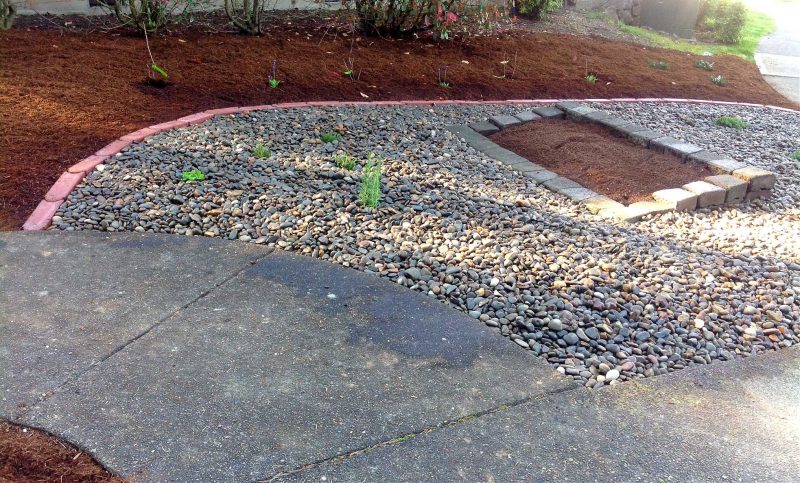 What a world of difference. There's absolutely no reason that anyone should be growing a lawn. Making a minimalist landscape that grows food makes so much more sense. Basically, it's less work for more food and a prettier landscape. You've really got nothing to lose!
Save