I love making my own homemade herbal bath and beauty products.  Making soap was the one thing that I didn't do for a long time, admittedly because I scared of the whole process.  But when I finally did it, I realized it wasn't really that bad.  You can read about it in my post How to Make Soap for Beginners, which was completely inspired by the Natural Soap Making eBook by Jan Berry from the Nerdy Farm Wife.  Since I've started to make soap, I've also become interested in making shampoo bars.  The process is the same as soap, but with different ingredients that are good for healthy hair.  I'm sure you will love these homemade rosemary mint shampoo bars that I'm sharing with you today!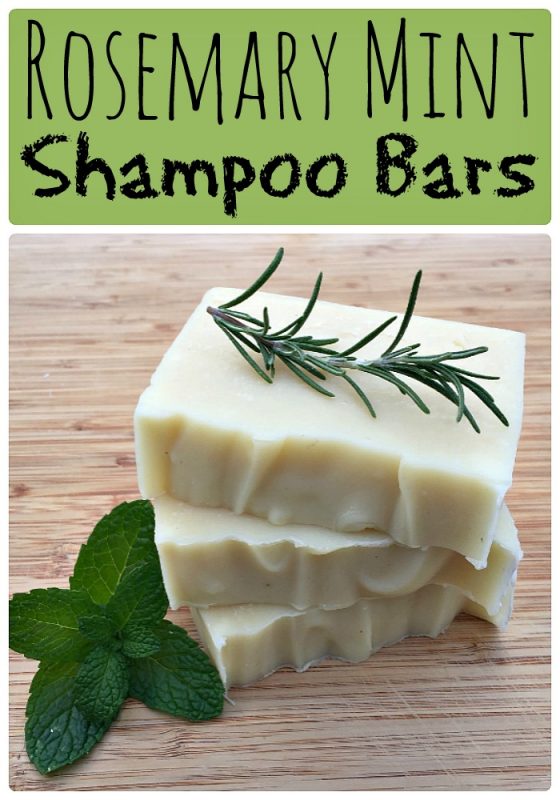 This recipe for rosemary mint shampoo bars comes from Jan Berry's Natural Soap Making eBook package, and she has been so kind to let me to share it with you.  Besides the main book on soap making, she also offers a bundle that includes two companion eBooks: All Natural Milk Soaps and Natural Shampoo Bars.  The bundle is so worth it and I'm so glad to have all of these awesome natural soap recipes at my fingertips.
Rosemary Mint Shampoo Bars Recipe
My favorite place for buying carrier oils, essential oils, and dried herbs for soap making is Mountain Rose Herbs.  I get the lye from Essential Depot.  For a more detailed list of equipment, or if you are new to making soap, please see my post on how to make soap for beginners, or get Jan's Natural Soapmaking eBook.  It goes into much more detail on the whole process and makes it all really clear for people who are just starting out.
OIL PORTION
10 oz (283 g) olive oil
8 oz (227 g) coconut oil
4 oz (113 g) sunflower oil
4 oz (113 g) castor oil
2 oz (57 g) jojoba oil
LIQUIDS & LYE
3.82 oz (108 g) lye
10 oz (283 g) distilled water
ESSENTIAL OILS
1 tbsp (15 ml) peppermint
1 tsp (5 ml) rosemary
NOTES & TIPS
Rosemary essential oil should be avoided if you're pregnant or have hypertension or epilepsy.  In these cases, you can omit it altogether or infuse a portion of your oils with dried rosemary leaf instead.
This soap can be made using hot process or cold process method.
If making hot process, use the full amount of water.  If making cold process, reduce the water amount to around 8.5 oz (241 g), so it will release from the mold easier.
Superfat is 5%. For a 6% superfat, use 3.78 oz (107 g) of lye (sodium hydroxide) instead.
STEP 1
Wearing gloves, goggles & long sleeves, weigh the distilled water into a heatproof pitcher.  Weigh the lye next, then carefully sprinkle and stir it into the water.  Set the solution aside in a safe place to cool, while you measure out the oils.
If making hot process soap, the lye solution only needs to cool for around 15 to 20 minutes.  If making cold process soap, let it cool for 30 to 40 minutes first, so the temperature drops to around 100 to 110°F (38 to 43°C).
STEP 2
Weigh and melt the coconut oil, then combine it with the other oils.  This should bring the temperature up to somewhere around 90 to 100°F (32 to 38° C).
STEP 3
Pour the lye solution into the oils.  Using a combination of hand stirring and a stick (or immersion) blender, mix until trace is reached.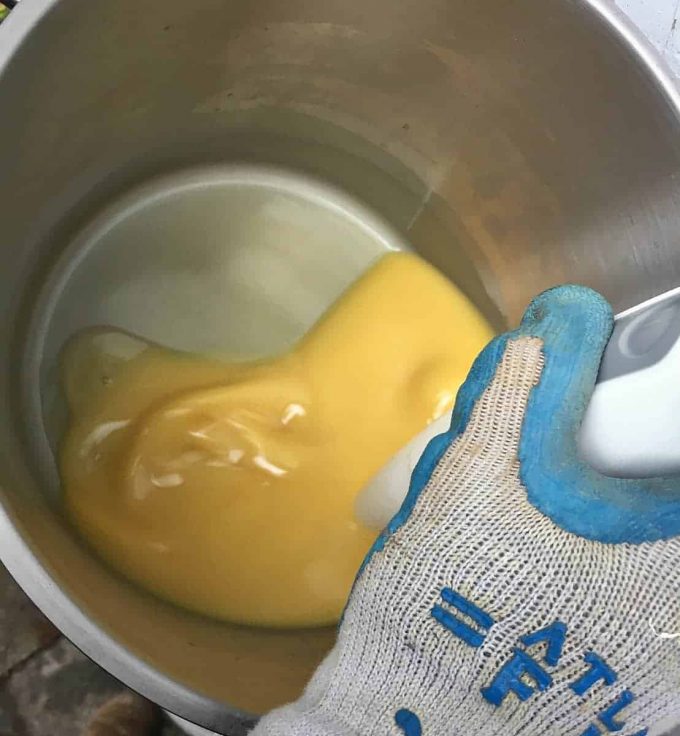 STEP 4
At this point, if making cold process soap, add the essential oils then pour directly into a mold, cover and insulate with a towel or blanket.  Let the soap stay in the mold for 1 to 2 days, then remove from the mold and slice into bars. Cure in the open air for 4 to 6 weeks before use.
If making hot process soap, you'll need to further cook the soap in your crockpot or slow cooker.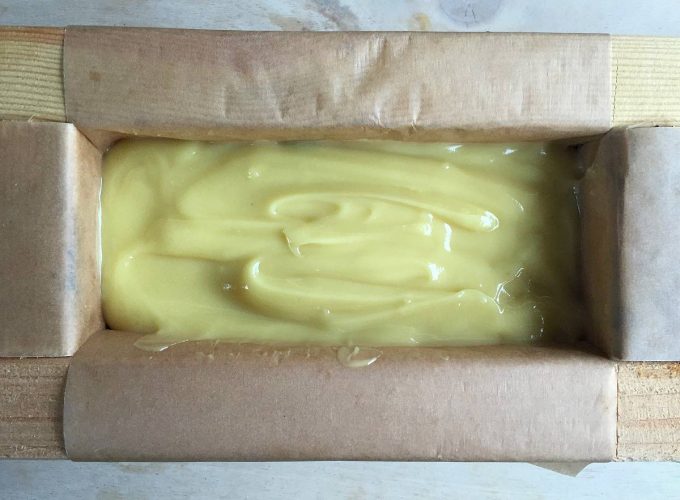 STEP 5
(Hot Process Version Only) Place the raw soap batter in a crockpot or slow cooker turned to low.  Cook for 1 hour, stirring every 15 minutes.  After the cook time is done, stir in the essential oils, then spoon into a mold. Let rest for 24 hours before cutting.
Hot Process Soap can be used right away, but still benefits from a few weeks of cure time.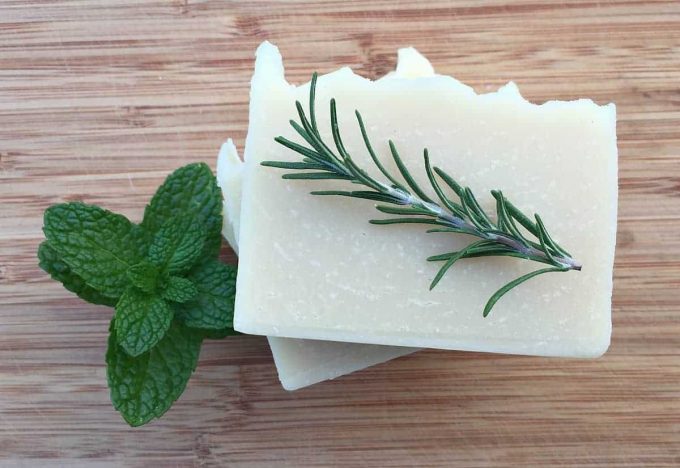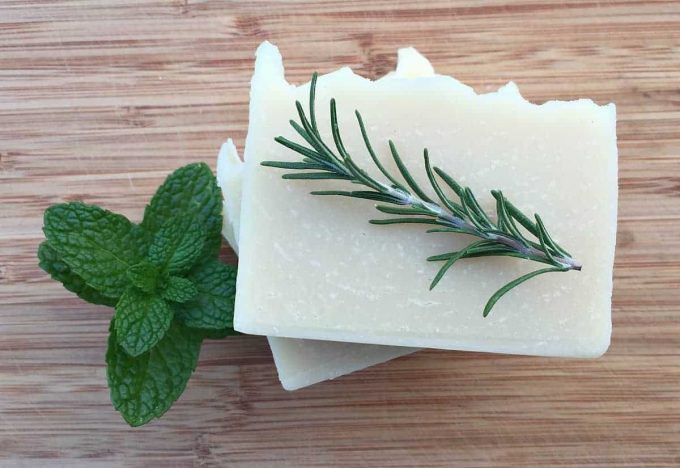 The main difference between soap and shampoo bars is that shampoo bars are made with oils that are known for hair care, such as jojoba or argan oil.  There are also herbs, such as the rosemary and mint that are used here, that are great for hair.  There are many more herbs for the hair and scalp that you can read about in the eBook.  Jan also talks about the importance of using a vinegar rinse with shampoo bars, and has a few great ideas and recipes for those as well.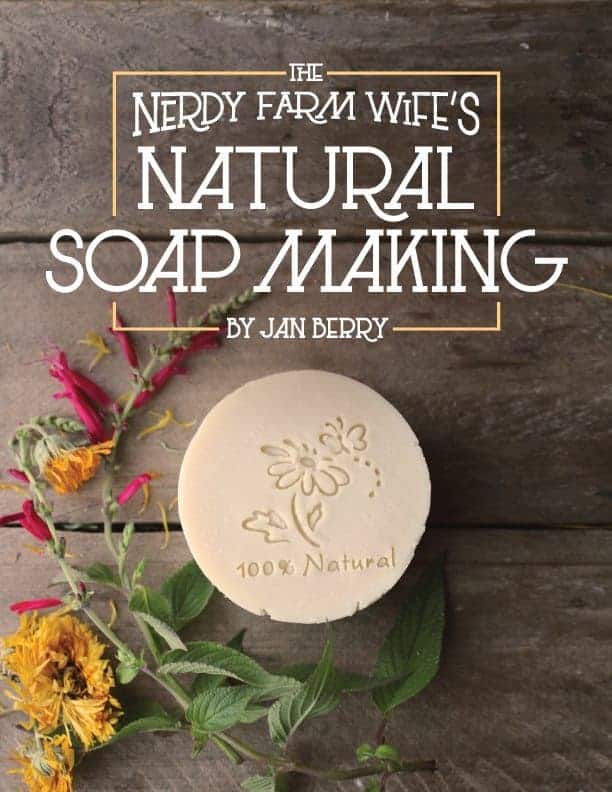 I think you will love these rosemary mint shampoo bars!  To begin with, they smell absolutely amazing.  They are pepperminty in a good way, and also herbaceous and piney from the rosemary.  They are great for the hair of course, but you can use them just as regular soap as well.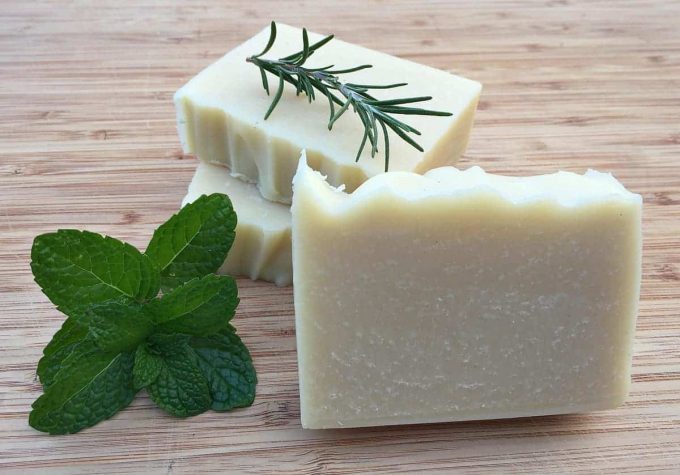 I think I'm fully addicted to soap making now.  I'll never buy soap (or shampoo) again!
Have you ever made or used shampoo bars?