Got lemon balm? Here are over 30 delicious lemon balm recipes to help you use all of this edible and medicinal herb growing in your yard!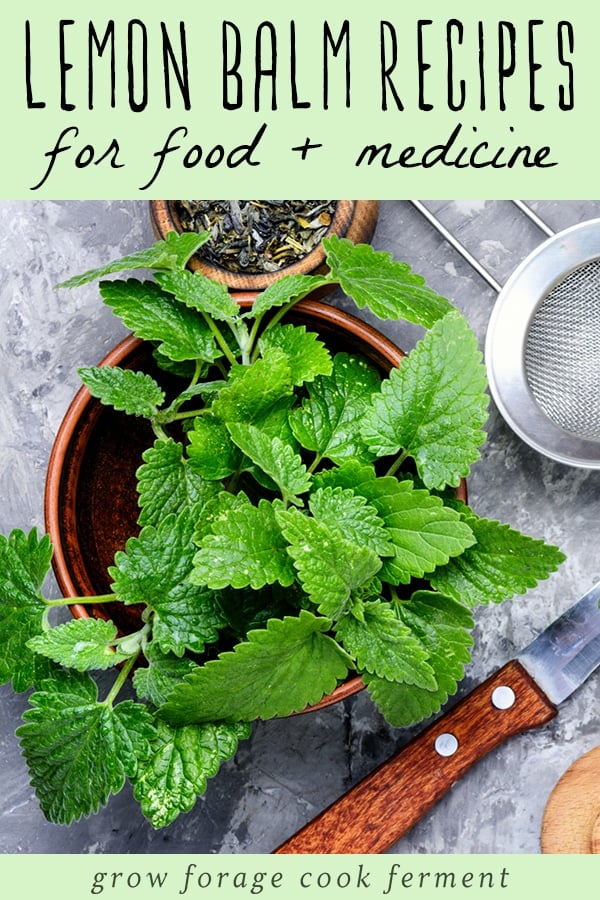 ---
Wildcrafting Weeds
If you want to learn more about the edible and medicinal weeds that surround us and how to use them, check out my eBook: Wildcrafting Weeds: 20 Easy to Forage Edible and Medicinal Plants (that might be growing in your backyard)!
Gather & Root Online Foraging Course
My online foraging course is a great way to learn about wild edible and medicinal plants! Sign up to learn more about the gather + root online foraging course here.
---
Lemon Balm Recipes
Lemon balm, Melissa officinalis, is super easy to grow and forage for and has multiple benefits. To identify lemon balm, just look for a square stem and the sweet aroma of lemon.
This member of the mint family will come back every year in your garden, thus saving you time to work on the other backyard permaculture projects on your list.
If you're reading this, I imagine that you already have more lemon balm on your hands than you know what to do with.
It's no wonder that you're looking for ways to utilize your bounty! Well, you came to the right place! Here are my favorite 30 recipes to make the most of your lemon balm.
Lemon Balm Drinks
On a warm sunny day, lemon balm pairs perfectly with green tea in this iced tea. Or try this yummy sounding lemon balm lemonade!
With or without liquor, a honey and lemon balm spritzer or beekeeper's balm cocktail are sure to please guests at poolside get togethers. This bright green lemon balm martini would be a hit for sure!
This lemon balm simple syrup is easy to make. Try adding a splash to your seltzer water!
I love changing up my morning tea routine over the summer with these lavender and lemon balm herbal popsicles. They're also a great recipe to make with children!
If you like to brew (you know I do!), make lemon balm and motherwort brew or lemon balm mead. This lavender and lemon balm beer also sounds amazing!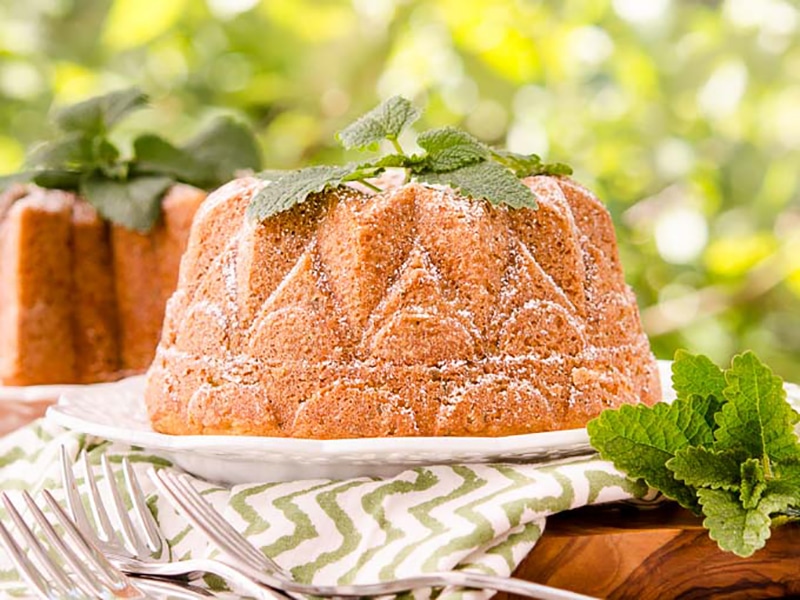 Lemon Balm Sweets & Baked Goods
Hot summer days exist so that we can eat all the ice cream, right? Try something different with this blueberry and lemon balm ice cream.
This plant also makes super tasty lemon balm and poppy seed cookies and shortbread. Can't decide? How about trapping ice cream between cookies in the ultimate sweet lemon balm sandwich?
Another easy way to use lemon balm is to make lemon balm jelly. Smear some on toasted slices of no knead sourdough bread!
These nettle and lemon balm cupcakes sound like an interesting and healthy treat!
How breathtaking and mouth wateringly delicious is this lemon balm bundt cake? Make it the star of your dessert offerings after feasting on savory lemon balm dishes, of course!
Lemon Balm Savory Dishes
Lemon balm can also be successfully utilized in many savory recipes. Start by omitting the sugar in these lemon balm drop biscuits and serve them alongside lemon balm and chive compound butter.
As an appetizer, toss a fava bean and feta salad with lemon balm salsa verde.
Keep this lemon balm vinaigrette or lemon balm cilantro pesto handy for a quick addition to your busy schedule. I like to drizzle them both on roasted vegetables, pizza crust, and cooked meats for a lemony zing.
Lemon balm adds a nice splash of acid to this carrot tomato soup.
Having a dinner party? Impress your guests by offering this roasted lemon balm chicken or lemon balm salmon en papillote as an entree.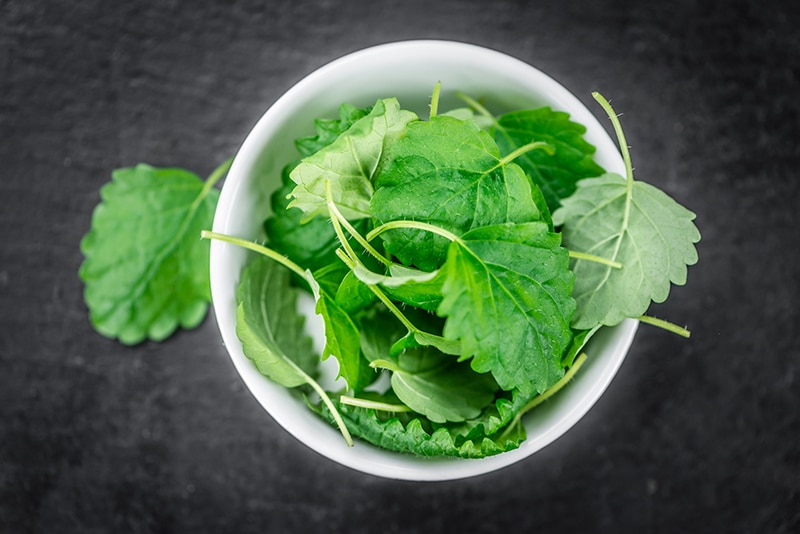 Lemon Balm Bath & Body
Lemon balm can help heal acne, eczema, and more. Take advantage of the skin soothing benefits of lemon balm by making and using these bath melts or by taking a lemon balm bath.
This pretty lemon balm soap also makes use of the skin loving properties of castor and coconut oils.
Have oily hair or scalp? Try this refreshing herbal shampoo with lemon balm or lemon balm hair rinse.
Lemon Balm Remedies
This powerhouse plant is packed with medicinal properties, including many for skin health. Create this lemon balm lip balm to offer relief to the symptoms of cold sores with its antiviral properties.
Lemon balm also has the ability to repel annoying pests. Make a batch of this herbal no bug balm or this lemon balm bug spray to keep them away! If you're out foraging or on a hike without a repellent, find some lemon balm, crush it between your fingers, and rub it directly on your skin. The lemony aroma will keep the mosquitoes at a distance.
Not only does lemon balm have healing benefits, but it can also be very calming. This anti-anxiety tea made with lemon balm will help to ease stress and anxiety.
I chose to add lemon balm to my herbal salve for its lemon scent, which is said to have a calming effect.
You can also make a lemon balm tincture and take it daily to relieve stress and anxiety. Add a few drops under your tongue for optimal absorption!
Lemon balm has powerful antiviral properties. Add to it honey and ginger, and you have one potent antiviral syrup! Take it whenever you need a mood boost or catch a bug!
I hope these lemon balm recipes inspire you to incorporate a new healing plant into your diet or medicinal cabinet!