This orange curd recipe is a citrus season bright spot! With a flavor that is balanced between tart and sweet, this citrus recipe is delicious spread on toast or an English muffin. Make an orange curd tart if you're feeling fancy, and let this citrus curd be the star of your winter day!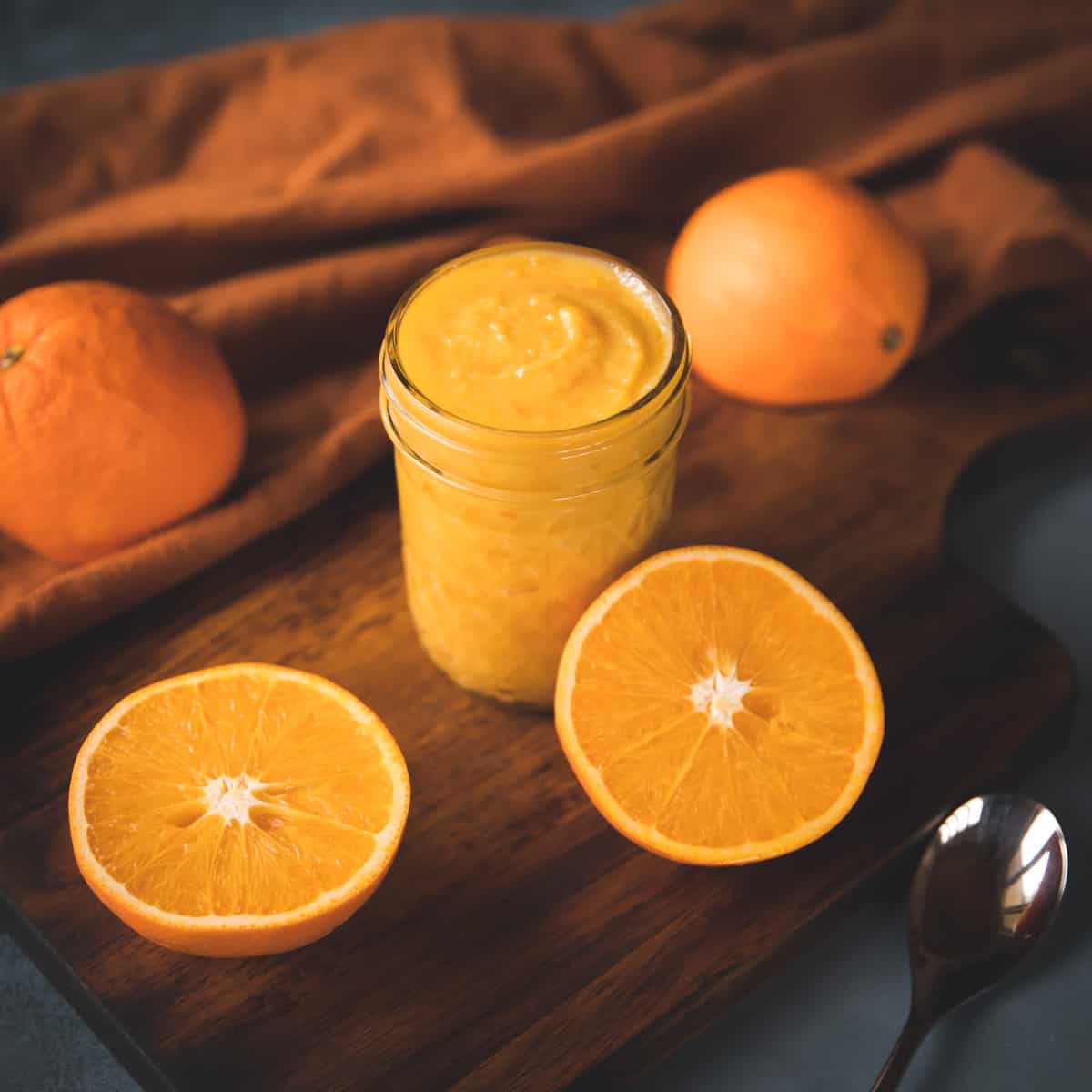 A Citrus Season Gem
A citrus curd is a delicious way to celebrate winter if you have excess fruits to use. This orange curd is one of my favorite ways to preserve oranges when they're coming in hot from the southern states!
If you're packed in with snow or live in a rainy and blustery area, there is nothing better than the bright and tart flavor of citrus to perk up your day. That's where orange curd comes in!
Honestly, even if you live in a sunny area that grows winter citrus, I'm sure this curd recipe will brighten your day too! We all need a treat now and then.
It is possible to use other citrus fruit for this recipe and make grapefruit curd, or lemon curd which is quite popular. For today, let's orange it up!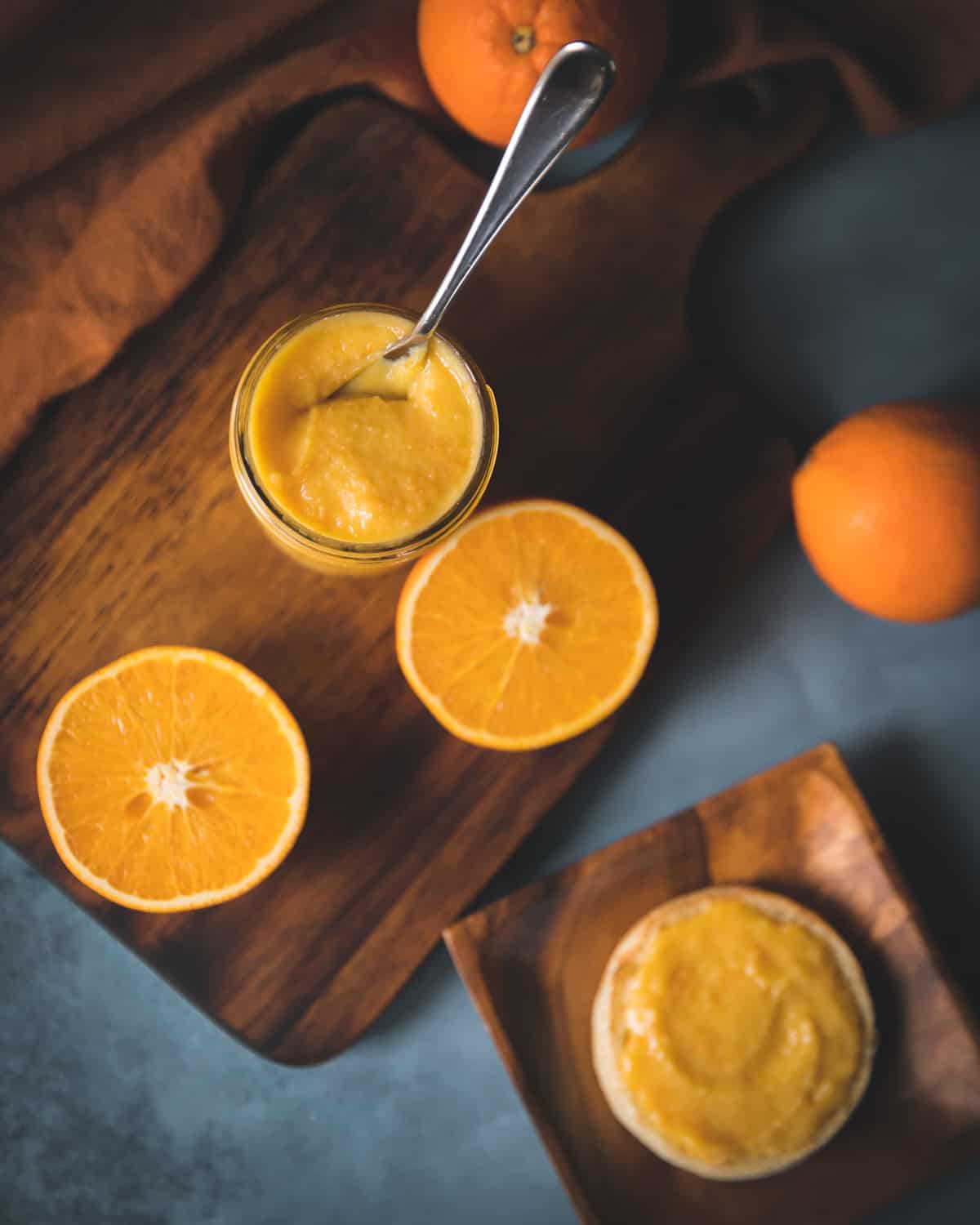 Ingredients
Fresh squeezed orange juice is the perfect ingredient when you have superfluous orange action! Loaded with vitamin C, and a tart-sweet deliciousness for your taste bud delight.
Orange zest is easily done if you have a microplane. If you need a brush up on what part of the peel exactly is the zest, and the best way to zest and orange, read this article on how to zest oranges and get zesty!
Butter that is softened to room temperature is needed, so be sure to take it out of the fridge in advance. I prefer grass-fed butter, but use what you have!
Sugar for sweetening the orange curd a little, organic cane sugar works wonderfully. Honey or other sugar substitutes could probably be substituted, but you may need adjust amounts since I haven't tested this recipe with those options.
Egg yolks and eggs at room temperature, so take them out of the fridge at the same time as the butter. Don't forget!
Salt because we all need to bring out the flavor and balance, right? Just a pinch!
Lemon juice that is freshly squeezed, just for a little extra tart flavor. I like using Meyer lemons, but regular lemons work too!
How to Make Orange Curd
Ahead of time, pull the butter and eggs out of the refrigerator so they can come up to room temperature. This will make the curd blend much better and be more smooth.
Zest and Juice the Oranges
First, zest the oranges, I recommend using a microplane if you have one since it makes zesting so much easier!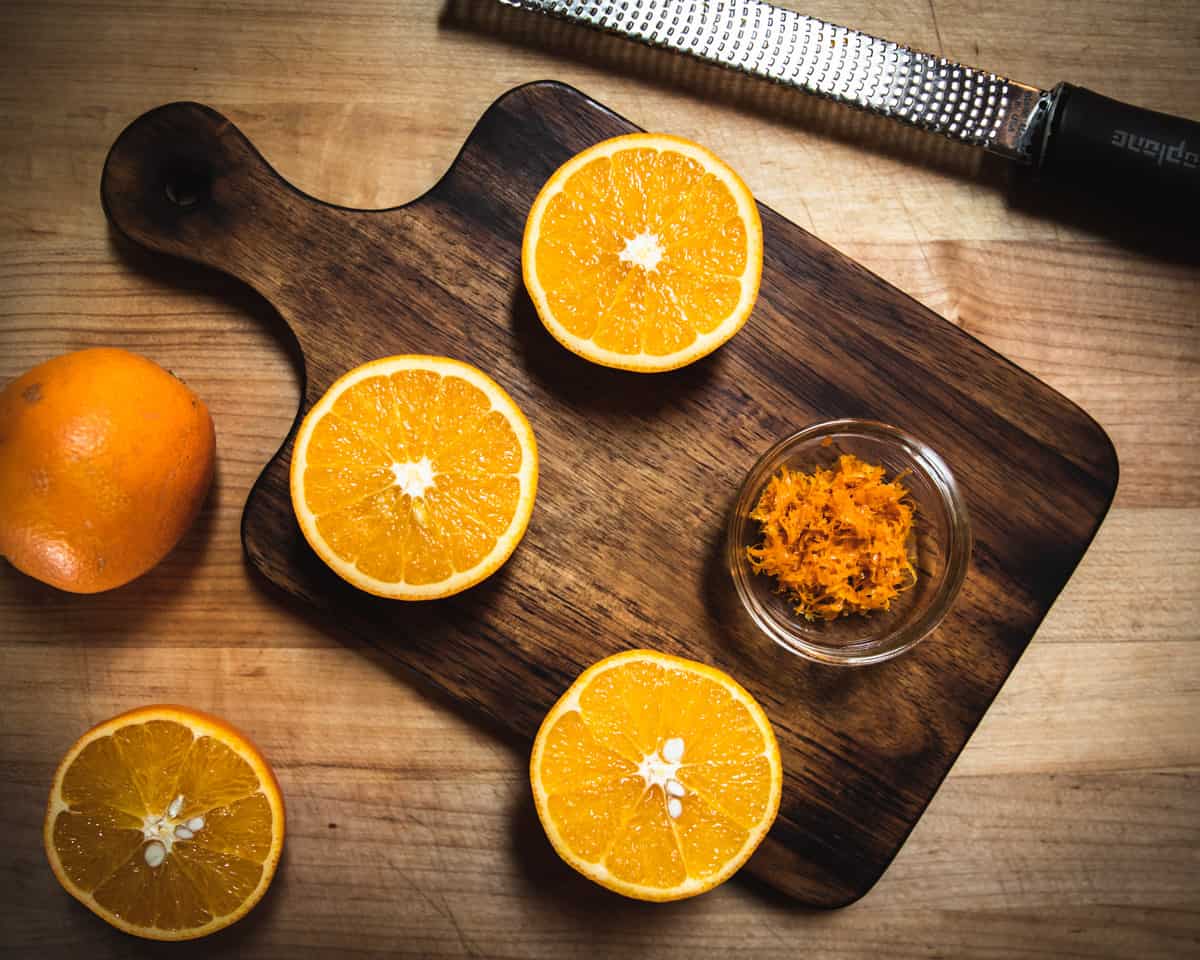 Then squeeze the oranges until you have one cup of orange juice. This will take multiple oranges depending on how juicy they are, I used about 6.
Make the Orange Curd
In a medium pot, simmer the orange juice down on medium heat until it's reduced by half. If you accidentally reduce it too much, just add a little more orange juice so that you have 1/2 cup.
Note: If you're short on time this step can be skipped and you can start the recipe with just 1/2 cup of juice, but reducing it makes the orange curd more flavorful.
In a metal or pyrex bowl that will fit over a saucepan as a double boiler, cream the butter and sugar together.
Add in the egg yolks and eggs one at a time and use a whisk to stir them in completely.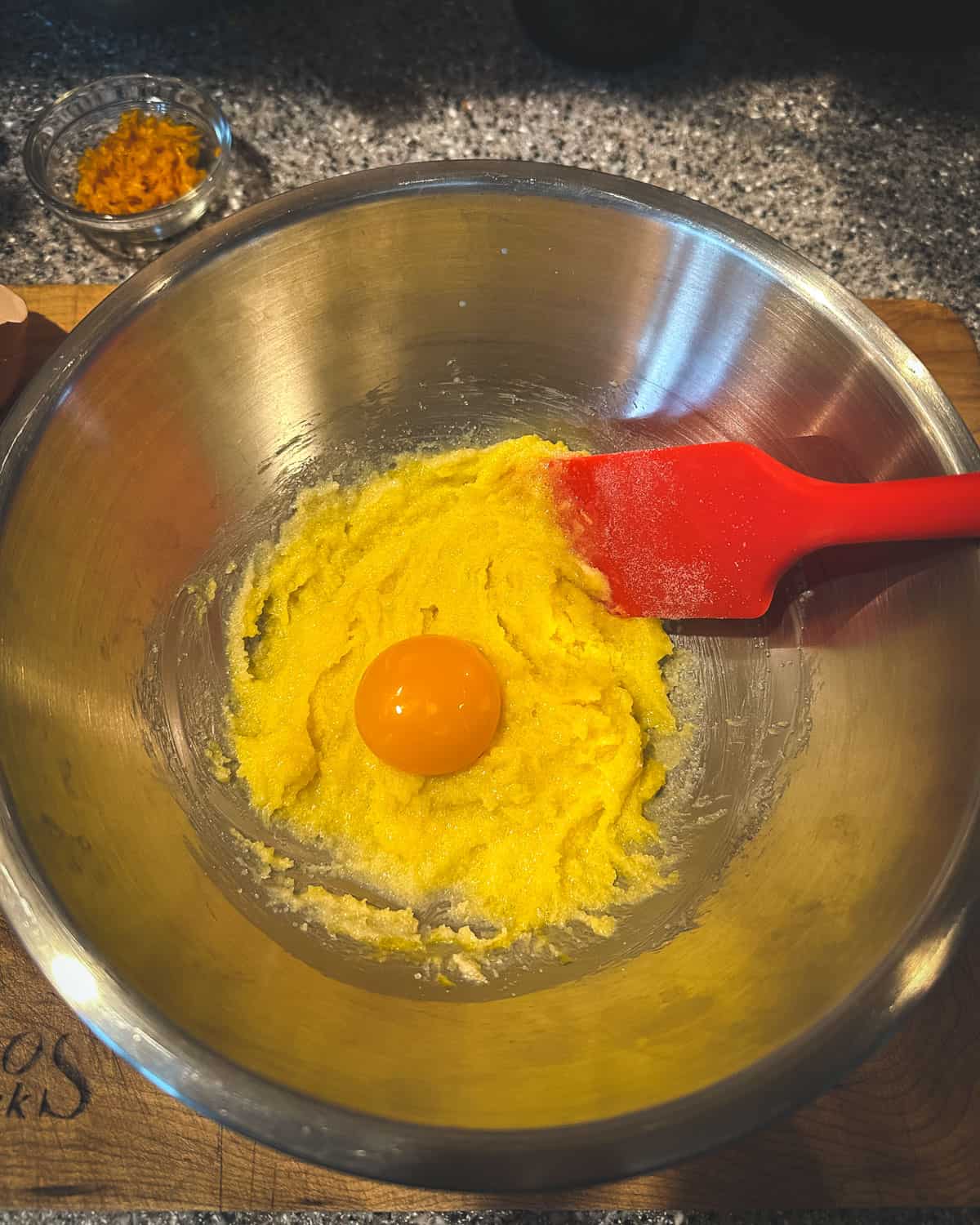 Now stir in the orange zest and a pinch of salt. Then slowly add in the orange juice and lemon juice, continuing to whisk as you go.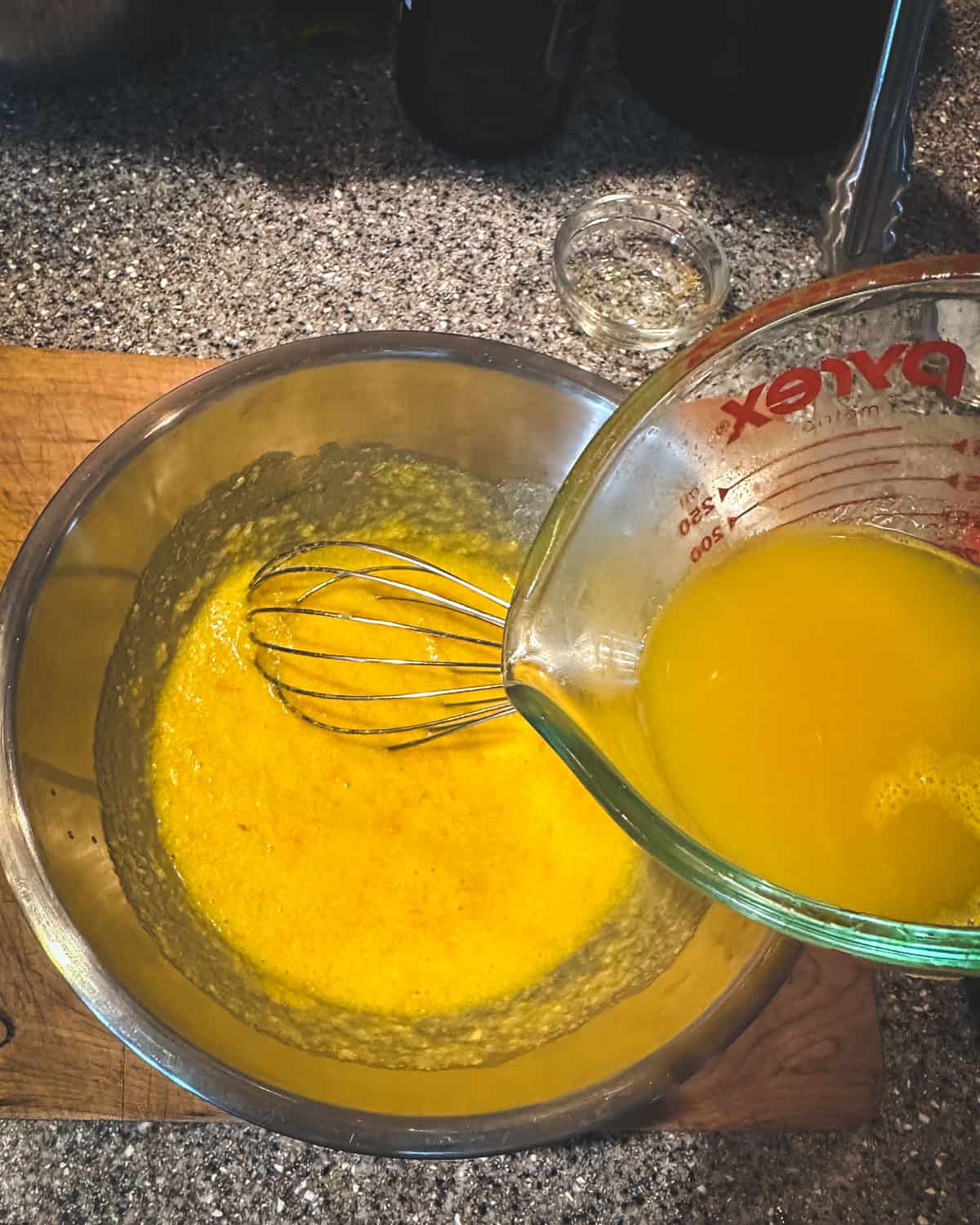 Make a Double Boiler
Fill a saucepan with an inch or two of water and bring it to a simmer, and then place the mixing bowl on top to create a makeshift double boiler.
As the orange curd warms, stir it constantly so the eggs don't get too warm and scramble. If you do get a little bit of scramble, you can always strain it out at the end, so don't worry too much. This is a no-stress curd!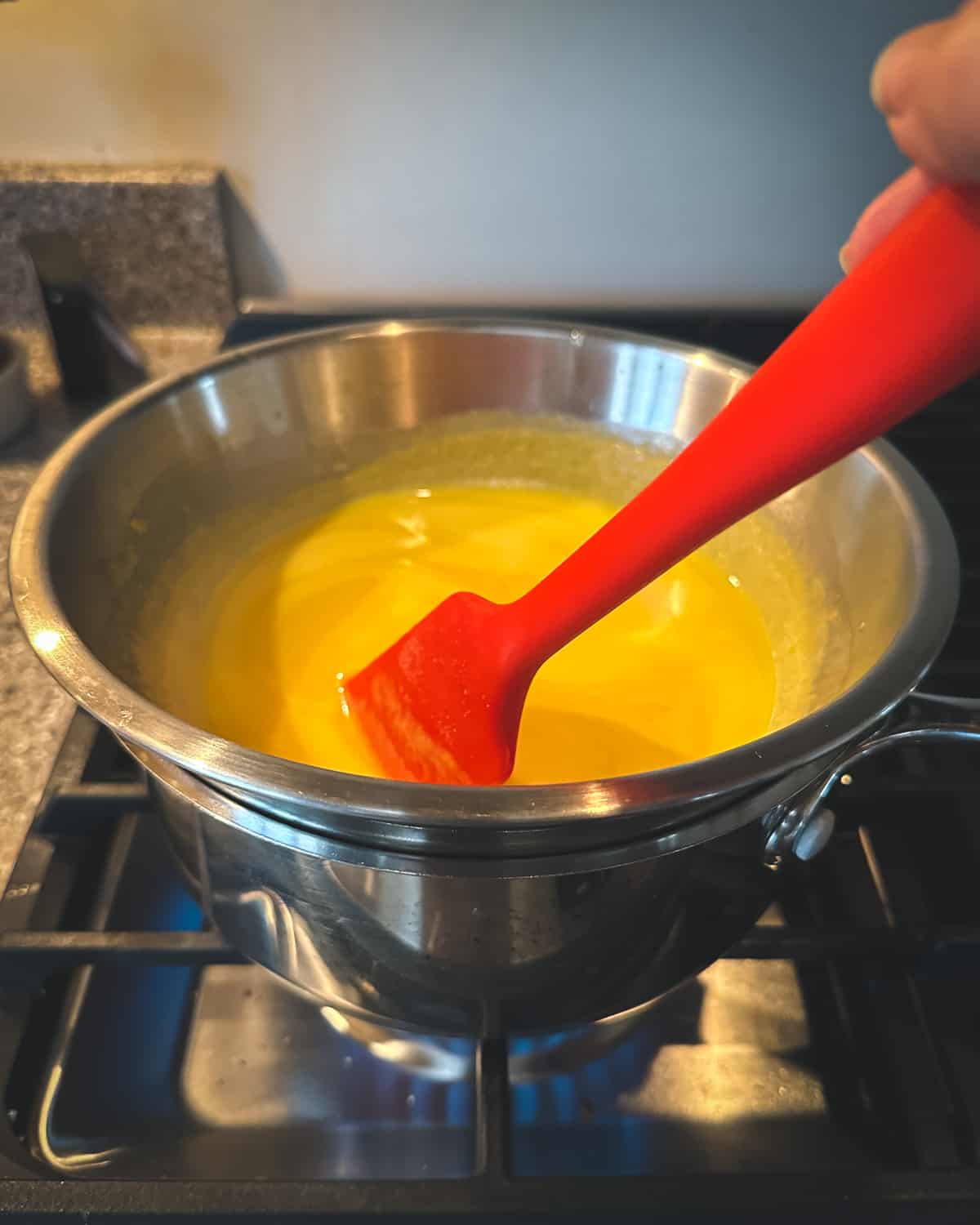 After it warms for about 10 minutes, the curd will start to thicken.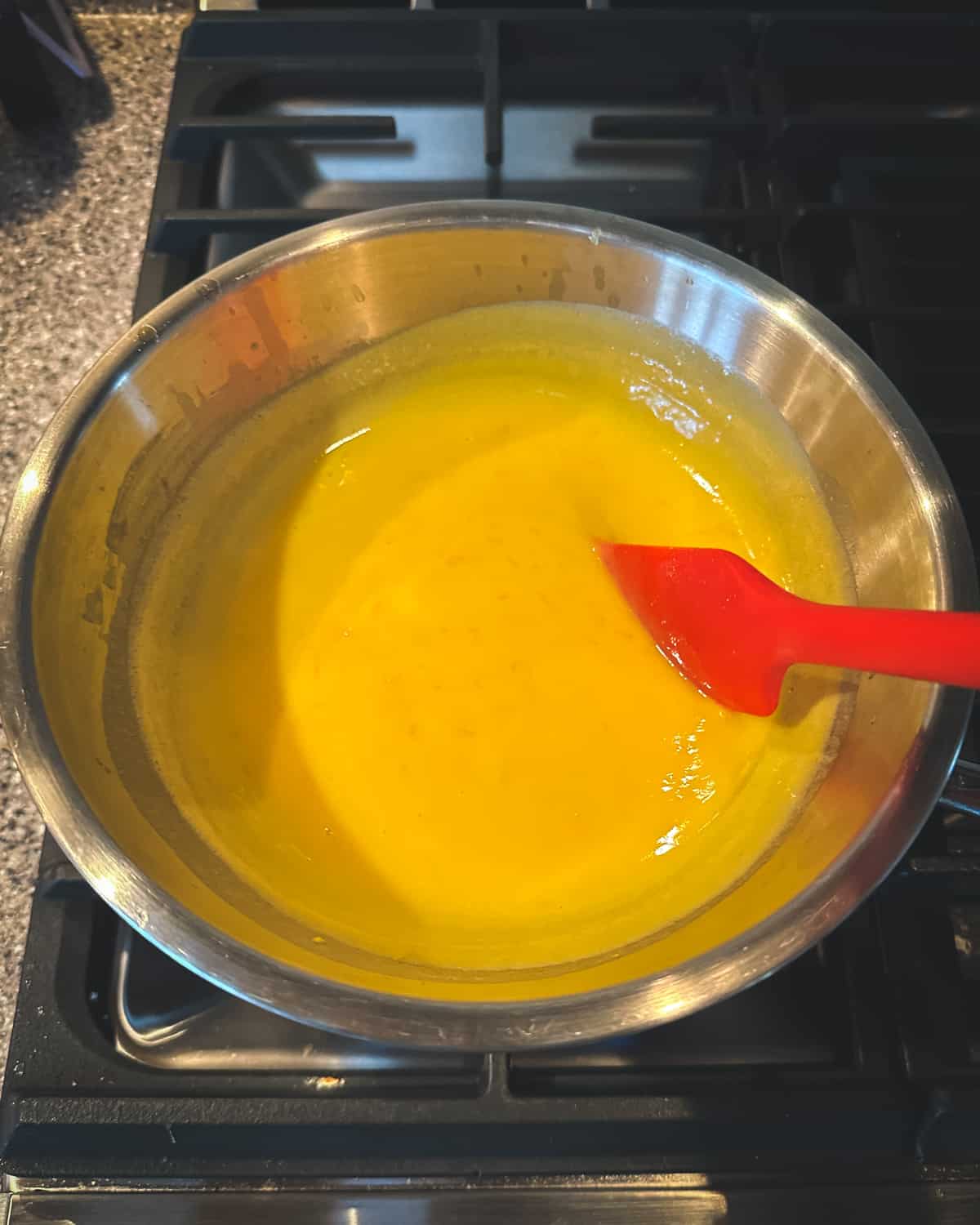 Once it is thick enough to remain coated on the spoon when you pull it out, it's done.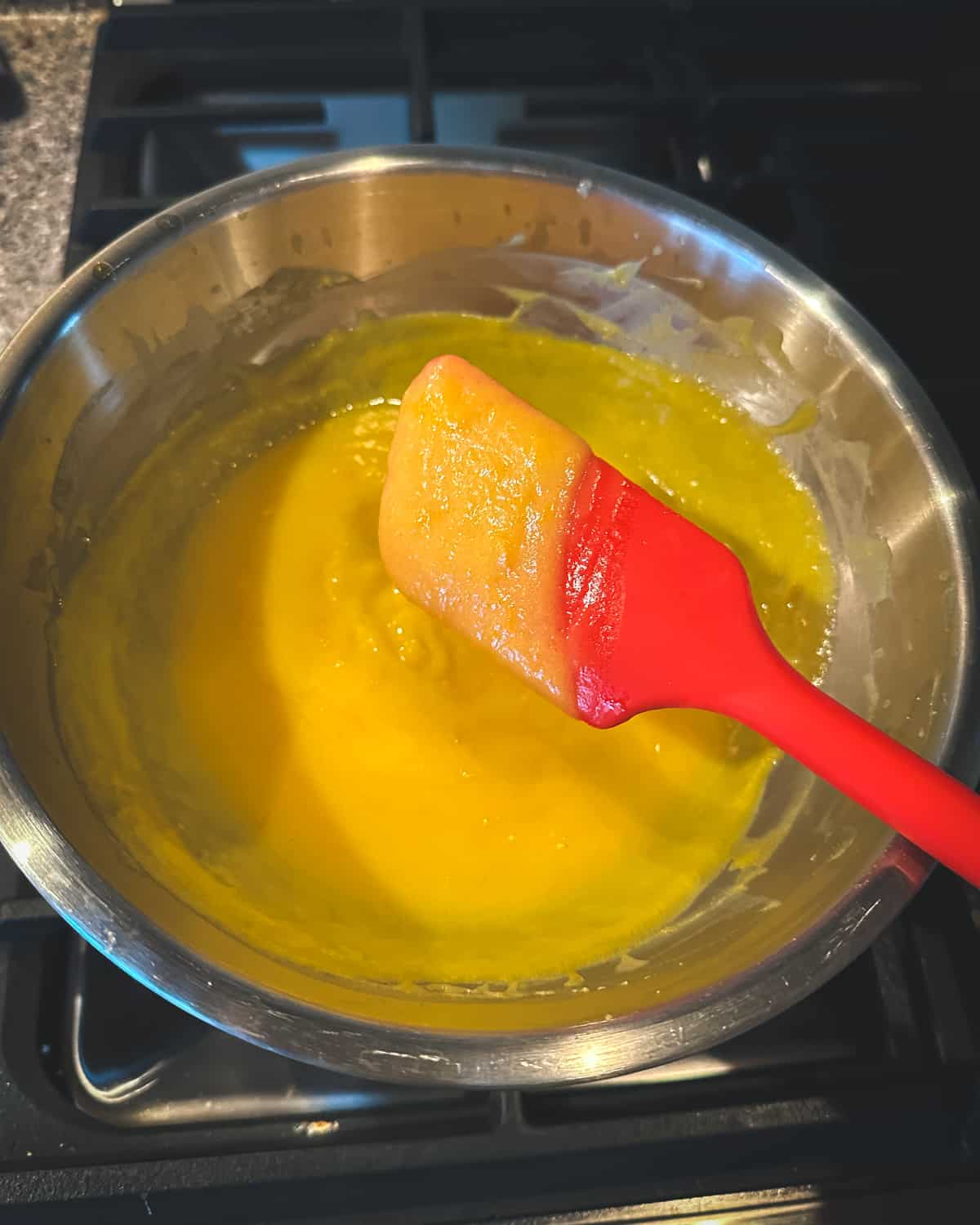 The orange curd will continue to thicken as it cools down.
How to Store Homemade Orange Curd
Pour the finished orange curd into jars to finish cooling, and then store it in the refrigerator. It will keep for about 2 weeks.
Another storage option is to freeze the orange curd so it will last longer and eat one jar at a time.
If you would like to can citrus curd, the process is a little bit different, but it can be done!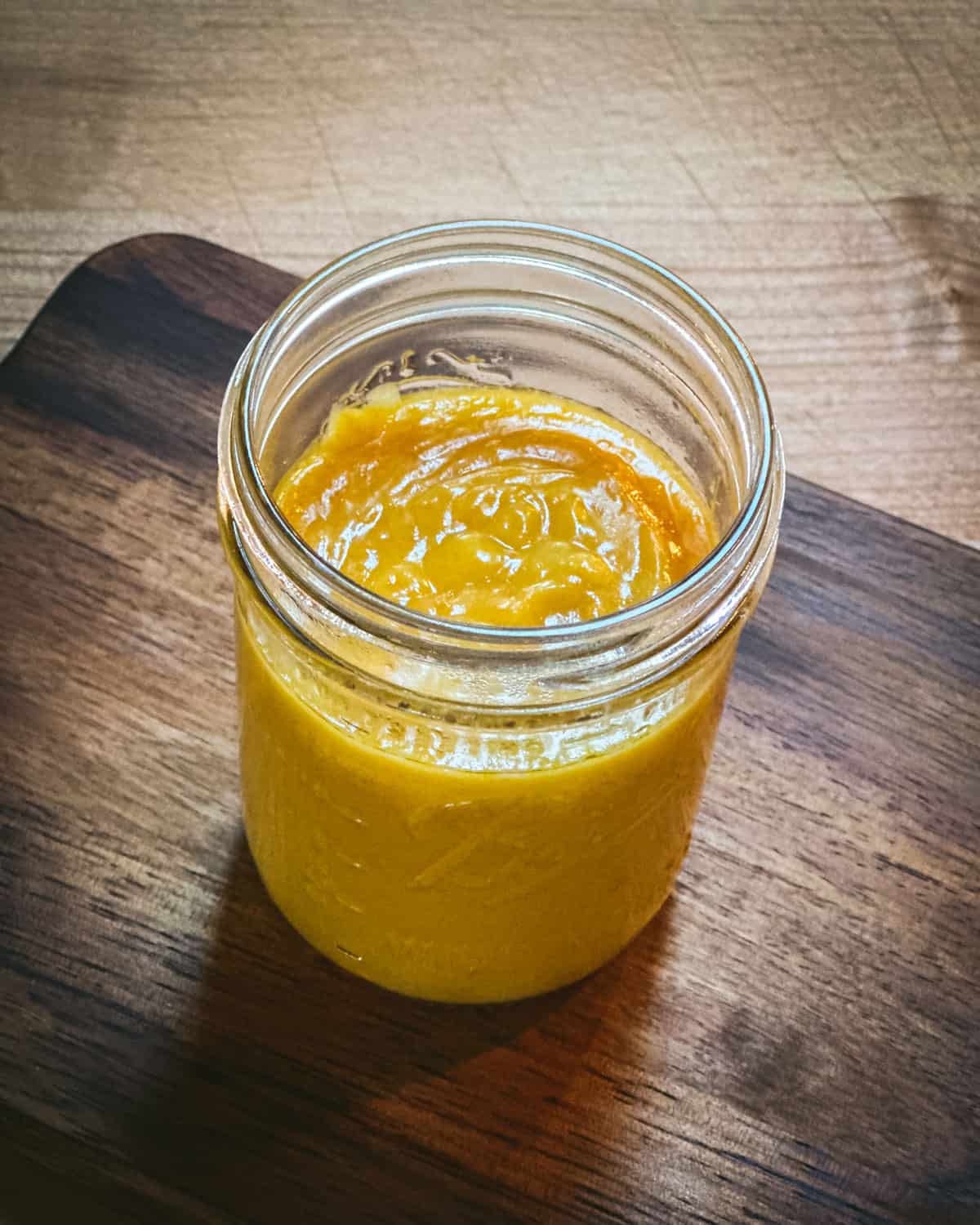 Best Ways to Eat Orange Curd
This citrus season curd has a bright and refreshing tart and sweet taste that is a perfect balance.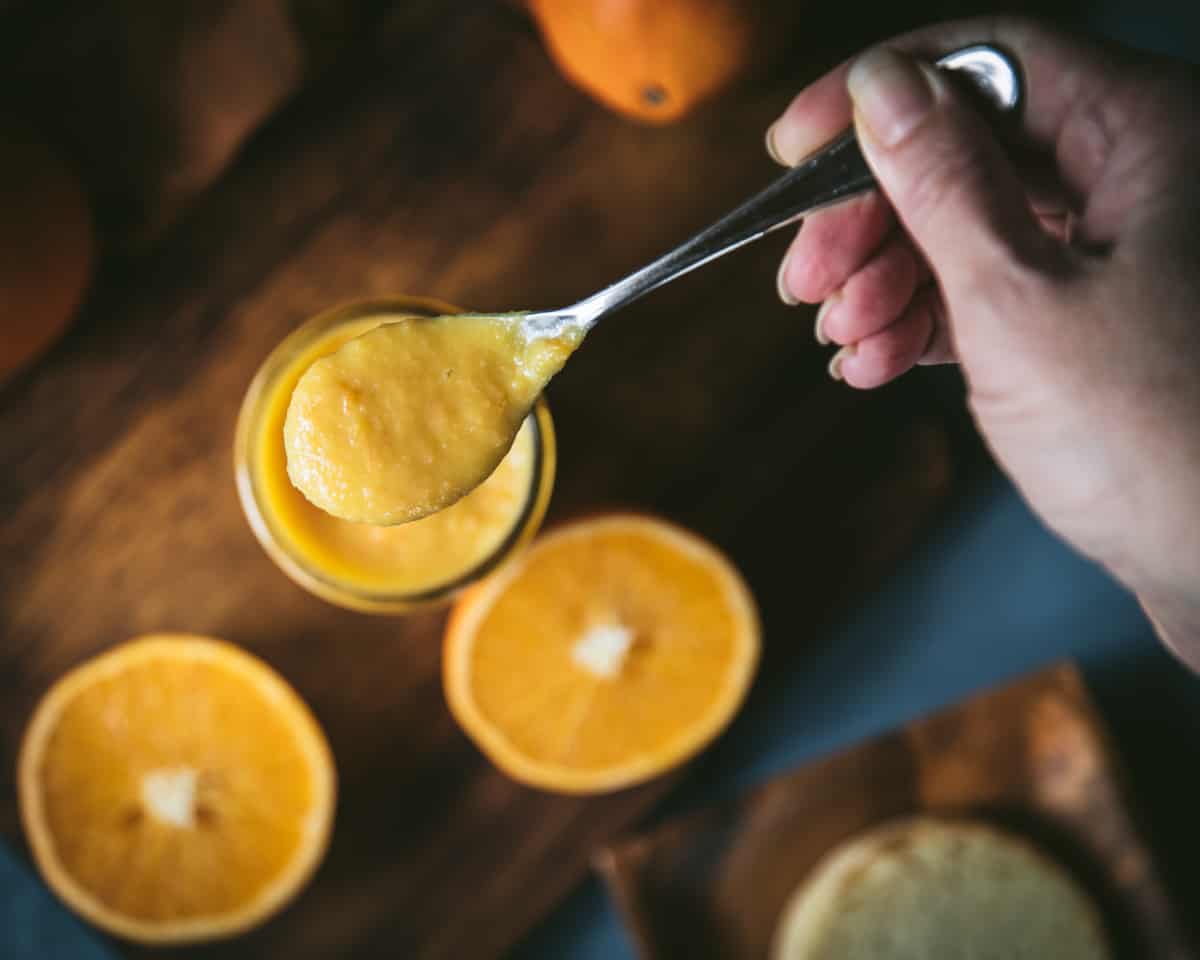 It has a yogurt-like consistency and a beautiful color, making it ideal for drizzling or spreading on toast, an English muffin, a scone, or even on top of vanilla ice cream.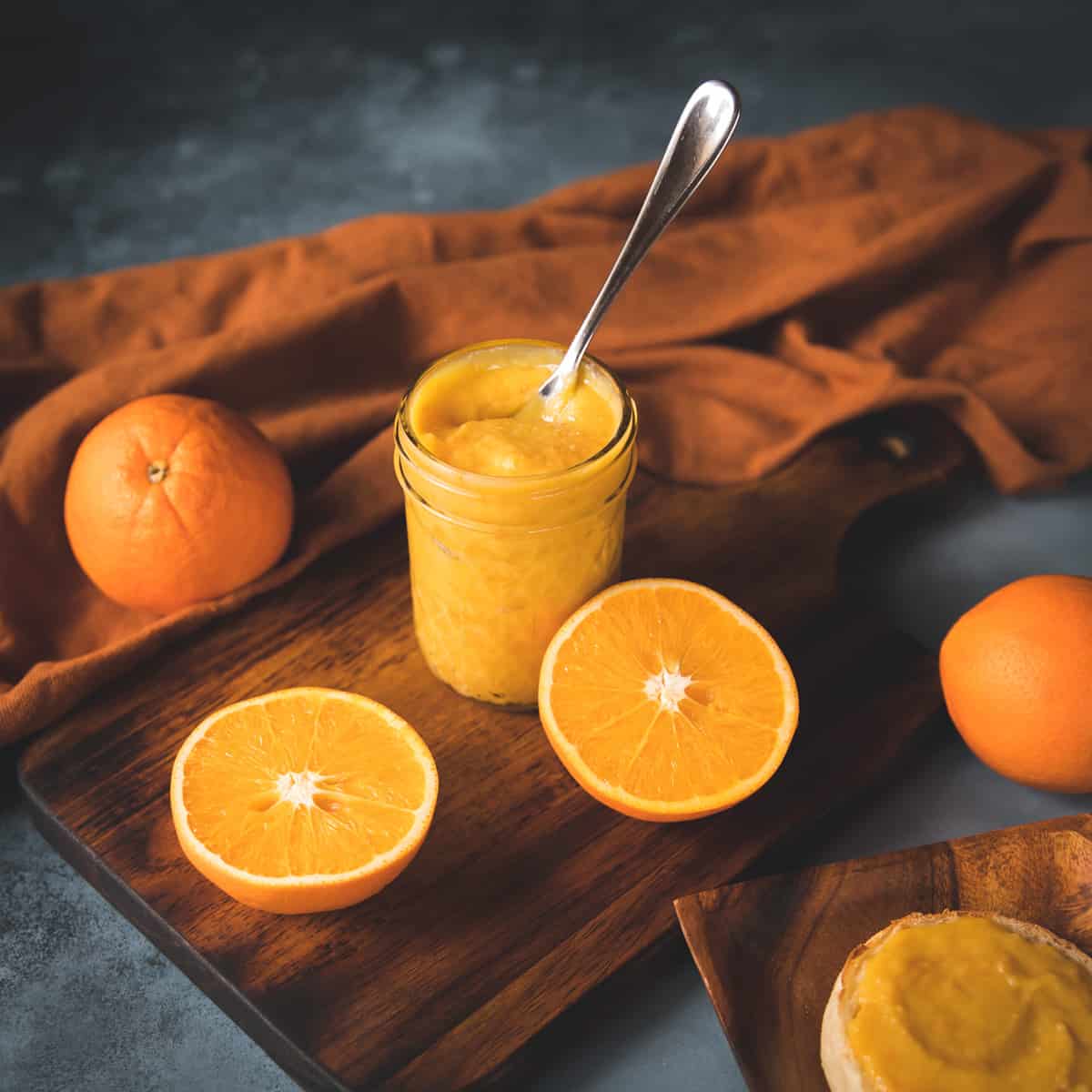 Other popular ways to use orange curd are in an orange curd tart, or on top of a cheesecake. It also adds a tasty kick to pancakes or waffles, and is great for dipping too!
I hope this recipe brightens up your day, snow, rain, or shine!
Looking for more citrus recipes? Try these:
Orange Curd
This easy orange curd recipe is a citrus season bright spot with a flavor that is balanced between tart and sweet, the star of your winter day!
Ingredients
Instructions
Zest the orange using a microplane, then juice the oranges until you have one cup of juice. 

Simmer the orange juice over medium heat until reduced by half. 

Cream the butter and sugar in a metal bowl. Add in the egg yolks and eggs one at a time, whisking after each one.

Stir in the zest and pinch of salt, then slowly add in the orange juice and lemon juice, stirring as you go. 

Fill a saucepan with a few inches of water and bring to a simmer over medium heat. Place the metal bowl on top of the saucepan for a makeshift double boiler. Stir the curd constantly so it doesn't curdle. 

Continue to heat the curd and stir frequently for about ten minutes. It should thicken as it cooks.

Once it has thickened enough to coat the back of a spoon, it's done. It will continue to thicken as it cools. Pour into a pint jar and refrigerate. It will keep for up to 2 weeks.
Notes
You may substitute lemons, limes, or grapefruit for the oranges.
Store bought orange juice will work if you don't have fresh squeezed.
The day you're going to make this curd, try to remember to pull the butter and eggs out of the fridge to let sit at room temp for a few hours.
Nutrition
Serving:
2
Tablespoons
|
Calories:
104
kcal