Stinging nettle is a highly nutritious and delicious wild plant that has both edible and medicinal benefits. Once cooked, the sting is dissipated and it can be eaten like any leafy green. There are many amazing and unique ways to use nettle. Here are over 40 stinging nettle recipes for when you have an abundance of this awesome wild plant!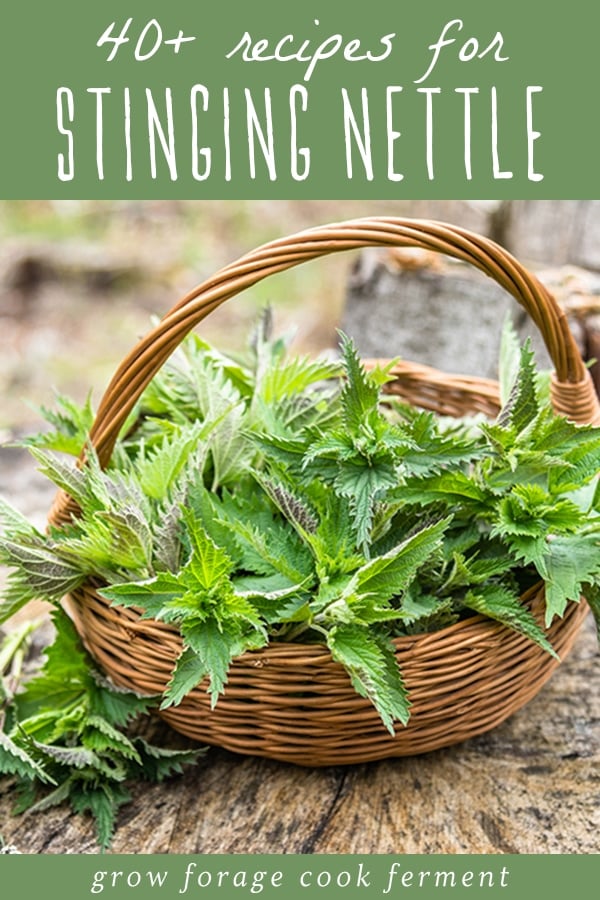 ---
Wildcrafting Weeds
If you want to learn more about the edible and medicinal weeds that surround us and how to use them, check out my eBook: Wildcrafting Weeds: 20 Easy to Forage Edible and Medicinal Plants (that might be growing in your backyard)!
Gather & Root Online Foraging Course
My online foraging course is a great way to learn about wild edible and medicinal plants! Sign up to learn more about the gather + root online foraging course here.
---
Foraging and Using Stinging Nettle

With a little planning ahead and safety precautions in place (I'm talking about gloves here!), you'll be foraging for stinging nettle, an extremely nutritious wild plant that can be used medicinally to relieve what ails you.
If you're not convinced you want to mess around with an edible herb that can sting you, rest assured, I was in your shoes not that long ago.
However, after undergoing a few stings to my hand, it actually wasn't as bad as I thought and was only uncomfortable for a few hours. That said, some people do have a stronger reaction to the sting of nettle than others.
The good news is that once nettle is cooked, steamed, blanched or dried the stinging compound completely goes away.
Thankfully so, because this incredible superfood is full of vitamins and minerals! Nettle is especially high in vitamins A, B complex, C, K, iron, potassium, calcium, and manganese.
Nettle is found across much of the world, but is particularly prolific here in the Pacific Northwest.
If stinging nettle doesn't grow in your area, head over to Mountain Rose Herbs, my favorite place to buy high quality, organic herbs.
Stinging Nettle Recipes
Here are some great recipes to make with your foraged or dried stinging nettles!
Stinging Nettle Drinks
Dry some of your stinging nettle for this recipe for nettle-ade! It's paleo-friendly and can be made easily with ingredients you probably already have on hand. It's delicious and perfect for a hot day!
A nettle cordial requires nettle tea, like the nettle-ade above, but is steeped for 24 hours to extract the maximum amount of nutrients and has wild ginger added as an extra medicinal bonus. Try adding it over ice with some whiskey for a great libation!
This nettle and pine needle tea sounds delightful and right up my alley! (Yes, pine needles are edible too). Plus it's simply relaxing to look at.
Blend banana, cucumber, coconut milk, avocado, pineapple, and a healthy dose of nettle leaves together for this paleo and vegan friendly stinging nettle smoothie. This is the stuff of tropical dreams that's reminiscent of a warm night on a beach with my toes buried in the sand.
For an alcohol beverage, try making this nettle beer that has a lemony tanginess to it. It's simple to make and you could be sipping on it in less than two weeks from when you harvested your nettles!
Stinging Nettle Sweets & Baked Goods
Let's say you made a batch of nettle-ade and are thinking of composting the leftover nettles, but wonder how you can reuse them.
Instead of discarding them, give them a second life in this stinging nettle fruit leather recipe with apple and pear. What a great way to create less waste!
Or try these raw chocolate cupcakes with nettle icing! Now that's a cupcake I gotta try.
Tasked with baking and decorating a beautiful cake? Look no further than this gorgeous nettle and lemon cake with lemon icing and blackberries.
Take a look at this delectable and creative nettle cake that is an ode to moss gazing! How cool is that?
For something on the savory side of the spectrum, try this easy nettle bread or sourdough rye nettle bread. Maybe whip together some lemon juice and butter to adorn a slice perhaps?
Another option are these thick and cheesy savory nettle scones that would be great smothered in butter.
This savory nettle spanakopita Greek pastry is a creative way to use your foraged nettles. Check out all those flaky layers!
Pancakes are a very popular addition to lunch and dinner in Scandinavian countries and are often served savory, like these stinging nettle pancakes.
However, you can easily make them sweet by adding a bit of sweetener to the batter or by serving them with a jam, syrup or both!
These delicious looking nettle crepes can also be sweet or savory, your choice!
Stinging Nettle Savory Dishes
In 2007, a recipe for ancient nettle pudding was declared Britain's oldest recipe. The list of ingredients consisted of sorrel, watercress, dandelion, nettles, and barley that is simmered in a pot of boiled wild game meat.
8,000 years ago humans were taking full advantage of the wild edible and medicinal plants in their area and not disregarding them as a nuisance that needed to be eradicated from their backyards! But I digress.
Sometimes all you need is a crisp and crunchy snack to be satisfied midday. These stinging nettle crisps scratch that itch and are an excellent alternative to store bought chips. Try switching up the spice combinations with some of your favorite flavors!
As a delicious start to any meal on days when the weather turns cooler, try this ultra creamy nettle soup with garlic and potatoes!
This chicken and nettle pie looks and sounds incredible and would be another great option for those spring days that suddenly take a colder turn.
Or try this beautiful gluten free nettle leaf and cheddar tart!
In Asia, a congee is rice simmered in a broth and is a dish that's eaten every day. This nettle congee is the perfect way to utilize some of the ingredients in your refrigerator that are on the cusp of becoming compost.
You could also try this super green nettle risotto. Seasoned forager Hank Shaw says that it rocks and I believe him!
Want to try making your own pasta? It's hard to get this nettle ravioli or homemade nettle pasta recipe wrong. Serve both of them with melted butter, parmesan cheese, or even this nettle pesto.
Get even fancier with this nettle tortelli in mushroom broth, or this amazing sounding nettle gnocchi!
Short on time during a busy work or school night? Quickly saute stinging nettles in minutes.
You can also steam nettles, add toasted sesame seeds, and chive blossoms as another great way to switch up your work day lunches. Try meal prepping one day a week so you'll always have a healthy dish ready on hand.
In three to six weeks time you could be the proud user of stinging nettle vinegar in marinades, vinaigrette dressings, or even as a hair rinse!
Ah, pizza how I love you. Topped with an over easy egg, this wild nettle pizza looks fantastic and has me practically salivating at how scrumptious it is.
What goes best with fresh seafood? That would be nettle butter, of course! Slather the goodness on salmon or melt and use it as a dip for crab meat.
Start your morning right with this hearty nettle and cheddar cheese omelet. A side of easy no knead sourdough bread, anyone?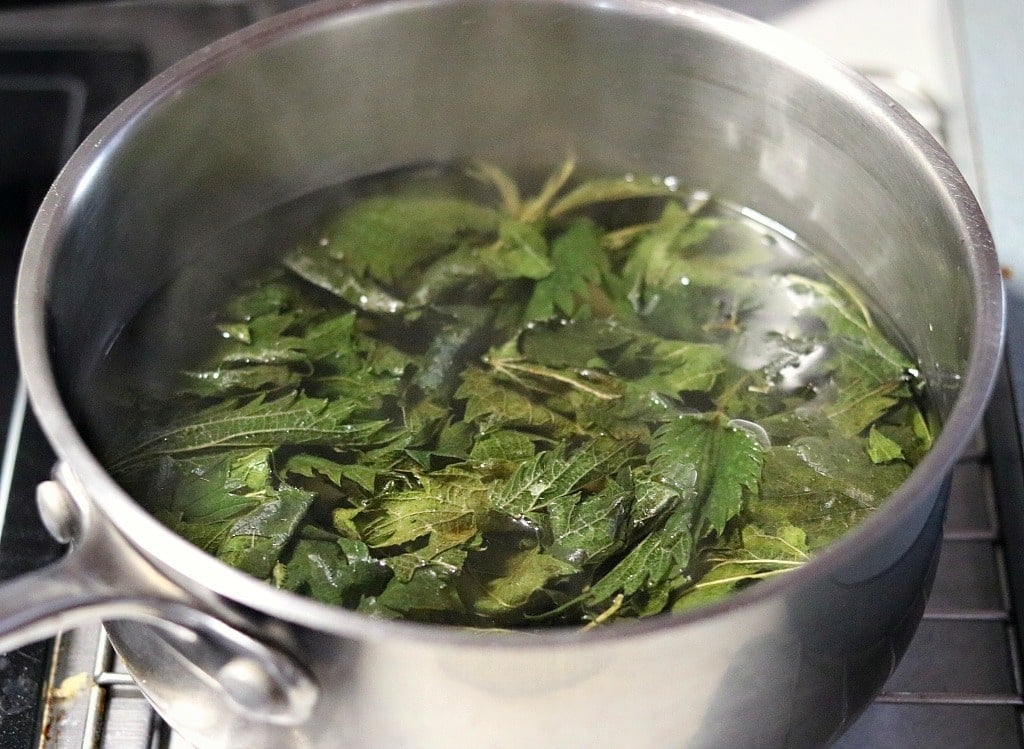 Stinging Nettle Remedies
Stinging nettles are antioxidant, anti-ulcer, antimicrobial, astringent, and diuretic. They can also treat an array of inflammation issues that occur in muscles or joints, as well as skin problems like acne and eczema.
When flu season is around the corner, don't forget about your friend, stinging nettles! Brew up a mug of this immune boosting sore throat tea and say so long to that cold.
A fizzy clay facial cleanser made with nettle powder is an effective remedy to treating hormonal acne and removing built up oils on the skin. Dabbing brewed nettle tea turned toner onto your skin has been shown to be successful in aiding those problematic areas.
In addition to being great for skin, stinging nettles have been used for centuries as a hair and scalp treatment that promotes growth and thickness. Try making this strengthening nettle vinegar hair rinse to reap its benefits.
One of the best ways to utilize the benefits of nettle is to make a nourishing nettle infusion. I drink this instead of taking a multivitamin and it makes me feel great!
Infusions for kids probably aren't the first thing to come to mind when thinking about preparing stinging nettles. If your child is spending a full day at school or outside playing, give them a beneficial mineral boost with a nettle, hibiscus, and raw honey tea that they'll for sure love.
Because of stinging nettle's anti-inflammatory qualities, it's also extremely useful for seasonal allergy relief! Try making some nettle powder or a tincture and sneaking it into all your favorite foods.
You can also fill capsules with the powder and take them orally to relieve congestion, sneezing, and itching that can occur with hay fever. A lot of grocery stores and pharmacies now sell herbal allergy-aid remedies with nettle as one of the potent ingredients.
If you've read this far, you must feel compelled to get out in the field and start foraging for and using stinging nettles! Now that you've perused through some of my favorite nettle recipes, which ones are you most excited about trying?