This traditional hummus recipe gives you that authentic texture and flavor of restaurant style hummus. It really is the best hummus ever!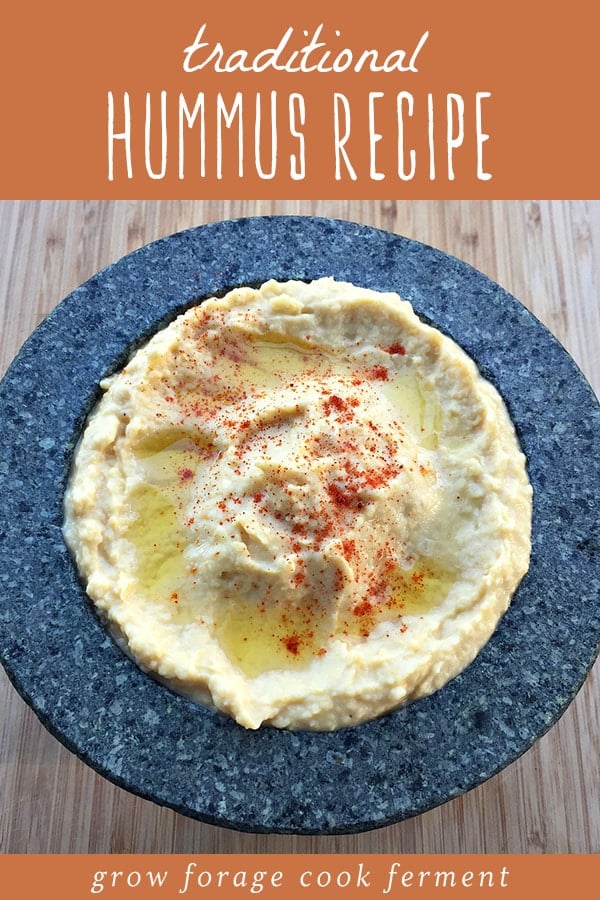 Homemade Traditional Hummus
I know a thing or two about hummus. I got turned onto the store bought version long before it was popular, and shortly thereafter starting making my own.
At first I would use canned chickpeas, then I got fancy and started cooking beans from scratch.
My homemade hummus was really good, but never quite as good as what I was served in restaurants. There was some kind of magic in that stuff, or so I thought!
Then, several years ago, I was introduced to real hummus by a good friend of mine who had spent some years in Lebanon. She made it herself and she had that magic!
I had to know how to do it, as this was the best hummus I had ever tasted. Now I'm going to share this wonderful traditional hummus recipe with you! You can thank me later.
Tricks to Making Authentic Hummus
As it turns out, I was using all of the right ingredients in my own homemade hummus recipe, just the wrong amounts and the wrong method.
There are a few simple processing tricks that give traditional hummus that smooth texture and really bring out the flavor.
The first trick is to heat the chickpeas in a pot before making the hummus, even if they are canned. This helps with the consistency of the hummus and gives them a creamier texture.
The second trick is to run the heated chickpeas through a food mill to remove the skins. This is what gives it that super creamy and rich texture that you will find in restaurants.
The third trick is to use a mortar and pestle to smash the garlic and salt together before mixing them with the other ingredients, which seems to really give it an amazing flavor.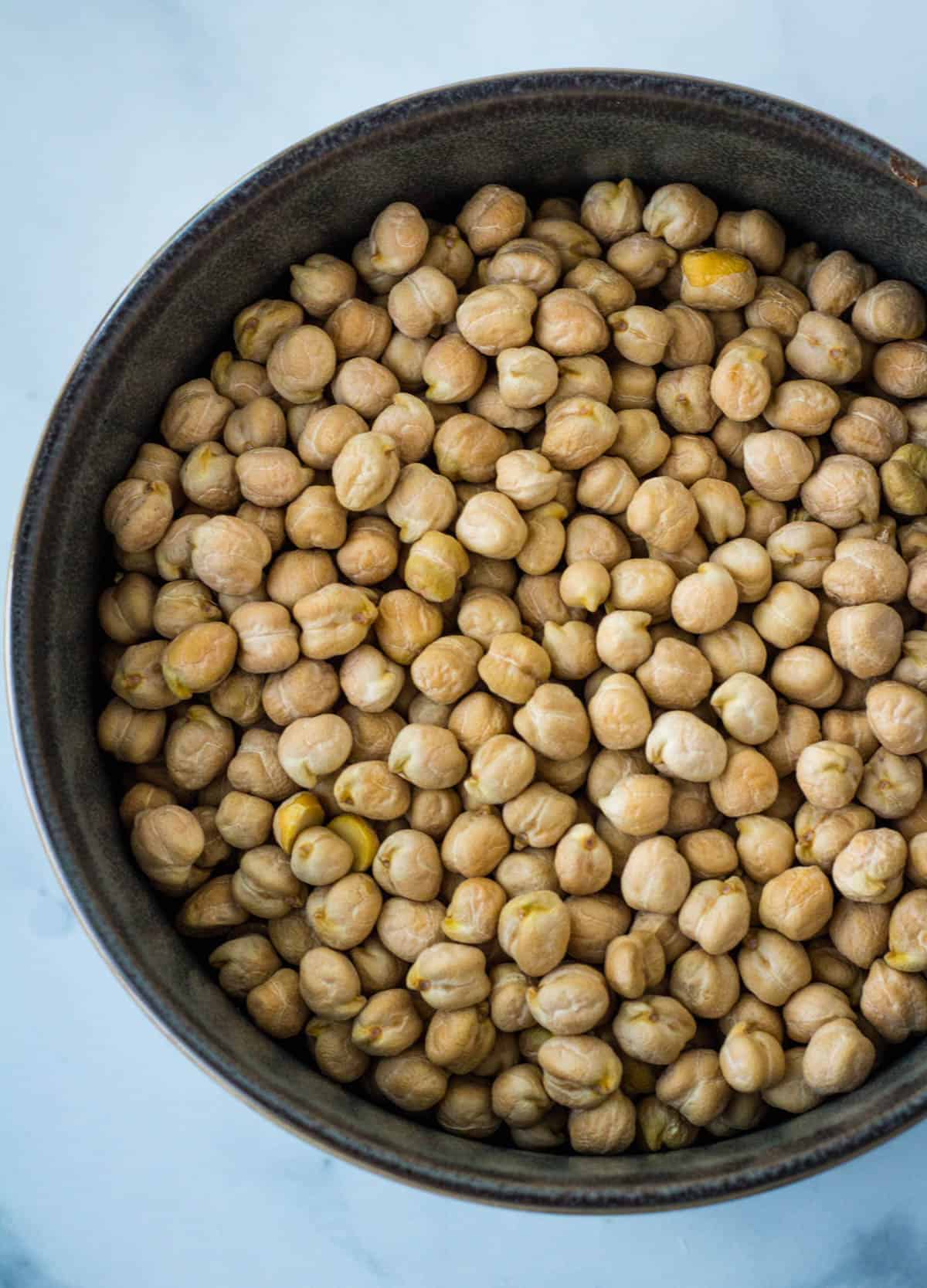 Steps to Making Traditional Hummus
This hummus isn't quite as simple as just throwing a bunch of ingredients in your food processor and calling it good.
There is a bit more work that goes into it, but it is so worth it, and not hard at all.
Heat the Chickpeas (Garbonzo Beans)
You can use either canned chickpeas (also known as garbonzo beans) or you can cook them from dried beans. Cooking them yourself is probably the best option taste wise, but I've done it with canned and it works just fine.
The first step is to make sure that you are working with fully cooked and hot chickpeas.
If you are cooking the chickpeas yourself, be sure that they are totally soft. If they have already cooled, heat the 3 cups called for in this recipe in a small pot with some of the cooking liquid.
If you're using canned chickpeas, heat them up in a pot with their liquid as well.
Once the chickpeas are hot, strain them and reserve some of the liquid.
Run the Chickpeas Through a Food Mill
Put about half of the heated chickpeas into a food mill and start processing them over a bowl.
It might seem to take a bit until anything is happening, but eventually a chickpea mash will start to come out, while the skins stay behind.
It's helpful to add a very small amount of chickpea liquid as needed to get the beans going through the food mill.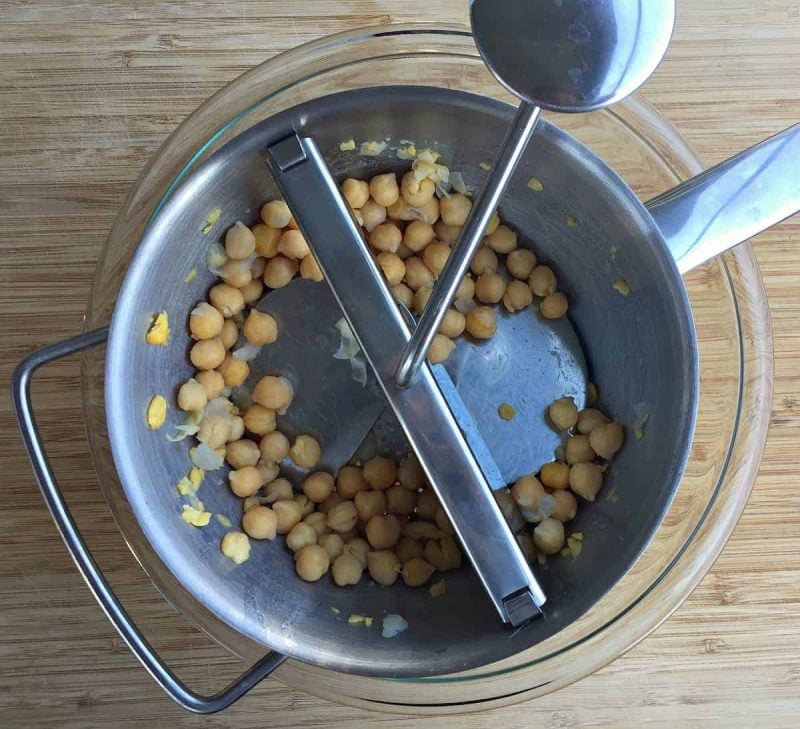 Soon there will be nothing left in the mill except the chickpea skins. Remove them and repeat the process with the other half of the chickpeas.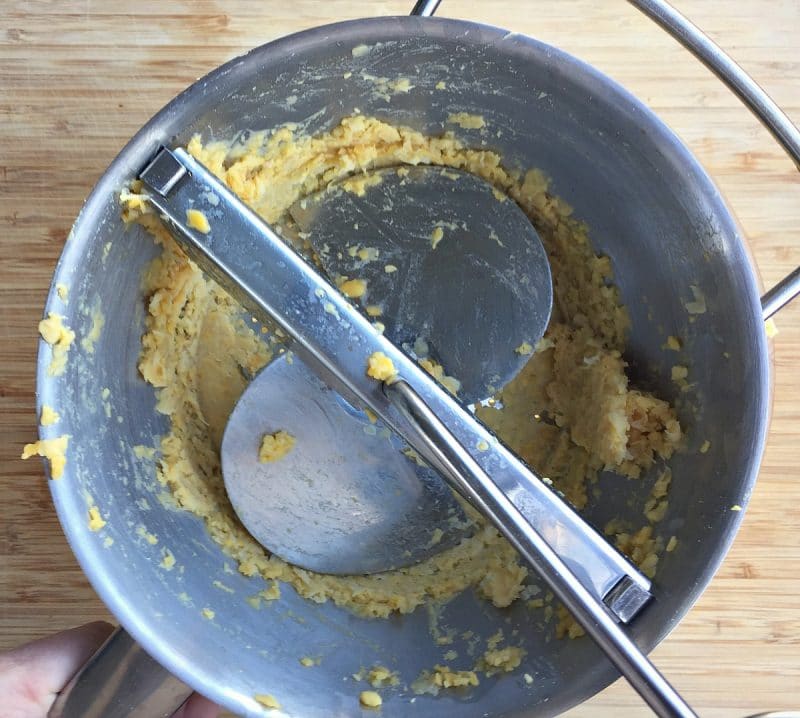 The bowl underneath the food mill will be filled with your little bits of chickpea mash.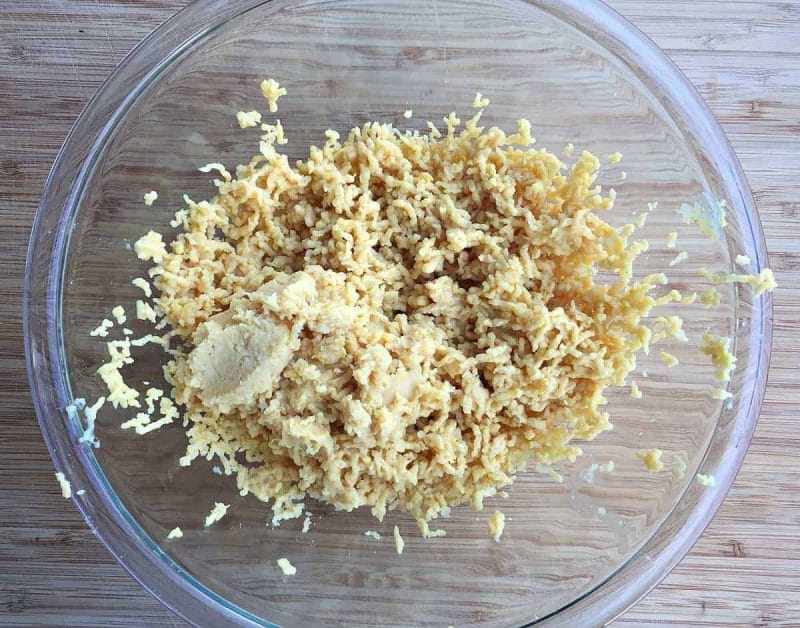 Make the Garlic/Oil/Tahini Mixture
Set the bowl of chickpea mash aside, bring out the mortar and pestle, and put the garlic cloves and salt into the bowl (mortar). Mash them together with the pestle until you have a uniform garlic/salt paste.
If you don't have a mortar and pestle, this can also be achieved by first mincing the garlic and then using the flat side of a large chef's knife to grind the salt into it.
Then stir the lemon juice, tahini, and olive oil into the garlic/salt paste until it is all completely mixed together.
A little more than ¼  cup of olive oil is usually necessary, so add a tablespoon or two more and mix it in.

Then add the garlic/oil/tahini mixture to the chickpea mash and stir it all together very well.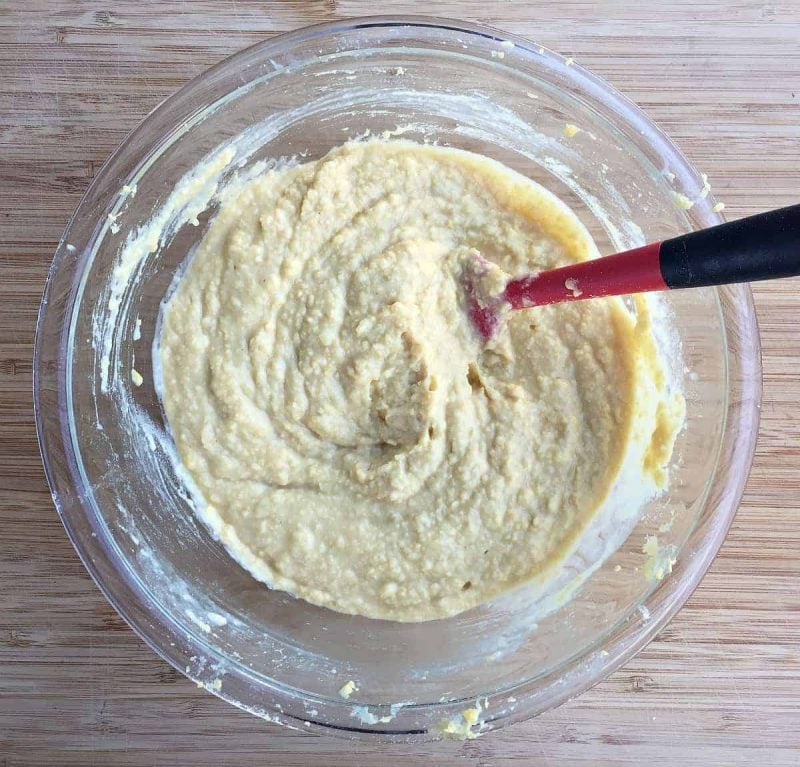 Taste and Adjust Flavors
Now, this is where a little bit of personal taste and intuition come in.
Taste the hummus and determine how the flavors are balanced. Does it need more salt? Is it acidic enough or need more lemon juice? How is the tahini level?
Adding a little more olive oil is usually warranted, but use your taste buds to decide if it may need a bit more of any other ingredient.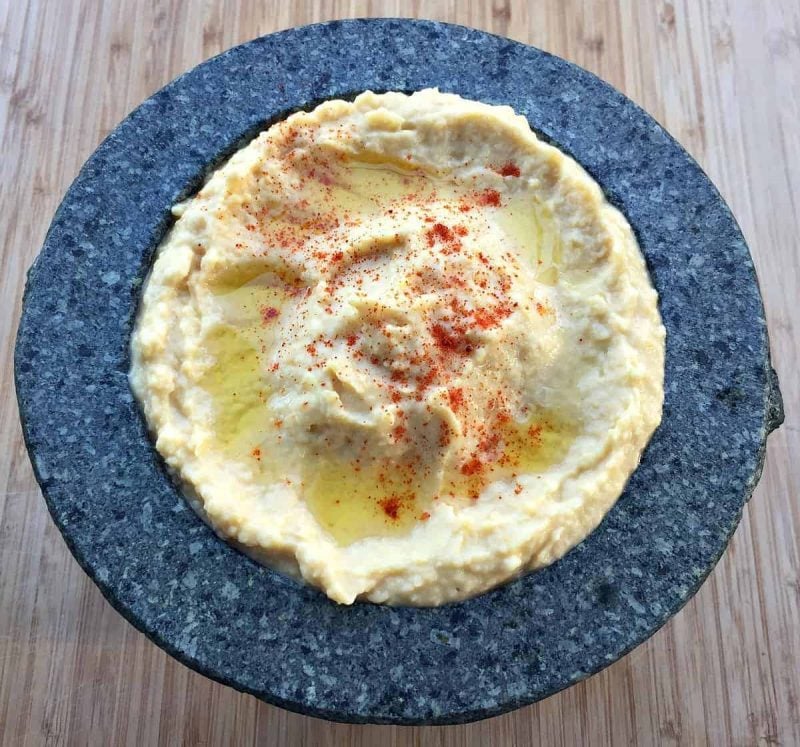 Garnish and Serve the Hummus
Once it's to your liking, put the finished hummus into a serving bowl or container of some sort. I like to serve it in the mortar because it looks cool.
Garnish with a drizzle of olive oil and a sprinkle of paprika. Adding some pine nuts to the top is nice as well.
If you can handle it, cover the hummus and let it sit for a while for the flavors to meld before digging in. If it will be longer than an hour or so, put it in the fridge.
I always have to have some right away, but then I can usually hold off!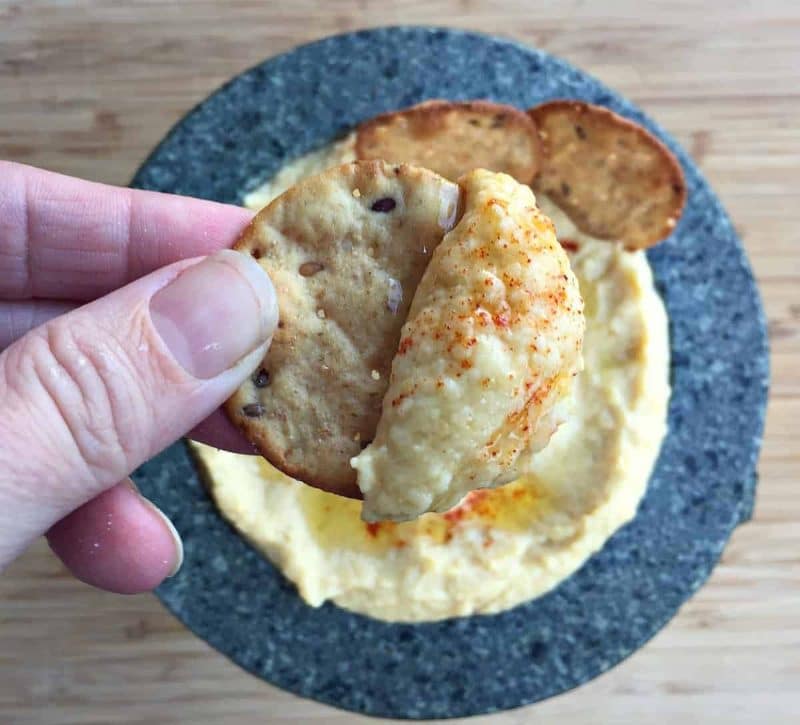 This is seriously the best hummus ever!
I feel so lucky to be given the knowledge of this traditional hummus recipe. This is how I will always make my hummus from now on. I can't even look at the store bought stuff anymore! It doesn't even compare.
I'm really looking forward to enjoying it with some sourdough naan! It would also be a nice accompaniment to roasted olives with rosemary and garlic. The perfect appetizer plate!
Now that we've gotten this far, you should probably watch this hilarious video about hummus called All About That Paste. Enjoy!
Traditional Hummus Recipe
This traditional hummus recipe gives you that authentic texture and flavor of restaurant style hummus. It really is the best hummus in the world!
Ingredients
3

cups

cooked chickpeas

canned or cooked from dried

4

cloves

garlic

1

tsp

salt

1/4

cup

fresh squeezed lemon juice

1/4

cup

tahini

1/4

cup

extra virgin olive oil

plus extra for drizzling

paprika

for garnish
Instructions
Heat the chickpeas in their liquid in a small saucepan. Strain the chickpeas, reserving some of the liquid.

Place half the chickpeas into a food mill and start processing them into a bowl. Add a very small amount of chickpea liquid to get the mash going. 

Process until all of the chickpeas are mashed and only the skins remain. Remove the skins from the food mill and repeat with the remaining chickpeas. Set the mashed chickpeas aside. 

Place the garlic and salt into a mortar then grind with a pestle until you have a garlic/salt paste.

Stir the lemon juice, tahini, and olive oil into the garlic paste until smooth.

Add the garlic/oil/tahini mixture to the mashed chickpeas and stir until mixed well. Taste the hummus for seasoning and adjust to personal preference with more salt, olive oil, or lemon juice. (I usually stir in a little more olive oil).

Transfer to a serving bowl and drizzle with additional extra virgin olive oil and paprika.
Notes
You can use either canned chickpeas or you can cook them from dried beans.
The hummus gets better after sitting in the fridge for at least an hour.
Serve with sliced vegetables or chips. 
Nutrition