Homebrewing your own hard cider is fun, legal, and safe (that is, if you don't imbibe too much). However, it is often the case that one will come across recipes for other kinds of homemade alcoholic drinks during the researching period. When I was looking into all the different ways to make hard cider, I came across applejack, which is a stronger form of hard cider. But, the further I dug, I discovered that there are questions as to whether applejack is legal, and even more questions regarding its safety.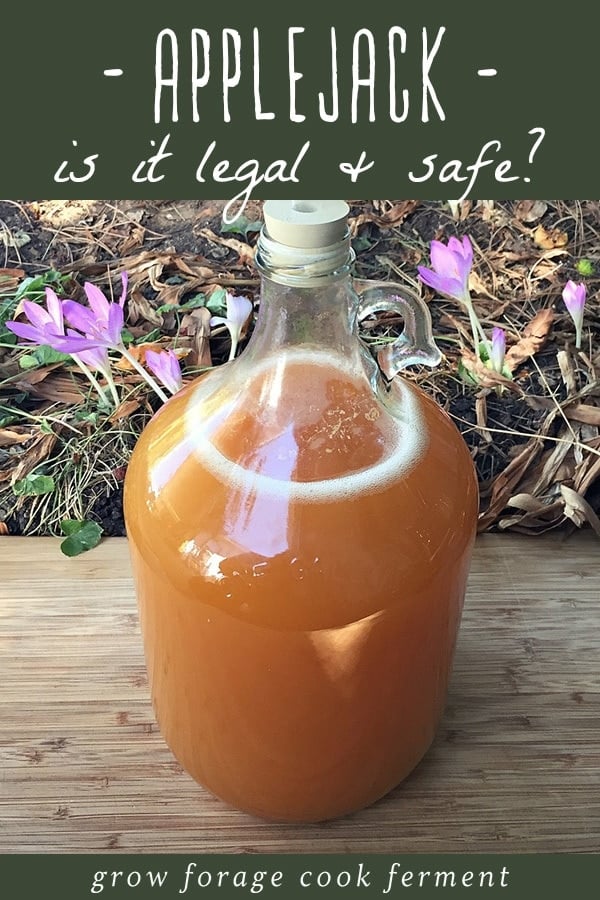 What is Applejack?
Applejack is basically a condensed form of hard cider. It is made by freezing the cider and removing the ice crystals that form.
Alcohol freezes at a much lower temperature than water, so it remains in a liquid state.
Applejack was historically made during colonial times, when large barrels of hard cider were left outside over the winter in the cold climates of New England.
Large chunks of ice would form and be removed, thereby concentrating, or "jacking" the cider.
Applejack was a whole lot easier to make than distilled liquors, and didn't require any special equipment. This made it a very common and popular drink of its time.
Based on the amount of apples that we got off of our single tree, I can also imagine that this was a great way to not let a surplus of apples go to waste.

Is Applejack Legal?
This is the big question, and one that is not answered easily.
The term that is used most often when referring to the process of making applejack is freeze distillation. In the eyes of the law, distillation in any form is not legal.
But, to make matters more complicated, freeze distillation is not really distillation at all. The process is completely different, and the more appropriate term is freeze concentration.
In the United States, freeze concentration of beer is legal. It is called ice beer, or sometimes eisbier as it was originally produced in Germany.
There are some regulations on how much water you can freeze out of beer, but it is legal and can be made by homebrewers.
Why the laws wouldn't be the same for hard cider is an interesting question, especially since the alcohol content of hard cider is often similar to beer.
I've seen in forums such as this reddit thread where others have contacted the TTB (Alcohol and Tobacco Trade Bureau) with questions on the legality of applejack. The response always seems to be that applejack is illegal, but ice beer is legal.
I tried to contact the TTB myself on more than one occasion to get a straight answer, but still haven't received a response. If they do contact me, I will update this post with any information that they can provide.
Regardless, even if it is illegal (which it most likely is), I seriously doubt you'll have any law enforcement knocking down your door for personal consumption of applejack.
But, you never know, and it's still nice to know what the law is.

Is Applejack Safe?
This brings me to another point. Even if there weren't any legal ambiguities, is this a drink that is worth the effort and, most importantly, is it safe?
I thoroughly love a nice glass of homebrewed hard cider. Every batch turns out a little bit different than the last, and that variation is nice.
Sometimes it's a little funky, especially when using wild yeast, but I've never had a batch be completely undrinkable.
Freeze concentrating will amplify all of the flavors, good and bad, and produce an extra harsh drink that may or may not be enjoyable to drink.
Besides concentrating flavors, freezing will also concentrate methanol, fusel alcohol, and other impurities. True distillation separates these out, so isn't a concern.
Methanol is highly toxic and unfit for consumption. This may be why drinking large amounts of applejack has such a reputation of being very harsh on your system and causing horrible hangovers.
Applejack has even been thought to cause "apple palsy" which can cause blindness.
There is some question as to how much methanol or other impurities are actually in hard cider (or homebrewed beer, wine, or mead) to begin with.
There may be little to none. But, if there is some in cider, freeze distilling it will make it more concentrated and possibly dangerous.

Should You Make Applejack?
Honestly that is up to you.
I tried making it once many years ago before I did much research, and the biggest hurdle for me was trying to fit a gallon of hard cider in my freezer.
Of course, if you live in a cold climate this isn't so much of an issue, as you can just put it outside overnight in freezing temperatures.
Beyond that, I didn't really care for how it tasted.
Then once I learned more about the possible illegality and safety issues, I decided to just enjoy my hard cider the way that it is. I don't really feel the need to concentrate it.
But that's just me.
I'm not here to tell anyone what to do or not to do, but I think a bit of knowledge about what applejack is, and if it's legal and safe is important to put out there.
Have you ever made applejack or other freeze concentrated alcoholic beverages?
Tell me about your experience!
---
Apple Recipes & More
Try these tasty apple drinks and recipes with fresh apples this fall!
---