When your yard is full of wild violet flowers in the spring, pick a handful and make this wild violet infused vinegar! This gorgeous purple wild violet flower infused vinegar is perfect to use in salad dressings, drinks, and medicinally as well.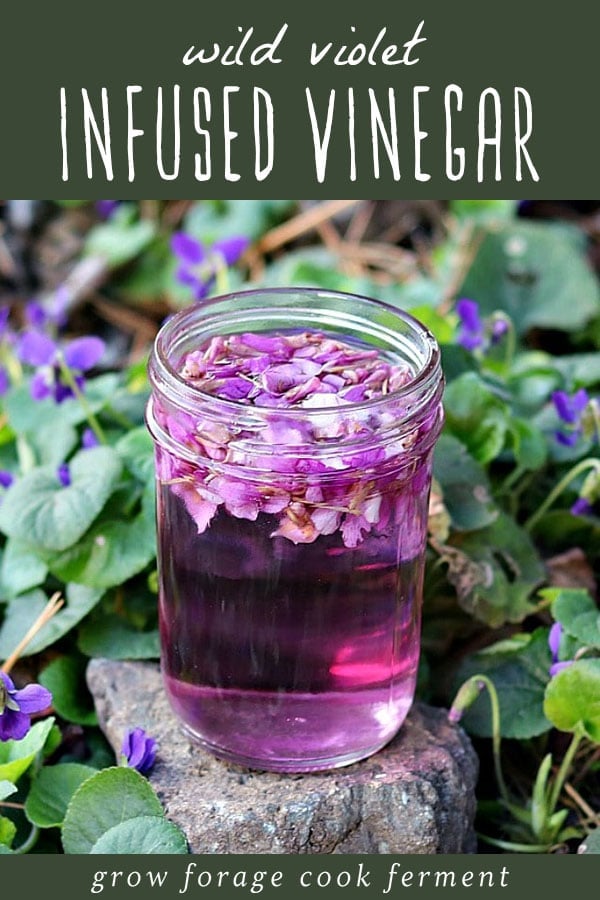 ---
Wildcrafting Weeds
If you want to learn more about the edible and medicinal weeds that surround us and how to use them, check out my eBook: Wildcrafting Weeds: 20 Easy to Forage Edible and Medicinal Plants (that might be growing in your backyard)!
Gather & Root Online Foraging Course
My online foraging course is a great way to learn about wild edible and medicinal plants! Learn more about the gather + root online foraging course here.
---
Harvesting Wild Violets
One of the first flowers to emerge in late winter and early spring are wild violets. We get them all over our backyard, so finding them is pretty easy!
Since we have so many, I decided that I better do something with them. After making wild violet soap and wild violet syrup, making wild violet-infused vinegar seemed like the next best option.
It's easy to make, has a beautiful violet color, and tastes wonderful. It also has some medicinal uses!
The first thing you need to make this vinegar is wild violet flowers, and they are usually easy to forage for.
All it takes is a big handful or two, depending on how much vinegar you want to infuse.
Related: What to Forage in Spring: 20 Edible and Medicinal Plants and Fungi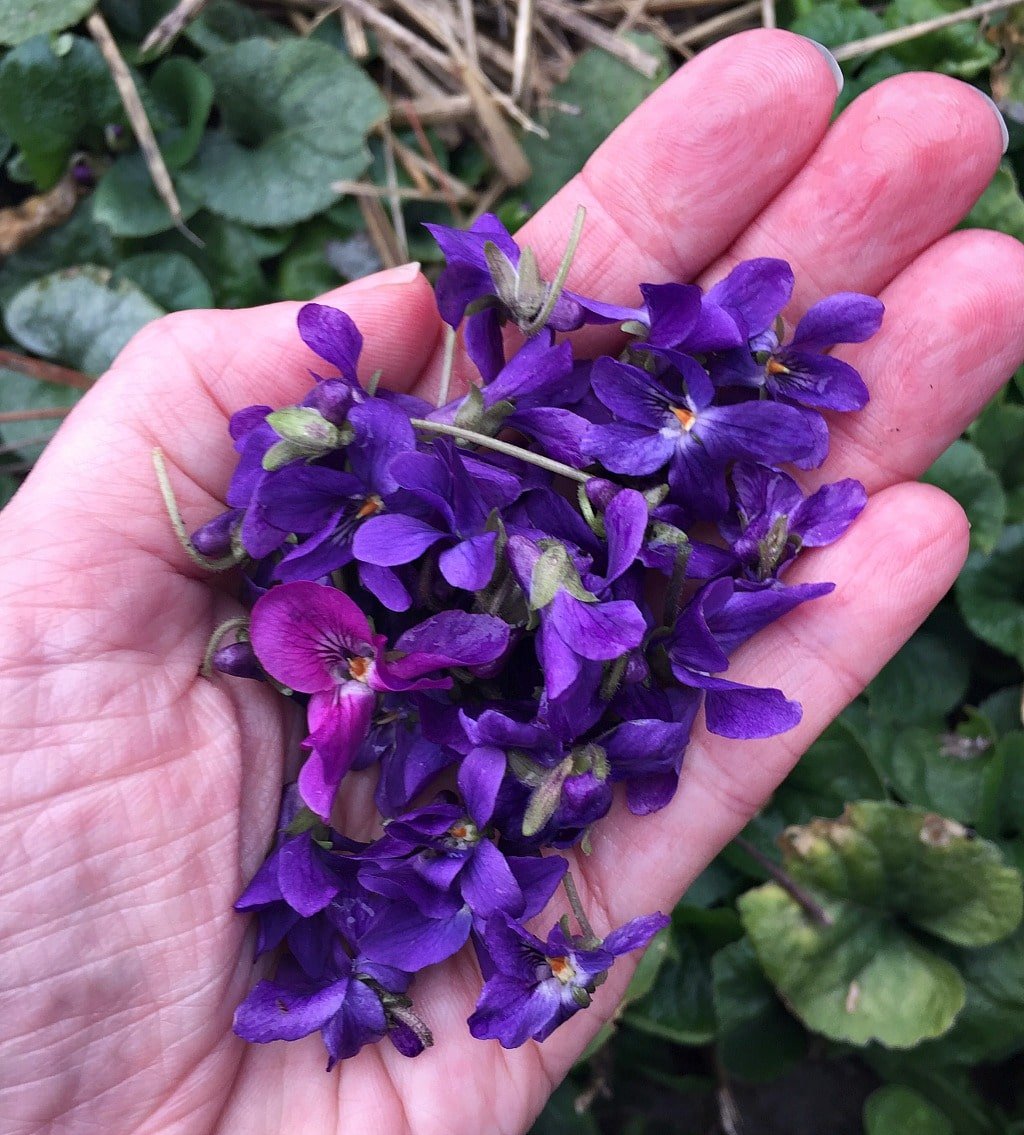 Wild Violet Infused Vinegar Recipe
Fill your jar about halfway full with violet flowers, then cover them with a high quality white vinegar.
I like to use white balsamic vinegar but you can use whatever you prefer.
Any size jar will work, depending on how many violet flowers you have access to and how much infused vinegar you want to make.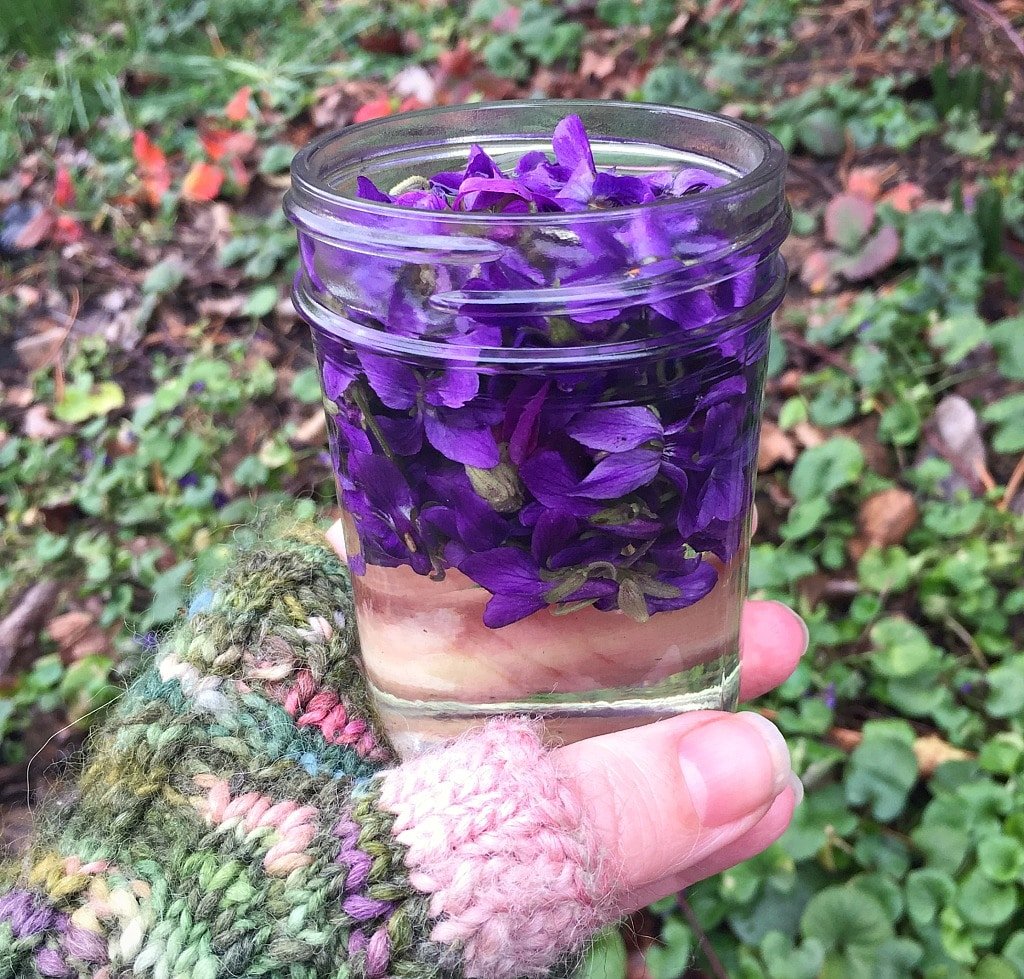 Then put a lid on the jar. If you are using a metal canning lid, put a square of parchment paper between the lid and the jar, as the metal can react with the vinegar.
You can also use these leak proof storage lids for mason jars.
Place the jar in a cool and dark place for a week or two. After a few days you will notice the vinegar turning a light shade of pink that will eventually get darker over time.
The flowers will begin to lose their purple color as it all goes into the vinegar. Pretty cool!
If you'd like to do a slightly quicker infusion you can follow the instructions here to heat the vinegar on the stove first.

How to Use Wild Violet Infused Vinegar
The most obvious way to use violet flower infused vinegar is in the kitchen.
It would make a lovely violet salad dressing, this is probably how I will use mine. Add a few fresh violet flowers to a salad and top it with this salad dressing and you've gone gourmet!
There are also some medicinal uses for violet vinegar. Violet flowers are high in many vitamins and are good for the immune system, so drinking a spoonful or two in water is a good way to help ward off sickness.
Violet flowers are also good for coughs and respiratory ailments. Try turning this vinegar into an oxymel to soothe your cough by combining it with equal amounts of honey.
Read about a few more ways to use violet vinegar here.
This violet infused vinegar is the perfect way to celebrate spring a little early if you have some wild violets around.
I think I'll be making this every year from now on!
For more delicious flower infused vinegar try these recipes: Dandelion Infused Vinegar, Chive Blossom Vinegar, Mountain Vinegar: Foraged Infused Vinegar Recipe and Nasturtium Infused Vinegar.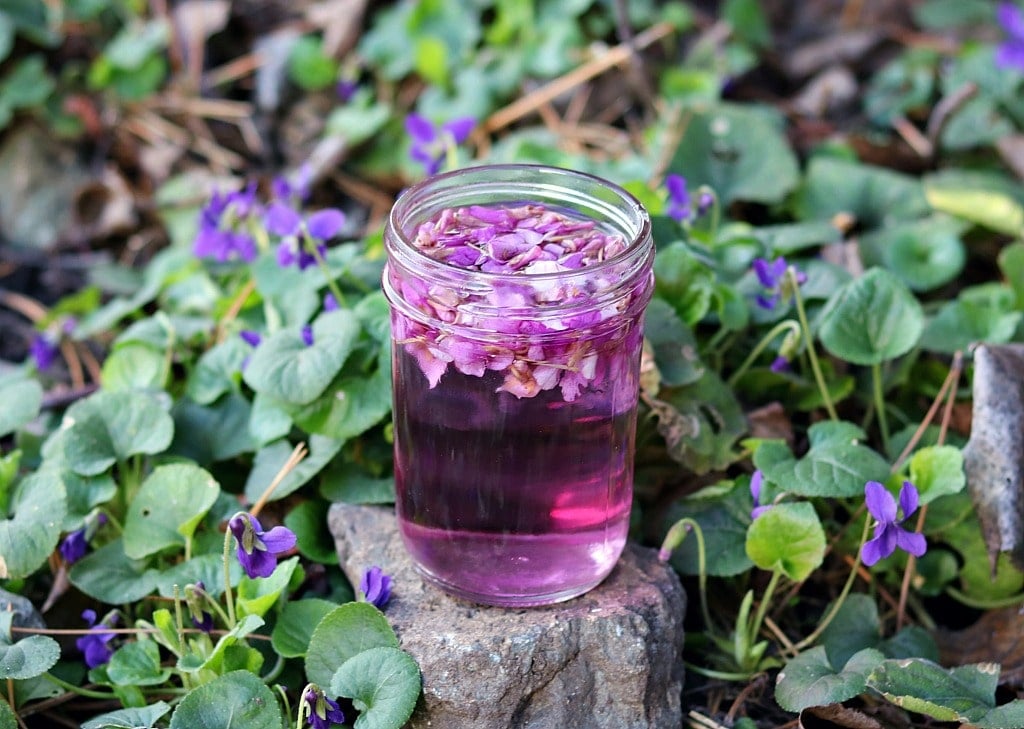 ---
More Beneficial Flowers
Once you've fallen in love with using violets in wild violet vinegar, try growing or foraging these other edible or medicinal flowers!
---
Wild Violet Infused Vinegar
Make this gorgeous purple wild violet infused vinegar to use in salad dressings, drinks, and medicinally.

Instructions
Fill a mason jar halfway with the violet flowers, about 1/2 a cup. Pour the white vinegar over the flowers.

Cover the jar with a lid. If you're using a metal canning lid, put a square of parchment paper between the lid and the jar to prevent the metal from reacting with the vinegar.

Place the jar in a cool, dark place for 1-2 weeks.
Notes
Wild Violet Vinegar has the same shelf life as vinegar, but the color will fade with time. 
Nutrition
Serving:
1
Tablespoon
|
Calories:
3
kcal
|
Sodium:
1
mg
|
Potassium:
11
mg