When elderberry season is here I want to make ALL the elderberry things. But this year I wanted something a little more simple. Ever since I made my fermented honey garlic and fermented honey cranberries I've been wanting to do more honey ferments. They are so easy and fun to do, plus have tons of medicinal benefits. So the first thing that came to mind was to make fermented elderberry honey!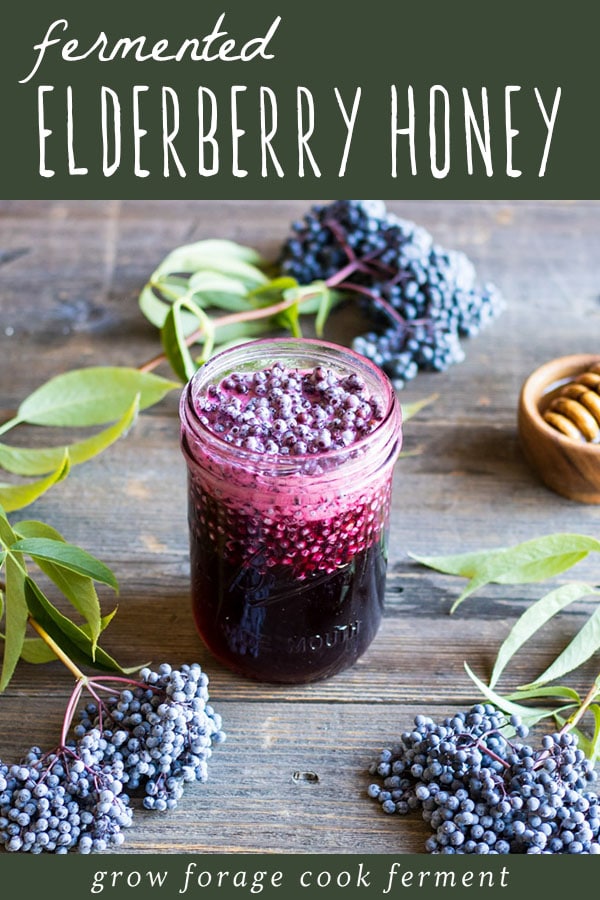 ---
Wildcrafting Weeds
If you want to learn more about the edible and medicinal weeds that surround us and how to use them, check out my eBook: Wildcrafting Weeds: 20 Easy to Forage Edible and Medicinal Plants (that might be growing in your backyard)!
Gather & Root Online Foraging Course
My online foraging course is a great way to learn about wild edible and medicinal plants! Sign up to learn more about the gather + root online foraging course here.
---
Elderberry Benefits
Why would you want to ferment elderberries in honey?
Elderberries are antiviral and antioxidant making them a powerful stimulant for the immune system. They are best used when you know that you've been exposed or at the first onset of a cold or flu.
Elderberry can reduce the duration of illness considerably and also helps with coughs and congestion.
Elderberry syrup is a very helpful for keeping our immune systems healthy!
Raw honey also has medicinal benefits on its own, and when it's fermented it gives you even more beneficial bacteria that will help to prevent sickness.
Elderberry Safety
Elderberries are easy to forage for and grow in many locations. They have become very popular in recent years due to their immune boosting potential.
It's important to remember that elderberry stems, leaves, and unripe berries are toxic. Be sure to remove all of those before making this recipe. The easiest way to remove the berries from their stems is to freeze the clusters whole, then once they are frozen the berries pop right off.
Red elderberries should not be used in this recipe, as they are toxic when raw.
Black and blue elderberries sometimes have a tiny amount of toxicity when raw, mainly in the seeds, which can cause stomach upset in some people.
The fermentation process in this recipe removes any small amount of toxicity that may be there. Out of an abundance of caution I recommend straining out the berries before consuming the fermented elderberry honey.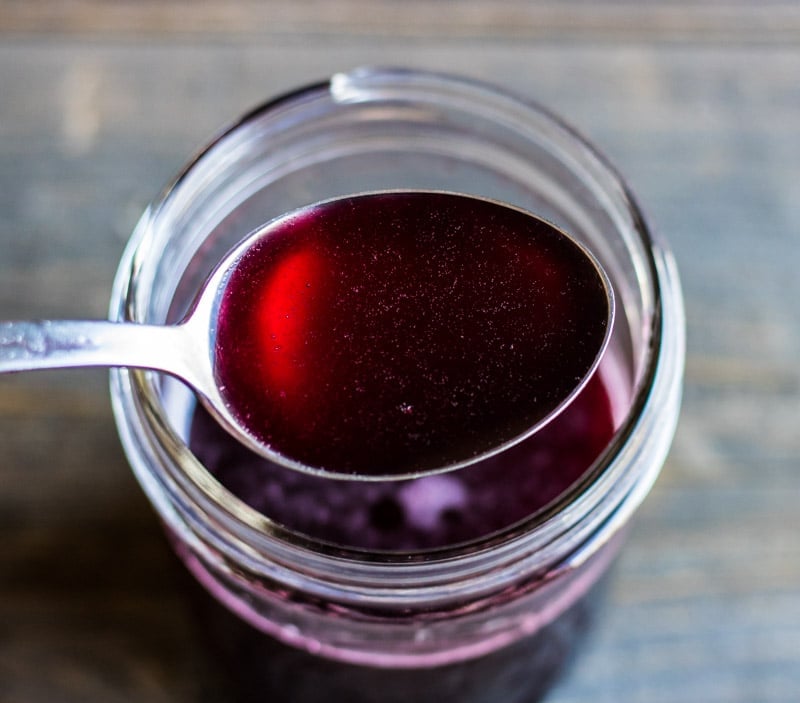 Fermented Elderberry Honey Recipe
The moisture content in fresh elderberries when combined with raw honey, along with the natural yeast that is present on the surface, will create an environment that is perfect for fermentation.
Simply combine fresh elderberries in jar with raw honey.
Cap it with a lid (use parchment paper in between if you are using a metal lid) and turn it over for 30 minutes or so to coat all of the elderberries with honey.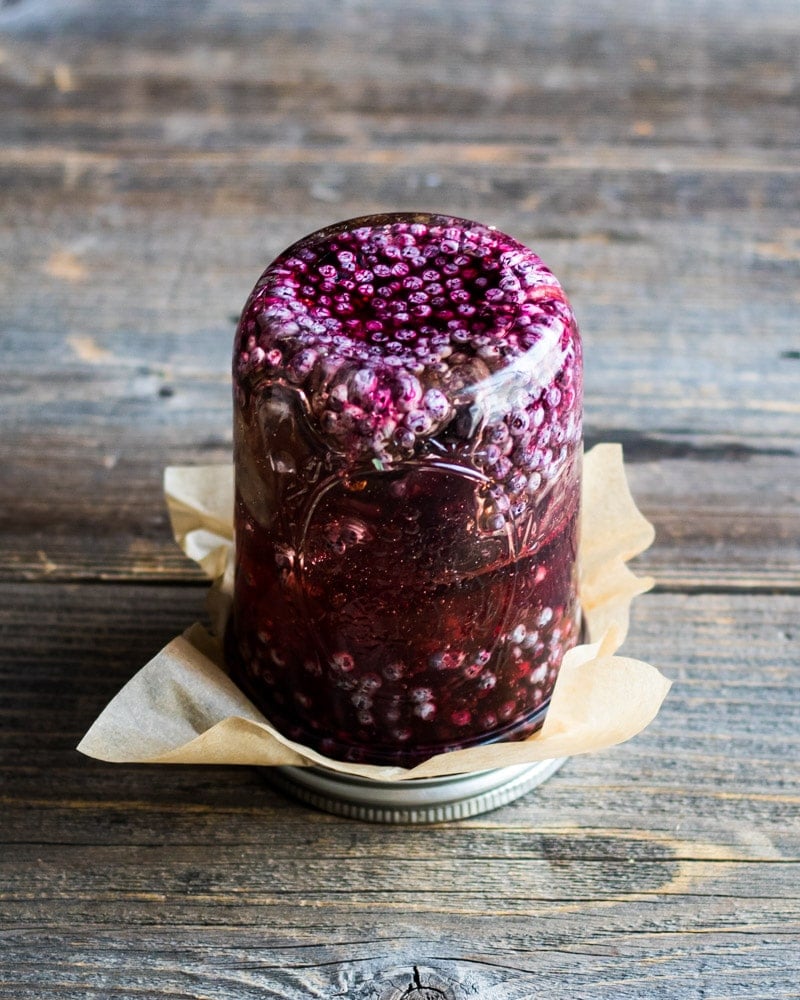 Then turn upright and loosen the lid a bit to let fermentation gases escape. Let it ferment in an out of the way spot and in 2-3 days you should start to notice some bubbles forming.
It helps to tighten the lid and turn the jar for the first few days, just remember to re-loosen the lid afterward.
After a few weeks, you will really start to see a lot of bubbles! At this point, it is ready to use. Strain out the elderberries before consuming.
Using Dried Elderberries
You can use dried elderberries instead of fresh if you would like, but they will need to be rehydrated in water before combining with the honey. Otherwise it's just an elderberry infused honey, which is also beneficial and nice, but not fermented.
My favorite place to get organic dried elderberries is Mountain Rose Herbs.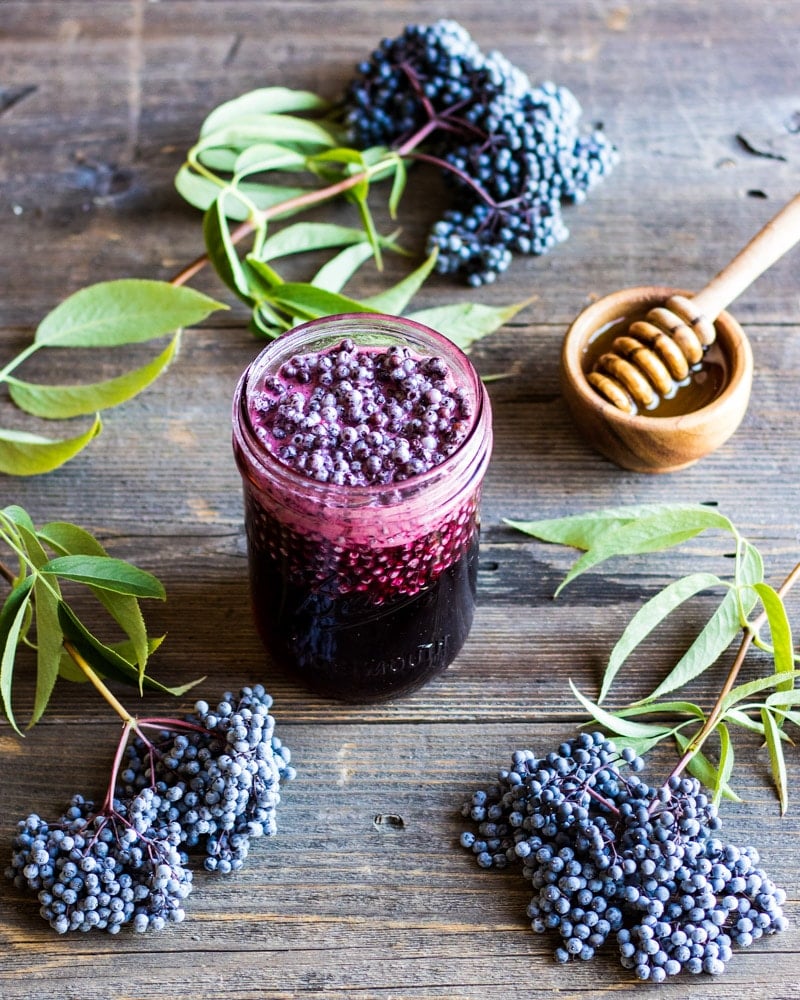 Let me just say this: this fermented elderberry honey is so delicious!
It definitely does not taste like medicine, more like something that you would put on top of ice cream. Yum!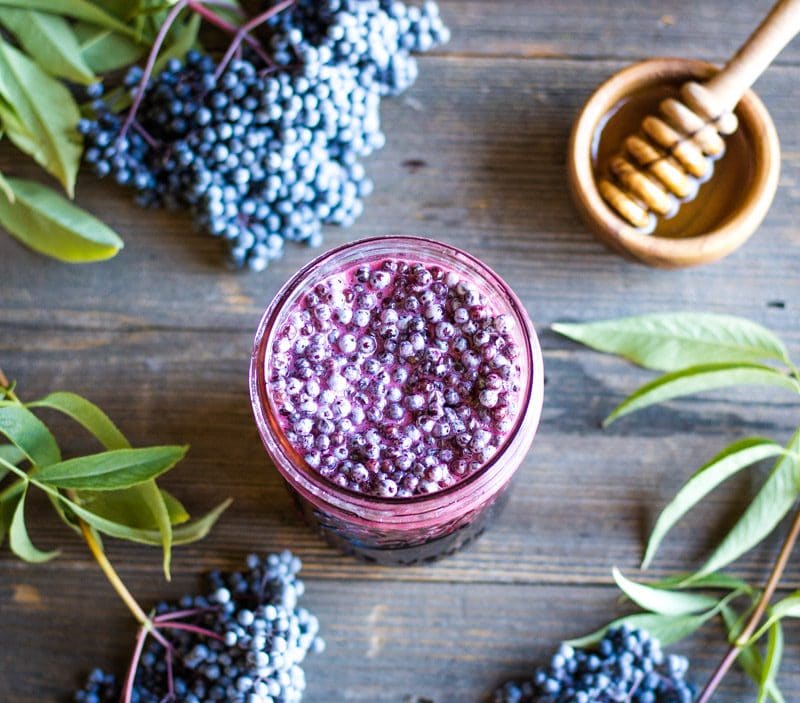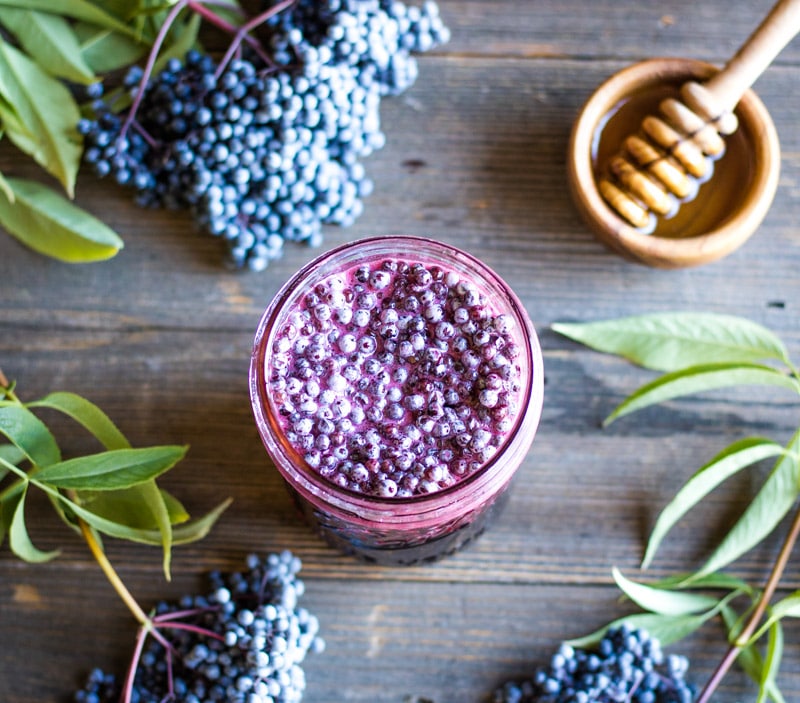 I love combining all of my favorite things like this. Take a foraged ingredient like elderberries and fermenting it into delicious tasting herbal medicine!
Elderberries are such an important part of anyone's herbal apothecary, and this is probably my new favorite way to use them.
This is one recipe that you will definitely have to try this season – trust me!
I have some exciting news! My book, Healing Herbal Infusions, is available right now! It includes all types of infusion recipes including a few honey ferments similar to this one. Woo hoo!
---
More Elderberry Recipes
Show your immune system some extra love and discover your favorite way to enjoy elderberries!
---
Fermented Elderberry Honey
Make these fermented honey elderberries to boost your immune system or simply for a tasty and healthy treat.

Ingredients
1

cup

fresh black or blue elderberries

(do not use red elderberries)

1-1.5

cups

raw honey
Instructions
Put the elderberries into a pint sized mason jar, then add the honey to cover the berries leaving at least an inch of head space at the top of the jar.


Cap the jar with a plastic storage lid or use a piece of parchment paper underneath the metal lid. Invert the jar for about 30 minutes or longer to make sure that all of the elderberries are coated with honey.


Turn the jar upright again. After the elderberries and honey have settled and all of the air bubbles are gone you may need to add a bit more honey to cover the berries.


Loosen the lid to allow air to escape during fermentation and place the jar somewhere out of the way. For the first 2-3 days it is helpful to invert the jar daily then turn it upright again. Be sure to tighten the lid before inverting then loosen again once upright.


Within about 2-3 days (could be longer in cooler temperatures) you should begin to see small bubbles on the surface and the honey will be noticeably runnier.


After one or two weeks you will see a lot of bubbles! Give it a stir now and then and it will really bubble up. The honey is ready at any point after this and will continue to slowly ferment for weeks and months.


Strain out the elderberries before consuming.


Take a spoonful two to three times per day when you feel a sickness coming on to shorten the duration of a cold or flu.
Notes
You can use dried elderberries instead of fresh if you would like, but they will need to be rehydrated in water first before combining with the honey.
Serving: Take a spoonful two to three times per day when you feel a sickness coming on to shorten the duration of a cold or flu.
Nutrition
Serving:
1
Tablespoon
|
Calories:
64
kcal
|
Carbohydrates:
17
g
|
Sugar:
17
g
|
Iron:
0.2
mg