Well hello there!  Welcome to Monday, and what a beautiful one it is.  I was busy this weekend with my ferments, one of which has to do with cattail shoots.  After we collected a good bunch of cattail shoots a couple of weeks ago I couldn't quite decide what to do with them.  When eaten raw they tasted of fresh cucumber, which made me think of pickles.  Joel cooked some up with butter and they were delicious, but once I got pickles in my head I couldn't think of doing anything else.  So, of course, I made fermented cattail shoots!
The first step in the process is to go foraging for cattails, and now is the best time of year to do it!  I'm sure you have a patch somewhere near you.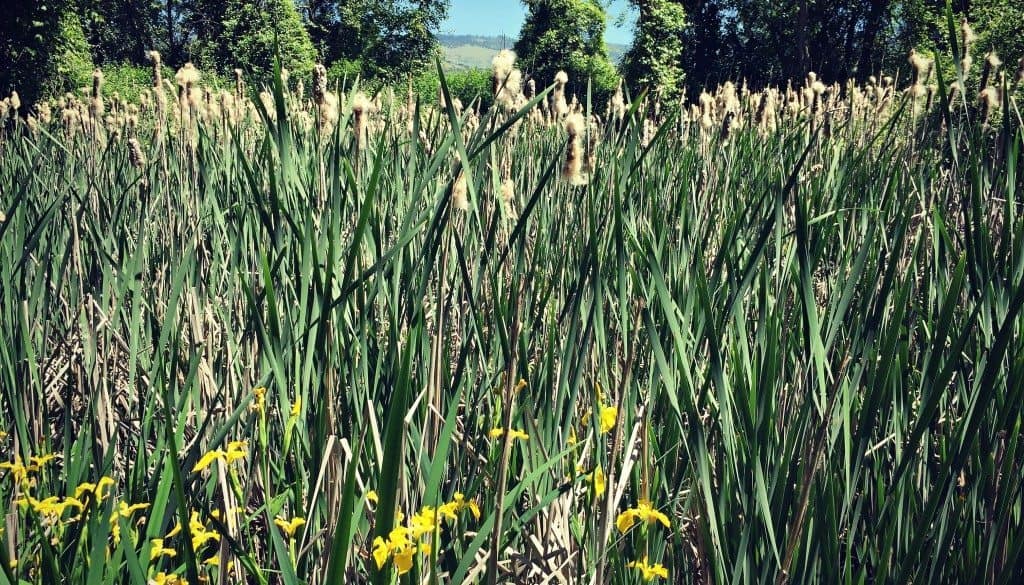 Once you have collected and processed your shoots, it's a fairly simple process to get them fermenting.  First cut them into smaller pieces and put them into a jar.  I wanted to do a small batch, so I used a quart size jar.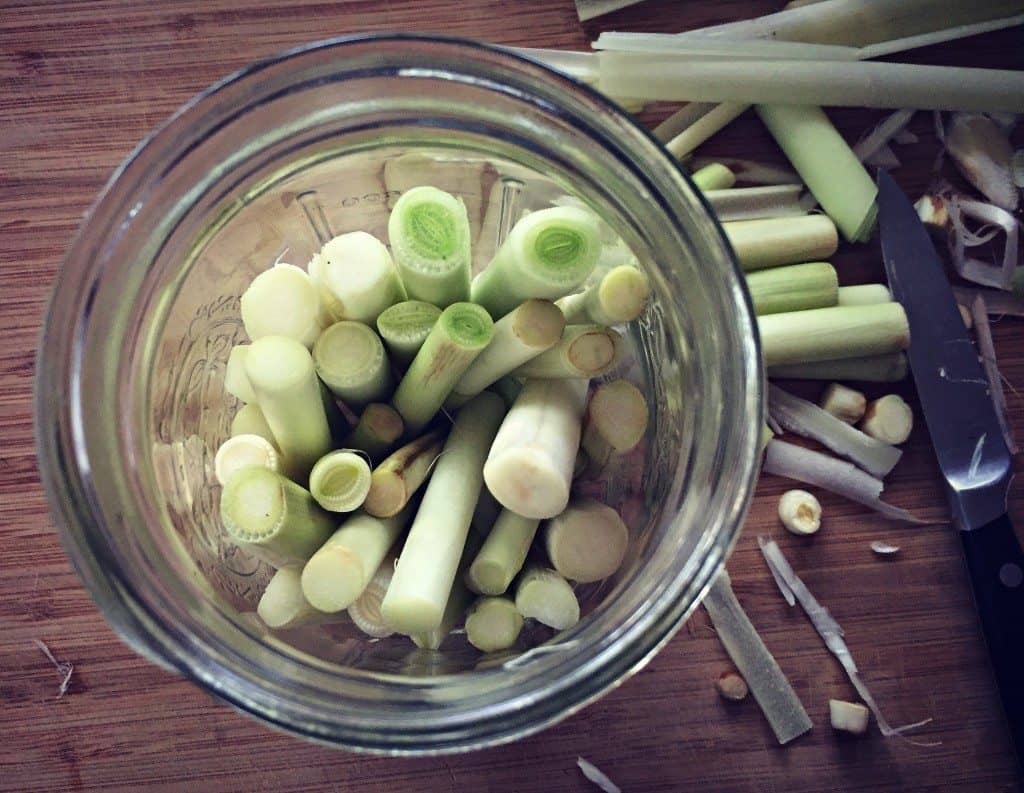 I decided to add some radishes to the mix because I had a plethora of them, and some garlic because I always add garlic!  Also dill and mustard seeds.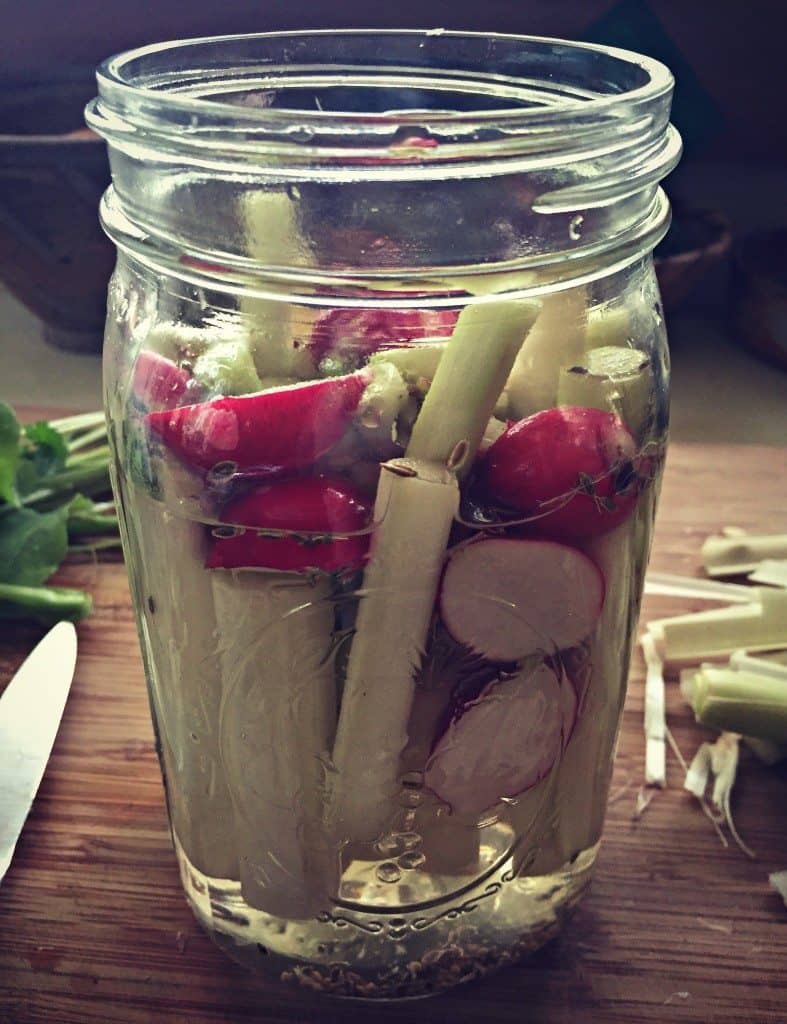 Cover the veggies with a brine of 3 Tbsp kosher or pickling salt (not iodized) per quart of water.  The cattails really want to float!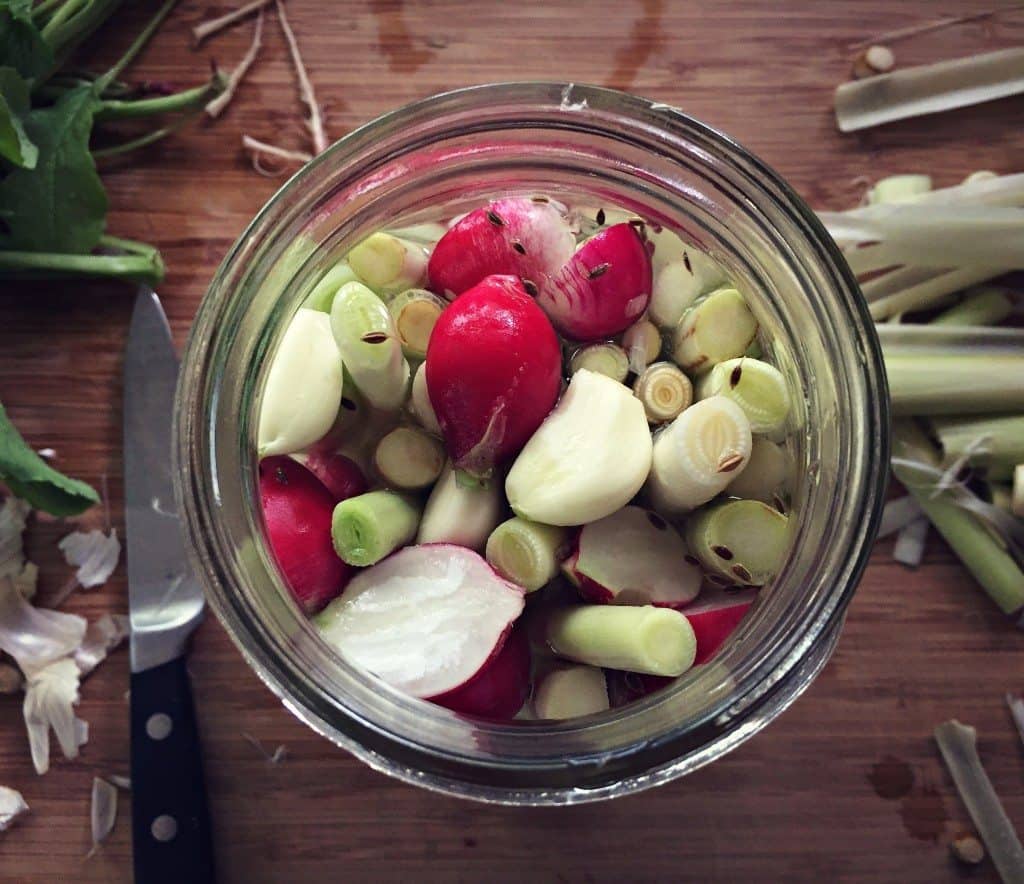 I contacted the Fermentista's about this type of ferment and Kirsten suggested that I add some already fermented brine to help get them going.  I had some kimchi in my fridge, so I added a few Tbsps of it's spicy brine as well.  Then put some sort of weight on top to keep everything submerged.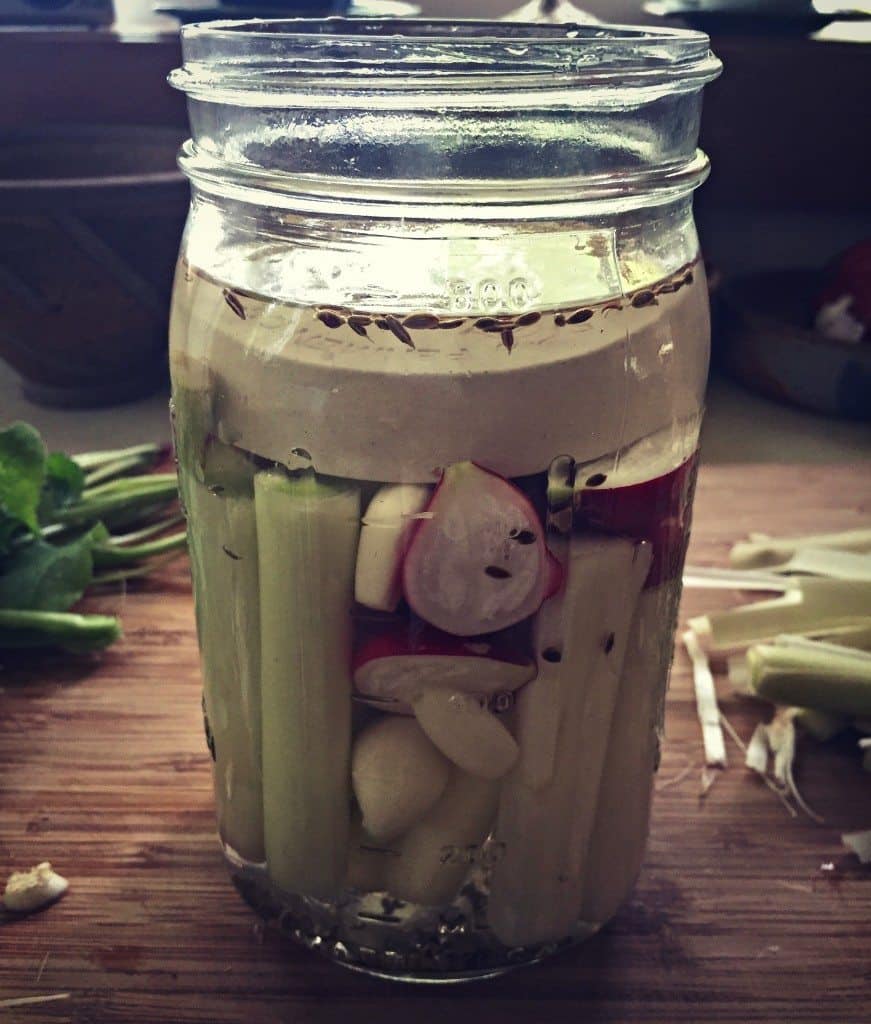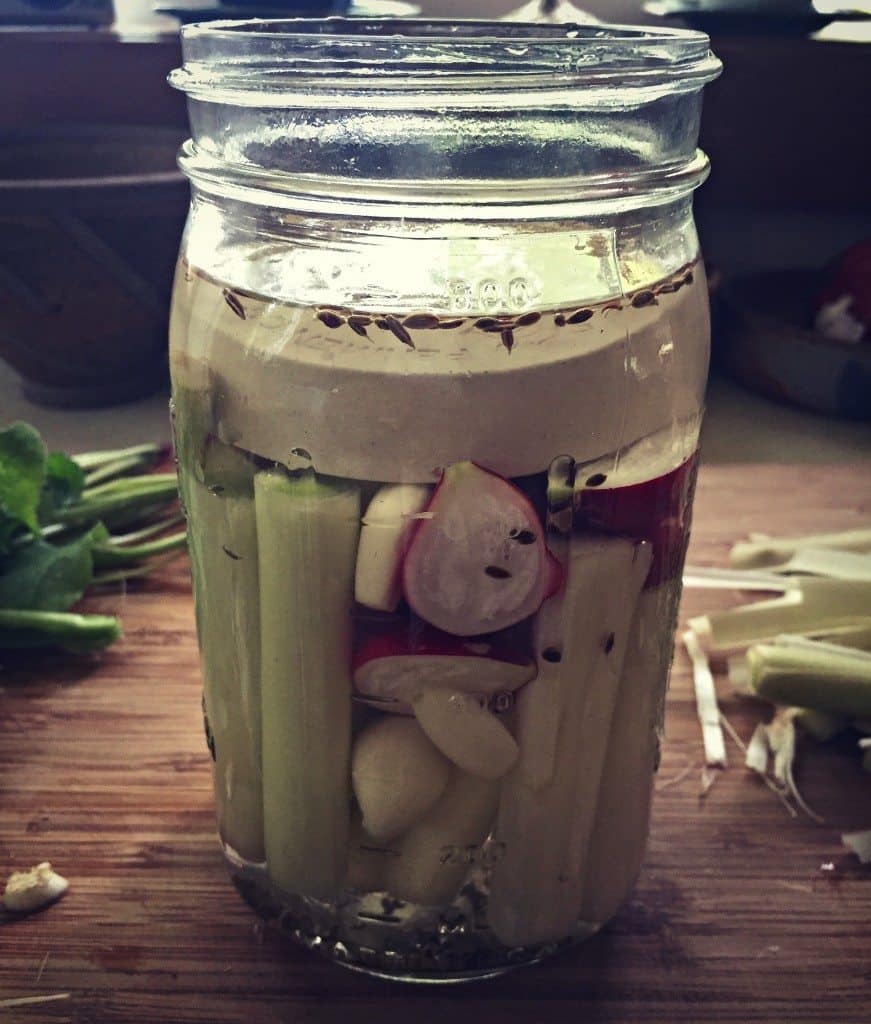 I used my handy Ferment'n weight, but you can use whatever you have, even a plastic zip top bag filled with brine (in case it leaks).  Then cover the jar with a towel and let it sit in a cool, dark place.  Check it every few days to make sure the veggies stay under the brine and that no mold is forming.  A thin layer of white stuff is ok, you just want to avoid anything green or black.  After 2 weeks mine looked like this: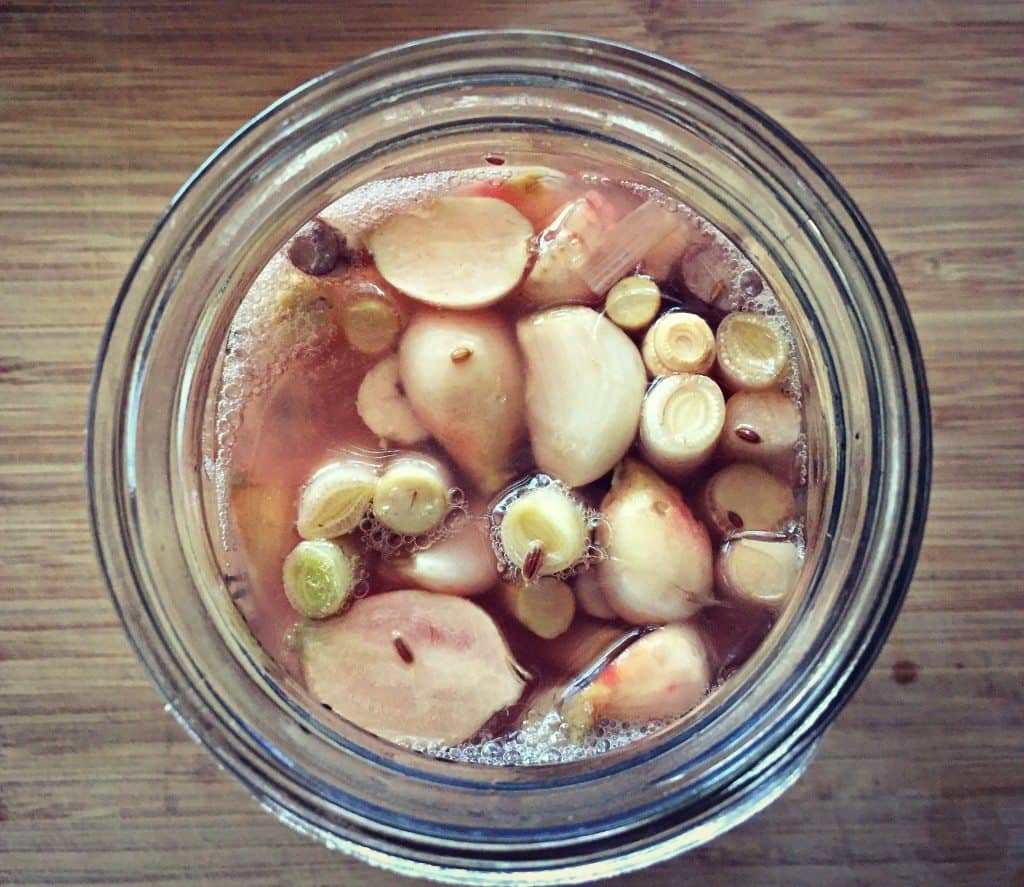 The radishes lost their beautiful color and everything was a little bubbly, but it tasted wonderful!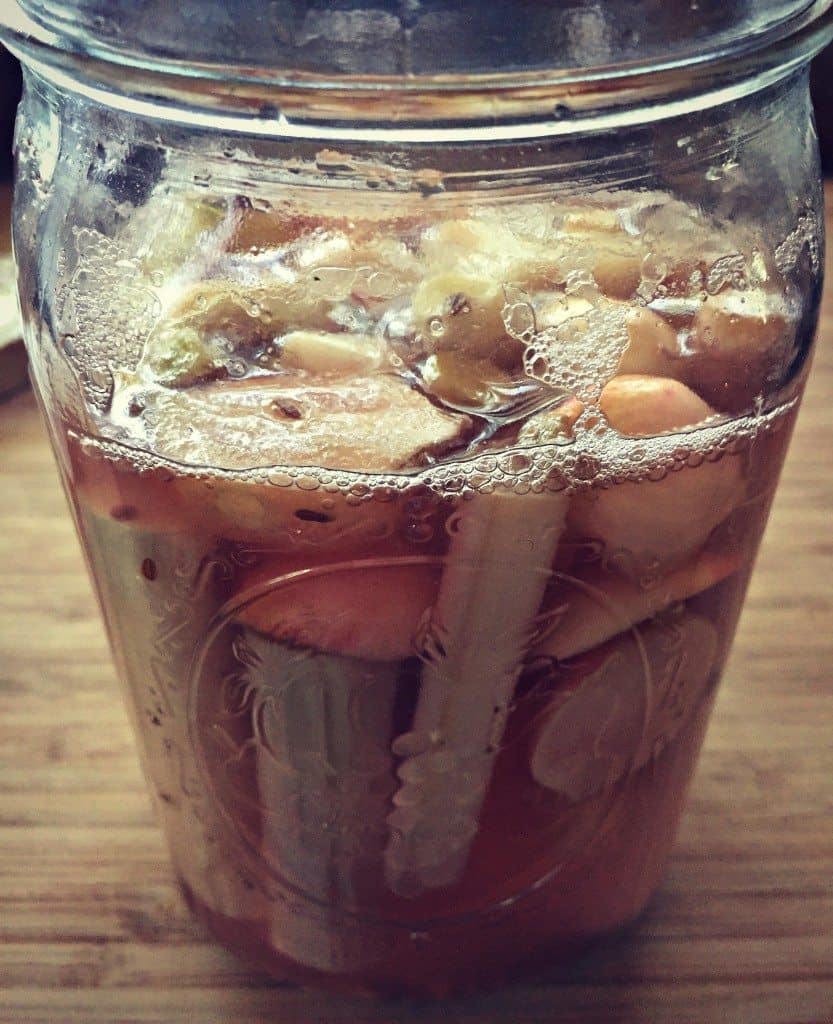 It would be a great topping for a salad, or as part of an appetizer platter.  I'm always amazed by how wonderful home fermented veggies are!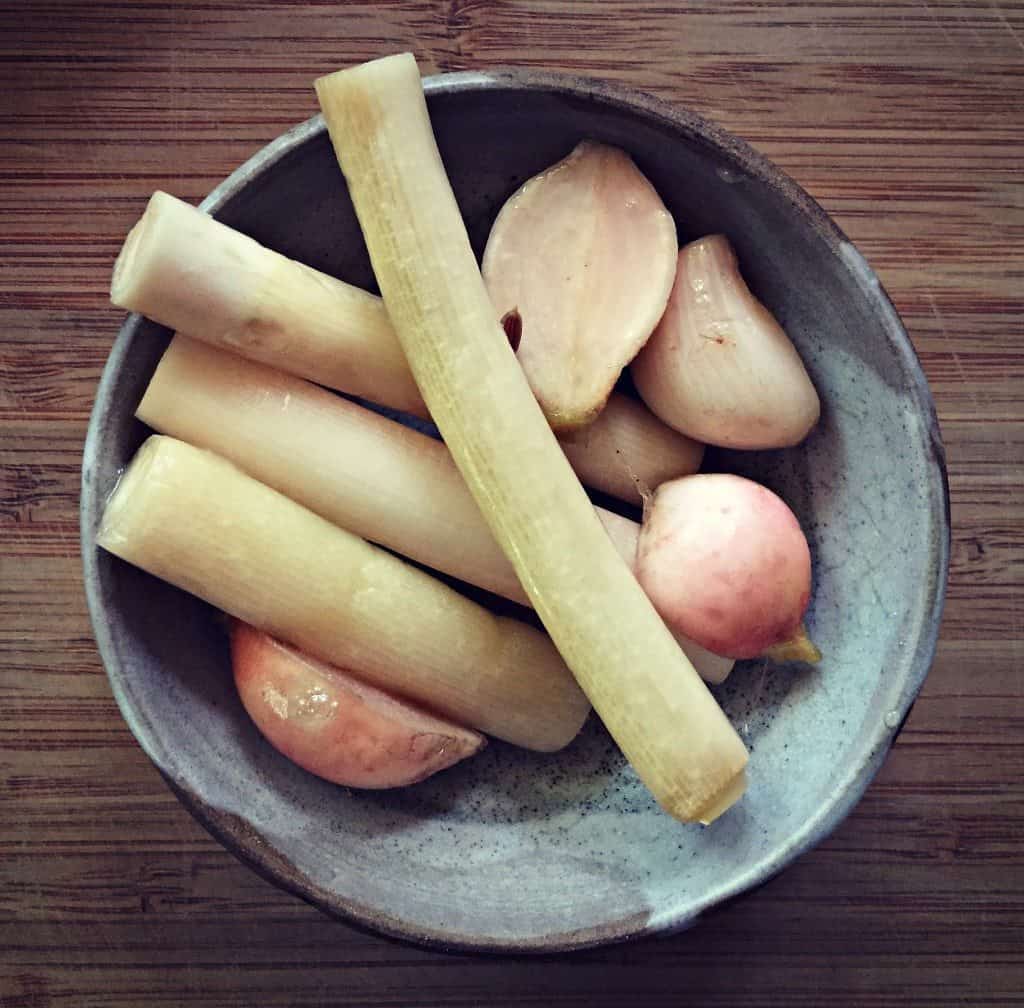 Foraging for veggies then fermenting them is such a natural process.  It really feels like what we are supposed to be doing.  Eat what you can fresh, then preserve the rest for a later time.  And this is the best way to do it because of all of the healthy bacteria for your gut.  Canning is another great skill to have and has been extremely important in more recent times for storing food, but it kills all bacteria, good and bad.  Fermenting, on the other hand, promotes the good bacteria and discourages the bad, which is ultimately better for our health.  What a cool thing to be a part of!