With the holidays approaching, it's the perfect time to think about using eco-friendly gift wrap. Waste-free and sustainable wrapping options abound that look beautiful and are cost-effective – there's no reason not to make the switch!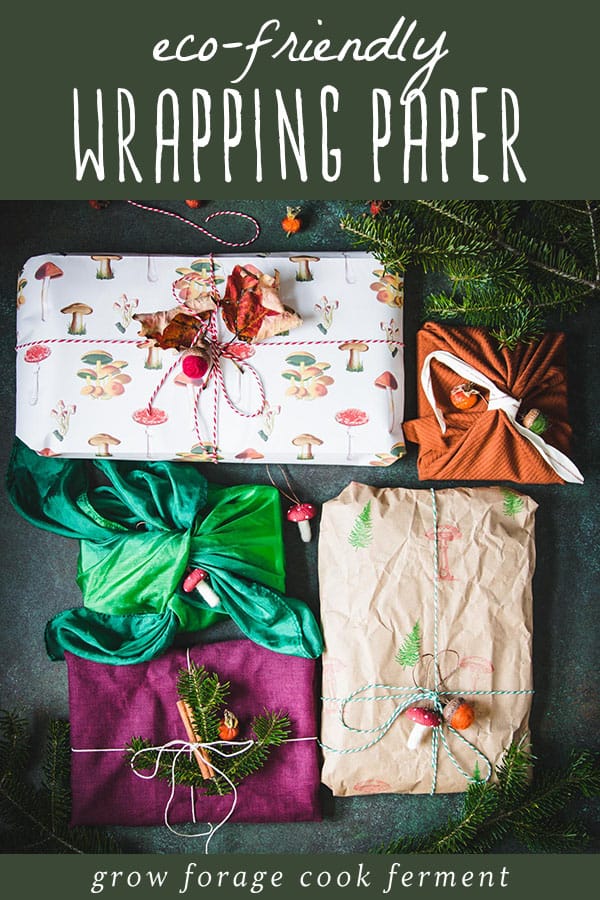 Make the Switch to Eco-Friendly Gift Wrap
Christmas, birthdays, and other holidays tend to become wastelands of an incredible amount of, well, waste!
It may seem like no big deal, but when you add it up for your own family with holidays and birthdays, then add in your kids' and kids' friend's birthday parties, man does it add up!
Think of this on a scale of, let's say, practically everyone. That is a whole lot of crumpled wrapping paper, tape, and bows in the trash.
I'm here to tell you there are other options for eco-friendly wrapping paper!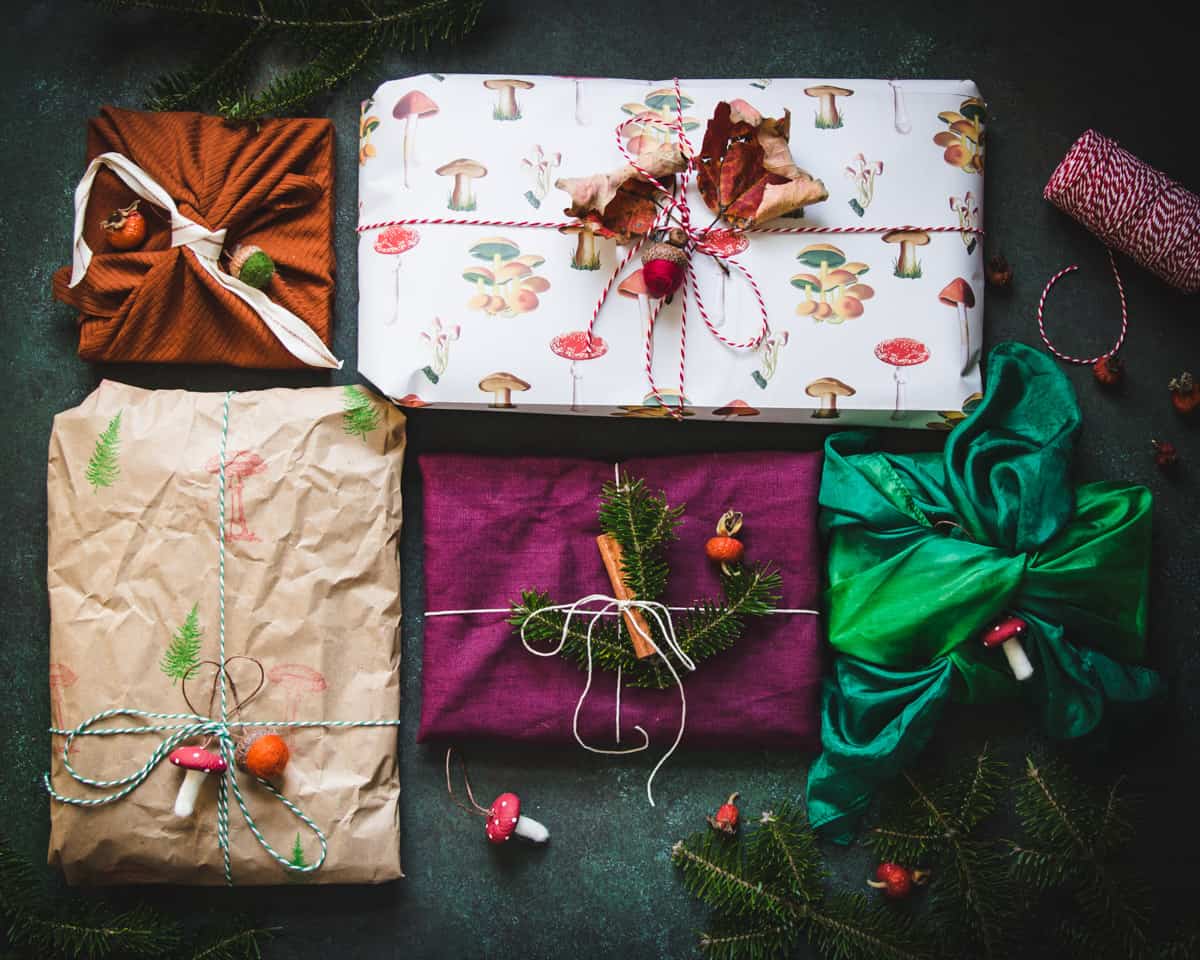 Reusable Gift Wrap
There are many reusable options when it comes to no-waste and sustainable gift wrapping.
This is my favorite category of eco-friendly gift wrap because it can be used over and over without ever having to be thrown away, leaving the least amount of a carbon footprint possible.
DIY
Use fabric from the store, or even better repurposed fabric from your home. Dad's plaid shirt he never wears? Perfect for holiday wrap! Kids' outgrown clothes? Great for birthday presents! Here is a great tutorial on how to wrap gifts with cloth, it's easy and looks classy!
Baskets, jars, bowls, and flower pots all make lovely reusable vessels for which to deliver gifts. Most can be bought second-hand, and all can be repurposed and reused.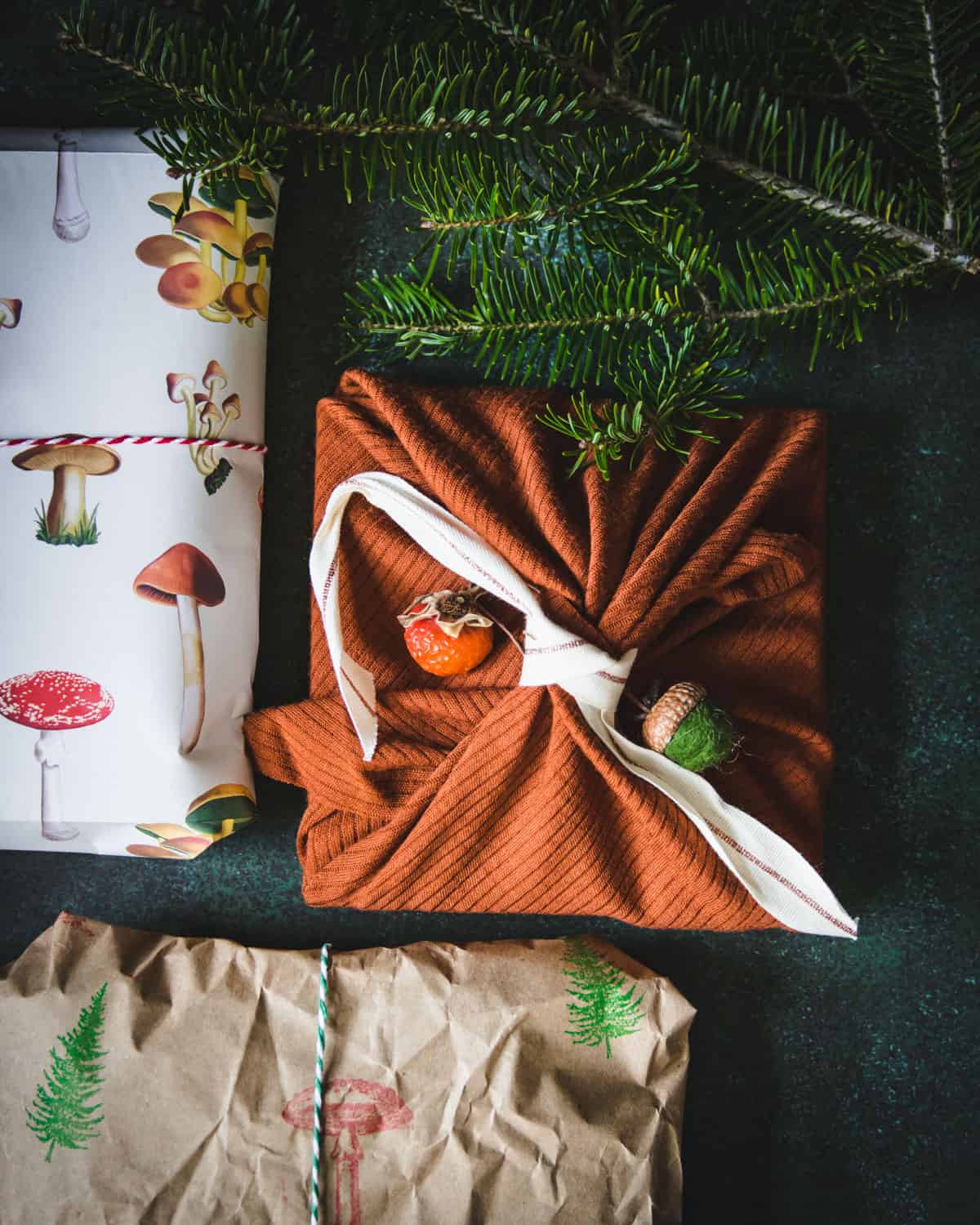 Fabric Wrapping Paper
Sarah's Silks are a lovely option to purchase beautifully colored, amazingly soft, and easy to wrap with fabrics. They are a gorgeous way to sustainably wrap any present!
rapt Gift Wrap has many cloth gift wrap sizes and patterns, all reusable and washable, which I love. They also offer repurposed yarn, ribbon bows, and gift wrap accents to tie the gift together, up-leveling their sustainability!
Furoshiki Reusable Gift Wrap, is a traditional Japanese wrapping cloth made of fabric, is zero waste, and easy to wrap with! These are also machine washable which is a quality I love, they can be used again and again.
If you like using gift bags, these reusable fabric gift bags are a great choice. They are durable, washable, zero waste, and come in different sizes. These are really cost-effective when you think about how much you spend on the glossy paper ones riddled with glitter, and then think about how these cloth bags will last forever, it's a no-brainer!
Red and white twine (or green and white) is a perfect addition to cloth wrapping (or any wrapping!). It's biodegradable, 100% cotton, and food safe too, so you can really get creative with using it for your gift-giving. This wrapping twine comes in multiple color options, I personally like the festive vibe of the red and white since it can go for any holiday or birthday. Perfect for reusing, and a no-waste alternative to tape!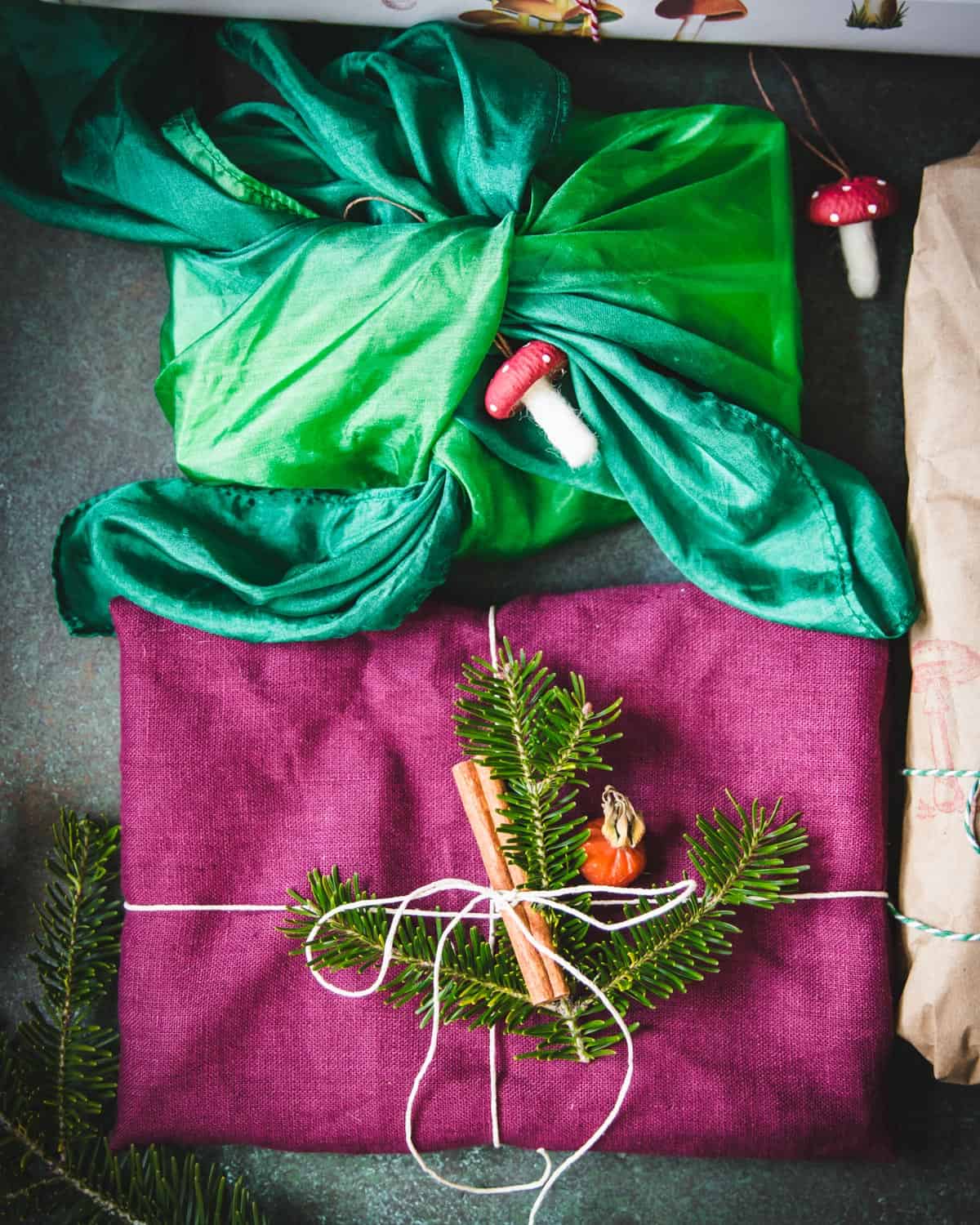 Recyclable Wrapping Paper
Another eco-friendly wrapping option that feels a little more familiar is to use recyclable wrapping paper.
Many of these are made sustainably, out of recycled paper, can be recycled many more times, use non-toxic printing, and are durable enough to be reused.
DIY
 Newspaper is one of my favorite wrapping options. It's cost-effective, recyclable, and you can cater which page you wrap with to whomever you are gifting to. Comics, astrology, arts, entertainment, stock market, you name it! Add some twine and you're set with a good-looking gift that won't harm the earth.
Brown paper bags make a great template to dress up however you like to suit the occasion. You can write on it or have your kids draw pictures or use stamps (here is the mushroom and tree stamp I used), or leave it plain and tie with twine for a simple and personalized look.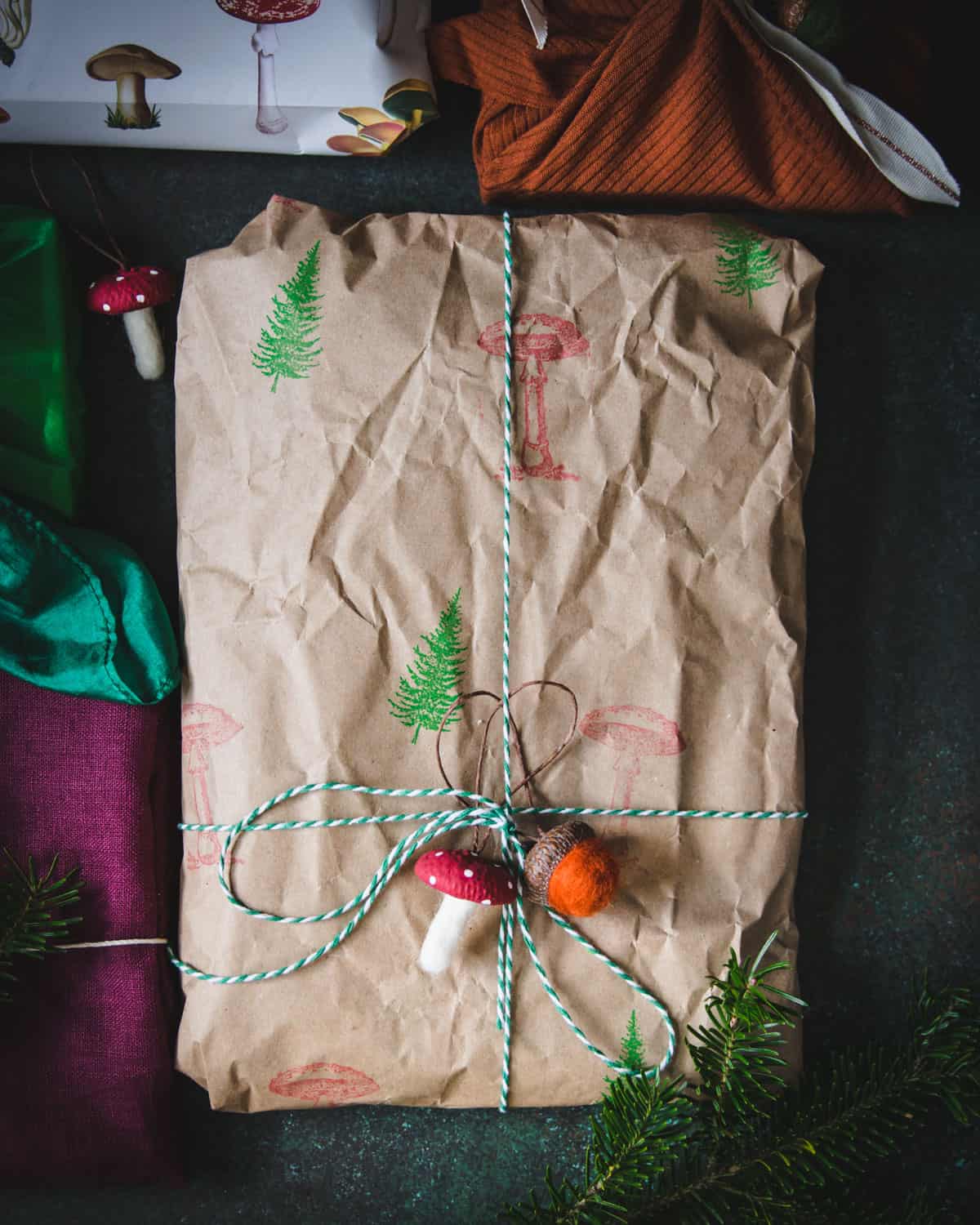 Eco-Friendly Wrapping Paper
This handmade lokta wrapping paper is environmentally friendly and sustainably sourced, incredibly durable, and can be used multiple times. It also looks beautiful and comes in multiple patterns, in large sheets made naturally in Nepal.
For a wrapping paper set that includes paper, twine, ribbon, and a card, it doesn't get much more eco-friendly than this green recyclable wrapping paper set. The gift wrap and tags are printed on  Forest Stewardship Council (FSC) certified paper and are shipped in plastic-free, recyclable packaging.
These wrapping paper sheets from Central 23 are cost-effective and made with thick FSC certified paper that is fully recyclable along with its packaging, and printed with ink that is vegan and chemical-free. Personally, I love the mushroom design on this one!
Wrappily has a great line of recyclable gift wrap with a wide variety of designs on them, plus they're reversible! This paper is made from recycled newsprint material, can be recycled up to 7 times, and is also compostable.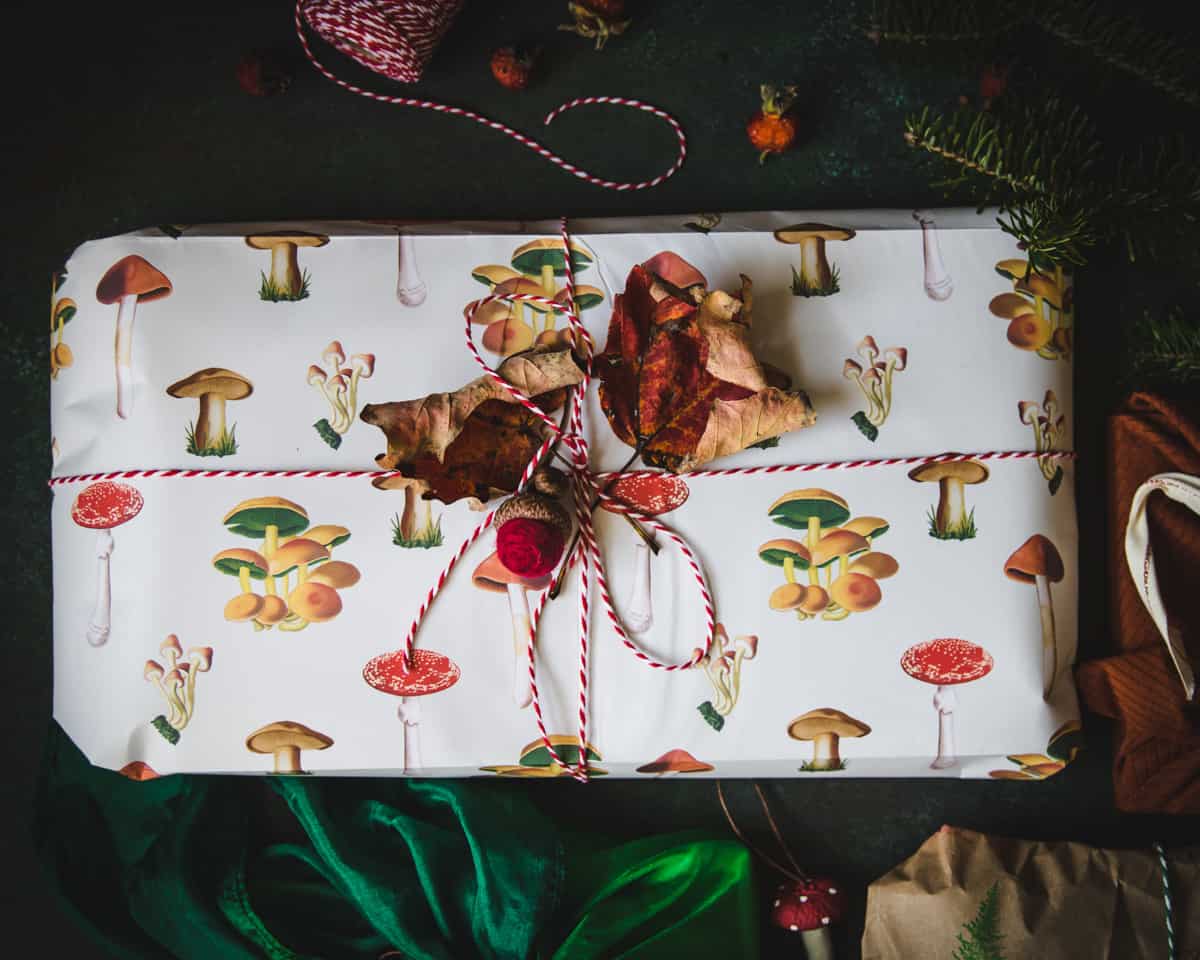 Keep the Accessories Simple
Foraged items like dried leaves, flowers, acorns, pine cones, rose hips, or conifer tree twigs make a perfect natural accessory to replace plastic bows and ribbons. They lend a wonderfully natural and seasonal flair to your gift!
Spices like cinnamon sticks, star anise pods, and dried orange slices are another nice touch!
Small nature centered ornaments like the wool felted acorns and mushrooms from Stone House Crafts make beautiful present toppers.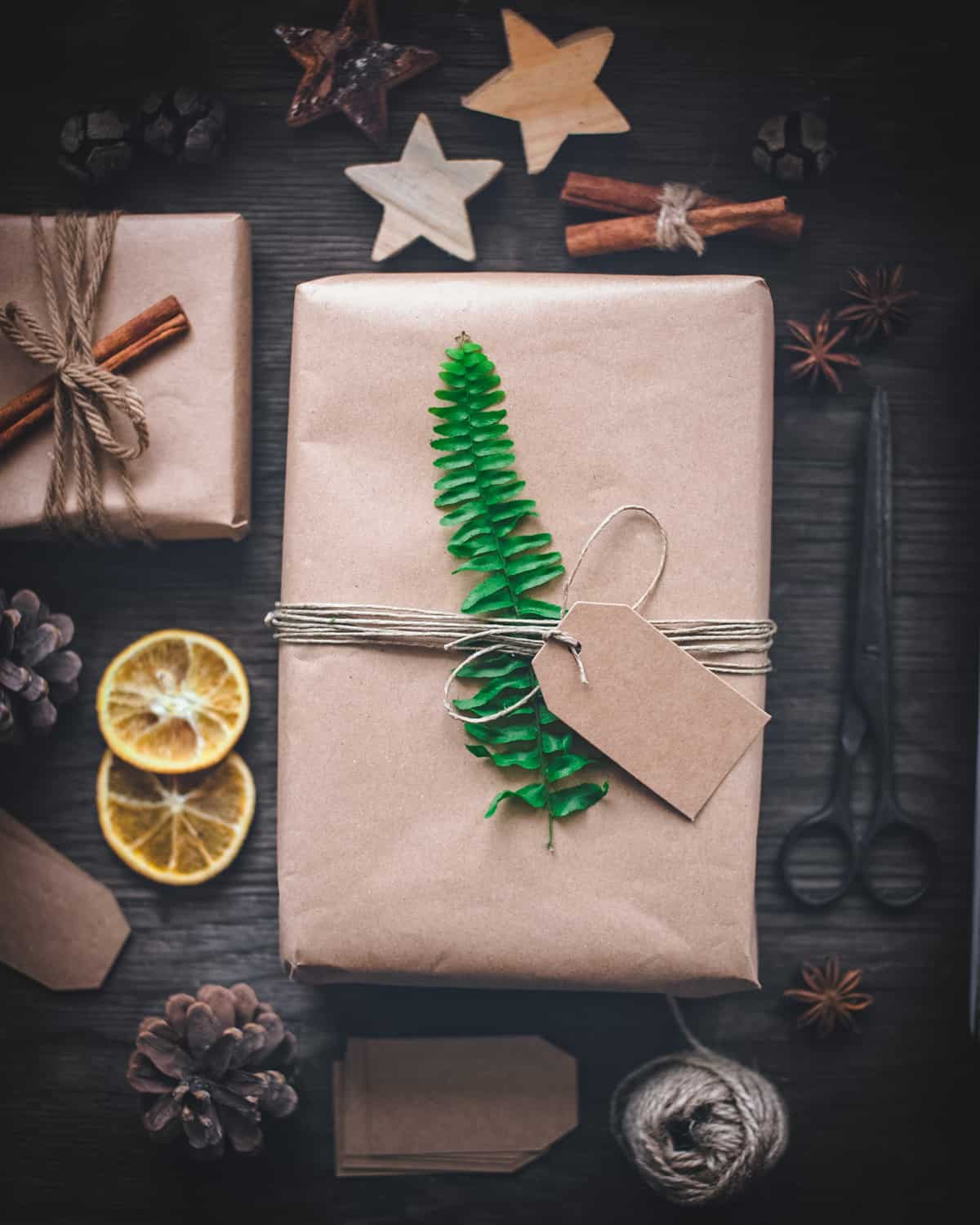 In the Budget
Last but not least, this is for those of you budget-conscious folks like myself. This roll of eco-friendly wrapping paper is the be-all-end-all, one-and-done, use-for-all-the-things paper! Eco Kraft Wrapping Paper Jumbo Roll is where it's at, it's 30″ x 1oo ft, made from 100% recyclable materials, is 100% biodegradable. Uncoated and unwaxed, this neutral brown durable paper is LITERALLY a blank slate for you to use for any occasion. Have your kids draw on it for any wrapping reason, use a silver marker to fancy it up with a name, or leave it blank and use the trusty red and white twine shown above for a classic look. I love the multi-functional quality of this roll, check out the link for ideas!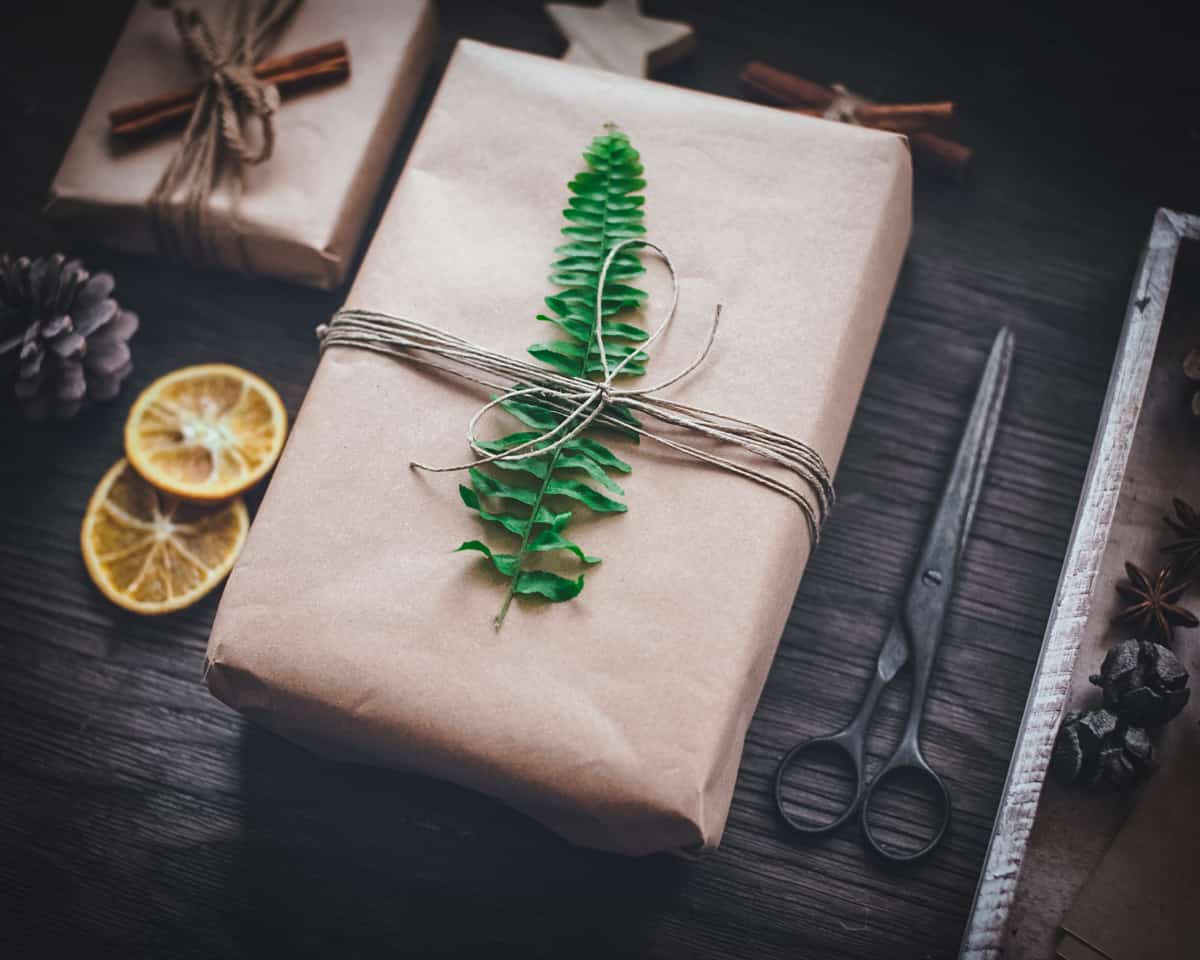 Having waste-free holidays and birthdays is possible, and what's wonderful is *not* always having to shop for wrapping supplies once you make the move to reusable wrapping paper options.
Eco-friendly gift wrap looks just as beautiful and festive, and is much kinder to our environment!
Holiday Gift Ideas to Wrap in Eco-Friendly Wrapping Paper
Here are some great gift ideas for nature-inspired people: