This spring has been an exciting one for many reasons, but most recently because I found some morel mushrooms! This elusive mushroom is prized for it's tastiness, and can only be wildcrafted as no one has figured out how to grow them (yet). They come up in spring to early summer, depending on where you live, and are fairly widespread. Foraging for morel mushrooms can be difficult, as they usually blend in very well with their surroundings. But, once you get an eye for them, they seem to pop up everywhere!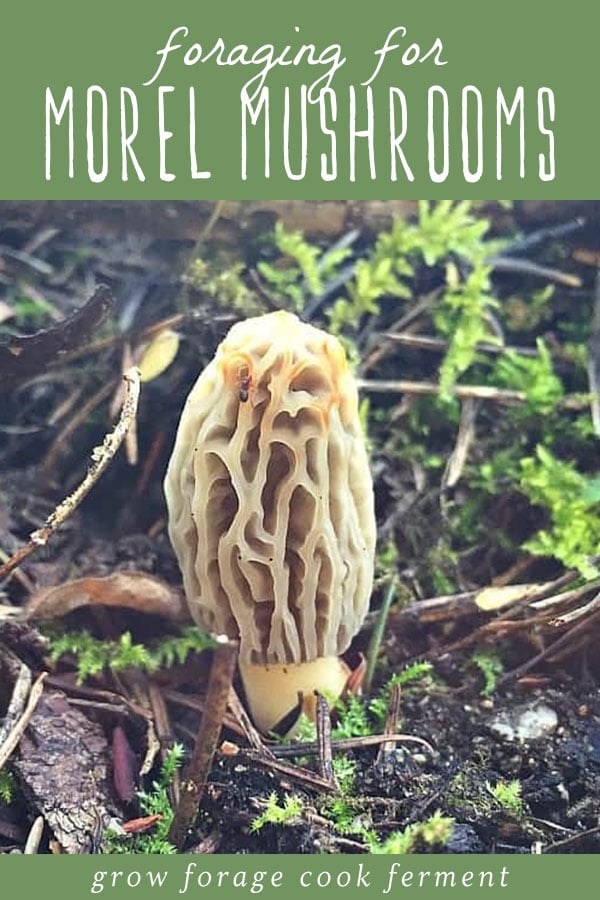 ---
Wildcrafting Weeds
If you want to learn more about the edible and medicinal weeds that surround us and how to use them, check out my eBook: Wildcrafting Weeds: 20 Easy to Forage Edible and Medicinal Plants (that might be growing in your backyard)!
Gather & Root Online Foraging Course
My online foraging course is a great way to learn about wild edible and medicinal plants! Sign up to join the waiting list for the gather + root online foraging course here so that you are the first to know when it opens for enrollment.
---
Foraging for Morel Mushrooms
Morel mushrooms typically start coming up in the springtime, once daytime temps are in the 60's and nighttime temps are in the 40's (or higher), and after a few good rains. This can mean early March in warmer areas (like California), or as late as June in higher elevations or northernmost areas. Here in Southern Oregon, people have been finding them for the past several weeks, so I would say they probably started popping up around mid March.
They like south facing hillsides, and will typically be in the sunniest patches, where the ground is warmest. They generally grow around the drip line of trees, and while they seem to prefer certain varieties of trees (ash, aspen, sycamore, oak, elm), there are no hard and fast rules on this. They also like disturbed forests and burned areas. The place where I went searching was on BLM land with many prescribed burn areas like this.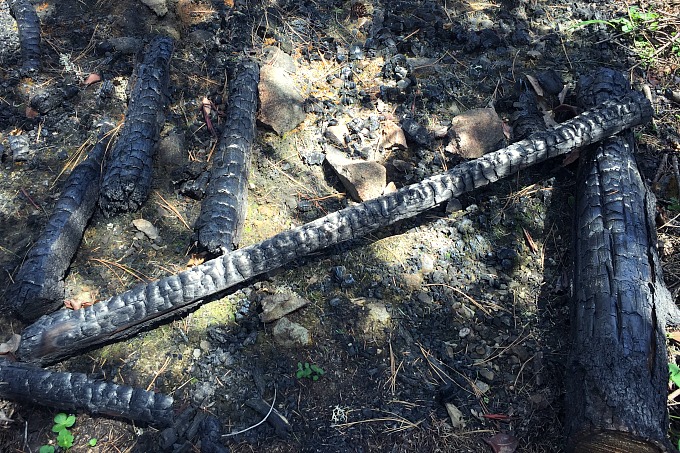 When Joel and I lived in Yosemite, morels would often come up in the spring after prescribed burns (or wildfires) from the previous year.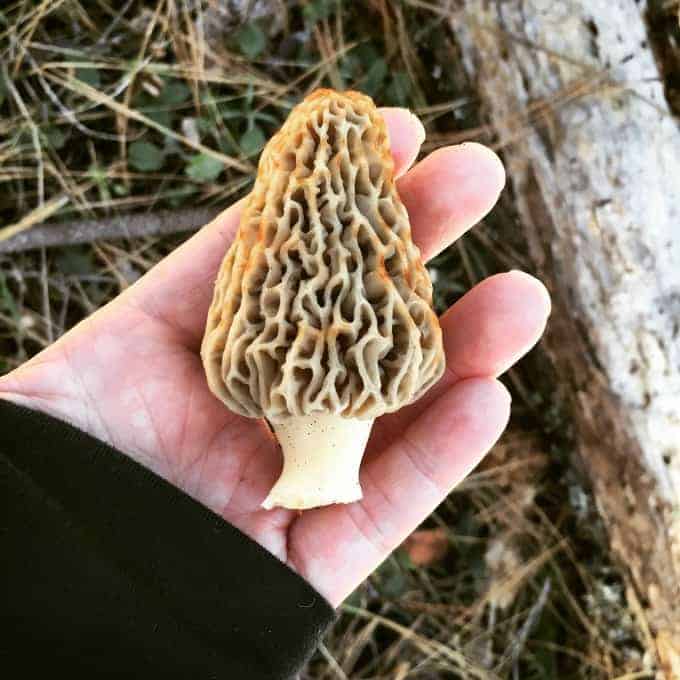 Morel Mushroom Identification
Morels are one of the easiest mushrooms to identify. They have a pitted and deeply ridged cap that resembles a honeycomb. The cap is also completely attached to the stalk, and they are completely hollow when cut in half.
There are a few varieties of "false morels", but I don't think they really resemble morels that much. If you're unsure, cut one in half to make sure that the cap is completely attached to the stalk and that it is hollow. You can find more info on false morels here.
One other distinguishing characteristic is that they are almost always longer than they are wide. Many of the false morels are wider and more squat.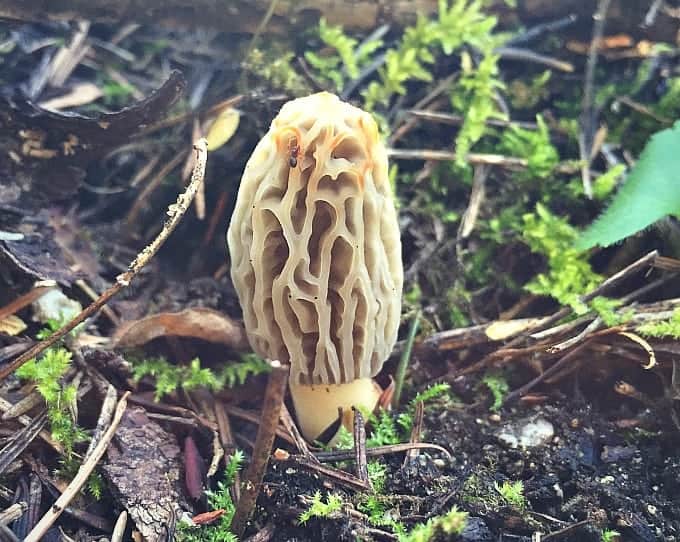 Morels can be very hard to see on the forest floor, as they blend in very well. I've heard that your brain needs to imprint morels, and until that happens it can be hard to spot them. Basically, once you've found them, it should gradually get easier to keep on finding them! Can you spot the morel in this picture?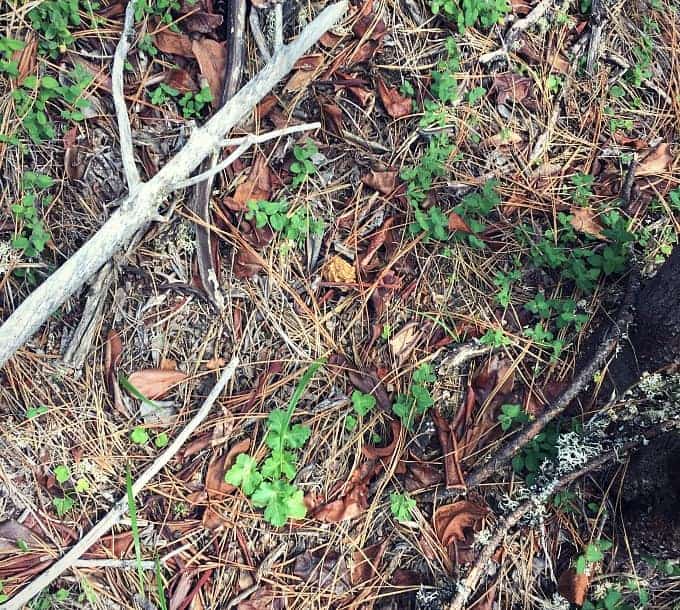 Now imagine that you're walking through a forest. That little mushroom would be very difficult to see in a vast landscape! They are usually growing by themselves, but sometimes there will be 2 or 3 right together. When you find one, though, keep looking as you will likely find more nearby. My mushroom hunting buddy found this cool double headed one!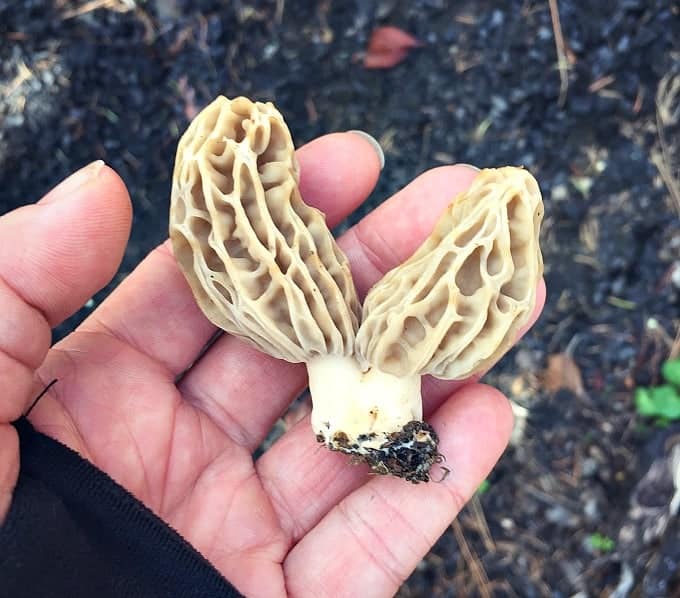 ---
Mushroom Foraging Guides
---
There are many different species of morels, but the most common (at least where I'm at) are the yellow and the black. Black morels tend to grow really close to burned areas, sometimes coming right out of the ashes. We found both types on this most recent hunt.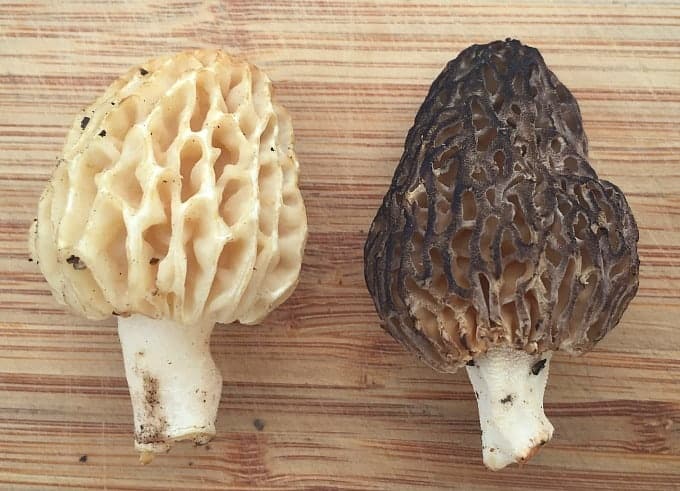 When foraging for morel mushrooms, a mesh bag works great for collecting. Some people even say it helps to spread the spores so that more mushrooms will come up next year. We used one that is similar to these reusable mesh produce bags. Also handy (plus fun to have), is a mushroom collecting knife, but it's not necessary as any small knife will work just fine.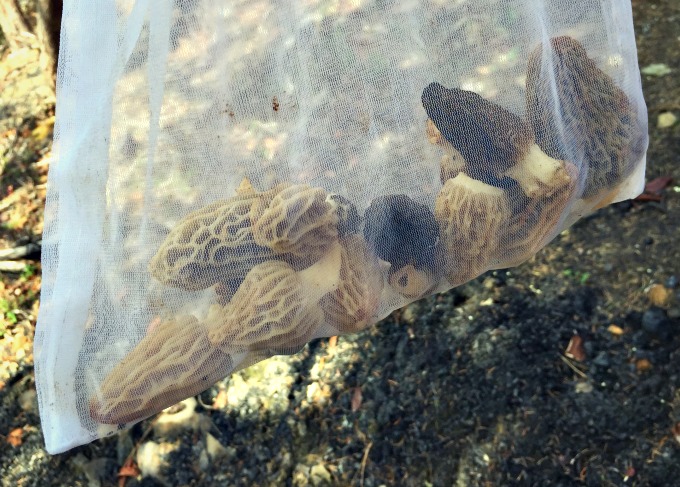 It's also very wise to bring a mushroom guidebook along, even if you're not specifically looking for mushrooms. You never know when you'll come across them! I particularly like this one: All That the Rain Promises and More by David Arora.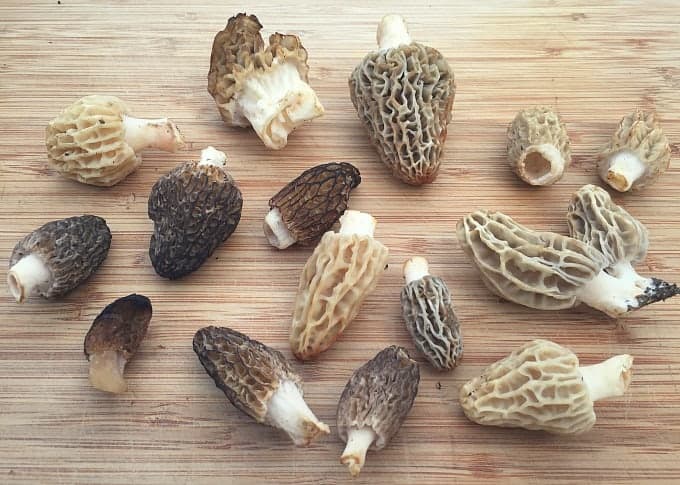 While our first harvest wasn't particularly large, I have hope of finding more in the coming weeks! I would love to get enough for the dehydrator, so that I can have morels all summer long. I've also heard that freezing them works well, but I've never tried it. I have a light spring lasagne in mind for these guys. If it turns out well, I'll post it for you guys.
Here are a couple of great resources on morel mushrooms that I've found for further reading:
One last thought to keep in mind is always leave some mushrooms behind. Never take all of them, to keep the cycle of life going. Happy mushroom hunting!