I can't wait to tell you guys about this!  I'm going to show you how to make Calendula cream, which I only made recently for the first time.  It turned out so good and is incredibly easy to make.  It's thick and rich, almost like a body butter, and can be used like lotion or like a healing salve.  In other words, it's a perfect way to incorporate herbs into your body products!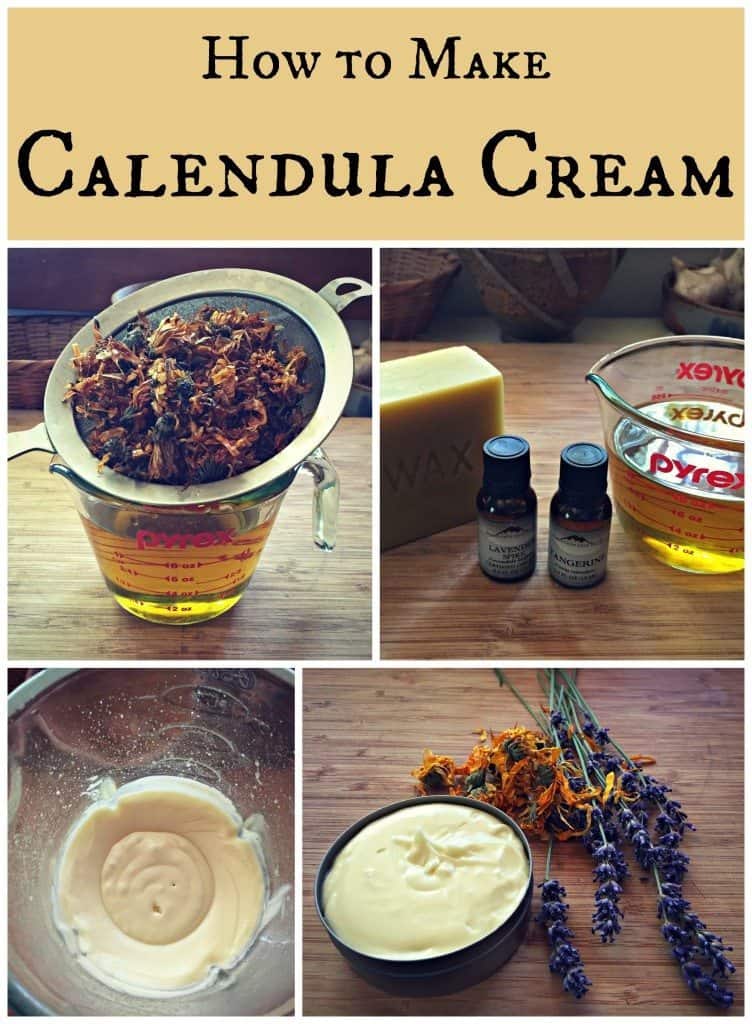 Calendula, also called pot marigold (not to be confused with regular marigold), is well known for it's healing benefits.  It's anti-inflammatory, an antitumor agent, and a powerful wound healer.  It is a potent medicinal particularly for skin ailments and rashes, including eczema, acne and even diaper rash.  It would also be a perfect addition to an herbal salve.
The first step in making this Calendula cream, just like in my herbal salve recipe, is to make an infused oil (see my post on how to do that HERE).  You can do this by putting dried calendula flowers in olive oil for several weeks, or use the quick method of heating the oil and dried flowers on low in a slow cooker for up to 24 hours.  I did 8 hours, then turned the slow cooker off and let the herbs continue to steep overnight.  You will need 1 cup total of infused oil for this recipe, but I always figure it's better to make more than you need so you have it ready for next time!  It will keep for quite a while.  You will want a ratio of 3 parts olive oil to 1 part coconut oil when making this infused oil.  So, if you're making 1 cup of oil, that means 3/4 cup olive oil and 1/4 cup coconut oil.  I also added a few dried lavender flowers to my infusion for a pleasing scent.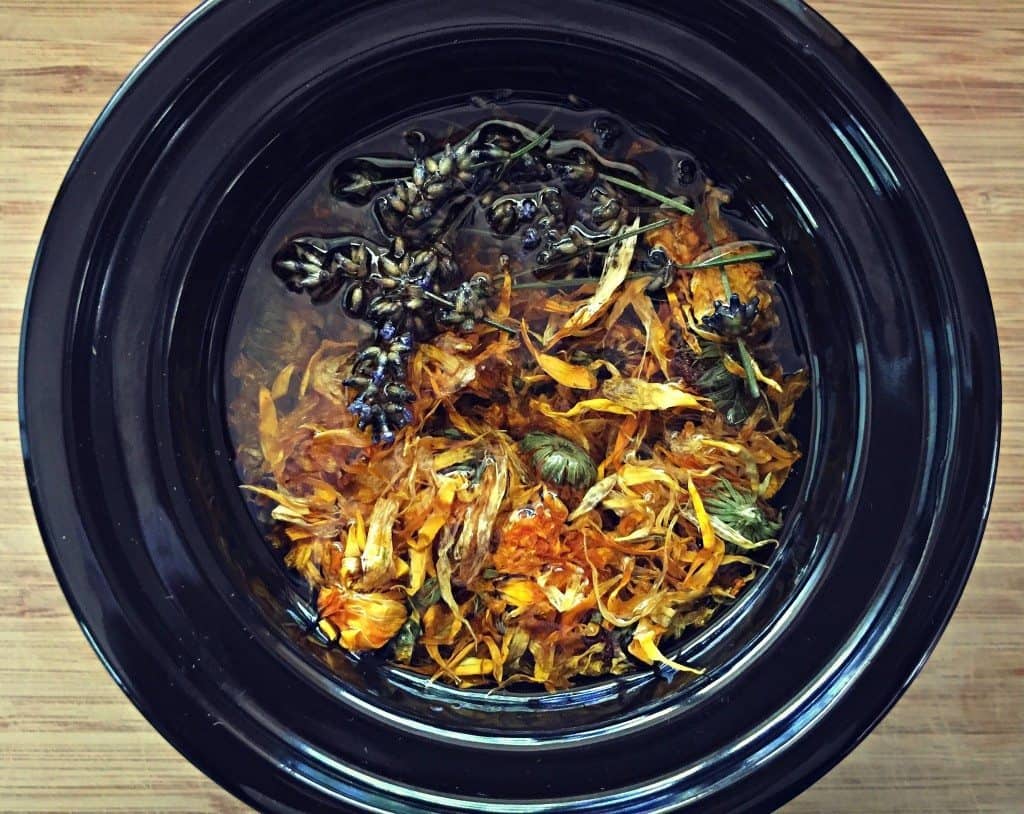 Once the infused oil is made, strain out the flowers.  The oil will be a nice golden yellow color.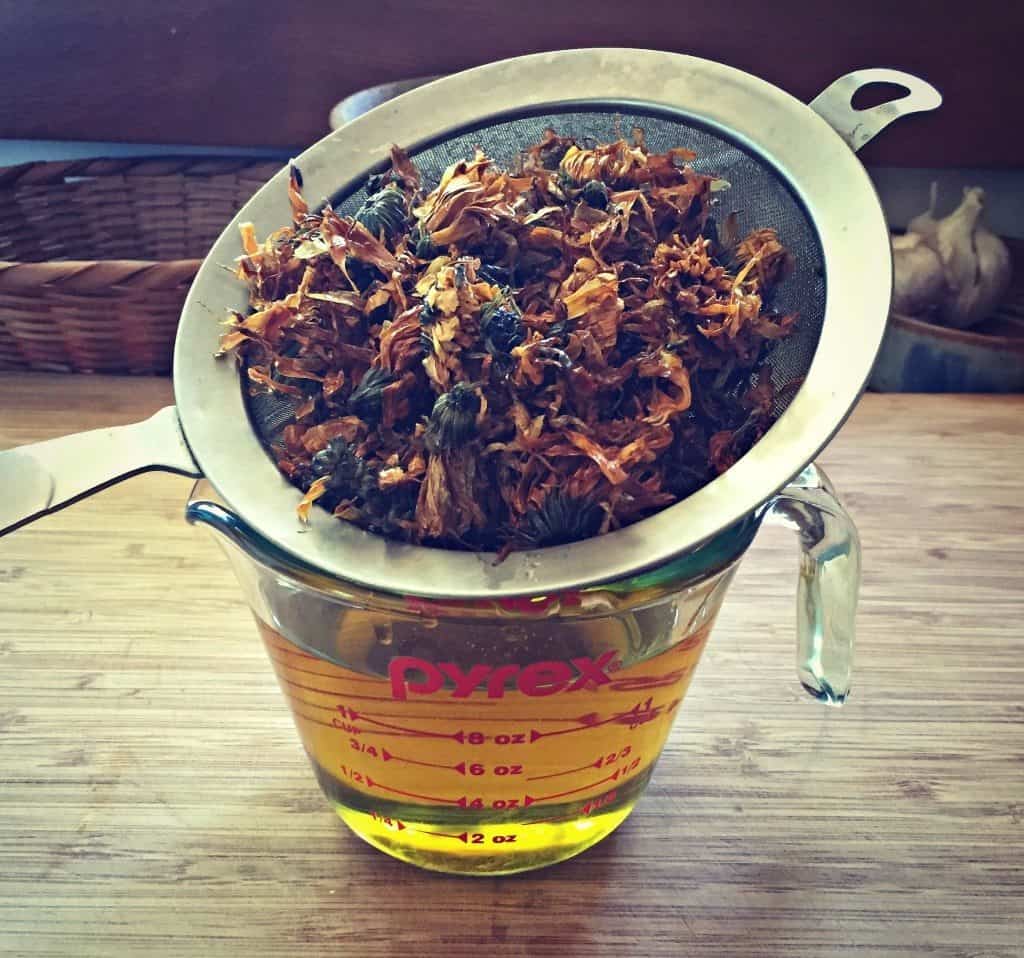 Now gather the rest of your ingredients.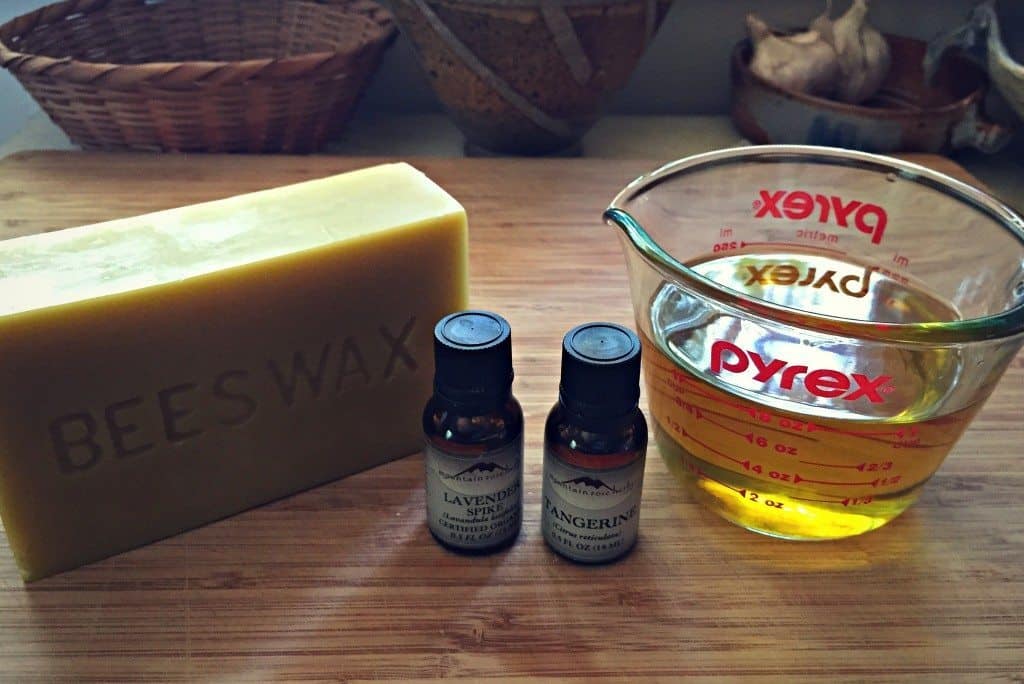 It doesn't take much to make this lovely cream.  I adapted this recipe from the book Making It: Radical Home Ec for a Post Consumer World by Kelly Coyne and Erik Knutzen of Root Simple.
The first thing you want to do is bring several cups of water in a pot to a boil.  Put about 2 cups of the boiling water into a blender to preheat it.  This will (hopefully) help keep the cream from sticking to the blender.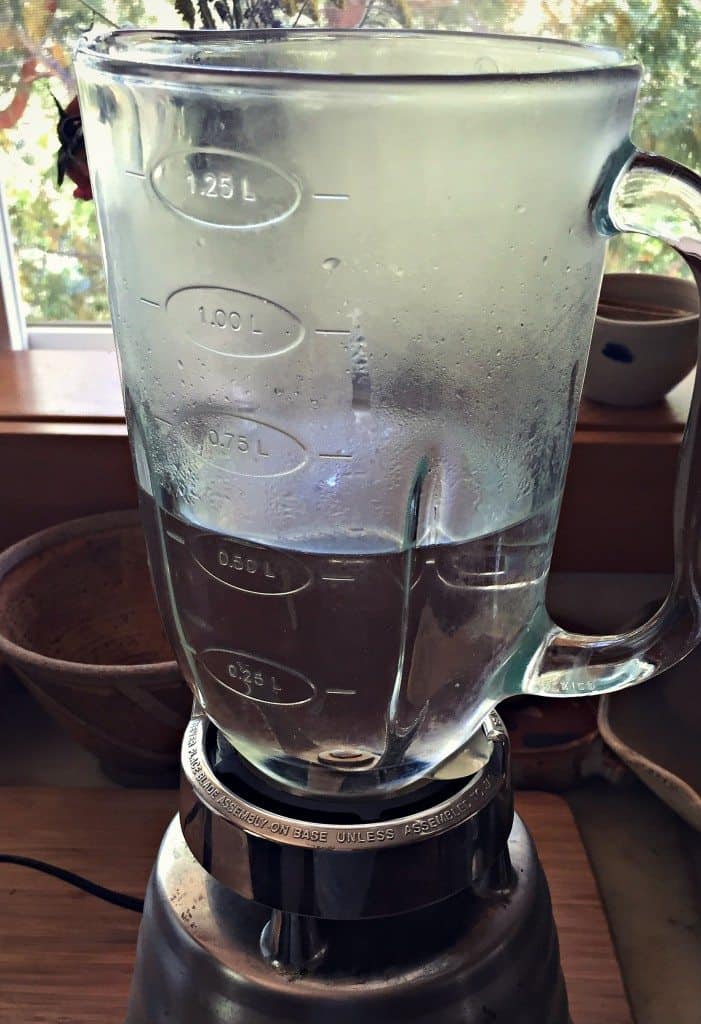 Turn the rest of the water in your pot down to a simmer and make a double boiler by putting the infused oil and beeswax either in a heat proof bowl on top of the pot of water, or in a glass measuring cup that you place in the simmering water.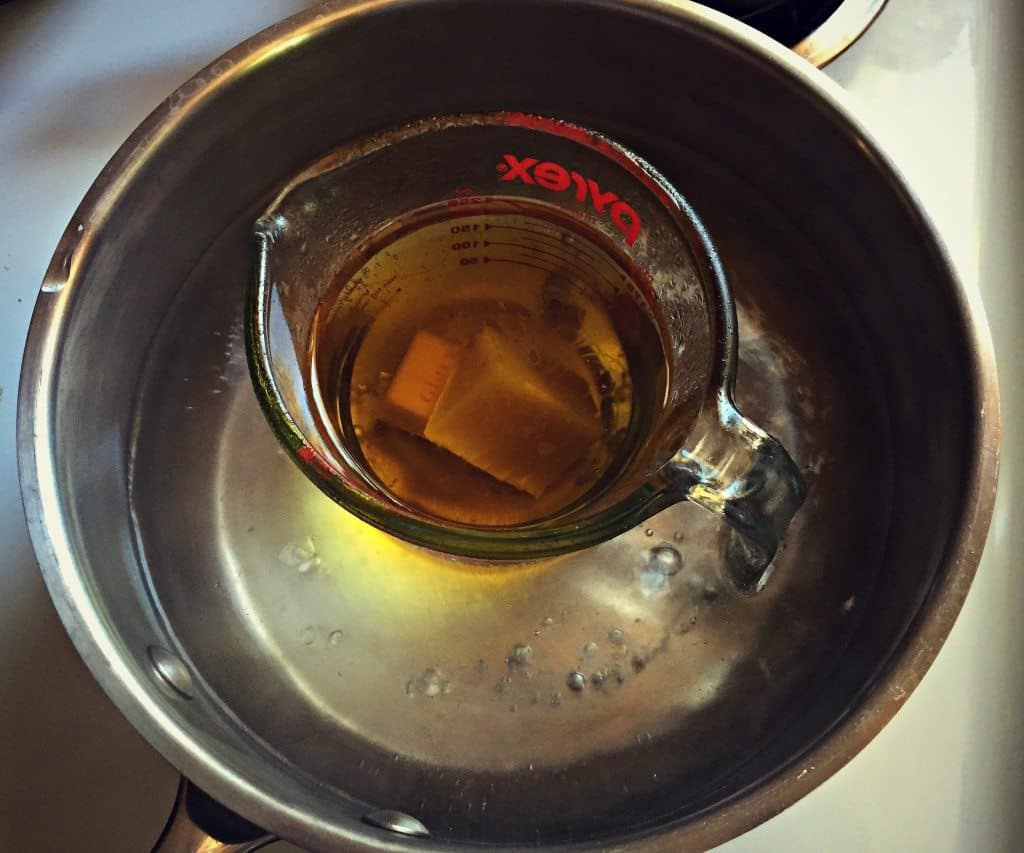 Heat until the beeswax melts completely into the oil.  Then take off the heat and stir in the essential oils.  I used 10 drops each of lavender and tangerine oil.  Pour the hot water out of your blender and put the oil/wax/essential oil mixture in.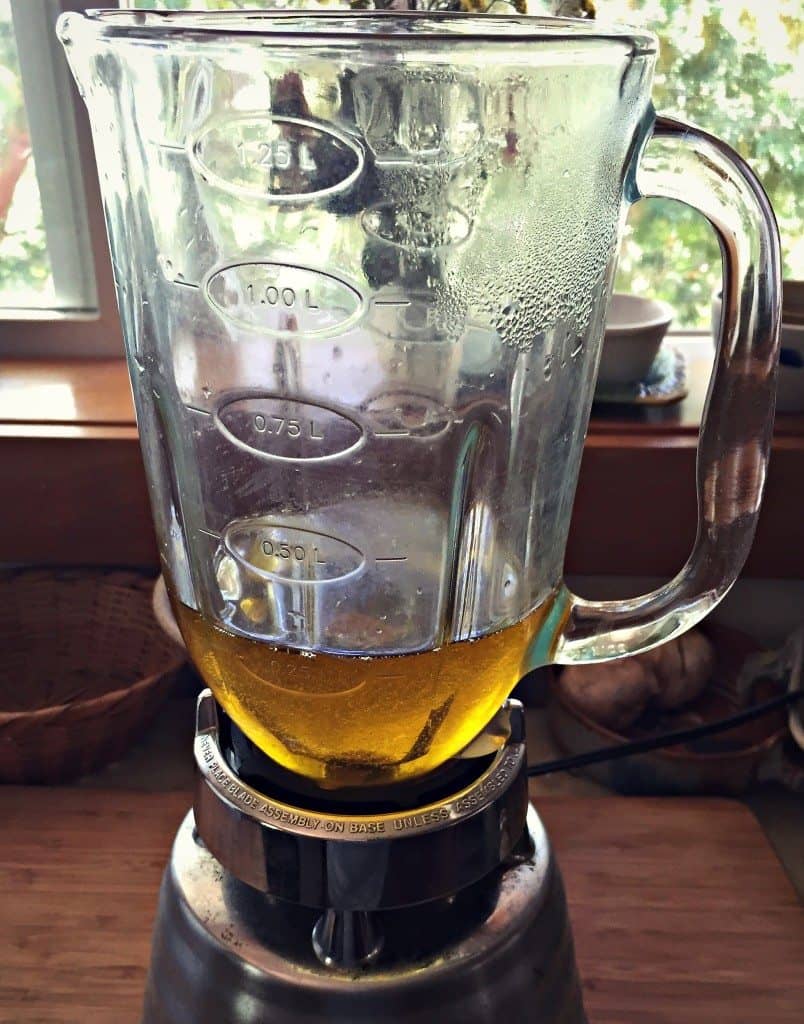 Cover the blender except for the hole that is used for drizzling liquids in.  Turn it on and slowly drizzle the tepid water in.  It should become a creamy emulsification quite quickly!  You may need to scrape down the sides of your blender once or twice to make sure all of the water gets incorporated.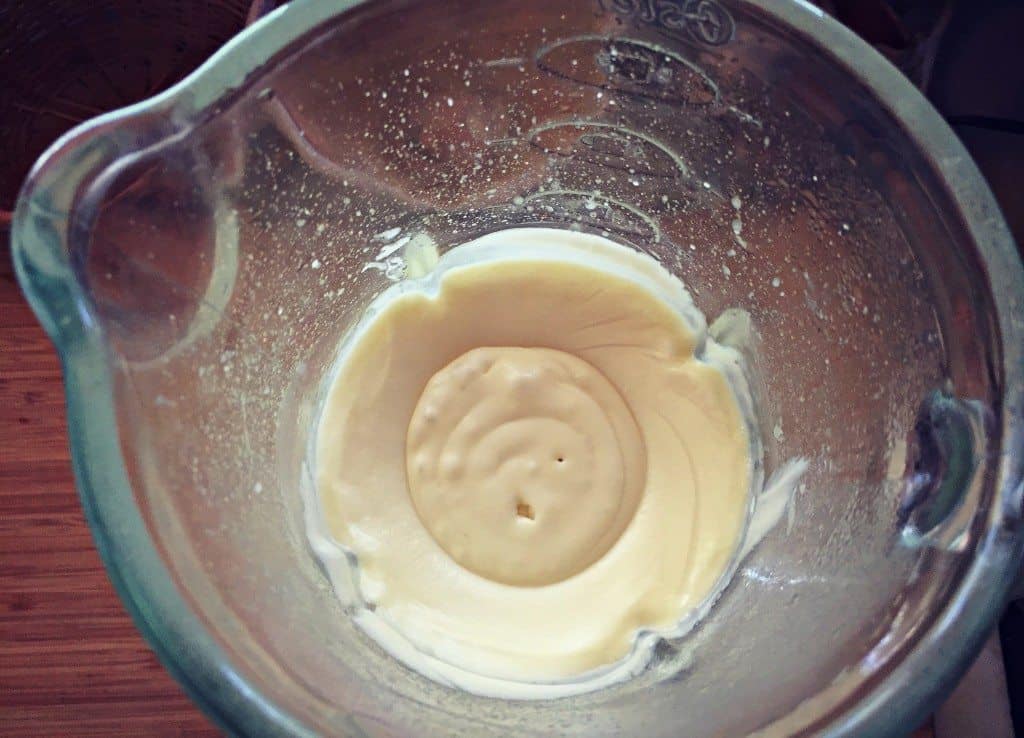 Then pour into containers, it will make about 2 cups.  I used one half pint glass jar and two 4oz tins.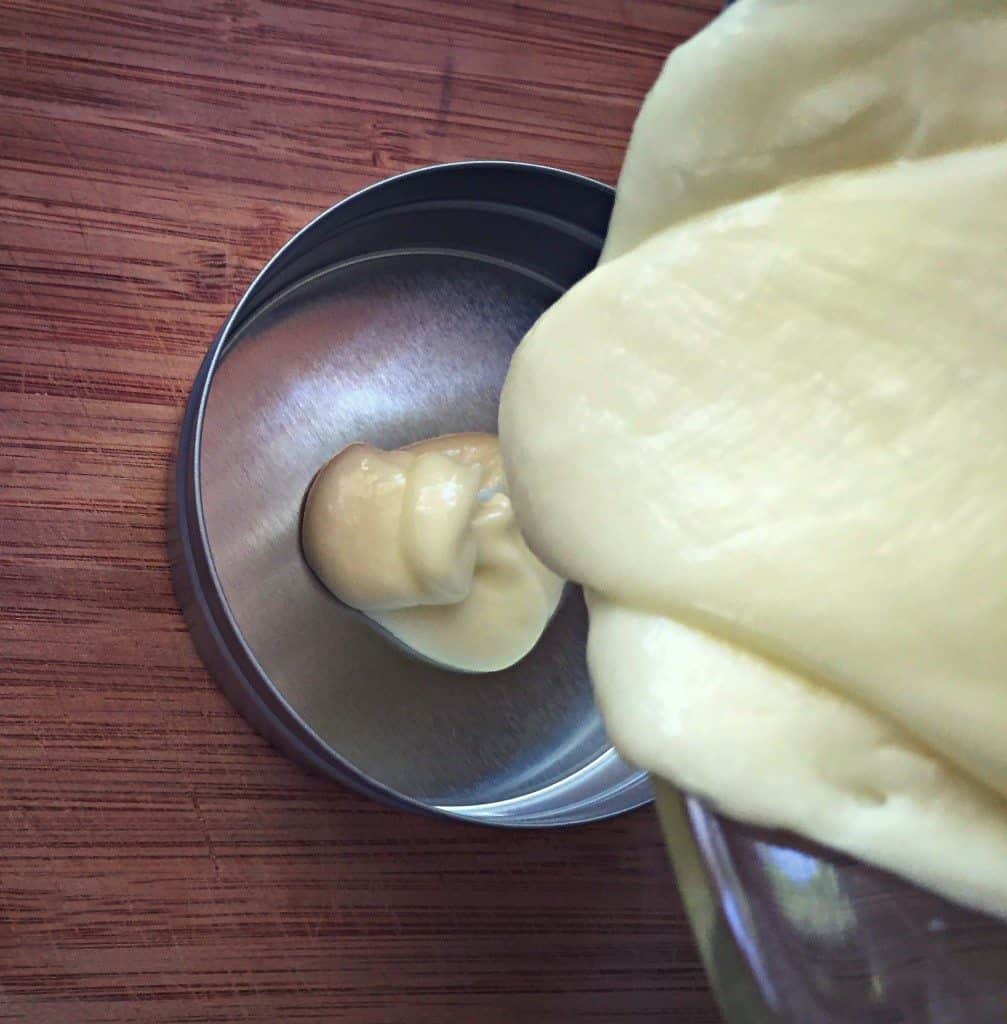 Let the cream set up for several hours before use.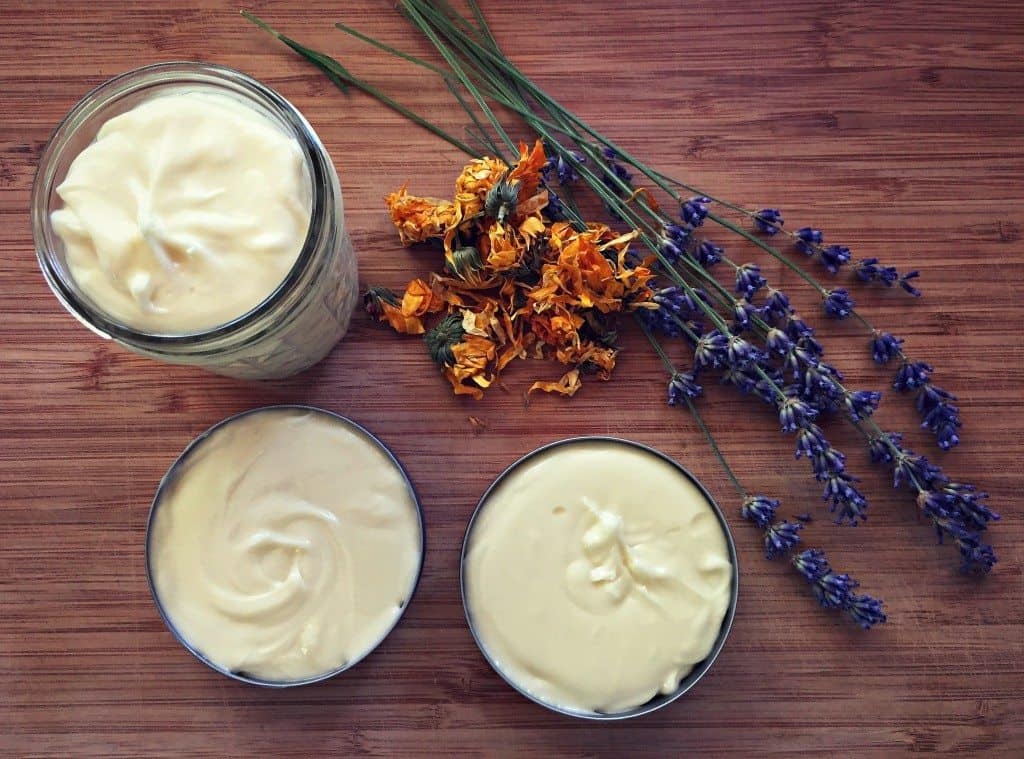 This Calendula cream is so amazingly rich and luscious!  It is better than any lotion that I've tried, plus it's so nice to know that it has beneficial herbs and none of the crap that might be in the store bought stuff.  Makes me feel better!
One thing to note, since this cream is made with water and lacks the preservatives common in store bought creams, it's quite perishable and has a short shelf life of around a month, and should be stored in the refrigerator between uses.  The Nerdy Farm Wife has a great post all about natural preservatives for homemade beauty products, so please check that out if you'd like to learn more.  If you'd prefer to add a commercially available preservative, check out this post over at the Soap Queen blog, although be warned that what is listed there are not natural ingredients.
One thing is for sure, this Calendula cream smells absolutely wonderful!  This is definitely a recipe that I will make again and again.  It's super easy to make and is great for the skin!  Now that I've started on the path of making my own herbal remedies and natural healing products I really don't see any reason to spend the money on buying these sorts of things.  Time to start making them yourself!
Save