Foraging is one of the most rewarding things that you can do, especially when you find a huge patch of a highly nutritious plant such as chickweed. While it's always fun to find and identify a wild edible plant here and there, it can be a rare occasion to be able to harvest enough to actually make something substantial with. This is part of why I love chickweed so much, it grows without abandon! It only took a few hefty handfuls to make this delicious superfood chickweed pesto.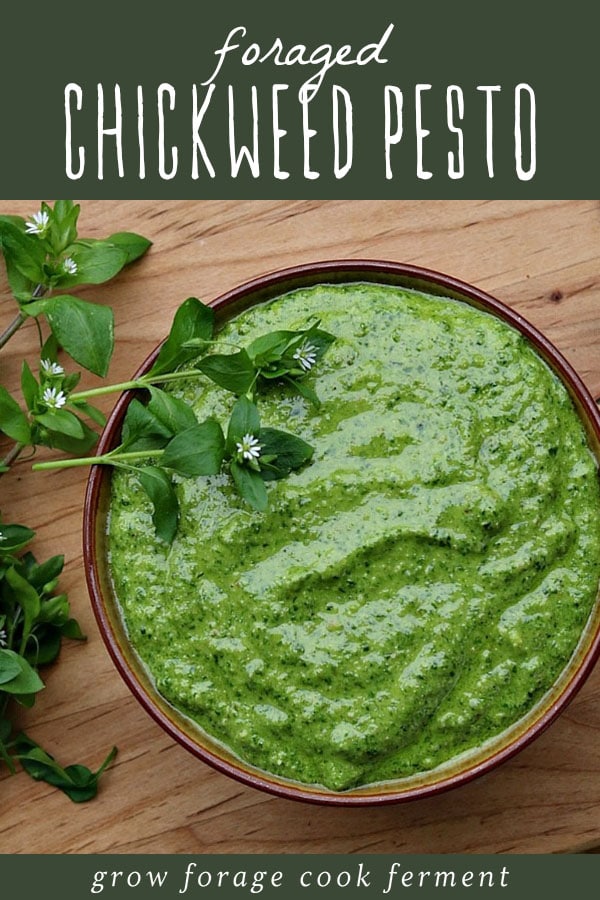 Chickweed Pesto Recipe
This recipe is very similar to regular pesto, but it uses chickweed instead of basil. Learn more about foraging for chickweed here.
If you happen to have some fresh basil out in your herb garden, feel free to add in a bit of that as well. You can also use a mix of wild greens in addition to chickweed if you have access to them, such as purple dead nettle, violet leaves, henbit, or lamb's quarters.
Dandelion leaves also work nicely, and if you have a lot of them you can make this dandelion pesto recipe! Bolted arugula pesto is also tasty!
I used walnuts when I made this recipe and it was delicious, but cashews are another favorite of mine when making pesto. Or you can keep it traditional and use pine nuts.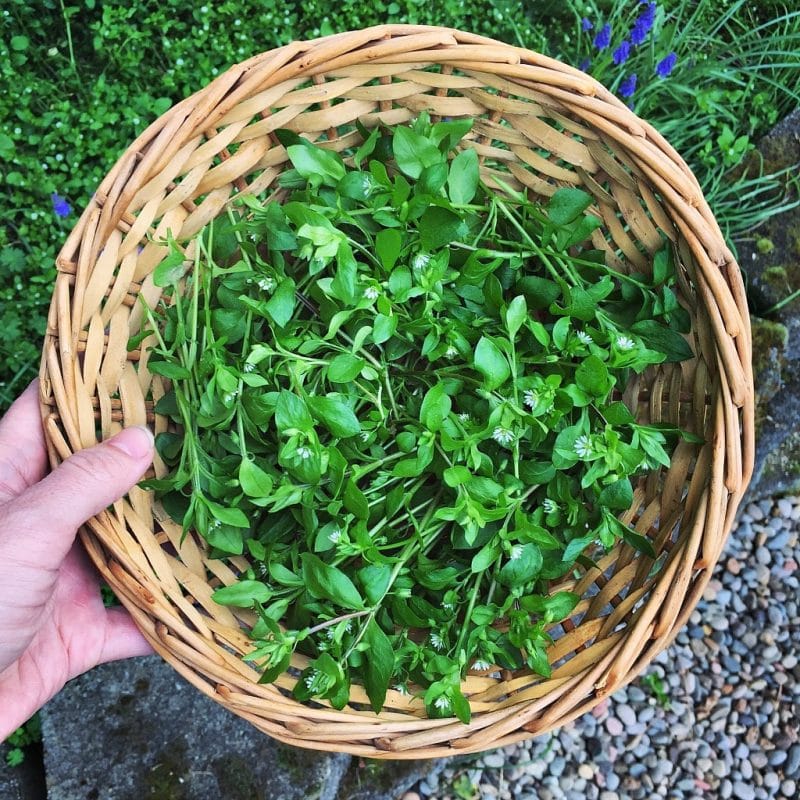 Chickweed is a nutritious plant that is high in vitamin C, vitamin B complex, iron, calcium, magnesium, and zinc. It truly is a superfood! Read more about the benefits and nutrition of chickweed here.
This chickweed pesto is so good! It is very bright and green tasting, just like spring. It's perfect over pasta or on pizza, and it freezes well too for later use.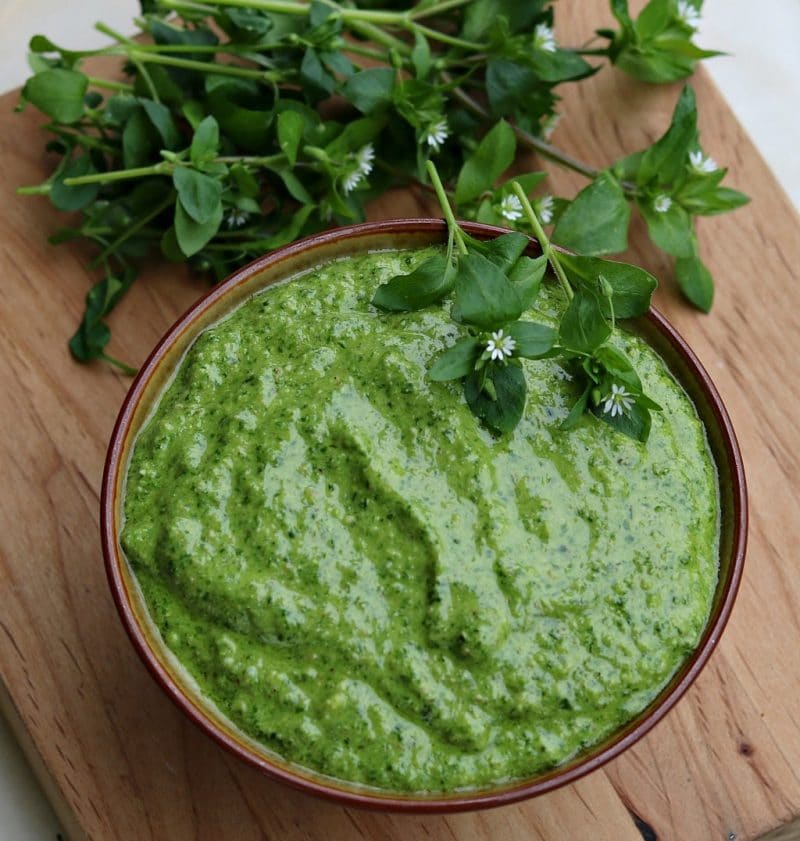 If you have a patch of chickweed in your yard, or know a place to forage for some, then you need to make this pesto! It's easy, comes together very quickly, and is the perfect way to get some nutritious wild greens into your diet. Yummy!
Happy chickweed foraging and pesto making!
Chickweed Pesto
After foraging for chickweed make this super tasty chickweed pesto! Chickweed is a very nutritious wild green and this pesto is a delicious way to enjoy it.
Instructions
Place all ingredients into a food processor and process until smooth. (A blender can be used instead, but the chickweed should be finely chopped first)

If it's too thick, slowly drizzle in a bit more olive oil.
Notes
Keep refrigerated. Eat or freeze within 3-4 days.
Nutrition
Serving:
2
Tbsp
|
Calories:
94
kcal
|
Carbohydrates:
1.4
g
|
Protein:
2.5
g
|
Fat:
9.4
g
|
Saturated Fat:
1.5
g
|
Cholesterol:
3
mg
|
Sodium:
108
mg
|
Fiber:
0.7
g